Entitlement "De-Programs": Ensuring Your Children Inherit Your Wisdom, not Just Your Assets
A financial legacy can provide an incomparable "leg up" to offspring--if they are adequately prepared. However, inelegant handling of the training stage can create generations of enmity, or breed unmotivated individuals with an entitlement attitude. A family business (especially if some offspring participate in day-to-day operations while others do not) presents even more complexity, particularly in the area of "fairness." Following are a few things to think about as you grapple with starting the preparation process.
Unveil your own financial management beliefs--the sooner the better. In the frenzied intersection of building a business and raising a family, it can be overwhelming to take time out to discuss the emotionally laden subject of "money" with your heirs. Entrepreneurs are by their very nature used to being in complete control and often reluctant to discuss details, yet it doesn't take a four-hour discussion of the family balance sheet for you to open the dialogue. Start small, by teaching key values such as "Spend less than you earn" and the importance of giving back to the community. Explain how you first pay yourself by funding your retirement account off the top. Explain how you use automatic payments to fund charitable donations. Let them know that what comes in as "gross income" for the business isn't play money, but is invested in plant, equipment, advertising, etc., and pays taxes (which helps put people to work, builds infrastructure, and fuels the economy).
Delay talking about your financial balances. While it is best to start demonstrating your money philosophy early, most advisors agree that you should be very careful regarding how soon you reveal "real dollars." Children understand very early where they are in the social strata relative to their peers. To the extent that privilege discourages children from finding their own purpose and reason for being, it can be an overwhelming burden and a disservice that lasts a lifetime.
According to many advisors, any significant amounts gifted to a child before age 25 can seriously impede that child's personal search for a meaningful livelihood. Some advisors recommend waiting until children are in their 40s or 50s before giving them direct access to significant unearned wealth. Part of the answer lies in what children are taught about the role that money plays in their lives during their formative years. Children must learn the responsibilities attendant to affluence, not just be left to revel in the privileges.
Encourage your children to find their own passion and purpose. In her book Children of Paradise, Lee Hausner repeatedly stresses the importance of giving children the ability to develop wide-ranging competencies. For children growing up in affluent households, this can be especially difficult. As Hausner puts it, "Many wealthy parents lead lives that place them in strong supervisorial roles... Eliminating, or significantly diminishing, this 'take charge' orientation when parenting is not easy. But parents who assume the responsibility for making all the important decisions without input from their children are actively encouraging dependency rather than helping them develop competency."
The tough love school of intergenerational wealth transfer. Parents need to be aware of the emotional messages sent by funding their children. If a parent steps in with financial aid every time the child's credit card is overextended or cell phone bill is too large, the messages the child receives are that "Struggle is bad," or worse, "You are not responsible enough to get yourself out of jams." Come to a child's aid too often, and an entitlement mentality may become firmly established. However, not all parental expenditures are bad. For example, paying for post-secondary education is a legitimate way to help children prepare for independent and productive careers of their own. But each time you pull out the checkbook, think carefully about the message you are sending your child. Your children can inherit your assets, but not your wisdom. Personal wisdom is attained by overcoming obstacles and struggling to reach goals.
What does "fair" look like? Some affluent couples are intent that equal dollar amounts flow to each child and their family. Indeed, many professionals argue that this approach ensures future family harmony. Alternately, some grandparents want each child to be treated equally and each grandchild to be treated equally--which means that the family of a child with a larger brood receives more of the parent's wealth then the family of a sibling with fewer or no children. Either approach is valid; how well either works depends on the family's unique dynamics. The more parents and grandparents communicate to the children and grandchildren about what their perspectives are and why, the fewer intra-family resentments there will be.
Though the issues surrounding wealth transfer planning are emotionally charged, they are not insurmountable obstacles. With thought and careful planning, affluent parents have an incredible opportunity to pass a lasting legacy--both financial and emotional--to the generations in their wake.
Carol M. Clark, CFA, is a partner and investment principal of Lowry Hill, a private asset management firm that provides proprietary investment management and financial services to families, individuals, and foundations with wealth greater than $10 million. The firm manages approximately $6 billion in assets for nearly 300 families and more than 60 foundations from offices in Chicago, Minneapolis, Naples, and Scottsdale. She welcomes questions and comments at cclark@lowryhill.com.
Published: July 14th, 2011
Share this Feature
Recommended Reading:
Comments:
comments powered by

Disqus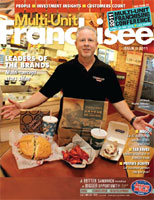 Multi-Unit Franchisee Magazine: Issue 2, 2011
810's mission is to bring there premium entertainment experience, traditionally available in large metropolitan markets, and makes it available...
Cash Required:
$550,000
With a proven 45-year track record, 1.1MM+ Nationwide AUVs*, and flexible footprints to fit into any community, Potbelly is poised for growth —...
Cash Required:
$250,000