Expertise on Call: Making Multi-Unit Knowledge More Available
A couple of years ago we worked with a really big search engine client to help them better understand and approach the franchise community. Their epiphany (which we in franchising all know) is that franchising is a business model, not an industry.
Until then they had been frustrated in both their vertical industry sales efforts and in the efforts of their regional sales partners to crack the franchise code. They knew success would lead to hundreds of millions in sales. They now are realizing it. I mention this because multi-unit operators (MUOs) have a similar set of characteristics: like franchise brands, they frequently span industries with the same basic attributes.
Sometimes stating the obvious provides new perspectives. Here the obvious perspective is to consider MUOs their own community, something Franchise Update has been instrumental in creating over the past couple of decades. Having their own Multi-Unit Franchising Conference (later this month) and dedicated magazine are two important components in creating that community. It seems to me a third component might involve technology.
I really didn't give this much thought until I had several hours of conversation with Wyatt Nordstrom, CEO of Maven--a technology company that appears to be providing an interesting solution to what I think might be a key capability needed in the MUO community. To be clear, I am endorsing neither Wyatt nor Maven. However, I support the concept behind Maven as it applies to MUOs and their needs.
Before I explain the implications of that conversation, we need to be clear about the issue we are solving for. In other words, what are the needs of MUOs that might be satisfied with technology that reinforces the multi-unit conference and magazine?
FRANdata get lots of questions and research inquiries from MUOs. Some of the questions lead to research projects because the answers require a fair amount of information and analysis to arrive at an answer or a set of options. However, many questions lead to relatively short responses--franchise-related questions usually around who, how many, and where. MUOs asking these types of questions typically are seeking guidance and direction, hoping to get the answers in phone calls and emails rather than reports and studies. Most of the time we are able to respond with some degree of helpfulness. The distinction between a short response and a research project is how much time it takes us to come up with the answer. The more work we have to invest, the more likely it will lead to a research project rather than a quick data or knowledge response.
Time is money and MUOs are typically impatient, demanding, and smart. When they pose a question, most of the time it is framed in such a way that they expect a quick answer. That brings me back to Wyatt, Maven, and the concept underlying his company. He starts with the belief that the fastest way to learn is to get people who know stuff to tell you. Sometimes you need quick insights. He calls that microconsulting. Other times you have deeper needs. He calls that extended consulting: bigger bursts of expertise such as workshops and seminars, research and analysis, and in-person engagements.
As I understand it, their business model is built around qualified experts (mavens). Mavens can be people inside your organization or outside experts, whose areas of expertise are collected in the system and made available to client subscribers. Subject experts surface depending on the questions being asked. The subscription provides a certain amount of access to external mavens. I believe there is no charge for internal mavens, as they are probably down the hall from you. I assume the value of the profile software for internal mavens is in identifying people on your team with a skill or experience you would not have known about otherwise.
Essentially, the idea is to have a software system keep track of the knowledge and expertise that employees, partners, members, customers, vendors, and consultants have that is (or could be) valuable to you. The software matches the question to the experts, and you end up with a short and timely answer to your question. For instance, Maven claims an average turnaround time of 1 hour.
How would such a concept work in franchising? Quite well, I suspect. Want to know how a potential brand might fit with your portfolio? Want to know who to ask or talk to about expanding in another city? With a pool of MUOs in such a network, their expertise would cover almost any operational franchise question. Expand this with outside experts and you would have the ability to get many questions answered quickly, efficiently, and accurately.
I again note that I'm not endorsing a particular company, but rather the concept behind such a network. Done well, this could become a powerful third component inside the MUO community. Let me know what you think.
Darrell Johnson is CEO of FRANdata, an independent research company supplying information and analysis for the franchising sector since 1989. He can be reached at 703-740-4700 or djohnson@frandata.com.
Published: July 28th, 2016
Share this Feature
Recommended Reading:
Comments:
comments powered by

Disqus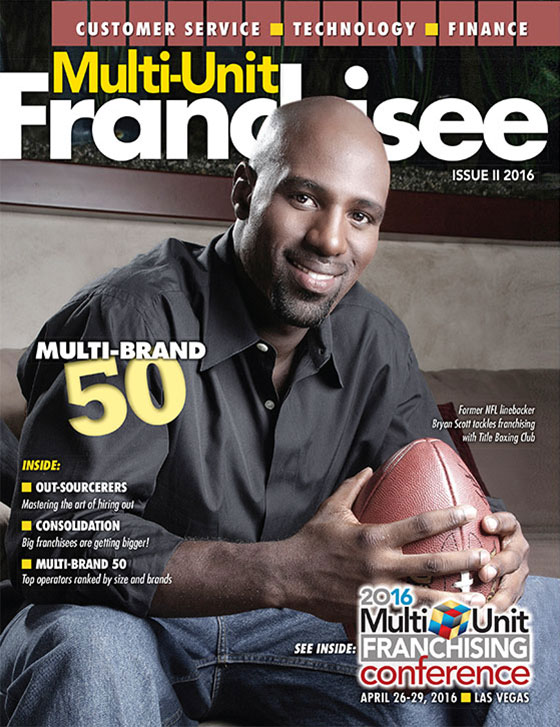 Multi-Unit Franchisee Magazine: Issue 2, 2016
Impressive numbers, outstanding support and incredible pizza delivery create an opportunity you can't afford to miss. Join the pizza franchise...
Cash Required:
$200,000
At LeafSpring Schools, we differentiate ourselves by a proven approach to early childhood education, validated by more than 35 years of successful...
Cash Required:
$400,000