Family First: How Chris Carpenter and his dad teamed up for success
When it comes to running a business, the best way to set yourself up for success is to have a strong, supportive team in place. I could not imagine a better backing than asking my own father to become my business partner.
Ever since I can remember, my dad and I would talk about how great it would be to own a business. It was in the middle of the pandemic when I convinced him to combine his decades of engineering and business experience with my love for electronics.
When it comes to family businesses, it's usually the parents that start a business that their kids join later. But I knew that my father's technical expertise, combined with my fresh perspective and innovative ideas, was a recipe for success. Last year, we opened our restoration franchise, Prism Specialties of Jacksonville, Daytona Beach, Gainesville, & Ocala. Here's how we did it.
Opening to new perspectives
Throughout my life, I was eager to gain as much knowledge as possible. I've always traveled as much as I could, living in places like St. Louis, New York, Orlando, and even internationally in China and Germany. My dad was the same way. Looking back, learning more about different cultures and perspectives helped us become successful entrepreneurs.
My love for knowledge only continued as I grew older. I got undergraduate degrees in electrical engineering and Chinese. I later went on to get my master's in finance. I remember how many hours my dad would work, hearing him answer the phone no matter what time it was, and waiting for the day he'd have a healthier work/life balance.
At 26, I decided it was time to move on from my career as an asset management professional. My generation has a particular interest when it comes to being your own boss, and I am no different. I began searching for opportunities with more autonomy and flexibility—and I wanted nothing more than to bring my dad along for the ride.
Choosing the right business
Once we decided to open a business, we considered all kinds of industries—mobile dog grooming, a backup generator business, and even pet crematoriums. We knew that the formula for a successful business is one that you're passionate about, that is truly unique, and that's always in demand.
Franchising also offered us the support we needed. Even with plenty of corporate experience and scientific knowledge, we needed a franchisor with a solid business model that we could lean on through thick and thin.
When we came across Prism Specialties, it just felt right. It had the electrical component we were looking for; the business provided an essential service that would be in demand all year around; and our backgrounds were the perfect fit for the applied science techniques that go into restoration projects.
Creating a positive work environment
If there was one takeaway my dad and I had from working in the corporate world, it's how important it is to treat employees with respect and flexibility. When starting our business, we set out to provide a supportive and positive work environment to our hardworking employees who were the backbone of our business.
Not only do we run our business as a family, we treat our employees as an extension of it. Safety is especially important in our line of work, and there's more to it than just meeting local codes. We've come up with an incentive system to help prevent work-related accidents and make employees feel comfortable at work.
With our fondest memories tied to traveling, we encourage employees to take time off for themselves. Thanks to our experience working and living in Europe, we've come up with realistic policies for time off, including sick days, vacation, and bereavement leave. We've found that our company functions better and more efficiently when our people are able to take care of themselves and their families.
A shared, rewarding experience
At the end of the day, we wanted to use our business to make a difference in our community. By helping businesses and homeowners get back on track after they are hit by disasters like hurricanes, floods, or fires, we are confident that we are using our passion, knowledge, and experience for good.
As a young entrepreneur, I had the dream and vision. My father, with his MBA and more than 30 years of engineering experience, proved to be the perfect business partner. Restoration is a very niche industry, and our combined expertise has allowed us to navigate it successfully.
Still, the most rewarding part of this entrepreneurial journey has been taking it together as father and son. For most people, Father's Day is about what their dads taught them growing up. For me, I am thankful for everything he teaches me every day, in our family and in our business.
Chris Carpenter is a franchisee of Prism Specialties. (So's his dad!)
Published: October 8th, 2022
Share this Feature
Recommended Reading:
Comments:
comments powered by

Disqus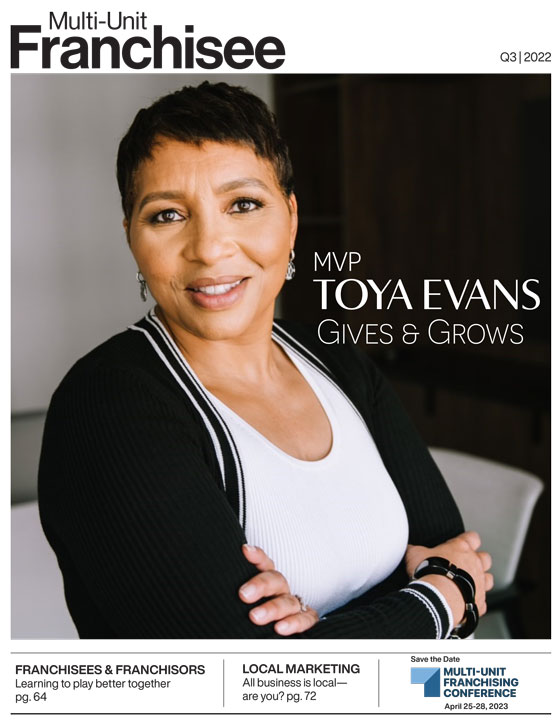 Multi-Unit Franchisee Magazine: Issue 3, 2022
At Twin Peaks, expect to enjoy scratch-made food, sports on TVs from every angle, frosty 29° beers, and the fun and friendly Twin Peaks Girls....
Cash Required:
$2,000,000
Get A Piece Of The Booming Cannabis Market Without Headaches.
Cash Required:
$1,000,000