Family Man: A Way of Life, Not Just a Way of Business
Mike Hamra grew up in the Midwest, where his parents ran a highly successful restaurant business, Hamra Enterprises. But before joining the family business, he earned a law degree from the University of Missouri School of Law in Columbia and headed to Washington, D.C., where he specialized in telecommunications regulations and legislation and worked as a political appointee for the Clinton administration. In that role, he executed policies to support the government's strategy to connect the nation's schools, libraries, and healthcare organizations.
He also served as chief of staff and legal advisor for the FCC's Wireless Telecommunications Bureau. In that role, he was involved in writing new rules allowing spectrum bands that had been dedicated to mobile radio users to be reallocated and used by Nextel (now Sprint) for commercial purposes. "This was a massive undertaking and a big deal in the '90s, because it allowed the government to auction off the bands after they were reallocated," says Hamra, who also received the U.S. Department of Commerce Bronze Medal for superior federal service.
In 2001, after eight years in D.C., Hamra joined the family business, working first as president and COO of Boston Bread LLC and Chicago Bread LLC, Panera Bread franchises operating under the Hamra Enterprises umbrella.
In 2005, he was named president and COO of Hamra Enterprises and in 2011, his father, Sam, founder of the multi-million-dollar Springfield, Mo.-based company, passed the torch to his son, naming him president and CEO. Sam Hamra remains chairman of the board, and his wife June is vice chair.
Today Hamra Enterprises has 157 units and 7,000 employees across four brands (Wendy's, Panera Bread, Noodles & Company, and Holiday Inn Express) and six states (Illinois, Kansas, Massachusetts, Missouri, New Hampshire, and Texas).
Life is full of surprises, says Hamra, who also holds an MBA from Kennesaw State University. "Early on, I had no intention of joining the family business. But years later, I got interested and excited about the possibility of being able to take a small entrepreneurial business started in southwest Missouri and growing it to a multi-state, multi-unit, multi-brand business. And I knew I would regret it if I didn't take the opportunity to work with my family." In addition to his parents, one of his nephews also works in the company.
Hamra says he has no doubts that working as an attorney has helped him in his current role. "Being a lawyer was always about learning and developing oneself while approaching and solving problems. That's been great training for running and growing the business."
But what has really brought Hamra's passion to the forefront is his focus on leadership development. "Our franchisors develop training courses to support people in how to run the brand. So we focus our attention on that, plus leadership training," he says. "What we do is less about transferring knowledge and more about who a person is as a leader."
Describing himself as a leader who combines collaboration with accountability, Hamra is quick to tell employees to be unafraid to act. "I don't want people who are overly concerned about seeking permission to act when a good opportunity is clearly there. I tell them it's fine to make mistakes, but not to fail to act."
Hamra continues to look for ways to support his employees. He established the Hamra Employees Reaching Out (HERO) Fund to assist employees with emergency needs such as extended medical leave, funeral expenses, and transitional housing. Employees contribute the amount they want to the fund, and the company matches it, dollar for dollar. "We've raised $1.2 million and supported more than 400 employees over the last six years," says Hamra, who now makes his home in Chicago.
An exciting new development is under way in his Chicago market, he says. "Through our HERO Fund, we're starting to offer down payments for homes, forgivable after five years. We just named our first recipient, and this will lead to other opportunities to support our employees in the community." Hamra is also chair of Family Enterprise USA, a nonprofit educational organization focused on collective issues facing family enterprises.
A youthful 49-year-old husband and father of four (including a new baby boy), Hamra laughed when asked about an exit strategy. "There is none. We're creating a generational business with the vision and values of our family. We're now in a position that wasn't available to us 15 or 20 years ago to give back to the community and our employees. We're constantly seeking ways to do that. That's our focus and our passion."
And that's why the company mantra is "Hamra, a way of life, not just a way of business."
Name: Mike Hamra
Title: President, CEO
Company: Hamra Enterprises
No. of units: Wendy's, 90; Panera Bread, 57; Noodles & Company, 9; Holiday Inn Express, 1
Age: 49
Family: Wife Eileen, 4 children, including a new baby boy
Years in franchising: 19
Years in current position: 10
Personal
First job:
Digging post pins on a farm in Missouri.
Formative influences/events:
The realization that I am completely, 100 percent responsible for my life. That hit home with me. I'm it.
Key accomplishments:
As a lawyer for the FCC, I wrote a rulemaking that transferred mobile radio users out of their incumbent bands to allow Nextel communication (now Sprint) to use the same bands for commercial purposes. This was a massive undertaking and a big deal in the '90s, because it allowed the government to auction off the bands after they were reallocated. Another major accomplishment was when Hamra Enterprises reached the 100-unit mark a few years back. With that foundation, we were able to go out and acquire two new markets in Boston and Chicago through Wendy's refranchising. This was important because it enabled us to do it in a way that seamlessly integrated our people into our cultural foundation and values and who we are as an organization.
Biggest current challenge:
Hiring good people to run our stores.
Next big goal:
To grow the company with another 100 units organically or through acquisitions.
First turning point in your career:
Completing my career as a lawyer in the telecom industry and starting a new career in the restaurant industry.
Best business decision:
Deciding to create an organization that supports people and leadership. That's not a given, it had to be discovered. Then I knew we should be focusing on that.
Hardest lesson learned:
That listening to people really does matter. It really makes a difference.
Work week:
Generally, Monday through Saturday. It typically involves travel and being with out-of-store management or being in stores to visit operators and see the restaurants.
Exercise/workout:
I get to the gym or do something physical two or three times a week.
Best advice you ever got:
Anything is possible.
What's your passion in business?
Finding new ways for supporting people and creating an environment in the organization that people love to be in. That's why I get up and do it every day.
How do you balance life and work?
I commit to being with my family in the morning and at night. And I spend as much time as I can going to my children's activities, especially on the weekends.
Guilty pleasure:
I love a good chocolate chip cookie!
Favorite book:
The Three Laws of Performance: Rewriting the Future of Your Organization and Your Life by Steve Zaffron and Dave Logan.
Favorite movie:
"The Matrix."
What do most people not know about you?
That we just had a baby boy.
Pet peeve:
When people don't swing into action.
What did you want to be when you grew up?
A fighter pilot.
Last vacation:
Over New Year's 2017, we went to Rome and England.
Person I'd most like to have lunch with:
Abraham Lincoln. He stood up in an era when things were shifting, and our nation's thinking was evolving.
Management
Business philosophy:
Never give up in business. And love what you do.
Management method or style:
I believe in collaboration with accountability.
Greatest challenge:
Making sure we have a team that's passionate about what they're doing.
How do others describe you?
As a listener and a pragmatist with a streak of idealism.
One thing I'm looking to do better:
I'm always working on elevating my own performance.
How I give my team room to innovate and experiment:
I give people a lot of space, and I encourage failure. I like people to take initiative, to make decisions without needing to seek permission when there's a good opportunity to do something.
How close are you to operations?
I look at numbers weekly and spend time with market leaders as well as district managers. I spend time in the stores, and I will get my hands dirty if I see something that needs doing. If there's a pile of dishes in the back, they will get cleaned.
What are the two most important things you rely on from your franchisor?
Supporting us in the performance of the business, and keeping our concepts relevant with menu innovation, store design, and opportunities to grow new stores.
What I need from vendors:
Reliability.
Have you changed your marketing strategy in response to the economy? How?
In our Wendy's brand, we've been more creative around how we incentivize people through couponing and discounting.
How is social media affecting your business?
It matters, especially with the generations after me and my children's generations. You have to build your brand inside the world of social media. You're either cool or you're not, and that's driven by what's being talked about on social media.
How do you hire and fire?
We look for people who are committed and passionate about the restaurant business and the brand they're interviewing for. People that don't either consistently honor their word in performance or lack some type of passion have a short tenure here.
How do you train and retain?
We rely on our franchisors to develop training courses to support people in how to run the brand. Then we spend a lot of resources focusing on leadership training.
How do you deal with problem employees?
There's always a conversation with specific objectives put into place. We come to the table with an eye toward supporting them and their development. It's up to the individual to choose that. If they don't after a certain amount of time, they're not going to be here.
Fastest way into my doghouse:
Not acting on something that's clearly an opportunity.
Bottom Line
Annual revenue:
$300+ million.
2018 goals:
To grow by another 50 to 100 units.
Growth meter: How do you measure your growth?
Through the number of employees we have. We have 7,000 people today. Our goals are based on how many people we're supporting in the business.
Vision meter: Where do you want to be in 5 years? 10 years?
We'd like to be doing business with more units in the same markets we have now and adding new markets. That means growing in the Central Midwest, the Northeast, and nearby markets.
How is the economy in your regions affecting you, your employees, your customers?
It's affecting us more in the Midwest than anywhere. We know our operations are good and solid, but we're still seeing fewer people coming in.
Are you experiencing economic growth in your market?
We have big markets, so we're seeing growth in certain areas and not in others.
How do changes in the economy affect the way you do business?
We're very mindful of people's income levels and opportunities for housing and education. We focus on those areas to make sure we're pricing menus properly so that people can continue to do business with us.
How do you forecast for your business?
We look at indicators in each market separately. We also have conversations with other franchisees.
What are the best sources for capital expansion?
Traditional sources.
Experience with private equity, local banks, national banks, other institutions? Why/why not?
We've had experience with national banks, but none with private equity.
What are you doing to take care of your employees?
We have an employee assistance program called Hamra Employees Reaching Out (HERO). It's supported by employees who contribute--one time or recurring with their paycheck--however much they want. We match their contributions dollar for dollar. We've raised $1.2 million and supported more than 400 employees in different ways over the last six years. In our Chicago market, through the HERO fund, we are offering employees the opportunity to own their own homes.
How are you handling rising employee costs (payroll, minimum wage, healthcare, etc.)?
Some of it is offset through menu increases and reductions in other areas of the business. But it's truly becoming a larger cost component to doing business--much more quickly than we want to be addressing. It's tough.
How do you reward/recognize top-performing employees?
We recognize people through our own social media networks and they get acknowledged from me to the store level. We have actual awards we hand out for great guest services and increasing sales. Twice a year we have parties for our employees in each market. During the summer, we have picnics for all our employees and their families. Then we have holiday parties for our management teams and their spouses.
What kind of exit strategy do you have in place?
I have no exit strategy. We're creating a generational business that reflects the vision and values of our family. As we grow, we're able to contribute in bigger ways, not just financially.
Published: May 27th, 2018
Share this Feature
Recommended Reading:
Comments:
comments powered by

Disqus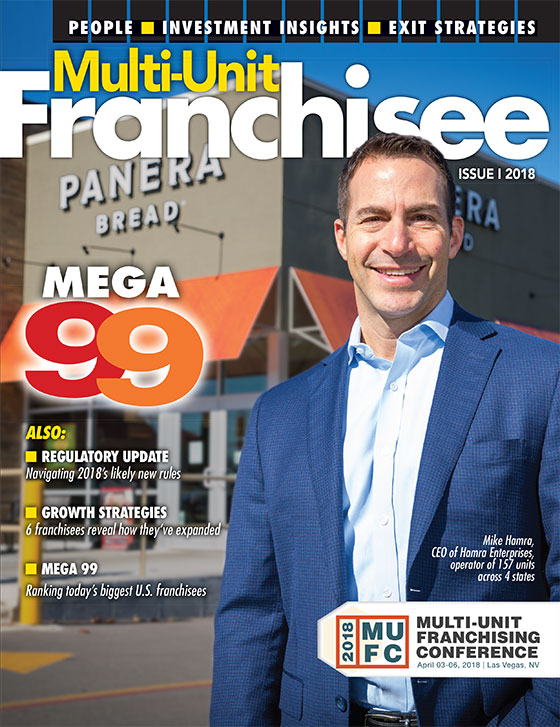 Multi-Unit Franchisee Magazine: Issue 1, 2018
Teriyaki Madness is the #1 Fastest-Growing Big Restaurant Chain for a reason: high-quality food, cutting-edge technology and incredible franchisee...
Cash Required:
$200,000
Anytime Fitness makes wellness approachable for millions of members and gives franchisees the opportunity to be a part of a worldwide family of...
Cash Required:
$175,000