Family Valued: Sometimes dysfunctional, but always family
Name:

Mike Philip

Title:

Head Dishwasher, Owner, President

Company:

Philip Enterprises, Philip Smoothie Enterprises

Units:

2 Einstein Bros. Bagels, 8 Tropical Smoothie Cafes

Age:

54

Family:

Alec 25, Adam 20, Abigail 18, JC 16, and Matiss 22 (international family)

Years in franchising:

22

Years in current position:

14
You can get a sense of Mike Philip's personality when you ask him what his title is and his response is, "Head dishwasher, owner, and president." The 54-year-old is witty and keeps conversation light, but don't be fooled, he is serious about his business—two Einstein Bros. Bagels and 8 Tropical Smoothie Cafes, his employees, and his customers.
"My goal in business is not just to make money, but to help develop and have an impact on people for good," he says.
During the Covid-19 pandemic Philip made some important choices to take care of everyone. "We made decisions to protect our family, our employee family, and our customer family," he says. "No one was laid off and we developed new procedures that kept employees and customers safe when they came in our stores." He says he's proud of his company's "operational culture" where everyone participates in the work and all are held accountable to the same standard.
Philip has been in franchising for more than 20 years, first as a Chili's franchisee and managing partner. He also spent time in commercial and residential real estate as a RE/MAX franchisee. He's been a franchisee with Tropical Smoothie Cafe and Einstein Bros. Bagels for more than a decade, and has served as chair of Einstein's FAC since 2014.
His business has survived Covid and he's projecting his revenue to jump from $7.5 million to $8 million in 2021. But beyond the numbers required to operate a successful and profitable business, he understands how important and how valuable his employees are.
"We owe it to our employees to give them a chance to create financial security and a financial legacy for themselves and their families!" he says.
PERSONAL
First job: Newspaper route with 32 stops—when the streets were still dirt.????
Formative influences/events: Dad and mom. Every year before school started we went to get one pair of new jeans for that year. They were shrink-to-fit Levi's, those jeans that were so stiff when they were new they could stand up in your closet. They had to be washed, but we only did wash on Saturday morning so I had to sleep in those jeans Sunday night. I wore them on Monday and was so proud of them. I rubbed raw in some unmentionable places but was so happy. I have tried to appreciate the things we have in the same way as an adult and to teach our kids to appreciate the same.
Key accomplishments: Mentored and raised 4 kids… almost.
Biggest current challenge: Evolving my coaching and developing style to accommodate the next generation of employees.
Next big goal: Diversify and add one more brand.
First turning point in your career: When I realized the difference in mindset between an hourly employee and a leader/owner.
Best business decision: Hiring Aaron, my operating partner.
Hardest lesson learned: I can't do everything.
Work week: Ha! I am a small-business owner.
Exercise/workout: I do 50 sit-ups and 50 pushups daily. I'm also in the process of hiking the Ozark Highlands trail with my wife, 165 miles.
Best advice you ever got: My father told me, "Shut your mouth and go to work."
What's your passion in business? To make my goals not specifically about making money, but to develop and have an impact on people for good, and as a result feed and provide for them and their family.
How do you balance life and work? Trust your people, understand that they will fail, offer grace and forgiveness, and learn.
Guilty pleasure: Candy, specifically Caramello.
Favorite book: All of them. Reading is my escape.
Favorite movie: "The Shawshank Redemption."
What do most people not know about you? I only balanced my checkbook once!
Pet peeve: Lack of effort.
What did you want to be when you grew up? Never had something in mind, I just wanted a cool skateboard.
Last vacation: Aruba.
Person I'd most like to have lunch with: Currently Danny Meyer. (Can you help with that?)
MANAGEMENT
Business philosophy: You can learn something from everyone.
Management method or style: Hands-on!
Greatest challenge: Releasing responsibility.
How do others describe you? Stubborn jackass, but a good guy and family.
One thing I'm looking to do better: Not to be so hard on my kids and be a better husband.
How I give my team room to innovate and experiment: Just listen and learn, not all ideas are stupid.
How close are you to operations? I have a dirty apron almost every day.
What are the two most important things you rely on from your franchisor? Maintain brand relevancy.
What I need from vendors: Consistency.
Have you changed your marketing strategy in response to the economy? How? Yes, with the changes in the sales procurement channels we have always tried to keep the relationship with the guest at the forefront. No gimmick, just a relationship of trust that we will provide.
How is social media affecting your business? Social media has helped in getting the message out, brand messaging.
How do you hire and fire? Carefully. I entrust managers to hire employees and our managers are 100 percent hired from within existing staff.
How do you train and retain? We make it a priority and we try to create an operational culture in which everyone works and everyone is held accountable to same level. We are family, sometimes a dysfunctional family, but always family.
How do you deal with problem employees? Very directly. We have a very strict "No Drama" policy. If you are causing drama, then we are having a conversation face-to-face with no delay.
Fastest way into my doghouse: Attitude. Failure happens and is a part of life, but attitude you can control 100 percent.
COVID-19
What are the biggest impacts of Covid-19 on your business? We have always maintained an atmosphere of cleanliness and food safety. We have raised that awareness by 100x.
How have you responded? We have become unofficial contact tracers, and have had to make decisions that protect our family, our employee family, and our customer family. We did not lay off anyone during height of the pandemic and got to an SOP that enabled employees to work and customers to feel safe.
What changes do you think will be permanent? If you as a restaurant owner didn't have a high level of sensitivity around food safety, you should now!
BOTTOM LINE
Annual revenue: $7 million.
2021 goals: $8.5 million.
Growth meter: How do you measure your growth? Responsible growth balanced with quality of life for all employees, me included!
Vision meter: Where do you want to be in 5 years? 10 years? In 5 years, debt-free. In 10 years, a grandfather.
Do you have brands in different segments? Why/why not? We currently have two franchise brands. But we have diversified into vacation rentals and are currently starting a remodel on a building built in 1892.
How is the economy in your region affecting you, your employees, your customers? The economy has not really been affected, but customer traffic and the sales procurement channel have changed.
Are you experiencing economic growth in your market? Yes, thanks to Walmart, JB Hunt, Tyson Foods, and the industries supporting them.
How do changes in the economy affect the way you do business? There was a time years ago that I had to take money out of a meager savings account to cover payroll. I have always kept the thought that I could be back there someday.
How do you forecast for your business? National and local trends.
What are the best sources for capital expansion? Early on it was through the SBA. Later we began using more traditional lenders.
Experience with private equity, local banks, national banks, other institutions? Why/why not? In the beginning days of our company I asked every local and national bank local for a loan, and before I even finished the question the answer was "NO!" My wife cashed out her 401(k) to cover a down payment for our second store, which was not a wise business decision but it worked out. Now we work with a regional bank and I have a relationship of trust and a true partner in them. We actually invested in the bank.
What are you doing to take care of your employees? I have always tried to make our relationship more than just a paycheck. I want to know about them and how we can help each other navigate work and life. I realize most of them have goals other than making sandwiches, bagels, and smoothies and I try to help them get there.
How are you handling rising employee costs (payroll, minimum wage, healthcare, etc.)? The minimum wage in Arkansas is higher than any other state in our region. However, every time we have had an increase it hasn't affected us much. On Jan 1, 2021 the minimum wage went to $11 an hour and our two-week payroll went up $56. It's important to pay fair, treat fair, and expect a fair day's work. That's the balance I want to keep. I have told this story many times to my employees: the statue of Lady Justice depicts a woman holding a balanced scale, and that is what the relationship needs to be. If I am asking you to work extra hours with little notice or pay, or to harder work than others, then you will quit. If I am paying you a lot of money and you are late consistently, you don't do your job, I will fire you. The relationship has to balance!
What laws and regulations are affecting your business and how are you dealing with it? If I plan for the future, the present will be taken care of.
How do you reward/recognize top-performing employees? Cash and public recognition. We give our managers and key employees nights away with their families, wives, significant others. These are things that they wouldn't normally do. We try to make it special and give them a real break from the grind.
What kind of exit strategy do you have in place? Selling to my operating partner. I think part of the reason we promote from within is that I think we owe it to everyone to give them a chance to create financial security and a financial legacy for themselves and their families!
Published: May 21st, 2021
Share this Feature
Recommended Reading:
Comments:
comments powered by

Disqus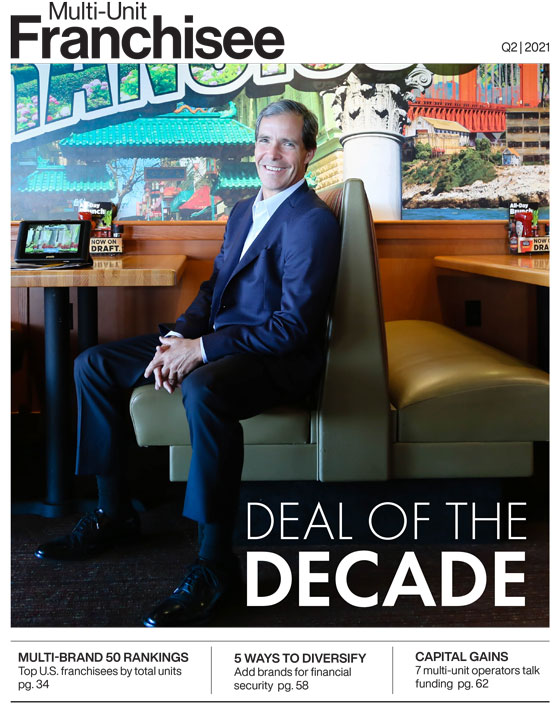 Multi-Unit Franchisee Magazine: Issue 2, 2021
Unlock success with Payroll Vault! A proven franchise offering top-tier software-based payroll & HR services. Your opportunity to lead in the...
Cash Required:
$100,000
Phenix Salon Suites is awarding our scalable, semi-absentee opportunity to motivated entrepreneurs. With no salon experience required, franchisees...
Cash Required:
$300,000