Find the Forest Through the Trees
Franchise companies CAN grow fast while making a profit.
Remember the old joke: "I'm losing money on each sale, but I'll make it up in volume"? Well, there is an equivalent in franchising.

Franchise companies can grow fast. But profitability is more elusive. Franchisors on a fast growth curve have long believed that it is a tradeoff against being profitable. They assume that once they hit that magic unit number certain economies of scale will kick in and guarantee profitability both corporately and within their franchise network.

Rather than focus on building the right model for profitability, franchise operators focus on building a model for growth figuring they will become profitable later when they hit that 'magic number'.

This is where they often miss the forest through the trees. If a franchisor does not have the correct system in place to be profitable growing to 10 units they will most likely not have the right systems in place to become profitable growing to 100 units and so on. They may grow their top line revenue but it's the bottom line that ultimately counts. This growth-at-all-costs mindset seems to justify many franchise executives' disregard for established good business and fiscal practices as well as overlooking solid profit opportunities.

So, what is the right system? How can a franchisor alter its system and practices to ensure growth and profitability? It's as simple as two steps. First, change your focus from a royalty-driven revenue stream to a customer-driven revenue stream. Second, take control of a major factor in the success or failure of a unit - its location.

If a company (franchised or otherwise) loses even a dollar a day uncorrected, eventually that company will fail. What franchise executives should be more concerned with is not how quickly they can put numbers on a board or pins on a map, but how to continually improve their bottom line as their top line improves through adding units.

I am shocked when management of franchise companies have claimed success by increasing their top line revenues and opening more units but have lost more money as a company than they did the previous year. A far more interesting measurement the same executives should look at is the amount of profitability (or loss) per open unit and the trend. I'm not talking about the profitability of the unit itself but rather the number of units in comparison to the bottom line of the franchisor.

For example, if a franchisor shows system wide revenues of $25 million, but posts annual loss of $1 million as a company and they have 50 units open that is a loss of $20,000 per unit. If in the next year they were able to increase their number of units to 65 and post system wide revenues of $30 million, but they show a company loss of $1.4 million or $22,000 per unit clearly there is a problem, and it is a common one. The company in my example is showing a 5% increase in its per unit loss and this is a trend that often gets worse before it gets better, if it gets better at all. Boasting higher system wide sales and more units is really not nearly as important as boasting over all profit per open unit in my opinion. Just because a franchise company is improving system wide sales and putting units on a map doesn't mean they have figured out how to be a successful franchise operator. Putting units on a map is not nearly as hard as putting units on a map profitably.

Franchisors (unless public) are not required to disclose their corporate financials which they treat as a highly guarded secret. Franchise companies fear that if the truth were known, it would hurt franchise recruitment. Franchisors should ask a question; 'Would disclosing your financials to prospective franchisees hinder or help your ability to sell or grant more franchises?' If you think it would hinder it then you need to take a look at your internal systems and ask a more important question; 'Is your franchise company designed for growth or profitability?' Interestingly enough, franchise operators that take the time early on and make the effort to be profitable first are ultimately the ones that put the most units on the map.

If you want a healthy franchise system, you need to first lead by example. How can you expect your franchisees or AD's to become profitable if you - the all knowing franchisor - cannot? There are many good business practices that franchise operators should not overlook just because they want fast growth. For example; Create a sustainable franchise system not from the concept out but from the customer in. Non-franchised businesses that grow fast tend to be more focused on their customers. Franchisors on the other hand focus on the business of franchising first and seem to distance themselves from both their customer and their balance sheet. Franchising should be viewed as a way to reach and serve the customer more than anything else. Don't look at yourself as earning revenue through royalties, rather look at earning revenue from your customers through a different distribution channel and focus on ways you can control your growth and expenses.

This concept is nothing new and is long been considered by many learned companies and individuals in franchising but it does set an important foundation from which good business practices are much more likely to follow. If franchisors see its franchisees as a method of getting to its customer rather than simply creating a royalty stream, then the franchisor must conclude that they need to be much more involved at making that distribution network function, grow and reach more customers. They must be more involved in ensuring the success of each unit. If you perceive that you are not in the business of generating royalties but rather in the business to deliver your end product or service to your customers through a franchise network - placing pins on the map will not be the primary motivation, doing the job right and at a profit on the other hand will.

Franchisors that look upon their franchising activities more as a distribution model as opposed to a royalty stream take a different approach as to how they grow and control that distribution network. For starters, they choose which market they will grow into very carefully based on data and knowledge of their customers as opposed to where they receive interest from prospective franchisees. Their recruitment process is based more on who are the best and right candidates to distribute their product or services rather than who comes to the table first with deposit monies.

Another unique difference is how they control their real estate activities. Unlike the majority of franchise operators they do not let their franchisees pick sites, negotiate with landlords or be a party to the tenant leases. They view real estate as one of the most important components of their operations. As in all good distribution models, they view real estate as both a way to control where and how their product and/or service is delivered as well as a way to generate an additional revenue stream. The best example of this is McDonald's. They choose to plug franchisees into their model at the correct time and in the right place rather than simply sell the franchise and hope the franchisees can pick the right location, negotiate a good lease and permit them to control the site by being the tenant on the lease or own the property. As far as I'm aware, McDonalds as a company has been profitable from the beginning. It is no coincidence that they are both one of - if not THE - most successful franchise companies of all times as well as one of the most successful real estate owners in the world.

Finding and securing the correct location before the franchise is granted, sold or awarded is a key factor for success and a great tool to select the right franchisee. By controlling the site selection activities the franchisor picks the best site for the right reasons and then offers it to a successful franchise candidate. That candidate can choose not to accept the location but they cannot dictate where it will go. If the franchisee rejects the location, then the location goes to another franchisee. This takes months off of the time it takes to get a new unit up and running. If McDonald's franchisees were in control of the site selection process I would suggest that they would be perhaps 15 years behind in their growth than they are today.

Controlling the site selection internally, rather than leaving it to the franchisees or real estate brokers, allows you to generate a new revenue stream as well. By eliminating the brokers, your company can earn the sizable commissions by being your own agent. You may not be able to call it a 'commission' per se, as only licensed individuals under most local jurisdictions are entitled them, however, you can collect what is known as a Tenant Placement Fee or TPF. These TPF's, which the internal real estate departments of franchise companies charge to landlords, can be sizable profit generators and help the franchise system grow much more quickly with more successful locations.

The energy needed to grow profitably is no more than that which most franchise companies expend into traditional less profitable growth models. All that is needed is a shift in focus from growth at all costs to customer driven controlled growth. It takes no more effort to grow profitably then it takes to grow quickly if you view franchising more as a distribution model rather than a way to build a royalty stream quickly. Creating your system to recognize this will be the first and perhaps the most important step in becoming a fast growing, profitable franchise company.
Published: December 26th, 2006
Share this Feature
Recommended Reading:
Comments:
comments powered by

Disqus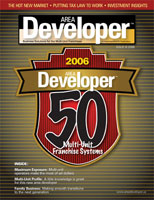 Multi-Unit Franchisee Magazine: Issue 3, 2006
PetWellClinic is a walk-in veterinary clinic offering basic health and wellness services to dogs and cats. PetWellClinic is the first vet clinic...
Cash Required:
$250,000
We're redefining the laundromat industry with a simplified business model built for scale and perfect for diversifying your portfolio.
Cash Required:
$300,000