Finding His Way: Kash Akhtar Trades Engineering for Franchising
Mohammad "Kash" Akhtar says his father taught him to work hard and never give up. But when his father passed away, he had to pick up the pieces and figure out just where he wanted to take his career.
He remembered his first job at Dairy Queen. Long shifts and hard work taught him about franchising and what it takes to succeed as a franchisee. He also learned it takes teamwork, customer service, and delivery of a consistent product. But Akhtar's professional journey did not begin in the franchising world. He was an engineer at Xerox before getting the entrepreneurial bug and setting out on his own. "I just really wanted to try it for myself," he says.
He did, and has done well for himself with three franchise brands over the past 14 years, starting with Liberty Tax and 9Round Fitness. Now the 43-year-old has teamed up with Tierra Encantada, the Spanish-immersion daycare and preschool for children 6 weeks through 6 years old. Akhtar holds the distinction of signing the brand's first franchise agreement and is scheduled to open three units, starting in Charlotte and Houston.
"Tierra Encantada is a very strong concept that provides a needed service to future generations," he says. "I can't wait to get these open."
Though his new brand will take up much of his time, he'll remain actively involved with his four Liberty Tax units, and as a partner in seven other Liberty Tax locations and two 9Round gyms.
Akhtar, a hands-on operator who generates more than $1.2 million annually from his Liberty Tax units, has high hopes for Tierra Encantada. "I feel confident we can do half a million with Tierra Encantada this year," he says. In the next few years, he hopes to have as many as five more operating, and is looking to grow his Liberty Tax business by both unit count and revenue.
Name: Mohammad "Kash" Akhtar
Title: Owner
Company: Tierra Encantada/Liberty Tax
No. of units: Sole operator of 4 Liberty Tax, opening 3 Tierra Encantada; partner in 7 other Liberty Tax and 2 9Round Fitness
Age: 43
Years in franchising: 14
Years in current position: 14
Personal
First job:
Crew member at Dairy Queen.
Formative influences/events:
My father, who taught me never to give up on working hard.
Key accomplishments:
My education. I have been part of three successful franchises.
Biggest current challenge:
I want to get started on prospecting great locations to establish the Tierra Encantada franchise in the markets I am signed to open them in.
Next big goal:
Help learn the system from the great CEO at Tierra Encantada and her operations team.
First turning point in your career:
When my father passed away and I had to figure out how to get going with the start of my career.
Best business decision:
When I left my engineering job at Xerox to focus completely on my businesses.
Hardest lesson learned:
Complacency kills progress.
Work week:
I try to work my hardest Monday through Thursday.
Exercise/workout:
I work out on a daily basis. It is important to stay physically fit.
Best advice you ever got:
Attitude is a matter of choice; make the right choice.
What's your passion in business?
Running a successful business through competent employees and automation.
How do you balance life and work?
My motto is: Work hard and play hard with my family.
Guilty pleasure:
I have a daily fight with some sweets but I don't indulge.
Favorite book:
The Holy Quran.
Favorite movie:
"Castaway."
What do most people not know about you?
I am full of emotions.
Pet peeve:
Being redundant about staying focused.
What did you want to be when you grew up?
Pilot.
Last vacation:
Disney with the family.
Person I'd most like to have lunch with:
Warren Buffet.
Management
Business philosophy:
Master one thing at a time with full focus and then move on to the next task.
Management method or style:
Visionary and coaching.
Greatest challenge:
Buying in to a person before selling my vision.
How do others describe you?
Persistent.
One thing I'm looking to do better:
Deploying standard operating procedures regularly with management teams.
How I give my team room to innovate and experiment:
Refining and sharing my vision with core teams so they can go out and make the decisions to bring our vision to life.
How close are you to operations?
I live and breathe operations.
What are the two most important things you rely on from your franchisor?
Operations support and innovation.
What I need from vendors:
Develop more guerrilla marketing products.
Have you changed your marketing strategy in response to the economy? How?
Social media marketing is king, so we have spent time focusing on how we can better use the tool, as well as align it with current trends.
How is social media affecting your business?
By making it easier to reach large groups of people.
How do you hire and fire?
We hire through job boards. Firing is done on a performance basis.
How do you train and retain?
Constantly develop the skills of the management team so they can in turn train their subordinates. This sort of training structure ensures that all employees are constantly up-to-date with all our training procedures.
How do you deal with problem employees?
By giving them a chance to improve through guidance and training.
Fastest way into my doghouse:
Not being honest in my operations and not providing me with a diligent effort.
Bottom Line
Annual revenue:
$1.2 million at Liberty Tax.
2020 goals:
$1.25 million at Liberty Tax; $500,000 at Tierra Encantada.
Growth meter: How do you measure your growth?
By staying true to my vision and monitoring KPIs.
Vision meter: Where do you want to be in 5 years? 10 years?
For Tierra Encantada, I hope to have three to five locations open and operating. With my Liberty Tax business, I hope to continue to grow the brand in my markets and grow revenue as well.
Do you have brands in different segments? Why/why not?
Yes. I have brands in both the childcare and retail tax segments. It is important to have a diverse portfolio.
How is the economy in your regions affecting you, your employees, your customers?
It is booming. Money is following, but pay is rising. Hopefully we can stay ahead of the curve.
Are you experiencing economic growth in your market?
Yes. Charlotte is a rapidly growing city, and opportunities are increasing as well. It is an exciting time for business owners.
How do changes in the economy affect the way you do business?
We are staying competitive to our service delivery and adding more sales products to the businesses.
How do you forecast for your business?
Sales projections, operational expenses, royalties.
What are the best sources for capital expansion?
Reinvesting with some cash injections and traditional banking.
Experience with private equity, local banks, national banks, other institutions? Why/why not?
Banks and business lines of credit.
What are you doing to take care of your employees?
Investing in their skill set so they can do their job better.
How are you handling rising employee costs (payroll, minimum wage, healthcare, etc.)?
Staying above the pay curve and rewarding for performance.
What laws and regulations are affecting your business and how are you dealing with it?
Childcare facilities requirements in general, and for Liberty Tax the ever-changing tax code. We stay up-to-date and are constantly coming up with ways to innovate so we can provide the best service possible to our customers and clients.
How do you reward/recognize top-performing employees?
We offer cash bonuses and vacation giveaways.
What kind of exit strategy do you have in place?
Partner up with successful managers or get my family involved and pass it on to them in future.
Published: March 31st, 2020
Share this Feature
Recommended Reading:
Comments:
comments powered by

Disqus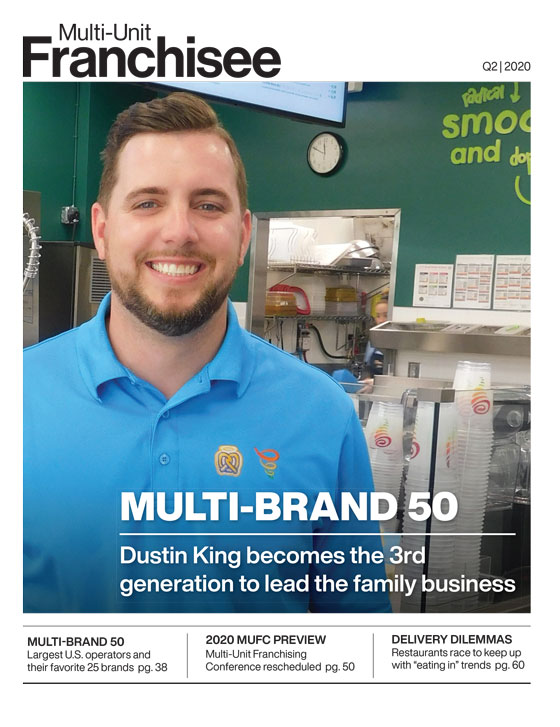 Multi-Unit Franchisee Magazine: Issue 2, 2020
The #1 fast casual Mexican franchise in the industry offering flexible formats with ample white space to grow.
Cash Required:
$350,000
Discover franchise opportunities with one of the world's largest chains of ice cream specialty shops.
Cash Required:
$100,000