Snacking to Success: Here comes the 3rd Generation of the Family Business
Dustin King, a 32-year-old third-generation operator, is fully engaged in building his family's snack empire. King, who grew up in the business, is now overseeing holdings that include Auntie Anne's, Häagen-Dazs, Cinnabon, Planet Smoothie, Jamba, Nestle Toll House Cookies, and Carvel. Today, the business is just shy of 60 locations and still growing.
The company was started by his grandparents in 1992 as a single Auntie Anne's in Knoxville, Tennessee. By age 12 King was working a cash register at the shop. He went on to attend college at Coastal Carolina University, where he was a walk-on baseball player. Afterwards, he returned to the family business and opened his first store in 2009. A year later, when the family gobbled up 10 stores in just 90 days, King says he knew then that he was committed to continuing. In mid-2017, the company began a streak of opening 16 Auntie Anne's locations in 16 months.
Last September, King signed a deal to open 16 Jamba units. Many will be co-branded with Auntie Anne's. He's already opened four Jamba locations and will spearhead the brand's growth in South Carolina, North Carolina, and Tennessee.
King says the family--including brother Derek and parents Andy and Lisa, who also are involved--has focused on snack brands and mall locations and have been successful with the approach. He doesn't seem worried by the decline of malls and their growing vacancies. He says controlling the snack locations in carefully selected malls eliminates competition and leverages resources.
His philosophy is simple and effective: "Own all the snack offerings in the mall space and beyond and be a one-stop shop for landlords," he says.
Auntie Anne's was the first brand the King family became involved with and King says he is proud to have been selected to serve on the brand's franchise advisory council when he was just 23.
You can find the company's stores throughout malls in Georgia, Tennessee, South Carolina, and North Carolina--with more on the way this year. "We plan to open four more Jamba locations in 2020, we'll remodel a couple of stores, and work out some lease renewals," says King. A Millennial's work is never done...
Name: Dustin King
Title: CEO
Company: SE Co-Brand Ventures
No. of units: 32 Auntie Anne's, 8 Häagen-Dazs, 8 Cinnabon, 4 Planet Smoothie, 4 Jamba, 3 Nestle Toll House Cookies, 2 Carvel
Age: 32
Family: Engaged
Years in franchising: 10 full-time
Years in current position: 2
Personal
First job:
Working at my grandparents' Auntie Anne's in Knoxville, Tennessee.
Key accomplishments:
Walking on for the Coastal Carolina baseball team and winning three regionals. I'm also the first one in my family to graduate college, and I was voted onto Auntie Anne's franchise advisory council at 23.
Biggest current challenge:
Balancing my work life and my personal life.
Next big goal:
To get married and start a family.
First turning point in your career:
It came in 2010. We were able to buy 10 stores in just 90 days.
Best business decision:
Forming a new company and joining forces with another operator who has a common vision and goals.
Hardest lesson learned:
Partnerships are not easy.
Work week:
During a traditional work week, I'll visit stores that are under construction and will work with managers on any labor challenges they are experiencing. It's important for me to get my hands dirty and work to ensure that everything is in place so each store is successful from the beginning.
Exercise/workout:
Walking in the park.
Best advice you ever got: Do things right and do the right thing.
What's your passion in business?
Serving the best snack product we possibly can, while knowing that we are the best in class.
How do you balance life and work?
My fianceé has been an integral part of helping me balance the two. Before she came into my life, I was struggling to find the balance. She's helped me immensely in that regard.
Guilty pleasure:
Häagen-Dazs strawberry ice cream.
Favorite book:
Think and Grow Rich by Napoleon Hill.
Favorite movie:
"Home Alone."
What do most people not know about you?
Beginning at a young age, I took an interest in handyman skills I learned from my father and grandfather. I've used those skills to build stores from scratch.
Pet peeve:
Tardiness.
What did you want to be when you grew up?
I've always wanted to be in business with my dad.
Last vacation:
Turkey with my fianceé and her parents.
Person I'd most like to have lunch with:
Mark Cuban.
Management
Business philosophy:
Own all the snack offerings in the mall space and beyond and be a one-stop shop for landlords.
Management method or style:
Fair, firm, and consistent.
Greatest challenge:
Our greatest challenge continues to be the labor market. Finding, recruiting, and retaining top talent on all levels is an obstacle we are constantly trying to overcome.
How do others describe you?
Intense and direct.
One thing I'm looking to do better:
Improve my communication skills.
How I give my team room to innovate and experiment:
Give them flexibility when it comes to local marketing and catering.
How close are you to operations?
I'm out in the field almost every day.
What are the two most important things you rely on from your franchisor?
Trust and transparency.
What I need from vendors:
Reliability, consistency, and responsiveness.
Have you changed your marketing strategy in response to the economy? How?
A lot of our marketing focus is now on catering and third-party delivery.
How is social media affecting your business?
It's had a positive and negative influence. Our guests are quick to post their great experience online, but may also share any negative experience with their following. We have to ensure that each guest is satisfied whenever they come through our stores.
How do you hire and fire?
Hire slow, but fire fast.
How do you train and retain?
We use training videos and our method is to show, do, and review. We are able to retain our workforce by staying engaged and using consistent evaluations to monitor progress.
How do you deal with problem employees?
Through disciplinary write-ups and performance improvement plans.
Fastest way into my doghouse:
Dishonesty.
Bottom Line
Annual revenue:
$20 million.
2020 goals:
Open four Jamba locations, lease renewals, and two store remodels.
Growth meter: How do you measure your growth?
By units, gross sales, and net profit.
Vision meter: Where do you want to be in 5 years? 10 years?
In 5 years, I would like to have increased revenue to $30 million.
Do you have brands in different segments? Why/why not?
We only have snack brands. Our model is to own all the snack locations in a venue. This eliminates competition and leverages our resources.
How is the economy in your regions affecting you, your employees, your customers?
When the economy is strong and unemployment is low, it makes it difficult to hire and retain top talent.
Are you experiencing economic growth in your markets?
Yes.
How do changes in the economy affect the way you do business?
We are being very strategic about where we are growing right now because the labor market is so challenging and sparse.
How do you forecast for your business?
As a percentage based on last year's sales.
What are the best sources for capital expansion?
We have a banking relationship with BB&T.
Experience with private equity, local banks, national banks, other institutions? Why/why not?
It's important to build a banking relationship because a large part of our business is cash.
What are you doing to take care of your employees?
We reward them with performance-based bonuses. I also like to show my appreciation with smaller things like gift cards, holiday parties and taking them out to eat. We are only as good as our team, so it's important for them to know how much we appreciate them.
How are you handling rising employee costs (payroll, minimum wage, healthcare, etc.)?
We use Zignyl, which is a management software tool that helps us with scheduling and timekeeping. We have seen a reduction in our overall cost. It also gives us a variance of actual time worked versus scheduled time worked.
What laws and regulations are affecting your business and how are you dealing with it?
This has not affected us.
How do you reward/recognize top-performing employees?
They love brand swag, so we like to reward them with some cool items.
What kind of exit strategy do you have in place?
I'm still young, so my strategy is growth and acquisitions. I'm not currently thinking about an exit strategy.
Published: March 31st, 2020
Share this Feature
Recommended Reading:
Comments:
comments powered by

Disqus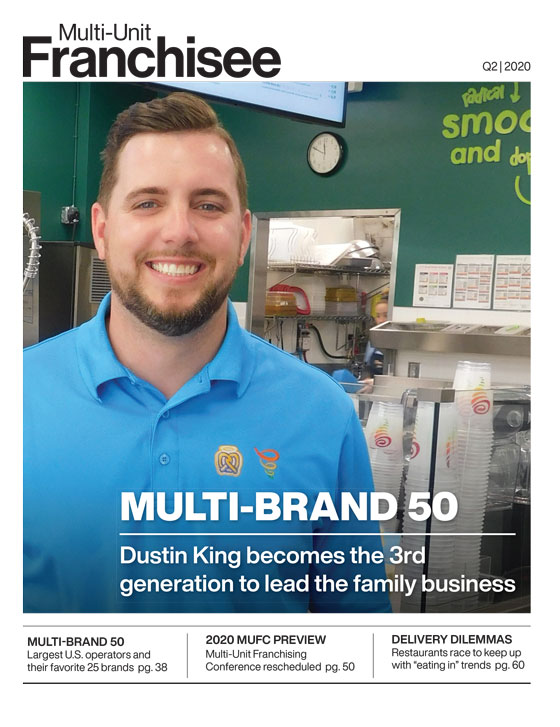 Multi-Unit Franchisee Magazine: Issue 2, 2020
PetWellClinic is a walk-in veterinary clinic offering basic health and wellness services to dogs and cats. PetWellClinic is the first vet clinic...
Cash Required:
$250,000
One of the fastest growing franchises in the U.S., Jimmy John's has been making fresh, fast, tasty sandwiches since 1983 - and seeking...
Cash Required:
$200,000