Better Late Than Never: Shahid Hashmi makes up for Lost Time with Rapid Growth
Shahid Hashmi and his partner Tony Akaras have spent the past 25 years building a multi-brand portfolio that has included dozens of Popeyes Louisiana Kitchens, Burger Kings, Retro Fitness gyms, and, most recently, ZIPS Dry Cleaners.
When we last spoke with Hashmi (2015, Q1) he was operating 45 Popeyes locations up and down the Eastern seaboard. He has since acquired and opened another 30. He was looking for a way to diversify outside the restaurant space when he signed on with ZIPS Dry Cleaners, opening his first location in Baltimore in 2014. Fast forward to 2019 and Hashmi and Akaras have signed a development agreement to open five more ZIPS locations in the Norfolk, Virginia market in the coming years. Combine that with their Retro Fitness location (they divested their 2 Burger Kings) and, Hashmi says, "Our revenues are going to exceed $130 million in 2020."
A Pakistani native, Hashmi first caught the franchise bug in the mid-1990s when he was working in the telecom industry. "I saw franchising as an investment opportunity and opened my first Popeyes in Washington, D.C.," he recalls. So he quit his day job and dedicated himself to franchising, realizing, "An entrepreneur can't be part-time."
In the early going, Hashmi relied on his business experience, two MBAs, and his own capital to grow the operation. Burger King, Retro Fitness, and ZIPS were added to a growing Popeyes portfolio for a reason. "I knew I needed to diversify and not have all my eggs in one basket," he says.
At 70, Hashmi still laments getting his start in franchising late in life, but says later was better than never at all.
Next up for Hashmi, "We plan on opening three ZIPS locations in 2020 and another three in 2021," he says. "We're still on course for growing to 100 Popeyes units over the course of the next 5 years."
Name: Shahid Hashmi
Title: Managing Partner
Company: Pure Foods Management
No. of units: 75 Popeyes, 1 ZIPS Dry Cleaners, 1 Retro Fitness
Age: 70
Family: Wife, two children
Years in franchising: 26
Years in current position: 26
Personal
First job:
Financial analyst for a telecommunications company, Comsat, in Washington, D.C. Formative influences/events: Becoming an entrepreneur. Two loving parents who always emphasized the importance of education, reading, studying hard, and dreaming. Key accomplishments:
Two MBAs, one from the Institute of Business Administration in Karachi, Pakistan, the oldest business school outside North America, and another from Western Illinois University. Growing a brand to 75 stores. Biggest current challenge:
Manpower, the labor shortage. Next big goal:
To grow ZIPS regionally. First turning point in your career:
Deciding to leave the corporate world. Best business decision:
Leaving the corporate world to start my own business. Hardest lesson learned:
Learning to rely on good people.
Work week:
Seven days. I usually come into my office at 10:30 a.m. and begin phone calls and teleconferences with my suppliers and vendors. I will also speak with the executive and management teams to address any outstanding agenda items. The majority of the day is spent on the phone discussing strategy and tactics to help move our brands forward. Usually I try to leave my office around 4:30 p.m. After a long day, I have had enough of long telephone calls.
<
b>Exercise/workout:
I enjoy casual walks.
Best advice you ever got:
Always try your best, be honest, and don't be afraid.
What's your passion in business?
Be the best you can to all. Be successful.
How do you balance life and work?
I'm sure to take occasional breaks and travel.
Guilty pleasure:
Eating good food.
Favorite book:
Thou Shalt Innovate: How Israeli Ingenuity Repairs the World by Avi Jorisch.
Favorite movie:
"Ben Hur."
Pet peeve:
Laziness.
What did you want to be when you grew up?
A doctor.
Last vacation:
Jerusalem, Istanbul, Pakistan, and Saudi Arabia, a 4-country trip.
Person I'd most like to have lunch with:
My grandfathers I never got to meet.
Management
Business philosophy:
Work hard and don't give up.
Management method or style:
Delegation is key. I want a workforce that is empowered and well trained.
Greatest challenge:
Finding good people.
How do others describe you?
Friendly, honest, compassionate, fun.
How I give my team room to innovate and experiment:
By not micromanaging, I give my team autonomy and empower them to make the decisions necessary to run the business.
How close are you to operations?
Intimately close. I don't deal with the day-to-day operations, but I'm always in the loop on what is going on. I also work closely with my partner to plan and strategize.
What are the two most important things you rely on from your franchisor?
Protect the franchisee. That means assistance and expertise in brand marketing and operations, and all the factors that are important in effectively running a franchise.
What I need from vendors:
Quick, timely, and accurate service. Innovation.
Have you changed your marketing strategy in response to the economy? How?
Our marketing strategy allowed us to expand the demographics we reached and engaged with. The Popeyes chicken sandwich came on the scene and really helped us reach a new demographic of people we didn't reach in the past. ZIPS has a solid marketing strategy for helping get the word out about their stores, so having that always helps franchise owners as well.
How is social media affecting your business?
It has been very helpful. An example would be the chicken sandwich situation with Popeyes. We have really ramped up our use of social media in the last year or year-and-a-half. Probably our biggest success during this time was with the Popeyes chicken sandwich. That really took off for us. Obviously it kind of exploded on social media, which really helped spread the word about the new menu item. We have found that both organic engagement and targeted ad campaigns have worked well for our brands.
How do you hire and fire?
My management team handles those issues. They are on the front lines every day. As long as they follow the guidelines put in place, the processes are much easier and less stressful for all concerned.
How do you train and retain?
The training department works hard and provides incentives.
How do you deal with problem employees?
Counsel them and give them another chance. If that doesn't work, remove them.
Fastest way into my doghouse:
Not do what you preach.
Bottom Line
Annual revenue:
$100 million-plus.
2020 goals:
Focus on diversification.
Growth meter: How do you measure your growth?
Comparable sales to the year before with a focus on growing sales--individual store sales and as a whole portfolio.
Vision meter: Where do you want to be in 5 years? 10 years?
Right where I am today.
Do you have brands in different segments? Why/why not?
Yes. It is important to diversify your portfolio.
How is the economy in your regions affecting you, your employees, your customers?
Tight labor market, but the economy is doing well.
Are you experiencing economic growth in your market?
Yes.
How do changes in the economy affect the way you do business?
We constantly modify to address the current business landscape.
How do you forecast for your business?
We follow trends and business pulse, look at forecasts, and adjust when necessary. Still growing.
What are the best sources for capital expansion?
Lending institutions you can develop relationships with.
Experience with private equity, local banks, national banks, other institutions? Why/why not?
I have experience with all of the above. They all have their place.
What are you doing to take care of your employees?
Better incentives for employees as well as promoting from within. Our employees are our customers too. We provide a good work environment and offer cash bonuses based on sales and profits.
How are you handling rising employee costs (payroll, minimum wage, healthcare, etc.)?
Innovation.
What laws and regulations are affecting your business and how are you dealing with it?
Labor laws and keeping up with the changing labor landscape.
How do you reward/recognize top-performing employees?
Financial incentives.
What kind of exit strategy do you have in place?
I want to transfer my business to my children.
Published: March 31st, 2020
Share this Feature
Recommended Reading:
Comments:
comments powered by

Disqus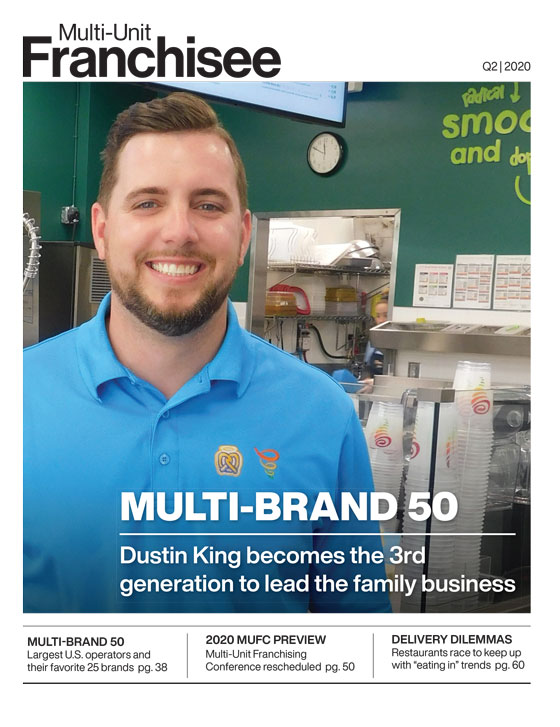 Multi-Unit Franchisee Magazine: Issue 2, 2020
Own a highly profitable business that impacts lives in your community by jumping into action as an Urban Air franchisee owner.
Cash Required:
$750,000
After investing more than 45 years in building the most trusted brand in health and wellness, The Vitamin Shoppe is now franchising with only 234...
Cash Required:
$200,000