Franchising All-Pro: Former NFL Tackle Parlays His Winning Ways in Franchising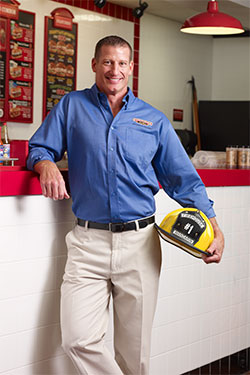 If you ask retired NFL defensive tackle Don Davey to list the qualities needed to succeed in the NFL or in franchising, his list is the same: competitiveness, tenacity, discipline, coachability, and focus.
Those same qualities worked well for him in the NFL, where he played defensive tackle for 10 years, starting with the Green Bay Packers and then moving to the Jacksonville Jaguars, where he led the young team to a berth in the AFC Championship Game in just its second year of existence.
The same qualities he displayed in the NFL have contributed to his success today as the operator of Firehouse Subs restaurants in Florida and as the brand's area developer for Wisconsin. And that success has not gone unnoticed: the IFA named Davey its 2013 Franchisee of the Year.
Add to that his role as founder and senior portfolio manager of Disciplined Equity Management, an institutional money management firm with more than $150 million in managed assets. He also is the owner of Parrothead Properties, a real estate investment company with commercial and residential holdings in Florida and Wisconsin.
"Some people look at my life as hectic and chaotic," says Davey, who earned bachelor's and master's degrees in mechanical engineering at the University of Wisconsin-Madison. "But I thrive with lots of balls in the air. I guess you could say I'm opportunistic. For example, I didn't start out to form a financial advisory business, but I recognized a need among former teammates for quality investment advice from someone who knew exactly what they were up against. I managed my own finances successfully for the 10 years I played, so I know how to help them." Davey says his background in engineering and statistics provides the foundation for the quantitative methods he uses at the firm.
Another example of Davey taking advantage of an opportunity came when he signed on as a franchisee with Firehouse Subs. "My Jaguar teammates and I had been eating at Firehouse several times a week because we loved the food. I got to know Robin and Chris Sorensen there and during a charity golf event. At first they weren't sure they were going to make it, but I stayed close to them and watched them grow over the years, and by the time I retired they were selling Firehouse franchises. My wife Kristen said, 'You eat there so much, you might as well own one,' so I decided to carve out Orlando," says Davey, who now has 13 restaurants in Central Florida.
Raised with four siblings by two "strict but fair" parents in Manitowoc, Wisc., Davey says he shares similar values with the Sorensens, the firefighter brothers who founded Firehouse Subs in Florida in 1994. "They're really good people with great family values. Their mom is the receptionist, their dad does the radio commercials, their sister handles PR, and a high school buddy paints the murals for the stores. They treat their employees and franchisees well. They're just a first-class organization," he says.
Davey especially appreciates Firehouse Subs Public Safety Foundation. "Instead of throwing away these big buckets our kosher pickles come in--the same kind that sell for $6 or $8 at Lowe's or Home Depot--we sell them for $2 each." He says Firehouse raised $2.7 million last year, and the money goes to local police and fire stations where the money was raised. "It's a great foundation. We're saving lives and keeping people in the community safe by buying bulletproof vests for police, and fire trucks and other equipment for fire stations."
Last year, Davey bought the development rights for Wisconsin--for 42 stores. He's keeping the two stores in Madison, where he went to college, for himself. The contract is for 10 years, but he expects to have all 42 open sooner.
In addition to taking in University of Wisconsin Badgers and Green Bay Packers games each year, Davey has stayed involved with the NFL through the Player Engagement program, which provides assistance and resources to players transitioning out of the league. His friend Troy Vincent, another former NFL player, recruited him for the program's advisory board. "You hear horror stories of guys transitioning out of the NFL," says Davey. "It's a difficult time financially, emotionally, and career-wise. They need help and guidance."
Through his financial management firm and the NFL's Player Engagement program, which offers a Franchising Boot Camp for transitioning players, Davey has helped former players learn about franchising and its opportunities. "A lot of former NFL players are involved with different brands. They're competitive by nature and are coachable," he says. "I tell them, 'Just like the coach hands you a playbook, the franchisor will hand you a manual telling you what you need to do to be successful.'"
Married to his high school sweetheart, and father of five daughters, Davey still manages to find time to feed his competitive sports side. He's competed in six triathlons and will begin training in early 2014 for another Ironman race. "It's hard work, but rewarding. I'm up late and up early to work out. It fits my personality and lifestyle," he says.
Name: Don Davey
Title: Owner/CEO, DKSS Subs, Badger Development Group, and Badger Restaurant Group
No. of units by brand: 15 Firehouse Subs plus 6 under area development
Age: 45
Family: Wife and five daughters
Years in franchising: 11
Years in current position: 11
Personal
First job:
At age 12, I took a job as a paperboy. I was responsible for delivering newspapers on my bicycle in the mornings before school, managing my inventory, collecting payments door to door, and canvassing for new subscribers. It was a great introduction to entrepreneurship.
Formative influences/events:
I was the fourth of five children. We were raised by two extremely loving parents who taught us all to value faith, family, hard work, discipline, education, athletics, and having fun.
Key accomplishments:
Bachelor's and master's degrees in mechanical engineering from the University of Wisconsin; first and only four-time First Team Academic All-American in NCAA history; Green Bay Packers, 1991-95; Jacksonville Jaguars, 1995-99; 2013 IFA Franchisee of the Year; and six-time Ironman finisher.
Biggest mistake:
Opening locations on my schedule rather than waiting for the best opportunities.
Smartest mistake:
Granting ownership to my operations partners on day one. People told me I was crazy to give up equity in our entire operation at the outset, but both of my partners have earned their share many times over.
Decision I wish I could do over:
I wish I would have purchased even larger development rights for Firehouse Subs. That's how much I believe in this brand.
Work week:
35 hours.
How do you spend a typical day?
I oversee and run the business for DKSS Subs and Badger Development Group from my office in Jacksonville. I am responsible for securing financing, selecting sites, negotiating leases, negotiating with contractors, reviewing financials, budgeting, approving invoices, managing cash flow, negotiating vendor contracts, etc.
Favorite fun activities:
Spending time with my wife and five daughters.
Exercise/workout:
I work out at 5 a.m. seven days a week using a combination of swimming, biking, running, and weight training.
Favorite tech toys:
High-speed scanner that is gradually turning our office paperless.
What are you reading?
Catching Fire, the second installment of The Hunger Games trilogy by Suzanne Collins. My daughter Carly has the whole family hooked on the books and movies.
Do you have a favorite quote?
"Carpe diem."
Best advice you ever got:
Be self-reliant. (from my father)
What gets you out of bed in the morning?
My 4:45 a.m. alarm.
What's your passion in business?
As an entrepreneur, I love being completely responsible for both our successes and our failures. It is stressful, but extremely rewarding.
How do you balance life and work?
I don't sleep very much.
Last vacation:
I took my three teenage daughters to Madison for the Wisconsin Badger homecoming game against Northwestern.
Person I'd most like to have lunch with:
Vince Lombardi or Jimmy Buffett.
Management
Business philosophy:
"We are what we repeatedly do. Excellence, then, is not an act, but a habit." (Aristotle)
Management method or style:
I grant both of my partners complete autonomy to run day-to-day operations as they see fit and hold them accountable for their results.
Greatest challenge:
Finding quality managers committed to our culture of excellence.
How do others describe you?
Driven, disciplined, hard-working, and, hopefully, fair.
One thing I'm looking to do better:
A core focus is educating our customers that we offer more than hot subs for lunch and dinner. I'd like to make people more aware of our diverse offsite catering capabilities. We offer party platters, party salads, box lunches, concessions at sporting events, and even onsite, made-to-order subs for employees through our "Firehouse Fridays."
How I give my team room to innovate and experiment:
Autonomy with accountability.
How close are you to operations?
I have daily interaction with both of my operating partners by email, phone, text, or face-to-face.
What are the two most important things you rely on from your franchisor?
Exceptional products and marketing direction.
What I need from vendors:
Great service, competitive prices, and their continued support of the Firehouse Subs Public Safety Foundation.
Have you changed your marketing strategy in response to the economy? How?
Yes. Unlike most brands, Firehouse Subs made the bold decision to increase our investment in marketing during the recession. This allowed us to capture market share from our competitors and put us in a great position as the economy rebounded.
How is social media affecting your business?
Social media gives every single one of our guests the power to become an ambassador of our brand to thousands of potential new guests.
How do you hire and fire, train and retain?
My operations partners Scott Anthony and Eric Erwin handle all personnel issues. Our crew members are on the front line every day and we trust and value them to be ambassadors of the brand.
How do you deal with problem employees?
See above.
Fastest way into my doghouse:
Making excuses.
Bottom Line
Annual revenue:
$12 million.
2014 goals:
Increase same-store sales by 12 percent with the rollout of our new Hearty & Flavorful (under 500 calories) menu.
Growth meter: How do you measure your growth?
The bottom line.
Vision meter: Where do you want to be in 5 years? In 10 years?
I'd like to have 25 more stores in Central Florida and 42 stores in Wisconsin.
How is the current economy affecting you, your employees, your customers? Although the overall economy is recovering, many of our guests are still spending cautiously. We are working harder than ever to be everyone's favorite place for lunch and dinner.
Are you experiencing economic growth in your market?
Yes.
What did you change or do differently during the economic downturn that you are continuing to do? We invested heavily in radio, TV, and billboard advertising to capture additional market share.
How do you forecast for your business?
Each location has unique variables that affect business. For example, our food court location at the Millenia Mall in Orlando thrives during inclement weather. Our Wisconsin locations see lower traffic during the three hours that the Green Bay Packers are playing. After 11 years, we have gotten pretty good at anticipating these situations.
Is capital getting easier to access? Why/why not?
Yes. After an extended period of building their capital bases, many banks are now eager to do loans.
Where do you find capital for expansion?
We use a combination of shareholder contributions, shareholder loans, equipment leasing, and conventional bank financing.
Have you used private equity, local banks, national banks, other institutions? Why/why not?
We have a great relationship with two different national financial institutions.
What are you doing to take care of your employees?
We offer competitive salaries and wages, generous bonus potential, comprehensive healthcare plans, and a defined contribution plan with an employer match. We have a history of promoting from within, so our employees have tremendous opportunities for advancement. In an industry notorious for high turnover, some of our original employees are still with us today.
How are you handling rising employee costs (payroll, healthcare, etc.)?
We are proactively customizing our healthcare plan to meet the specific needs of our employees and the Affordable Care Act.
How do you reward/recognize top-performing employees?
We have a rotating "Axe of Excellence Award" that goes to the crew with the highest guest satisfaction score for the period. Our general managers compete fiercely for this.
What kind of exit strategy do you have in place?
Someone once told me that entrepreneurship offers you the opportunity to create your own utopia. I love our food, our founders, our culture, our brand, my partners, and my employees. Why would I ever leave?
Published: February 17th, 2014
Share this Feature
Recommended Reading:
Comments:
comments powered by

Disqus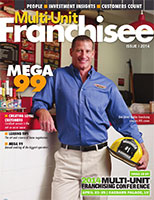 Multi-Unit Franchisee Magazine: Issue 1, 2014
Hungry Howie's is currently EXPANDING! Top Markets are available for single or multiple unit development. Get the EDGE over the competition with...
Cash Required:
$220,000
Buddy's Home Furnishings is one of the fastest growing rent-to-own franchises in America with a 60+ year legacy of proven success.
Cash Required:
$150,000