From Crisis to Competition: Credit Market Turns a Critical Corner
In 2008 we dodged an international financial meltdown. In 2009 we saw the technical end of the second-longest-running recession in U.S. history. In 2010 we are wrapping up the first year of the recovery in a less-than-robust fashion. Let's look ahead to 2011 and what is in store for franchising and, in particular, access to capital.
I believe we're in a 3- to 5-year period of an uneven and slow economic recovery. There are too many serious headwinds to conclude otherwise. Housing will require a few years to absorb the overbuilding and mortgage mess before it stabilizes. State government budgets are a mess and will force some hard choices that will be a drag on growth. Consumer debt levels peaked last year and are starting to come down, a process that will go on for a few years. Consumer spending is 70 percent of GDP, and consumer psychology may be changing in ways that alter future spending patterns, and these patterns are slow to change. And we are in the midst of a shift in demographics as the high-consumption Baby Boomers move into a period of conservative spending. All of this leads me to conclude that a slow and choppy recovery will be the new normal.
The instigator of the downturn was the capital market. Yet, capital markets have a way of changing quickly in response to economic realities. Money will flow to where there are return expectations that exceed perceptions of risk. And that is what we are beginning to see.
That doesn't mean we will see a quick rebound in credit availability, but I do think we are at the end of the credit crisis for business lending. The best way to think of the next few years regarding credit is a competition for credit rather than a crisis of capital access. I say that because banks have the money to lend today. At the peak of the financial crisis, banks didn't know how many losses they would have to absorb and therefore didn't know what their capital position was. The result was they stopped lending, for all practical purposes.
The challenge today and for the next few years will be to convince banks to lend to you rather than to another business. Franchising is in the same line that all small and medium-sized businesses are in for money to expand and acquire. That's why we're in a period of competition for credit. Understanding how and where this battle will be fought will be the key to gaining access to credit in the future.
For most of the past decade, SBA lending was the primary source for small franchise investment levels below $2 million and for operators starting their first units. While a lot of SBA lenders were involved, the majority of lending was done by the national lenders like CIT and Wachovia. Conventional lending picked up some of the smaller loan amounts and most of the borrowing requirements beyond the SBA 7(a) lending limits. Conventional lending was being done by both commercial banks and non-bank lenders like GE Capital. When the financial crisis hit, the lending world changed dramatically and, I would venture to say, permanently, inasmuch as permanent means 3 to 5 years.
Now the primary source for franchise lending levels below $5 million and for start-ups is SBA lenders. This actually is good news because if the SBA legislation that made the $5 million cap hadn't been passed, we would not see much availability of business credit at all between $2 million and $10 million. We're seeing the implications at banks: national banks are starting to reassemble SBA lending programs and regional/local banks are doing more SBA lending.
Conventional lending still is hard to come by, and for obvious reasons. When a bank looks at the economic recovery and is putting its capital at 100 percent risk in a conventional loan, the issue is less about how high an interest rate to charge and more about the amount to allocate to loss reserves and the impact a loss would have on their balance sheet and with their regulators. Even with a likely reduction from a 90 to a 75 percent SBA guarantee, those concerns are substantially muted.
For multi-unit operators, the idea of providing personal guarantees and the red tape associated with SBA loans is not very appealing. But if SBA lenders are close to the only game in town for loans under $5 million, such loans are the way to grow. And they do come with a much more favorable interest rate and amortization period than conventional loans.
The new big gap is between $5 million and roughly $10 million. At the higher end, the regional and national banks start getting interested, especially if the loan comes with other banking services, such as cash management, A/P, payroll, and so forth.
A final point on the new banking world: meeting the credit guidelines and getting a loan commitment are two separate actions. The latter involves due diligence on the franchise system's performance as well as the borrower's performance. Credit committees are requiring it. The competition for credit mandates that those franchise concepts with solid performance demonstrate it in terms that banks understand, which is why we developed Bank Credit Reports a couple of years ago. Information will drive access in coming years. The better systems and better operators will get the money. And that's the way capitalism is supposed to work.
Darrell Johnson is president and CEO of FRANdata, an independent research company supplying information and analysis for the franchising sector since 1989. He can be reached at 703-740-4700 or djohnson@frandata.com.
Published: April 4th, 2011
Share this Feature
Recommended Reading:
Comments:
comments powered by

Disqus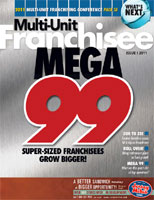 Multi-Unit Franchisee Magazine: Issue 1, 2011
Altitude Trampoline Park is the premier indoor trampoline park destination, bringing active family fun through its JumpLife(SM) mantra to the global...
Cash Required:
$600,000
Tropical Smoothie Cafe is a healthier, quick-casual restaurant brand with 1,175+ locations in 44 states. One of its key differentiators is what the...
Cash Required:
$125,000