Got Funding? ApplePie and BoeFly Make Lending Better
Once upon a time (about 10 years ago), a franchisee in search of funding had few choices: their own savings and home, friends and family, an SBA loan, or a traditional loan. This usually meant traipsing from bank to bank, lender to lender, making the case that yes, they were a good credit risk. Today, thanks to technology and some innovative thinking, life for loan seekers has gotten easier--not easy to be sure except for larger franchisees, but quicker and less painful than it used to be.
We spoke with two of the pioneers leading the charge to speed and simplify franchisee funding: BoeFly (2010) and ApplePie Capital (2014). BoeFly is an online loan marketplace that functions much like a broker, connecting borrowers with lenders through its online platform of more than 5,000 funding sources. ApplePie also connects borrowers with lenders, but in addition will provide its own funding. And while BoeFly has a heavy presence in franchise funding, it's not exclusive to franchising, whereas ApplePie is.
One size clearly doesn't fit all, and executives at both companies say they will refer franchisees to one another, depending on the circumstances. But for franchisees seeking funding to start, build or acquire new units, remodel existing units, finance equipment, or refinance or recapitalize, the more potential funding solutions the better.
At ApplePie, we spoke with CEO and co-founder Denise Thomas and Chief Development Officer Ron Feldman. See their story in the following pages.
In BoeFly's case, we've put together a case study of four players to show how the process can work. Let's start by introducing the four players: The Franchisee, The Franchisor, The Banker, and The Broker (sorry, there's no baker or candlestick maker in this tale).
The Franchisee
Around 2009, after a career in commercial real estate lending, Ryan Debin was looking to shift into franchising. He knew plenty about commercial real estate, where he estimates that he'd closed about $2 billion in loans. But he had a lot to learn about franchising--and the SBA.
"I had four kids. I loved kids and wanted to find a concept that interested me," says Debin. All his children had been going to My Gym Children's Fitness, a concept he knew and liked. My Gym started in 1983 and has more than 600 locations in 34 countries. So when the opportunity came up to buy one, he did. Then he bought two more, opened a fourth, and now is up to 8 locations in the Greater Boston area. He's planning to grow to 10 to 15 or more.
"Do what you love," he says. "When it's good, it's great. But if you're not doing something you love and go through a downturn or have some issue and you're not doing something you're passionate about, the bad becomes very bad. Find something you love." And he did.
"My dilemma has been how to fund acquisitions for a business like this. I had two options, SBA or traditional," he says. "It's been difficult, but I'm a dealmaker, I get deals done." Today his company, Momentum Enterprises, is the largest single franchise owner of My Gym facilities in the U.S.
After about 6 years of steady growth in the franchise business Debin began looking for a second brand. When he signed a 5-unit deal with Launch Trampoline Park, the franchisor directed him to BoeFly. "Anybody who wants to be a Launch franchisee has to go thru BoeFly," he says, which acts as a pre-screener, a kind of outsourced pre-qualifier for the brand.
The Franchisor
Launch Trampoline Park, founded in 2012, is a relative newcomer with 21 locations open and more being built, says COO Brad Artery. He calls BoeFly the brand's preferred lending partner. "We point every franchisee to them, but they also have the right to use their own lender. It's the solution we put in front of the franchisees, and they're very pleased with it," he says.
"For the first 10, we looked to relatively small local banks for SBA loans. The process was slow and painful, but SBA generally is," says Artery. "As we grew in 2016 and 2017 a couple of banks surprised us. They said, 'We've reached our limit for Launch and won't fund any more.' But we need 15 or 20 of these loans every year."
That's when Launch discovered BoeFly. "They're not a lender, but they have a panel of lenders, and they present your lending criteria and facilitate a whole host of lenders for franchisees," he says. BoeFly's approach was appealing, he says, because it did not lead to one potential lender, but thousands. "Each franchisee is different in terms of experience and wealth."
In the beginning, says Artery, BoeFly didn't simply ask him for information to enter into a database or spreadsheet. "They said, 'Let us understand your concept, how it's different, and are other parks profitable? It was more of an explanation of our concept and how we position ourselves in the market," he says. And that impressed him. "It was a validation point for us--them looking at us the right way."
Finding the right fit for each individual or group of would-be borrowers is made much easier through BoeFly's online platform. "Thousands of lenders can take a look at what we're looking for," Artery says. "We say its costs $2 million to $2.5 million to open one of our parks."
And, as noted, BoeFly also pre-qualifies each franchisee, saving the franchisor time better spent on growing the system. Artery says BoeFly looks at four critical criteria right away before moving ahead: liquidity, net worth, credit score, and a background check.
Once that's done to everyone's approval, BoeFly and the franchisor agree to work together to connect the loan applicant with their pool of lenders. BoeFly sets things up on their platform, and interested lenders will respond, saying they'll issue a term sheet and would like to extend the loan, says Artery.
As part of the process, he says, potential lenders will often want to get on the phone with Launch corporate, asking the same kinds of questions as BoeFly did: what is the concept, how is it different, etc. And again, once that relationship and a level of trust is established, the franchisor won't have to explain the concept again when the next franchisee applies to that lender. It's all documented and available in the BoeFly platform.
They will, of course, have to do it again with a new bank. "Patriot Bank won't require me to describe any more, but new banks will check us out," says Artery. He expects to do about 15 loans this year, several with Patriot, the rest with other banks.
As for timing, Launch waits until discovery day to introduce BoeFly to candidates. "We found that if we start sooner than that, we're wasting time," says Artery. When the time does come, they have BoeFly dial in for about 30 minutes to explain the process. "The perception from the franchisees is that this is going to be really painful and long," says Artery. "Here we have a partner that makes this as painless as possible."
The Broker
BoeFly, founded in 2010, is an online matching platform that connects borrowers with lenders. The company was a pioneer in a technology application that has become so familiar today in many fields, from mortgages and insurance to dating.
"It's a more efficient path to find financing," says Mike Rozman, BoeFly's co-founder and CEO. "We have more than 5,000 participating banks and specialty finance companies on our platform, but our focus is finding the right lender for our borrower."
The company has helped franchisees from more than 600 different brands. To date, BoeFly has facilitated transactions upwards of $6.6 billion (not all with franchises), with franchise brands that include Checkers, Tropical Smoothie Cafe, Jamba Juice, Meineke, Maaco, Kiddie Academy, Burger21,BrightStar Care, Papa Murphy's, Senior Helpers, and many, many more.
BoeFly says lenders benefit by being presented with only those loan requests that fit their lending profile, significantly reducing their time and cost of origination. And franchisees benefit from the ease and speed of using BoeFly's online form to see if they qualify for funding based on the franchisor's criteria. With Launch, says Rozman, "All franchisees go through our workflow."
Next comes an early stage term sheet issued by a lender who's looked at the new franchisee's credit, liquidity, net worth, and, based on the brand, will issue a term sheet. "It's not a commitment letter, but that's okay. They know the money is there when they need it," says Rozman.
With Debin, who's opening one new Launch and buying another, "Our role is to help him navigate the financing path as efficiently and painlessly as possible," says Rozman. "It's hard to get a loan; banks want a lot of information. Our role is to capture the information from the franchisee once, and take it to one of an array of lenders we work with."
Says Rozman, "It's important for the franchisor to recognize that their franchisee's process of getting financing be as smooth as possible"--and match the needs and criteria of both borrower and lender. "Some banks do not like franchise lending for various reasons, he says, so it saves them time too. Meanwhile he adds, "Ryan is growing his business, negotiating leases, and making more efficient use of his time."
Rozman says the BoeFly team does a lot of explaining in the initial encounter with the franchisee. "For many franchisees, their only experience with finance is maybe a mortgage. Our most important role is education," he says.
"We have lenders with their own credit underwriting model. We ask the bank what's important for them from a data standpoint so they can use their own credit underwriting model. We take a fairly agnostic point of view when it comes to credit. We don't want to be paternalistic when it comes to financing products." The goal, says Rozman, is to understand the needs of both borrower and lender and use the platform to find the best match.
Finally, and unlike ApplePie, "We don't make the loan," he says. "We matched Ryan with a national SBA lender who can access the information we have securely stored."
The Banker
In Debin's case, that banker was Mike Keady, SBA loan manager at Patriot Bank in Stamford, Conn. "We found Launch through BoeFly, the broker that represents them," says Keady. "They have dozens of bank partners and know what each bank is looking for--and trying to avoid."
Keady, with 30 years in banking and finance, has been working with SBA loans for the past 2 years at Patriot, following a career in commercial lending. "When we look at an applicant, whether individual or group, we review past and current credit performance, personal financial statements, and other individual measurements," says Keady.
In Debin's case, if approval wasn't a slam dunk, it was pretty close. "He is an entrepreneurial professional who believes in his brands, his capabilities, and with 100 percent accuracy knows he will succeed," says Keady, who also mentioned Debin's "unwavering confidence." Bottom line? "We believed it would cash flow and result in a performing loan."
Before saying yes, the bank also evaluated the children's fitness sector. "From a high-level view, we thought that the business and industry were viable. Maybe we didn't know Launch specifically, but we knew the industry and felt confident it would draw people from a wider area and be successful with proper management."
Another plus for Debin was that, in addition to a solid portfolio of other businesses through Momentum Enterprises, he came in with a strong track record in the children's fitness sector. "His success was in a similar industry to Launch, so we felt confident he knew how to own and operate based on his current and previous experience," Keady says.
The franchisor also has metrics they use to determine if someone is an eligible franchisee candidate well in advance of this stage. To qualify for applying on BoeFly's platform, an applicant must first pass the franchisor's requirements. "We appreciate that at the bank because it provides us with more highly qualified applicants," says Keady.
Finally, says Keady, "We found the transaction interesting and put out a proposal to Launch, which was negotiated and agreed upon."
SBA: Needs Improvement!
Even a former banker needed help negotiating the SBA approval process. "When I get a term sheet, my background helps. But if I didn't have the background I do I'm confident that BoeFly would have held my hand in the process. I know deal terms, but I had to be educated in the SBA guidelines and rules," says Debin.
Getting an SBA loan, he says, is "an extraordinarily exhausting process for the small-business owner. There are banks who do smaller SBA quick and easy [Express] loans, but my case is not very simple." Through his franchises and other business interests, Debin says he has more than 30 LLCs. Neither quick nor easy. With its volumes of required paperwork and the time it takes to get approved for an SBA loan, he says the process needs to be fixed. "There has to be a better way."
Another issue, he says, concerns funding for multi-unit deals and the SBA's lending limits. "To open a Launch costs multiple millions of dollars. Even if you get a loan for $1.5 million, by the third unit you're tapped out at $5 million. So what do you do next?"
So where do the franchisees who need $5 million to $10 million go, he asks. Enter the ApplePies and the BoeFlys of the world.
Looking back on the process, "I could have done it myself, but the smartest move I made was getting onto a relationship with BoeFly," says Debin. "BoeFly knew exactly what lenders needed to know--I knew commercial real estate." Instead of having to assemble a team or do it himself, he had BoeFly. "They took the time to understand my whole business at Momentum."
"We ask what is the franchisee trying to accomplish," says Rozman. "My advice is to think about what the implications are for any given loan product, and what future needs you may have. After 3, 4, or 5, then what?"
Rozman also factors in what stage a franchisee is in. For example, he says, a beginner would go with an SBA lender, but by their fifth unit they could use conventional lending with no lien on their home.
Before settling on Patriot Bank, Debin had spoken with four different SBA lenders, all with different requirements. He'd worked with Patriot Bank before, and was also looking to refinance his 8 My Gyms. Keady didn't handle that, but he did connect him with someone in his office who did.
"Patriot Bank has been a big help with acquisitions, startup, and refinance," says Debin.
He's also "extraordinarily grateful" to BoeFly. "Had I known about BoeFly four years ago, I might be twice as big." Would he use them again? "Yup, I can't wait."
Looking for Funding? Look Here!
"Whether you're looking to open your first unit or your 50th, we can quickly help provide the financing you need, with multi-unit commitment options."
Music to a franchisee's ears, right? That's the promise of ApplePie Capital, a promise it's been keeping since it began franchise lending 4 years ago.
"We started with the belief that there was a need for growth-oriented lending solutions in the franchise industry and that we could improve the borrowing experience for franchisees through specialization in franchise businesses, a consultative approach, and technology," says Denise Thomas, co-founder and CEO of ApplePie.
"The only thing we do is franchise lending," says Chief Development Officer Ron Feldman. "We want to take you from the first unit to your end place--whether that is 10, 20, or 50 units. We have a solution from $10,000 to $20 million. That's our sweet spot."
"We are 100 percent in service to this industry, discovering what people need and crafting loan products to meet those needs," adds Thomas.
A pioneer in online lending for franchising, ApplePie was founded in 2014 and began lending in January 2015. The company provides funding to the franchisees of the brands it works with for almost any purpose: building new units, acquiring additional ones, remodeling and refreshing units, recapitalization, debt refinancing, and equipment financing.
"We consider ourselves a loan product innovator," says Thomas. Beginning with a handful of selected franchisor partners, ApplePie now has done transactions with 80-plus brands, more than 40 of which are full partners.
"When we engage with a brand, we provide a set of services to them, including prequalification of a franchisee and lending solutions on a programmatic basis for their franchisees," says Thomas. "We integrate with our partners in a deep way through our technology, providing a full digital experience from applying to closing the loan."
Unlike fellow online lending pioneer Boefly--an online marketplace that, much like a broker, connects lenders and borrowers but does not provide funding--ApplePie offers a dedicated, captive lending product, as well as a full host of SBA, conventional, and equipment loan options from its established lender network and captive $500 million in capital commitments.
"Our ApplePie Core loans are optimized for franchisees looking to accelerate their growth, and our lending network provides a full host of SBA and conventional loan options," says Thomas. "Overall, our financing options are flexible and can be optimized for whichever factor is most critical, including speed to money, short-term cash flows, or future growth."
For existing franchisees, says Feldman, "The biggest value-add is that we can leverage the existing equity in their operations to fund their growth earlier than traditional lenders," with the goal of finding each franchisee the best options depending on their stage of growth. "Our value is understanding their end goal."
The key to smart multi-unit expansion, he says, is to match growth plans with the right capital solutions. The general rule of thumb is to preserve as much cash as possible to maintain a rainy-day fund and the resources to open or acquire new units when opportunities arise, versus a one-unit-at-a-time mentality.
"The biggest problem we see with franchisees in the early stages is not using the proper balance of equity and debt to efficiently meet their capital and operational needs," says Feldman. "Often, a franchisee will use too much cash or too little cash to fund expansion. They borrow too much or they don't borrow enough."
Another valuable piece of advice from Feldman: the cheapest capital is generally not the best capital. "You want the most flexible capital while you are growing. Once you've grown you look at the cheapest capital options."
To sum up, "We unlock value for the franchise brand by providing not only access to capital for their franchisees, but also growth planning," says Thomas. "We are 100 percent focused on nurturing the growth of franchisees and giving them a full range of loan options through a single source, reducing the headaches and inefficiency of working separately across individual lenders."
As we said, music to a franchisee's ears.
Published: April 4th, 2019
Share this Feature
Recommended Reading:
Comments:
comments powered by

Disqus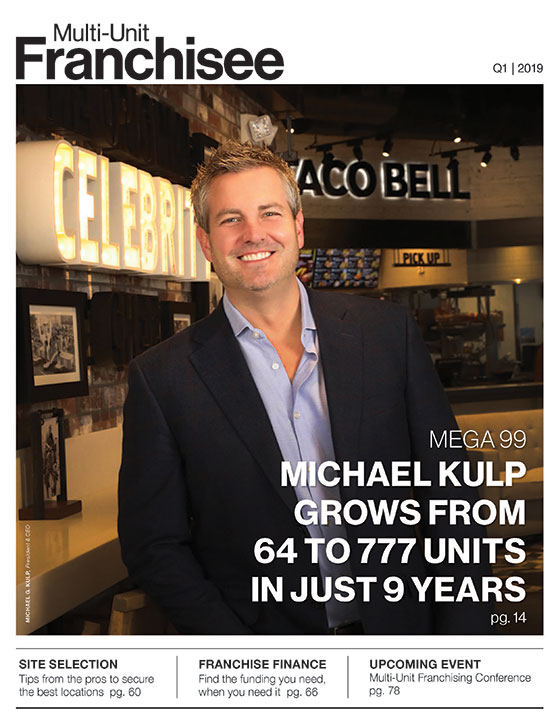 Multi-Unit Franchisee Magazine: Issue 1, 2019
There's nothing quite like the perfect cup of coffee. It wakes you up and gets you on the right path. Now, you've got the chance to build a lifestyle...
Cash Required:
$150,000
As the personal care movement continues to develop and more people recognize the benefits of a regular self-care routine, the demand for Waxing the...
Cash Required:
$150,000