Success Within Site: Expert Tips on Finding the Best Location
By the time he co-founded The Sunray Companies in 1996, Ray Harrigill already had experience with real estate, managing 26 restaurants in three states. An MBA, law degree, and a contractor's license expanded his knowledge and contributed to the growth of Sunray into 30 properties in Mississippi and Louisiana that include Massage Envy, Hampton Inn & Suites, Holiday Inn Express, Bumpers Drive-In restaurants, and Palm Beach Tan salons.
His years in franchising have given Harrigill plenty to say on the subject of real estate. For instance, "The best location and a vibrant business trumps owning the real estate. However, if you can own the real estate, it is a wealth builder over time."
Also, "Getting a deal done is the goal," he says, "but know the difference between deal-breaking points and your wants." (See sidebar for more from Harrigill.)
As ever, it all begins--and ends--with location. "There is a saying in America: location, location, location," says Philip Schram, chief development officer at Buffalo Wings & Rings, a franchise with more than 70 locations worldwide.
"A good location will make the business flourish; a bad location will kill the business," says Schram. Typically, he says, two of the biggest variables in the franchise system are the location and the quality of the operator. A good operator cannot overcome a bad location--nor can a good location overcome a bad operator.
Franchise real estate is a process, says Spencer Smith, closing in on nearly two decades as a franchisee. His holdings now include 44 Aaron's stores, making him the brand's third-largest franchisee. Building that array of locations has taught Smith that even with careful preparation, there are times "when you don't know what you don't know until you get started," he says. Without question, however, "Location is key. You can never afford to advertise enough to overcome a bad location. The math never works out to take a B or C location and say, 'I can turn this into an A-minus.'"
Need more data
Finding the right location is also about gathering the most valuable, relevant, and specific information, says Schram. Technology that tracks consumer choices makes that easier than ever, and that information can be mapped by demographics and behaviors to pinpoint where success will most likely be found.
While considering the data, Schram also understands another aspect of location selection: name recognition. As Buffalo Wings & Rings is not a nationally recognized name, Schram has found that success is most likely in towns that are county seats. Those towns are typically rural, but are distinguished by a population that's bolstered, sometimes doubled, by government employees. The same phenomenon also will be found in towns with large manufacturing plants, he says, but those plants often have an in-house cafe that will compete for lunchtime customers. Nonetheless, in a small community, a newer brand will be noticed--in contrast to opening in a big city, where there is so much competition that "unless you have 10 locations of the same brand close to each other, nobody's going to notice you," says Schram.
Some locations that might appear desirable in one way can actually be less so when their particulars are examined. "In airports, security is an issue," Schram says. "You have to move food to the restaurant, and that makes the operational side challenging. Also, people are busy and always in a hurry. You need to be a major brand and not have an expectation of making money. You'll be using your location more as advertising, even though you may not make money." Buffalo Wings & Rings, for example, has a location in Paul Brown Stadium, home of the NFL's Cincinnati Bengals, even though it's not open year-round "because it makes a statement," Schram says.
Timing also matters--not only with the real estate, but also with the brand itself. In his years as a franchisee, Smith has observed that a brand's life cycle influences real estate decisions. "There are rules of the road that never change, like location, but negotiating lease terms--those deal points ebb and flow," he says.
Accordingly, he cautions against getting into a franchise model at the peak of the model. "All brands have a life cycle--they hit a saturation point or their business model loses touch with what consumers want. I've been involved in a couple of brands that have grown to 1,000 locations, then pruned to 400. Brands have to go through a pruning process and it can take a while before that bears fruit. If you get in at the right point, life is great."
Prospective franchise buyers should also consider the source of information they use to make real estate decisions, Smith says. Franchisors will share information with prospective franchisees at a variety of levels. National real estate brokers will also identify prospective locations with their own formalized process. Smith appreciates the guidance of others, but ultimately believes in the value of visiting a site multiple times and of understanding traffic patterns and regional markets. Doing that takes time, Smith says, but verifying data makes good business sense.
Schram follows a protocol aimed at evaluations conducted with the highest level of input. "When a franchise wants a location, they submit it to us. We do a lot of homework and then present it to the executive team. I am not allowed, on my own, to approve new franchisees, even though that falls under my responsibilities, and I cannot approve, on my own, site locations. Discussions about site location, in particular, are challenging and deep dives. We prepare a lot for those discussions. The executive team includes the CEO, the heads of operations, marketing, HR, and finance. Operations and marketing are the most important because they'll be the ones living with the franchisee and the locations."
Jason Glasrud, development manager at CBC Real Estate Group, spells out some additional reasons for involving many perspectives in the real estate and site selection process. "A collaborative team approach can help ensure that a location is appropriate, that the cost of doing business in a particular community is justified in the pro forma, and that the time to obtain approvals from the municipality conform with the desired schedule, working backwards from the day you expect to receive a certificate of occupancy and open for business." That team, he adds, ought to include an architect or civil engineer who can evaluate a site according to a franchisee's needs, and who understands the varying timetables for approvals and permits from building and zoning officials, in addition to impact fees that might apply.
Smith, whose Aaron's expansion is geographically dispersed, advises franchisees to allow their expansions to be dictated by available markets and the right real estate. "While we all would like to open in our back yard, there might be something 100 miles away that's worth the extra effort to reach rather than opt for convenience." He also suggests that franchisees reach out to existing franchisees to ask about their best locations. Then, just as important, "Go out and visit the actual locations," he says. "No matter what a franchisor's sales department says, you can always learn something different when you actually go out to a location."
Complex environment
Successful growth for restaurant operators in today's market environment has been made more difficult by increased land and construction costs, increased borrowing costs, inconsistent sales, traffic trends, and overall higher rents, says Chris Naylon, net lease advisor for the Sands Investment Group (SIG), which has offices in several U.S. cities. A commercial real estate brokerage firm that specializes in buying and selling net lease properties for private investors and institutions across the U.S., SIG has handled 1,500 transactions in 48 states worth more than $3 billion. Naylon keeps a close watch on tactics that help franchisees navigate a market that doesn't make success simple for the uninitiated.
Naylon says many operators have been able to successfully expand their operations with new store development by not rushing into new deals, by staying disciplined, and by focusing on real estate fundamentals. Doing those things ensures that franchisees stay fully informed with all germane information to help them stick with a strategy that best fits their long-term goals.
The net leased real estate market has come front and center in the commercial real estate investment world, he says. Restaurants have continued to be one of the most sought-after product types and have been a major contributor to overall growth and expansion within the space.
Operators, Naylon says, have used various expansion strategies, including acquisitions of existing businesses, sale leasebacks of owned real estate, and build to suit with third-party developers. Each of these strategies has its advantages and tradeoffs. Operators who are more aggressively expanding and looking to add a large number of new stores in a relatively short time are less likely to leave their capital tied up in real estate, and instead will look to deploy that capital into new acquisitions and buildouts using sale leasebacks and third-party developers.
Naylon believes that the low cap rate environment of recent years has enabled operators to take advantage of sale leasebacks. Some motivating factors for this strategy include paying off short-term debt used to finance a new build or renovation, moving the equity into the next soon-to-be location, and taking advantage of a market where the real estate is more valuable because there is a nationally recognized name brand occupying the space.
One of the greatest advantages to a sale leaseback, says Naylon, is that it allows the owner more control over setting a lower occupancy cost when looking to pull out equity. Determining the base rent is one of the most important factors, because that rent will drive both the final valuation and overall marketability of the property. Working with an experienced market consultant to help determine how the rent and basic lease terms will affect the final sale price can be valuable. Operators looking to use this strategy should be focused on maximizing the value of the business and keeping the rent as low as possible, while pulling out only the equity they need.
In some cases owners have approached the sale leaseback strategy as an opportunity to artificially inflate their rent to unhealthy levels in an effort to achieve a higher sale price. This strategy is counterproductive and can have severe negative long-term implications on a business and could end up costing the business owner more in the future.
Working with third-party developers to complete a custom build-to-suit restaurant is another widely used strategy, Naylon says. This allows the operator to avoid any out-of-pocket expenses up front or capital risk on the acquisition of the land and construction. It also means operators are able to continue to do what they know best--running their business without being distracted by also having to manage finding a new site and constructing a new building.
Developers can employ their market knowledge, network of contacts, and expertise to source a new site for approval, fund the acquisition, build out 100 percent, and provide a turnkey store to the operator, ready for FF&E. The lease between the restaurant operator and developer is agreed to ahead of time. The rent factor would be calculated based on the developer's overall cost to acquire the land and construct the building. It would also include a profit margin based on the expected valuation derived from the negotiated lease.
Naylon recommends the importance of ensuring that the developer is working with a qualified and experienced net lease market consultant during this process--a step often overlooked by both parties, he says. "Our team has been able to successfully match a large number of operators and franchisees with one of our preferred development partners based on geographic locations and overall needs. Those developers who are partnering with us take advantage of our market expertise on final valuations," he says.
This helps mitigate market risk and helps the tenant keep their rent as low as possible, creating an economical win-win strategy for both the restaurant owner and the developer, says Nayon. "Searching for and interviewing for a developer partner can be a difficult task for restaurant owners, especially smaller franchisees with less experience. The importance of selecting the right group when using a build-to-suit strategy could be the difference between long-term success and immediate failure," he says.
Also, says Naylon, when choosing either a build-to-suit or a sale leaseback strategy, operators will need to be prepared to negotiate a long-term lease. Common lease terms operators should be prepared to discuss--because they drive the final value of the property--include the overall length of the base term, the base rent, scheduled rent increases, options to extend the lease, the strength of the entity providing the guaranty (in many situations a personal guaranty), and assignment language among other lease characteristics. It is important to understand how each of these will affect the final value, and to come up with a solution that works for the operator while still maintaining market appeal and value. Working with consultants who understand market conditions and how each of these characteristics will affect the value can be most useful.
One last caution about leasing from Smith. "Never do a sublease. I've seen friend after friend get caught down the road when demographics shift or the business model weakens, and they have no negotiating leverage. Landlords will never make any concessions because they know that the franchisor will pay." Such situations are more likely to happen when you're first getting in, he says. "You might think, 'If the franchisor signed, it must be a great lease.'" Not necessarily.
6 More Tips
Ray Harrigill offers additional thoughts and advice on making the best real estate deals possible in the current environment.
The quality of the location and the co-tenants can dramatically affect your success. Like most things in life, you get what you pay for. A quality location is not cheap.
Remember, a lease obligation may exceed the amount you invest in your business or borrow from the bank. Make sure you understand the document you sign and the commitment you have agreed to.
There is little value to leasing extra space on the front end that you might need later. Lease the minimum space you need to start your business to meet the franchisor's requirement. A 3,000-square-foot space at $22 ($66,000) is less annual rent than a 3,300-square-foot space at $21 dollars ($69,300). The savings may very well pay your light bill.
Generally, rental rate is the most important thing to a landlord because it caps the value of their real estate with a lender or if they need to sell. While you should push for low rent, you will probably find the landlord is more willing to give you a larger tenant improvement allowance or free rent before they give you a low rental rate.
Push for a stair-stepped rent structure to keep your rate low and give the landlord what they want. Require pre-negotiated renewal options with your original lease.
If your business does not take off as you planned, don't be afraid to ask your landlord for help. The worst thing they can say is no.
Published: February 15th, 2019
Share this Feature
Recommended Reading:
Comments:
comments powered by

Disqus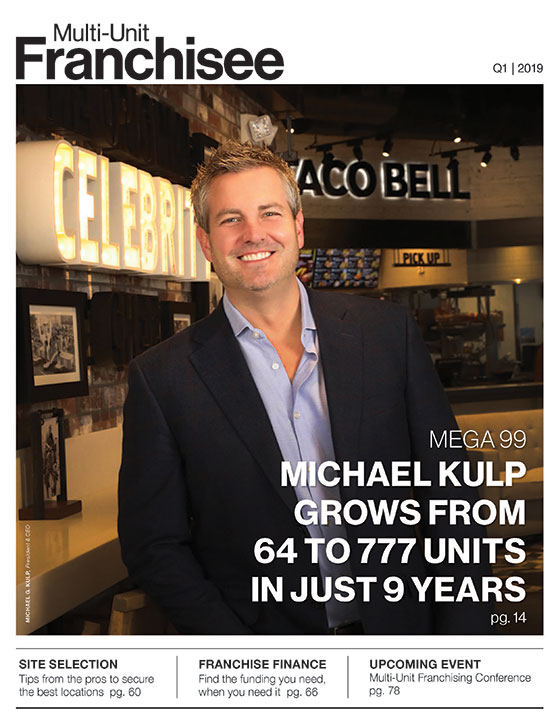 Multi-Unit Franchisee Magazine: Issue 1, 2019
Own a highly profitable business that impacts lives in your community by jumping into action as an Urban Air franchisee owner.
Cash Required:
$750,000
With many attractive development territories available for multi-unit growth, there has never been a better time to become a Penn Station franchisee.
Cash Required:
$300,000