Great Minds Think Like Family: Multi-Unit Franchise Is a Family Affair
Family business teams in the franchise industry help prove the old adage that two good ideas are always better than one. That continues to be the case for Kelly Saxton and his family.

Saxton is the largest franchisee of McAlister's Deli, a quick and casual restaurant chain featuring deli-style foods. Saxton Pierce Restaurant Corp. operates 17 McAlister's Delis in three different states: Texas, Mississippi, and Oklahoma. Before developing his McAlister's multi-unit franchise operation, Saxton was Mazzio's Pizza's largest franchisee. He was involved in the development and acquisition of more than 50 Mazzio's restaurants before selling them to its executive management team.

Saxton decided he wanted to develop and grow another franchise brand. At that time, he and his wife, Vicky, were having lunch at McAlister's Deli in Jackson, Miss., where the family was living. She asked if he had considered McAlister's ashis next venture. "Of course I was not looking at a concept to franchise that I could actually go to eat at right in town," here calls.

But he decided to heed to his wife's instincts and checked out the McAlister's chain. Saxton liked what he saw and opened his first one in 1999 in Longview, Tex. All the restaurant's items are made to order and delivered to the customers' tables after they place their order and receive their beverage at the counter.

The McAlister's menu includes a wide variety of sandwiches,salads, and desserts.

In addition to dine-in and take-out service, McAlister's offers casual catering, with a selection of deli and sandwich trays. Upscale disposable packaging provides a nice presentation while eliminating the need for a dishwasher.

"In our opinion, the strength of the concept is based upon the service element," Saxton says. A wait staff assists with any additional needs after the order is placed, such as beverage refills. McAlister's has a posted no-tipping policy, but patrons tend to tip because the service is so good. Those tips are collected and donated to local charities.

Saxton started his career in the restaurant business at the age of 22 when he purchased two Ken's Pizza restaurants in Jackson. His father helped him finance his first restaurant, and after that the rest of the growth was done by Saxton himself. He decided to get into the franchise business because he wanted to be his own boss.

Sons join inThe Saxton family has joined together in the McAlister's effort. Both sons became involved in the business when they were fairly young, and Saxton believed in immersing them in all aspects of the company. Both worked in the restaurants from age 15, and Saxton has given them part ownership in the company, Saxton Pierce Restaurant Corp.

Today, older son Adam, 24, is director of development for the company. He joined Saxton Pierce after graduating from Southern Methodist University. Matthew, 21, is a hospitality management major at the University of North Texas. Both are shareholders and sit on the company's board of directors. The corporation has also created a development wing, SP Properties, LLC. It develops upscale strip shopping centers anchored by a McAlister's Deli in smaller markets. Saxton decided to develop these centers so he could have prime locations for his restaurants. He found it easier to find prime sites of two to three acres for a restaurant and retail development instead of a one-acre parcel required for just a restaurant.

The McAlister's brand tends to attract a slightly upscale consumer, and the Saxtons want their shopping centers to fit with that concept. They believe that the real estate operations should complement the restaurant operations and don't want to develop a Grade B shopping center and put a McAlister's Deliin it. Saxton's goal is to place as many restaurant locations inSP Properties developments as possible.

To date, two centers have opened, one in Richland, Miss.,and another in Athens, Tex. Four others are expected to open within the next 24 months in Bartlesville, Okla.; Moore, Okla.;Waco, Tex.; and Rockwall, Tex. And the Saxtons intend to continue their fast-paced development of McAlister's Deli openings and have nine locations under development in the next six to 18 months.

"We just concentrate on being the very best we can be,"Saxton says. "We want to maximize the opportunity that's been given us. Whether that means going from 17 to 30 restaurants or 17 to 100, that's great."

Joan Szabo is a Virginia freelance writer who specializes in finance.
Published: May 1st, 2006
Share this Feature
Recommended Reading:
Comments:
comments powered by

Disqus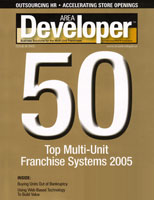 Multi-Unit Franchisee Magazine: Issue 3, 2005
With over 2,000 locations globally, Midas is the auto repair and service shop people know and trust. Multi-unit ownership with Midas is a terrific...
Impressive numbers, outstanding support and incredible pizza delivery create an opportunity you can't afford to miss. Join the pizza franchise...
Cash Required:
$200,000