Greg Cutchall: Friend to All, Mentor to Many
Greg Cutchall was a big man… big dreams, big personality, big motorcycle, big heart.
Born in 1952 in Tucson, Arizona, Greg passed away on May 16, 2022 after a hard-fought battle with cancer.
An Omaha-based restaurateur, Greg was one of the good guys, a great one, say many lucky enough to have known or worked with him. Founder, chairman, and CEO of Cutchall Management Co., Greg built his company into one of the industry's most respected restaurant franchisee organizations. On the way, he built his own reputation as a strong, capable operator able to turn around failing locations—or swap in a new brand and make it work.
Greg was a friend to many at Franchise Update Media, serving as an Advisory Board member and Chair of the 2019 Multi-Unit Franchising Conference. Over the years we knew him, he often joked that while his goal was to operate fewer brands, he always found himself adding—even founding!—new ones. He graced the cover of Multi-Unit Franchising magazine, not once, but twice. (One of those covers remains our only issue with a motorcycle on it.) His influence helped shape and build a community of inclusion where multi-unit franchisees from all industries could share their experiences, challenges, and solutions with their peers.
For Greg, everyone was a peer. He treated people with kindness and respect. A true leader, honest, open, and humble, he had the ability to help others see their path to success both personally and professionally. In a 2009 interview for this magazine, he said:
"Nothing is more rewarding than being in a restaurant you helped create and see engaged employees, happy guests, the music just right, the lights just right, and a fun, enjoyable environment with a great product that makes employees proud and keeps guests coming back again and again."
In addition to supporting local communities and causes in the Omaha area, he and his wife Molly were among the co-founders of the Omaha Design Center. Opened in spring 2016, the facility serves as a permanent home for Omaha Fashion Week and as a flexible venue for events throughout the year.
In 2018, following in the footsteps of both his father and uncle, Greg was inducted into the Omaha Hospitality Hall of Fame. In the 22-minute video of his acceptance speech, he began: "It's a small world… we're all interconnected in this business." (See the video here: omahahospitalityhalloffame.com/about/2018-inductees/224-greg-cutchal; if needed, the log-in is HOF.)
Greg could light up a room with his presence. Asked how other people described him, he said, "My friends tell me I'm fun to hang with and keep them laughing. The people who work for me describe me as a tornado that usually creates good things at the end of the storm."
One of those good things—and a shining example of his generosity to others—is that he created a pathway to ownership for the people who worked for him. "Whenever possible, I try to find ways for my long-term managers and supervisors to buy restaurants from me. I have done this several times in the past, and all but one succeeded. It's very rewarding for me and for them. It requires some financial help from me, but I am okay with that if they also have skin in the game."
Above all else, Greg loved spending time with his family—his wife Molly, children Cory, Cydney, and Chase, and five grandchildren—and was quick to share stories and pictures of them. Again from 2009, asked about his favorite fun activities, he said: "Golf, motorcycles [Harleys], and I used to race Corvettes. I love to travel to Aspen, Scottsdale, and any beach with my wife. I play Guitar Hero with my youngest son, Chase, golf with my older son, Cory, and watch my daughter, Cydney, show and train horses. She is amazing."
Through his big-hearted, irrepressible presence and full-throttle approach to life, Greg continually showed everyone he met that each day is an opportunity to grow, learn, and give. And he put ketchup on his eggs.
In 2013, he said, "I will own restaurants until they bury me." To the end, he was true to his word. And for all we know, is still opening restaurants… somewhere.
He will be missed. He already is. Rest in peace, dude.
Published: August 19th, 2022
Share this Feature
Recommended Reading:
Comments:
comments powered by

Disqus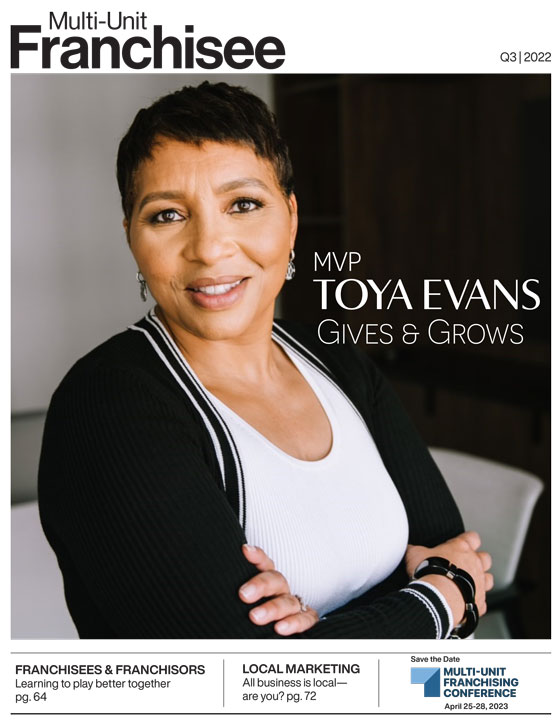 Multi-Unit Franchisee Magazine: Issue 3, 2022
Salata is a 90-plus unit, built-to-order salad and wrap kitchen providing quick, healthy meal options. Known for excellent customer service, the...
Cash Required:
$300,000
With over 650 stores operating across 28 states and commitments to open more, Scooter's Coffee is in the midst of a strategic growth phase...
Cash Required:
$200,000