Growth Overdrive: Tony Lutfi Exceeds His Own Goals In Just Three Years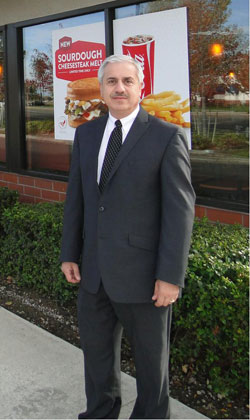 In 2009 we profiled Tony Lutfi and asked him our routine question about where he'd like to be in five years. At the time he had 52 units and told us he would like to be at 100. Goal achieved... and then some! Today his MarLu Investment Group operates 134 franchise units including Arby's, Church's Chicken, Jack in the Box, Little Caesars, Sizzler, Sears Appliance Showrooms, and Sears Hardware & Appliance.
"We accomplished that goal in three years," he says today, "in part because we keep the same focus on culture that has kept us in business and away from trouble." Lutfi's culture promotes teamwork and cross-functionality with a sense of ownership. His managers treat the business as if they own it and, he says, that has been the driving factor behind their cost controls and the real engine for their growth. "No organization can survive without great unit managers, especially in a multi-unit, multi-brand, multi-state setting."
Lutfi likes to promote from within and realizes that he must be committed to his teams' personal and professional development. "Our managers are our greatest assets. Our management turnover is among the lowest in our segment, and it is mostly due to the culture that we operate within. Our biggest challenge as we get larger and more spread out is how to maintain this culture of a family atmosphere and continue the collaboration that we've enjoyed for so many years."
A lot has happened for Lutfi in the past three years. In 2010, he acquired 21 Jack in the Box units in Northern California that are now operated by his oldest son, 27-year-old Metri Lutfi. All units have been totally re-imaged since the acquisition and new signage is planned for this year.
In 2011, he acquired five Sizzler restaurants in Northern California and signed a development agreement to open five additional Sizzlers after he completes remodeling four of the five units (one was already complete before acquisition). Before 2011 had ended, he acquired seven Sears Hardware & Appliance stores in Houston and St. Louis and seven Sears Appliance Showrooms in Dallas and St. Louis.
This past November, he bought 42 company-owned Arby's locations in Seattle and Portland, Ore. As part of the sale, he agreed to redesign 17 of the stores and will open five new Arby's over the next several years. Before the purchase, Lutfi owned one franchised Arby's unit, but before 2001 had owned 28, which he sold off during the past 10 years to pursue other brands.
So in a little more than three years, his company's annual revenue has nearly quadrupled from $40 million to $150 million, he's gone from 900 to 2,800 employees, and he's operating 7 brands in 7 states. Who knows what he'll do in another three years!
Name: Tony Lutfi
Title: CEO/President
Company: MarLu Investment Group
No. of units by brand: 43 Arby's, 46 Church's Chicken, 21 Jack in the Box, 5 Little Caesars, 5 Sizzler, 8 Sears Appliance Showrooms, 6 Sears Hardware & Appliance
Age: 52
Family: Married 28 years, 3 children: Metri 27, director of operations with Jack in the Box; Stephen, 25, civil engineer with plans to join the family business; Ramsey, 20, Fresno State accounting student, also with plans to join the business.
Years in franchising: 21
Years in current position: 15
Personal
First job:
Graveyard employee with Jack in the Box. Never thought that this job would lead me to where I am today. I am so grateful for that opportunity.
Formative influences/events:
Being mentored by Bill Brusslan who just passed away after a battle with cancer. Becoming the chairman of supply chain and the franchisee association for Church's Chicken at a time that was critical taught me a great deal about the franchisors and what drives many of the decisions they make.
Key accomplishments:
My children and family life and living the American Dream.
Biggest mistake:
Tried to create a new concept on my own.
Smartest mistake:
Purchasing our Las Vegas stores on October 22, 2001, one month after 9/11. The Las Vegas market suffered for two years before returning to normal, but patience and perseverance proved out in the long run.
Decision I wish I could do over:
There have been many decisions that, knowing what I know now, I would do differently, but life does not have room for regrets. I spend little time wishing and more time planning.
Work week:
What I do is not work, it is fun. I love people and love to accomplish new things. I think of it as a hobby more than I do as work. Work is something that you have to do, I love and choose what I do.
How do you spend a typical day?
Many hours on the phone and on the laptop. I try to visit the businesses often, but that is harder to do as we've become a much larger company and I have to attend to the administrative duties.
Favorite fun activities:
Time with my family in our home. We have a large extended family and often enjoy a gathering for some occasion or another.
Exercise/workout:
None, but my doctor keeps telling me that I should.
Favorite tech toys:
I never thought that I would say this: the iPad.
What are you reading?
I read all publications dedicated to the restaurant business and an occasional article or book that gets me motivated and excited about life and the opportunities that lie ahead.
Do you have a favorite quote?
Yes, I use it with our managers: "Run it like you own it!"
Best advice you ever got:
From my friend and mentor: "Go be an entrepreneur, you have what it takes. Anyone can be an employee, but not everyone has what it takes to be an entrepreneur."
What gets you out of bed in the morning?
My cell phone alarm at 6:06 a.m. It is a mind game that I play: I try to wake up before the alarm goes off to avoid waking my wife Anna. She does not like waking up early.
What's your passion in business?
People and helping others reach their dreams. Our business is about people. The money is nice, but the people are nicer, especially when we can make a difference in their lives.
How do you balance life and work?
That is a hard one for sure. I do not make an attempt to balance it, I do what I can when I can. I know when my wife Anna is serious about me attending a personal event. I listen and attend without putting up a fight. I really leave the balancing act to her. She seems to do it pretty well.
Last vacation:
Barcelona, Spain. Next one either to the Middle East or China.
Person I'd most like to have lunch with:
My wife. We love to go to San Francisco and eat a shawerma or falafel sandwich at one of the delis.
Management
Business philosophy:
Focus on the pillars of the business. For us it is customers, employees, the brands we own, and the profits. When we make decisions about the business, we must address each of the pillars almost equally and never sacrifice one for the other.
Management method or style:
Tell the truth, treat people with respect, and ask for their help in a genuine manner. They always respond with respect, will always work hard, and always appreciate the truth no matter how hard it may be.
Greatest challenge:
Saying no to a deal when it does not feel right. We are often approached to become franchisees or to acquire more units, but we cannot do everything. Staying the course and not be influenced by opportunities is a constant challenge for me.
How do others describe you?
Honest and always willing to help.
One thing I'm looking to do better:
Handle an email or a piece of paper only once to eliminate the time-wasters.
How I give my team room to innovate and experiment:
We allow our key people to have real autonomy in making decisions, and when making mistakes we ask only that they learn from it. We encourage people to run the business as if they own it.
How close are you to operations?
I have always been real close to operations, but lately I have been pulled away. My goal for 2013 is to return to the units and work as many positions as I can so I know what our teams have to deal with.
What are the two most important things you rely on from your franchisor?
Marketing information and material. It is especially hard to create things from scratch since we operate many brands and in various states. We need the franchisor to be active in creating product and marketing programs that we can trust and use.
What I need from vendors:
To be honest, care for our interest, and care for our business as partners.
Have you changed your marketing strategy in response to the economy? How?
We focused our marketing efforts to promote value and increase frequency.
How is social media affecting your business?
Depending on the brand, some are actively working to promote by using social media while others are still behind the curve. We believe that social media is here to stay and those who participate early and often will lead the way.
How do you hire and fire?
Mainly by word of mouth. When we have a great employee, we ask if they know others who may be looking. Most of our managers are promoted from within.
How do you train and retain?
Again depending on the brand, we follow the training programs provided by the franchisor.
How do you deal with problem employees?
We eliminate them after giving them a chance to improve.
Fastest way into my doghouse:
If you lie and then lie again to cover the first lie.
Bottom Line
Annual revenue:
$150 million
2013 goals:
Increase sales by 3.2 percent.
Growth meter:
Sales and traffic increases.
Vision meter: Where do you want to be in 5 years? 10 years?
We plan to be debt-free with at least $200 million in revenue and operate only the businesses that are able to generate positive cash flow.
How is the economy affecting you, your employees, your customers?
The cost of goods continues to increase with little ability to pass it on to the consumer. The margins have shrunk and we have little room for experimentation.
Are you experiencing economic growth or recovery in your market?
It depends on the brand and region. The best thing about being diversified is the ability to have balance when one is down another is up.
What did you change or do differently in this economy that you plan to continue doing?
Manage cost with vigilance, eliminate waste, and focus on guest satisfaction. We thought that we did all these things pretty well before, but it is different when your margins are shrinking, and you quickly learn to manage and ask your employees to step it up. They often do.
How do you forecast for your business in this economy?
We still forecast the same way we did before. We ask our managers to provide us with feedback and we work together with them and the market leaders to understand the surroundings. We build in price increases and adjust to traffic patterns.
Is capital getting easier to access? Why/why not?
We really have never had any difficulty with access to capital. We've reduced risk by strategy and have avoided bad or expensive deals. We try to own 20 percent of the real estate where we do business and use that to leverage for capital.
Where do you find capital for expansion?
Local banks for the small stuff and GE Capital for the larger deals.
Have you used private equity, local banks, national banks, other institutions? Why/why not?
We've never used private equity because we like to control the management and direction of our company. It is great for some companies, but most likely not so good for us. We enjoy the relationships that we've built over the years with the local banks and GE Capital and hope that we have been just as good to them as they have been for us.
What are you doing to take care of your employees?
Sadly, the government has gotten into our business and has begun to create mandates that force us to do things that our employees may or may not need. We always work hard to ensure that our employees are happy and provide for them as we continue to grow. We will continue to do right by them, but pray to keep the government and regulations out of the business of business so we can do what is right.
How are you handling rising employee costs (payroll, healthcare, etc.)?
We cannot pass it on to the consumer. It is really by cutting costs elsewhere and reducing labor hours.
How do you reward/recognize top-performing employees?
We have monthly incentives that our managers and market leaders administer. We also promote from within and work hard on improving the conditions under which they operate.
What kind of exit strategy do you have in place?
Our family is a family business. My nephew Nader and my children are already in the business and have been in it for many years. We try to build for the future, not just for the moment. I hope that the second generation will be much smarter than I was and build this thing to 500 units. domestic as well as international.
Published: March 4th, 2013
Share this Feature
Recommended Reading:
Comments:
comments powered by

Disqus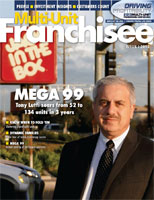 Multi-Unit Franchisee Magazine: Issue 1, 2013
Fit Body Boot Camp's gym franchise opportunity is the most affordable, low-cost, profitable, fitness franchise that's easy to own and operate.
Marco's Pizza is the nation's fastest-growing pizza brand* with 1,100+ stores and counting. It is America's No. 5 pizza brand based on annual...
Cash Required:
$242,142