He's #1!: Passion Fuels Domino's Largest, Most Innovative Franchisee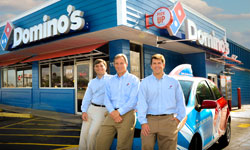 To Glenn Mueller, franchising at its core is a partnership. And as the largest single franchisee in the Domino's Pizza system at 135 units, he's a great partner to have.
When we last visited with Mueller in late 2010, he told us how he and his team had not only weathered the massive Hurricane Katrina--which affected many of his Gulf Coast Domino's stores--but how he had reopened stores within days to take care of his team members and the people in the communities they served.
Beyond his compassion and relentless drive, it's difficult to write about Mueller without acknowledging his unending pursuit of innovation. For example, those insulated bags that keep your pizza steaming hot while it makes its way to your house? Courtesy of Mueller and his team. And those illuminated portable car-top signs? You guessed it. And we haven't even mentioned his role in developing Domino's own drive-thru and carry-out-only store concepts.
"This is a 'fast-food' business," he says. "You've got to stay ahead, to innovate, to improve, and continually invest in the brand." These are all things he's passionate about--and all things Domino's CEO Patrick Doyle is passionate about too, he adds. They make a great team. "Competitors never sleep," says Mueller, "and we have to continue to adapt, improve, and meet customer demand."
Mueller's RPM Pizza organization remains a family business. He and his brother Richard Jr. founded the operation in 1981. Today ownership consists of three others: Richard Jr.'s son Richard III, COO (20 years in the business); Glenn's son Glenn Jr., marketing vice president (3 years in the business); and Linda Mueller (Richard Jr.'s wife, who also is an owner and outside investor). Glenn Jr. has taken over marketing as Richard Jr. retired in 2012 year after 45 years in Domino's. Also, Glenn's daughter Stephanie works in accounting (6 years in the business).
As you might expect, Mueller has been busy innovating in the two years since we last spoke. He says his organization is using more technology to maximize dollars and efficiencies and to increase driver security. "There is GPS and mapping technology now that allows us to provide a much safer operating environment for our drivers," he says.
Mueller also has been one of the first Domino's franchisees to launch the new "pizza theater store" concept at his Gulfport, Miss., location. He says it's a friendly, inviting atmosphere where customers can see their pizzas being made with fresh ingredients through a large glass window. "We also have the new wordless Domino's logo on our pole sign--the first one in the world," he says. "We have been a test basis for some of the new products, including artisan pizza, and have helped with the new store design."
For Mueller, innovation--and growth--are all in a day's work.
Name: Glenn Mueller
Title: Chief Excellence Officer
Company: RPM Pizza, LLC
No. of units by brand: 135
Age: 57
Family: Married 35 years, 5 children
Years in franchising: 31
Years in current position: 31 in the Domino's business; going on 10 as majority owner.
Personal
First job:
Mowing lawns and shoveling snow for $1.55 per hour. I was scared to ask a customer for a 30-cent raise, but I did and he gave it to me.
Formative influences/events:
Domino's set a goal to double franchisee profitability by improving product, service, and image. They have given us a lot of resources and tools over the past 3 years.
Key accomplishments:
We improved our speed of service to a record delivery time and improved our product ratings to #1 in taste, including the hand-tossed fresh pan pizza.
Biggest mistake:
Not working in stores early on. I came in as CFO and controller.
Smartest mistake:
Challenging the CEO of Domino's to a pizza-making contest--loser paying $10,000 to the Domino's Pizza charity, the Partners Foundation. The contest was graded on quality and speed with three judges and in front of 2,500 Domino's team members. It took 6 months of aggressive training, much stress, and an ultimate win.
Work week:
Review weekly results on Monday, team meetings Tuesday, then conference calls, team meetings, and store tours the rest of the week. At night do emails, call franchisees, and read up on industry and competitive updates. Travel to other areas/meetings one week per month and distant stores about once per month.
How do you spend a typical day?
Run in the morning, work at office or stores, dinner at home, spend time with family and grandchild, walk, emails.
Favorite fun activities:
Playing flag football, Ultimate Night Frisbee, waterskiing, snow skiing.
Exercise/workout:
Run-walk daily. Currently in a 1 million-step challenge in 6 weeks.
Favorite tech toys:
My iPhone, a John Deere tractor, and a G-scale garden train layout (Castle Farms Garden Railroad, the largest in Michigan).
What are you reading?
Home Team by Sean Payton (coach of the 2010 Super Bowl champs), and Hire the American Dream by Dave Melton and Tim McIntyre.
Do you have a favorite quote?
Altitude is determined by attitude. And from football: if you get hit hard, get back up fast and don't let the competition know you are hurt. There is no "I" in TEAM, Together Each Accomplishes More. A chain is only as strong as its weakest link. You either get better or worse, you never stay the same. Hire tough, manage easy.
Best advice you ever got:
My mom told me to always think positive and my dad told me to always be honest. My brother, Richard Mueller Jr., told me to practice the Golden Rule and treat others as you want to be treated. Always put your agreements in writing.
What gets you out of bed in the morning?
I can't sleep too long or I'll miss an opportunity to accomplish more.
What's your passion in business?
To be #1.
How do you balance life and work?
Coached my 5-year-old grandson's flag football team to an undefeated season. Remember Tom Monaghan's 5 priorities: Spiritual, Physical, Mental, Family, Financial.
Last Vacation:
Charlevoix, Mich.
Person I'd like most to have lunch with:
My wife.
Management
Business philosophy:
Be the best, always strive to be #1. Outwork and out-hustle your competitors--never be out-hustled. Manage by fact, be customer-focused, be systems- and process-oriented, and constantly improve. Help others and pay it forward. Expect each store to be run with excellence, leaving no store behind. Benchmark against the best and strive for world-class performance. Be the first to open and the last to close versus Mother Nature, fires, and power outages. Strive to be the best place to work, offering a drug-free, safe workplace with the best training and career opportunities, while paying the best with opportunities to franchise. Refer to each worker as a Team Member and not the "e" word. Value diversity and each member on the team. Promote a team member feedback system along with an open-door philosophy. Find ways to have fun and reward people for a great job.
Management method or style:
Transparency and inclusive. Try to include team members and hire great people to get results.
Greatest challenge:
Hiring the best people and executing at high levels.
How do others describe you?
Competitive and persistent, never sleeps, and strives to be #1 in every team, committee, group, or business venture. Hence our company purpose at RPM Pizza: to build a 5-star, world-class, great company!
One thing I'm looking to do better:
Improving our culture.
How I get my team to innovate and experiment:
Challenge them to network with the best.
How close are you to operations?
We have a manager board of advisors, a driver board of advisors, and a pizza college where all managers receive their training, so I get frequent group contact. However, it is a natural conflict to be in the office versus the stores/operations. A balance is needed with my job. We schedule unannounced store visits and announced visits. For 7 years we have toured every store around year-end to shake everyone's hand, say thank you, and then have a "friendly" competition to see who can make the fastest pizza. Anyone who beats me wins $20, and I have had to go to ATMs quite frequently. Thank goodness for new team members.
What are the two most important things you rely on from your franchisor?
A profitable business model. Transparency and integrity in all business dealings.
What I need from vendors:
Stay on the leading edge; the best product and service.
Have you changed your marketing strategy in response to the economy? How?
Patrick Doyle, CEO since 2009, has reinvented Domino's Pizza. He developed a whole new pizza with the new and inspired hand-tossed pizza that was rated #1 versus Papa John's and Pizza Hut--and went on national TV and got record sales increases. Then he rolled out successive new products including Artisan Pizzas, Gluten Free Crust pizza, Stuffed Cheesy Bread, a new Handmade Pan Pizza that is the best in the industry--with fresh, never-frozen dough. Our franchise actually tested a pan pizza years ago but we could just not get it right. Now the CEO and talented leadership have put together the best-tasting pan pizza ever. It is awesome and our customers have given us so much positive feedback. Patrick Doyle has also led the system to record low delivery times, and is now improving our image. We have a new logo, new stores that are more welcoming, and a "pizza theater" setup that shows off how our pizzas are made. It's terrific.
We have one of the first pizza theater stores at our Gulfport, Miss., location. We also have the new logo on our pole sign--the first one in the world. We have been a test basis for some of the new products, including artisan, and have helped with the new store design. Our customers like to see how their product is made and now, in the great tradition of pizza kitchens, they can!
Domino's and its innovative IS team have helped make the Domino's POS system the best in the industry. Pizza Tracker tracks orders for customers online or on their phone, updating the status of their order from making, baking, and delivering the product. Online ordering now accounts for more than 25 percent of our business--helped by new promotions, including 50 percent off menu price during Global Domino's Day and other special times.
Domino's owns the $5.99 price point for medium pizzas (2 large with 2 toppings at $5.99 each) and $7.99 for large pizzas--two promotions that have been very popular. The next step is friendly service, and RPM Pizza has contracted with John DiJulius, consultant and author of Secret Service. He will help make us, as he says, "price irrelevant."
How is social media affecting your business?
By helping raise sales and building customer loyalty by more than 30 percent online.
How do you hire and fire?
Look at character, work ethic, integrity, and being a team player. If I can, I like to see how people play sports or do activities, as you can tell a person's attitude and drive.
How do you train and retain?
At RPM Pizza, you can achieve your dreams and hit your career and personal goals over time. Look at the bigger picture and long term. Domino's is a great franchise and the best pizza company in the world! We treat our management like owners: our GMs earn up to 30 percent of the store's profits, and we try to give equity-type compensation. We have the best and most training programs in our industry. Pizza College symbolizes this commitment.
How do you deal with problem employees?
We have team members, not employees. We operate by the Golden Rule. We have written policies in place, a team member feedback system, and an open-door policy for our team members. We encourage our team members to put their concerns in writing.
Fastest way into my doghouse:
(Forget to tell my wife my schedule.) For my team to not be trustworthy or stop being a brand ambassador.
Bottom Line
Annual revenue:
Payroll is over $25 million.
2013 goals:
Sales and order counts up 5 percent.
Growth meter: How do you measure your growth?
Same-store sales, order counts and total sales, total number of stores, number of people franchised.
Vision meter: Where do you want to be in 5 years? 10 years?
Five years: top franchisee in Domino's Pizza. 15 years: retired.
How is the economy affecting you, your employees, your customers?
Obamacare is of great concern, but we are excited about it! Now all our team members who are full-time will have affordable healthcare. I am not quite sure how we will afford it as a company, but I am glad that every full-time worker can get access to healthcare.
Are you experiencing economic growth or recovery in your market?
Slow recovery, but pizza is somewhat recession-proof in that it is a great value and many people trade down from the full service or quick service prices to our lower priced/high value products and services.
What did you change or do differently during the recession that you plan to continue doing?
We will increase our training and recruiting efforts to find the friendliest people and safest drivers. We have had the lowest turnover in 30 years, but we still have to increase our hiring standards.
How do you forecast for your business in this economy?
We are pleased that as budgets get tight and both parents have to work, we can make people's lives easier at a low cost.
Is capital getting easier to access? Why/why not?
Easier if you have long-term cash flow and performance--plus we are tied to Domino's. It helps to be with a major brand.
Where do you find capital for expansion?
GE Capital or commercial banks such as Chase.
Have you used private equity, local banks, national banks, other institutions? Why/why not?
GE Capital did a $9 million facility for us and has been great to work with.
What are you doing to take care of your employees?
Increased training opportunities and franchise opportunities. We have helped three people franchise in the past 3 years.
How do you reward/recognize top-performing employees?
Cruise incentives for all our operating partners/unit managers and district managers.
What kind of exit strategy do you have in place?
I do not plan to retire for 10 to 15 years. I have top operations people in place and several family members/owners also in place. In the past year my brother retired from Domino's after 45 years. My son came into the business 3 years ago and is head of our marketing and finance. My nephew has been with us for 20 years now and helps in our operations and real estate operations.
Published: January 28th, 2013
Share this Feature
Recommended Reading:
Comments:
comments powered by

Disqus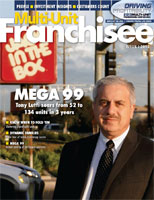 Multi-Unit Franchisee Magazine: Issue 1, 2013
Bad Ass Coffee of Hawaii brings an unforgettable brand, premium coffee products, and a proven business model to a booming coffee scene. We want...
Cash Required:
$100,000
We are looking for qualified, committed business owners interested in a franchise opportunity with a market leader.