He's In The People Development Business
Multiunit franchisee discovers life beyond the military

After Tom Barnett graduated from the United States Air Force Academy, his first assignment as a lieutenant was to head to UCLA for an MBA. That wound up costing the Air Force a career professional.

"I grew up in a military family," says Barnett. "I went to the Academy and then to UCLA and said, 'Whoa, you mean you can actually make a living other than being in the military?' I was a fighter pilot in the Air Force, served six years, two tours in Vietnam, and then decided to get into business."

He obviously had a bent for business, says the 62-year-old today. After he left the military, Barnett joined a management consulting firm. "I'm a workaholic, and the epiphany came when I realized I could never be happy working for a commission or salary. I could never take any time off," he says. "If I took two weeks off to go skiing, I was forfeiting commissions and bonuses. As a workaholic, I would be forever looking at forfeited opportunity costs, working 60- to 80-hour weeks, and never taking time to go skiing."

At first, he thought that he might find the life he was looking for in manufacturing, where putting the right systems in place could keep everything functioning smoothly--whether he was there or not. Around that time, a friend suggested he consider a Burger King franchise, which didn't have the same kind of capital demands he would have faced in manufacturing.

Today, Barnett runs a thriving business that includes 22 Burger Kings, and with a close friend he runs 20 Good Egg restaurants and a small group of Blue Burrito Grilles, his own brand. Barnett won't divulge his revenues, but says he's well ahead of the national average.

"The Burger Kings aren't full-service but the highest service, the highest cleanliness possible. We literally cleaned and scraped and upgraded everything," he says. "I learned this from my friend and partner in the full-serve Good Egg Restaurants."

The key to making it all work, he says, was his decision to create the best franchise operation possible, team up with outstanding partners to run the business, and put in place a system that allowed everyone in the company to develop and do the best possible job they could.

"How does the president of GM produce darn good cars in Mexico when he lives in Detroit? The only answer is real good people," he says. "I'm in the people development business. I develop ideas and relationships with key people and they run these businesses."

The true test came when a new operations manager decided to fire the two managers who had the best numbers. Barnett asked why. "And the manager said that was the problem," he recalls. "They produced great numbers, but they didn't develop people. They kept everybody down." After the managers were fired, he says, "sales have been going up ever since." And that operations manager is now the partner who runs the Burger King business.

"We agree on where we're going and then I get out of the way of the productive associates," says Barnett about his management style. "To the extent that I get into ops, I blur the authority of those charged with operational excellence and cause them to question their ultimate responsibility to make things work. I want the person in charge to go to bed at night knowing that he is fully accountable for results, and to not rely on me or anyone else to bear that responsibility."

Over the years, Barnett says, he has never lost touch with his abiding belief in God--a spiritual compass that has helped guide him every day--and applies this belief to all of the most important facets of his life: his business, spiritual life, family, and wealth.

"I'm a very committed Christian. I have an ethical and moral responsibility to treat everyone in a certain manner. I've been inordinately blessed by God. Whatever success I've had I view as a blessing and the result of everyone else's efforts," he says.

If he took a test, says Barnett, "I would get very high marks in long-term ambition and planning, looking out 10 or 15 years and visualizing where I want to be--and bringing that picture back to next week. What I'm going to do after lunch today is in a direct line with where I want to be in 10 or 15 years."

And there are few--if any--signs of slowing down. "My son is 15, a bright kid. He said the other day, 'Are you ever, ever not working on something?' I'm 62. I said 'No, here's what I'm working on: Getting in better physical condition for skiing. I want to be a better dad, a better husband, stronger spiritually, stronger in business.' I always have goals. Right now, I am studying to pick up a new jet this summer--and I'm the pilot. And I drive race cars as a hobby. There are goals and projects in every part of my life," he says.


Name: Tom Barnett
Company: Barnett Management Co.
No. of units (by brand): 22 Burger Kings, 20 Good Eggs, 2 Blue Burrito Grilles he manages and 5 more Grilles that are operated under license by Host Marriott Services at various airport locations.
PERSONAL
Age: 62
Family: Married 22 years, daughter 20 and son 15
Years in current position: 29
Years in franchising: 29

Key accomplishments: Knowing there really is a God who has some basic expectations; having a good, solid family with great kids who are productive and happy; creating a work environment that honors the employee as well as the customer.

Biggest mistake: Strengths sometimes hurt you. As a fighter pilot, I learned to always keep forward motion. Momentum is the key. And momentum has caused me problems.

Smartest mistake: We expanded a concept way too fast before we learned it. We were overconfident and didn't do our homework. It's important to get one or two and work them to death until you know where every penny goes.

Work week: I'm very judicious with my time. It's not easy to get an appointment with me. I exercise every day, have two Bible studies every week, and read a book a month. I go to every athletic event my kids are participating in, sit on school and church and charity boards. And I really limit my direct business contacts to about four people. Everything else is delegated.

Favorite activity: Racing in my Formula Mazda car, flying and skiing, seeing one of my kids do something significant, having great times with my wife, and opening a new business.

Exercise: Mainly cycling to stay in shape for skiing.

Books/magazines recently read/recommended: The God Who Hears, Good to Great, The Edge of Evolution, Shut Up and Sing, Unstoppable Global Warming.
MANAGEMENT
Management method or style: The key to my philosophy is momentum. Momentum is your friend, perfection and perfectionism your enemy. You'll never have all the facts to make your decision, so go ahead and make a decision with the facts you have. I also ask myself all the time: What is it I'm doing that can be equally well done by somebody else? And then I delegate it. And in most cases they end up doing it in a better way than I would have anyway. I look for character, capacity, and attitude in a key person, get them on board, and then get out of their way.

An entrepreneur never has anybody who ever promotes him. No regional vice president ever flies into town and says, Hey, you're doing a great job so I'm going to promote you to a new territory. I ask myself, Would I promote myself and how would I go about doing that?

My intention is to act—be proactive rather than reactive. I intend to act aggressively on things happening around me rather than being reactive and waiting for things to react to.

How close are you to operations? Not close at all, and that's for a reason. I do not interfere with either the lines of authority or the lines of accountability. I hold people accountable and give them authority to make the necessary decisions. To the extent I would get involved, I would interrupt their authority to do make decisions, and lessen their sense of accountability. Plus, my time and attention needs to be rationed in order to accomplish my goals in several areas of my life. As long as the people have character, attitude and capacity, I am prepared to accept their mistakes as tuition and lessons learned. It has been said that I am a very easy person to make a mistake around...assuming we have started with the right person in the right job.

Greatest challenge: Controlling my ambition and allocating time correctly.

Personality: I've been very precisely described as an iron fist in a velvet glove. I am the easiest, gentlest person to get along with; but my standards and expectations are very high. I would say that I am a bit of a hermit, an isolated personality. One of my favorite activities is having lunch by myself and reading.

How do you hire and fire? At this point, I don't hire or fire anybody. I delegate that.

Find good people? By our reputation. We seem to have people drawn to us, and we find good people within our company and help them grow. Sometimes people leave for more money. I can't tell you how many times that person has come back and said, I may have made a few more bucks at the other company, but it's a miserable place to work.

Train them? Thoroughly, thoroughly, thoroughly. The number-one cause for a person leaving a job is a feeling of insecurity and inadequacy from lack of training.

Retain them? We honor them. Show them where their personal and professional goals can be met within our company. Even when we let someone go, it's not unusual that we spend a great deal of time counseling them, explaining how we tried to make it work, and why it didn't work out. We never want to damage anybody. We want them to grow and be successful. We invest in people, and that's the heart and soul of the company. Our average tenure for restaurant manager exceeds 8 years and we have a number of managers that have been with us more than 15 years. The key partners have been together since the beginning.

"Growth meter"—How do YOU measure your growth? My struggle right now is that for the first time in my life I don't have goals that are 20 years out. I'm asking myself, How do you know what you're going to do this afternoon when you don't know what you're going to do when you're 80? Then there's cash flow and how much money I have to share with charities I believe in.

Annual revenue: Well above the national average.

2008 goals: We'll open six restaurants, and develop two or three key people. And I want to start an aircraft charter business. I'll fly the jet for my own trips, and then we're going to charter the plane out. There's a 100-mile bike ride from Irvine to San Diego. And I'm introducing my 15-year-old son to car racing.

Two sayings have been on my desk for 25 years: "Develop people—they will become your image, build your strength, and set you free." And, "Momentum is a friend, perfectionism is an enemy, and all the information for a decision will likely not be available so make timely decisions with the information on hand."

My overriding business philosophy is that I can prosper and grow only to the extent that first I can attract, motivate, and retain exceptional people in each critical area, and second to the extent that I am willing to allow them to use their own initiative to exceed our mutually established goals.
Published: August 25th, 2008
Share this Feature
Recommended Reading:
Comments:
comments powered by

Disqus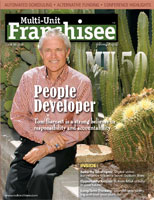 Multi-Unit Franchisee Magazine: Issue 3, 2008
At Nautical Bowls, we combine healthy, fresh superfood bowls with an uplifting atmosphere, giving you energy to life a full life! Our goal is to...
Cash Required:
$100,000
Our core mission is to nourish, nurture and inspire healthy communities by giving back and creating value.