High on Franchising!: Finding Adventure in Life, Business, and Philanthropy
Like many successful and charismatic people, Elena Donahue punctuates her speaking with exclamation points. "Dream big! Focus small!" she encourages the staff at OceDon Restaurant Management in Castle Rock, Colo., and to fellow volunteers at the Mile High Chapter of the American Red Cross.
"Trust your instincts! When all the data tells you one thing, and there is a twinge in your gut that tells you something else, nothing is better than getting your high heels on the ground and digging deeper," she tells employees at the 22 Burger Kings she owns with her husband and business partner Ken in Colorado.
The Pasadena, Calif., native is one of those fortunate individuals who has found a way to combine her dual passions. "My Dad was a doctor and my Mom a nurse, so I was raised to understand the importance of service," she says. "And since my family is Mexican and Romanian, I love to cook and feed. So service and food are themes in my life."
An early entrepreneurial spirit led her to study hotel and restaurant management at the University of Nevada-Las Vegas. For her senior thesis, she opened a coffeehouse and laughingly recalls the instructor telling her: "This project will never go anywhere, it has no legs."
Donahue operated her café for four and a half years. "It was a great experience that helped me realize that a lot of stuff you don't learn in school--you only get it by doing it. UNLV has a great program, but it's not the same until you're the one responsible for payroll."
Finding that she "wanted more," the young entrepreneur thought she'd try property management, or as she puts it, "see if I could buy out Miami!" That's where she met her future husband, Ken. "Our first date was a mystery shop at one of his restaurants."
The Match Made in Miami was a great fit. "His focus on people, and a culture of treating employees with respect and dignity while demanding a lot, aligned with mine. I'd always been a dreamer, but he taught me to act on my dreams."
They spent some time looking at concepts with the goal of finding an area they could settle in and grow and expand. When they came upon Burger King in Colorado, it met their criteria. "We acquired three restaurants through bankruptcy and poor sales in a brand that was struggling. People were getting out and we were coming in, ready to take it on," she says.
Within four years, they had 22 healthy, profitable Burger Kings. "I love the Burger King brand, it relates to everyone," says Donahue. "We've built three new ones in our market and done a lot of relocations for restaurants that failed because of outdated locations or market shifts. We've found our sweet spot!"
The division of duties between her husband Ken (CEO) and herself (CPO) came naturally, she says. "Ken focuses on day-to-day operations, acquisitions, and mergers. I do a lot of HR, training, community relations, government relations, IT, real estate, design, and managing the business." At the end of the day, the couple meet in their private board room at home--the Jacuzzi--to recap the day. Despite so much time together, they "still like each other," says Donahue. Their family is rounded out by two canine kids who "teach us every day," she says.
Donahue also is high on fellow franchisees and franchising in general. "We learn so much from people in different franchise concepts. There are wonderful people in this industry, who are eager to share and teach and don't mind competition because they all think they're the best. I think I'm the best--that's why we all get along!"
She also is very active within Burger King, sitting on the organization's Peoples Excellence Advisory Committee. And she is a founding chair of the Women's Leadership Forum in Colorado.
Another important aspect of her life is the philanthropic work she does in the community through her business. OceDon has a Circle of Giving Council that addresses the needs of employees and coordinates charitable events. In addition, the Burger King Employee Scholarship fund helps employees and family members attend school. "Education is power! And the more you have, the better off you are with your career and your future," cheers Donahue.
Last May, she received the Fundraiser of the Year Award from the Red Cross Mile High Chapter. She says it's good business to solidify oneself as a community leader, "but that's really not the greatest reward," she says.
Donahue found the greatest reward as a volunteer after Hurricanes Katrina and Rita, when she deployed to Mississippi and supervised a huge kitchen, serving 18,000 meals a day as well as managing emergency response vehicle crews. She also has deployed to the Washington floods, the Windsor tornado, and relief efforts for Hurricane Ike.
As for new business and personal challenges--and she thrives on them--Donahue says she's "getting a little itchy. We're open to anything that fits with our integrity and way of doing things," she says. "Never say never! If life's not a big adventure, it's time to reevaluate!"
Name: Elena Donahue
Title: Owner/CPO
Company: OceDon Restaurant Management
No. of units: 22 Burger Kings
Personal
Age: 40
Family: Ken, my husband, best friend, and partner; also Maximus, an English Mastiff, and Mocha Joe, a chocolate Labrador
Years in current position: 15
Years in franchising: 9
Key accomplishments:
Growing our company from 3 to 22 restaurants in 4 years.
Biggest mistake:
Thinking mistakes were a bad thing.
Smartest mistake:
Opening up my first restaurant in my early 20s. That experience still teaches me to this day.
How do you typically spend a day?
I start with morning coffee with my husband and dogs to set the tone of the day. Then I begin reviewing numbers and customer comments, and addressing employee issues. It's a mix of conference calls, webinars, and meetings with my partner, the vice president of operations, and members of our team. I usually end the night with an evening recap in the Jacuzzi with my husband. We call it our board room.
Work week:
Probably typical for all franchisees. I am there to support, lead, and mentor. This isn't a role for someone who likes a Monday through Friday, 8-to-5 lifestyle.
Favorite fun activities:
Snowboarding with my sister, scuba diving with my family, and just hanging out with the dogs. I also love playing video games with the nieces and nephews.
Exercise/workout:
Sporadic at best.
Favorite stuff/tech toys:
Sports cars and smart phones.
What are you reading?
Anything I can get my hands on about social media, HR, culinary arts, and pending legislation.
Do you have a favorite quote or advice you give?
Dream big! Focus small!
Best advice you ever got:
Trust your instincts! When all the data tells you one thing, and there is a twinge in your gut that tells you something else, nothing is better than getting your high heels on the ground and digging deeper.
Formative influences/events:
I was blessed by parents who encouraged me to dream. I was doubly blessed by a husband who inspired me to act.
How do you balance life and work?
We all need to work on something, and this one is it. I really enjoy what I do and my work is a big part of my life.
Management
Business philosophy:
Deliver on the promise. Keep the main thing the main thing. Laugh a lot! For me it's hot, fresh food served in a timely fashion in a friendly and clean environment run by the best people in the business.
Would you say you are in the franchising, real estate, or customer service business? Why?
All of the above--though there is no doubt we are all in customer service. Most of my energy is spent on it.
What gets you out of bed in the morning?
Usually my 200-pound English Mastiff followed by my chocolate Lab and a leash.
What's your passion in business?
It's twofold: First of all it's building great teams of committed people. Second, it's the innovation, creativity, and evolution of our business. If you are not relevant, you are extinct.
Management method or style:
I'd describe it as "a rising tide lifts all boats." We are a very open company, not a lot of silos to hide in at OceDon. We are competitive amongst each other, but are equally committed to each other's success. You have to have that attitude to survive in our company.
Greatest challenge:
Both the greatest challenge and the greatest reward is transforming doers into thinkers leading and inspiring teams with an integrity-based approach to business.
How close are you to operations?
My team keeps me well informed and I always know what is going on. I've learned to step out of their way and watch them do great things.
Personality:
Good sense of humor, generally very positive, protective of my people, company, and customers, open to criticism.
How do others describe you?
Conscientious, futurist, dream weaver, sincere, and fiery. I've been called stubborn, honest, and spontaneous as well. I'm a bridge builder.
How do you hire and fire?
Hire smart, train hard, promote tough, and fire fairly.
How do you train and retain?
Training is the key to success. Our stance is that training is about continued growth and development in all levels of life. We offer language classes, personal financial counseling, Microsoft Excel, even grammar courses. Measuring career growth is not limited to hitting the numbers on a P&L statement. Everyone in the company is a trainer. We are a learning organization!
How do you deal with problem employees?
There are only two reasons people are problem employees. One, they don't understand the expectations or the processes. We refocus efforts on training and mentoring in this case with a clear plan of improvement. And, two, they don't care. In this case, we wish them the best of luck and part ways.
Bottom Line
Annual revenue: $30 million
2010 goals: Grow profitability.
Growth meter: How do you measure your growth?
A strategic combination of acquisitions, new development, and re-investment into remodels and offsets.
Vision meter: Where do you want to be in 5 years? 10 years?
I love this question, because it allows me to dream weave. The good news about a bad economy is that it has forced us to be very efficient in all aspects of our business. This sets us up perfectly for attaining my vision of growing the company through acquisitions and new store development.
How has the most recent economic cycle affected you, your employees, your customers?
The competitive environment has forced us to price like the '80s and '90s, with the new reality of higher commodity pricing as well as rising costs on all lines of the P&L. This has forced us to further tighten our fiscal belt.
Are you experiencing economic growth/recovery in your market?
My market is slightly negative overall; however, that is irrelevant if we execute.
What did you change/do differently during the recent tough economic times that you plan to continue doing into the future?
We looked into the mirror--and no, not out of vanity. Regardless of the environment we are in economically, the thing we have control over is what goes on within our four walls and how we compete on our block. We take a good look at ourselves and ask the hard questions and make the appropriate changes. Are our facilities the sharpest in our block? Are we greeting guests with enthusiasm and appreciation? Are we involved in our communities? Is our local marketing effective? We take every visit as an opportunity to wow our guest. When things do get back to normal, we will already have their loyalty and they will choose to visit us even more.
How do you forecast for your business during trying times?
Can you even forecast at all? Anything can be forecasted. We take caution that our forecasts take into account the reality of the environment we are in.
Where do you find capital for expansion?
Retained earnings up to this point. We would consider capital investors. We try to keep an open approach to all possibilities.
Is capital getting easier to access? Why/why not?
I hear from our peers in the industry that lending has gotten tighter. However, we haven't experienced this firsthand because our balance sheet is strong.
Have you used private equity, local banks, national banks, other institutions? Why/why not?
All our growth has been funded primarily from retained earnings. That being said, we have a great relationship with GE Finance and also maintain relationships with local lenders and banks.
What kind of exit strategy do you have in place for your business? Exit?
I just got started!
Published: October 25th, 2010
Share this Feature
Recommended Reading:
Comments:
comments powered by

Disqus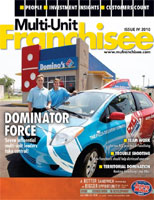 Multi-Unit Franchisee Magazine: Issue 4, 2010
With more than 300 active locations in 30 states and dozens more in development, American Family Care is America's #1 Urgent Care Franchise.
Cash Required:
$550,000
Sport Clips is a winning concept-a great haircut experience for men and boys in a sports-themed environment. With almost 1900 stores and expanding...
Cash Required:
$200,000