High Roller: Veteran Franchisee Finds his Niche in Las Vegas
New Jersey native and veteran franchisee Frank Bonanno says he learned early in life that he wanted to do something "easier" than mixing cement and carrying bricks and blocks like his contractor father.
Now, at 67, he laughs at what he decided was "easy" work--operating restaurants. In the end, he's very successful, with units from three franchise concepts and several original concepts of his own in hotels and casinos in Las Vegas. But the ride hasn't always been a smooth one, he says.
A young Bonanno, who'd grown up cooking with his mother for his extended Italian family, attended a now-defunct culinary institute that was located on the campus of Yale University. After working in a couple of different restaurants, he quickly found that he was more interested in managing a restaurant than cooking in one.
He entered the U.S. Army in 1967. After graduating from Quartermaster School in food service supply and support as a second lieutenant, Bonanno went to work in an officer's club at Fort Leavenworth. After three years in the military, he returned to civilian life to find his niche in the restaurant industry.
Bonanno went to work for ARA Services (now Aramark) in Los Angeles, and after five years, transferred back to New Jersey to an opening in the company's school lunch program division. He became vice president of operations and stayed until 1974, when he and a couple of colleagues started Food Management Services, a school lunch and summer food program.
In 1976, when the big malls were cropping up across the nation, they developed the Famous Chocolate Chip Cookie Company, opening their first in a New Jersey mall. "That company did very well, and we eventually built it up to a chain of 75 locations. We never did franchise it--in fact, I've never been a franchisor--though there was a lot of interest. We chose to keep the stores company-owned, and we sold it in 1984 to Mrs. Fields," he says.
Bonanno admits he was a young hotshot who "went through a lot of cash fast. We'd had four partners. One died and another was older and wanted to retire, so that left us two young guys. We'd opened our first Häagen-Dazs franchise in 1983 just for fun," he says. "We'd researched Häagen-Dazs and found it to be the best product out there."
Settling down to remake the money he'd spent, Bonanno continued to expand his Häagen-Dazs holdings. In 1988, he became one of the original franchisees for Nathan's Famous, opening his first unit in Philadelphia in 1989. "Nathan's was then owned by the family--Nathan's son and grandchildren. They had eight locations, and they also sold hot dogs in supermarkets. They sold the company to a group of investors who began franchising. I was excited to become involved in that."
While expanding in the Northeast and in Florida, Bonanno began to look around Las Vegas, where he'd go for vacations. "I saw the growth there and decided it was something we could use to grow our company. I contacted the MGM Grand, the 5,000-room hotel that had just been built, and found out they were putting a food court in there. They agreed to lease us space for a Häagen-Dazs and a Nathan's. Once in the hotel, we found we were doing three times the volume we'd projected for these units. Wow--we weren't used to those kinds of numbers," he says. "I told my partner, 'If we're able to develop several different concepts, we could open three or four locations in one hotel.'"
That's exactly what they did. Five years later, in 1998, they opened their first original concept, Rosie's Pizzeria, in two small casinos. In 1999, they opened another new restaurant, San Gennaro Grill, as well as another Häagen-Dazs in The Venetian hotel and casino. Next came New York Pretzel, which, he says, is "similar to Auntie Anne's but features gourmet apples as well as hand-rolled pretzels."
Business was good in Vegas, and Bonanno, who then lived in Florida, found himself and his oldest son spending more and more time there. After 9/11, his partner retired and Bonanno bought his stock and moved his family to Las Vegas to focus their restaurant business on that market.
In 2007, he added Johnny Rockets to his franchise portfolio, and he opened his first full-service restaurant, Trattoria Reggiano, in The Venetian. "It's a typical small Italian trattoria like you'd see in Italy, or in Little Italy in New York," he says. "It's the only true, small restaurant of its kind in any of the hotel casinos. There are only 49 seats, and there's a line out the door every night."
In 2009, he began developing and managing entire food courts at large hotels/casinos, using his formula of mixing franchise concepts and his own original concepts. This includes the food court now under construction at the Flamingo Las Vegas. "We'll have four locations there: Johnny Rockets, Bonanno's New York Pizzeria, Pan Asian Express, and LA Subs & Salads," he says.
Though he's definitely found his niche in Vegas--all his units are within 25 minutes of each other--Bonanno still has three Nathan's and one Häagen-Dazs back East. When he's not working, the father of four and his wife Betty enjoy spending time with their children and traveling. He and his wife especially enjoy bringing back Italian arts and crafts and olive oil from their annual trips abroad. Franchising and the restaurant industry in general have been good to him, he says.
His best advice for would-be franchisees? "We're all in the customer service business so you have to provide the best experience that you can. Otherwise, consider yourself lucky if you find a franchisor that can offer you three things: good name recognition, support and structure, and help with finding the right locations."
QUESTIONS
Name: Frank Bonanno
Title: President
Company: Fifth Avenue Restaurant Group
No. of units: 11 Häagen-Dazs, 11 Nathan's Famous, 3 Johnny Rockets. Company-owned proprietary brands: 4 New York Pretzel, 2 Rosie's Pizzeria, 1 San Gennaro Grill, 1 Bonanno's New York Pizzeria, 1 Asian Fresh, 1 Bella Panini, 1 Trattoria Reggiano, and New York Apple (gourmet apple manufacturing and distribution).
PERSONAL
Age: 67
Family: Married, four children
Years in current position: 30-plus
Years in franchising: 27
Key accomplishments: Developing multiple concepts along with established franchise concepts.
Biggest mistake: Too many to list.
Smartest mistake: Can't think of one.
How do you spend a day, typically? A typical day would include review of operations for the previous day, cash management, dealing with vendors, dealing with lenders, reviewing new opportunities with landlords, reviewing construction, and visiting restaurants.
Work week: 60 hours
Favorite fun activities: Spending time with my family.
Exercise/workout: When my schedule permits, I try to work out two days a week.
Favorite stuff/tech toys: Not a tech-savvy person.
What are you reading? Weekly news magazines, restaurant industry magazines.
Do you have a favorite quote or advice you give? Excellent guest service and high-quality products will always win.
Best advice you ever got: Don't take your business public; if possible, stay private.
Formative influences/events: Serving in the U.S. Army (1967-69), working for ARA Services (now Aramark) 1969-74, and the Sept. 11, 2001 attack on the World Trade Center and Pentagon.
How do you balance life and work? Difficult at best. I try never to miss my kids' sports activities or a school play or show where they are performing. I am able to take extended vacation periods when my younger children are on school breaks.
MANAGEMENT
Business philosophy: Achieve success, but not at the expense of others. Your reputation is your greatest asset.
Would you say you are in the franchising, real estate, or customer service business? We are in the customer service business. It doesn't matter if you are a franchisor or franchisee or if you are in real estate or any other business--without customers, you would have no business.
What gets you out of bed in the morning? My alarm clock.
What's your passion in business? To develop a business to pass on to my family.
Management method or style: Hands-on, as much as possible.
Greatest challenge: There are many. Perhaps most prominent is balancing our obligation to our family of employees and achieving maximum profitability for our business.
How close are you to operations? My oldest son Robb, 33, and his team of professional executives oversee the day-to-day operations of our company. They each in turn have a professional staff of managing partners (restaurant general managers) managing each operation. I try to stay as close as necessary. Sometimes, perhaps, I get in the way.
Personality: Upbeat
How do others describe you? Reliable, honest, hardworking. I don't hear the negative comments.
How do you hire and fire? Our company's hiring policies involve a multi-step process. The initial interview is conducted by a member of our management team, the second and final interview by the area vice president (member of executive management team) for the individual location. If the individual is approved for employment, they must pass these criteria: Social Security confirmation check, hair follicle drug test, completion of food handler's course, and training for their specific concept. As for firing, we try to work with people but there are cases in which it's necessary to fire.
How do you train and retain? Each employee goes through a training process, depending on the concept and type of work they will be doing. Management employee retention is high in our company. We provide benefits that include health insurance, life insurance, two consecutive days off each week, two weeks of vacation after 1 year, three weeks after 5 years, and four weeks after 10 years.
How do you deal with problem employees? It depends on the type of problem. Sexual harassment problems require immediate suspension of all parties until resolution. Theft requires immediate dismissal. Job performance requires retraining and reinforcement.
BOTTOM LINE
Annual revenue: Undisclosed
2010 goals: Expand company by 30 percent.
Growth meter: How do you measure growth? Revenues and profitability.
Vision meter: Where do you want to be in five years? 10 years? In five years, a 50 percent increase in number of units; in 10 years, a 100 percent increase in number of units.
How has the most recent economic cycle affected you, your employees, your customers? We are fortunate to operate quick service restaurants in major Las Vegas hotels/casinos. The hotels/casinos have been able to attract visitors to Vegas by reducing room rates and providing special deals in the casino. The guests visiting Las Vegas now are looking to conserve on expenses, and our restaurants typically offer the most reasonable prices in the hotel/casino. Our mall locations are not experiencing the same results during this economic downturn.
Are you experiencing economic growth/recovery in your market? Growth
What did you change/do differently during the recent tough economic times that you plan to continue doing into the future? Place greater emphasis on controlling costs.
How do you forecast for your business during trying times? Can you even forecast at all? Again, lucky to operate in the Las Vegas market.
Where do you find capital for expansion? Traditional lenders such as banks, restaurant lending companies, and private equity investors.
Is capital getting easier to access? No, not from traditional sources.
Have you used private equity, local banks, national banks, other institutions? Yes.
What kind of exit strategy do you have in place for your business? I plan to pass it on to my family.
What kinds of things are you doing to take care of your employees? Every member of corporate management (executive level and individual restaurant level) has a bonus program specifically designed for their restaurant.
How are you handling rising employee costs (payroll, healthcare, etc.)? We're just dealing with it.
How do you reward/recognize top-performing employees? Bonus incentives.
Published: July 26th, 2010
Share this Feature
Recommended Reading:
Comments:
comments powered by

Disqus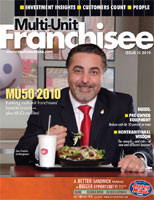 Multi-Unit Franchisee Magazine: Issue 3, 2010
THE FASTEST GROWING BREWERY IN AMERICA IS building more brew pubs and franchising throughout the US. BrewDog is a great investment that offers...
Want to become a part of one of the country's fastest-growing industries? Check out Central Bark's doggy day care franchise opportunities!
Cash Required:
$200,000