Hitting a Change-Up: Former MLBer Shifts Into Franchising
Whether facing a pitching change on the mound, switching his position from catcher to first base, moving across the world to live and play baseball in Japan, or starting a second career in franchising, Craig Brazell has been pretty good at making adjustments.
In 1998, the Montgomery, Alabama, native was a fifth-round draft pick for the New York Mets. Until then he'd been a catcher his entire baseball life. As he made his way through the minor leagues, he was asked to play first base. He debuted in MLB, the "Big Show," in August 2004 for the Mets. Over the next few years, he made his way through some other teams, including the Los Angeles Dodgers and Kansas City Royals.
He faced another life adjustment in 2009 when he signed with the Hanshin Tigers of Nippon Professional Baseball in Japan. He and his wife Lanie spent the next 7 years living in Japan before he retired from baseball at the end of the 2014 season. "I loved getting to play baseball, and I got to do it until I was 35 years old," he says.
Brazell had always been into health and fitness when Lanie introduced him to Pilates toward the end of his baseball career. That made it easier when he went looking for a second career. Today, he and his wife Lanie, who also is his business partner, are raising three children and growing three Club Pilates in Alabama in Montgomery, Auburn, and Zelda. They opened their first location in 2017 and quickly grew to three in the 2 years they've been franchisees.
"Of all the fitness concepts we looked at, Club Pilates was definitely the right one for us," he says. "I do a lot of the management of the studios and Lanie performs a lot of our sales and marketing initiatives," he says. "We divide and conquer."
Name: Craig and Lanie Brazell
Title: Owners
Units: 3 Club Pilates
Ages: 39
Family: Wife Lanie, who is my business partner; 3 children
Years in franchising: 2
Years in current position: 2
Personal
First job:
I was drafted by the Mets straight out of high school.
Formative influences/events:
Two major influences in my life were pitchers Tom Glavine (who I had the opportunity to play alongside) and Al Leiter.
Key accomplishments:
Playing professional baseball straight out of high school and continuing my career in professional baseball until I was 35 years old.
Biggest current challenge:
Navigating this new life of franchising, boutique fitness, and most important, family. Baseball was our life for 18 years. Now we have three kids and three different Club Pilates that we learn to manage better every day.
Next big goal:
We currently don't have any major goals in the works. Life changes quickly and business changes quickly, so we would like to stay on the same path and maintain our integrity while we do that.
First turning point in your career:
Being drafted. Now, I would say the most recent turning point would be franchising. We opened three studios in 2 years, which was a major goal of ours from the beginning.
Best business decision:
Choosing to franchise with Club Pilates of all the fitness concepts we could have chosen.
Hardest lesson learned:
You can't be perfect, and you can't do it all by yourself.
Work week:
Most mornings I will take the kids to school. Lanie is usually up and working around 5:30 a.m. and heads into the studios around 8:30. I do a lot of the management of the studios and Lanie performs a lot of our sales and marketing initiatives. Each day can be completely different, depending on the needs of the different studios. When the kids are done with school, one of us picks them up and that pretty much concludes a day. It sounds simple, but there are lots of late nights and tag-teaming different tasks throughout the week.
Exercise/workout:
For most of my life, baseball was my workout. Toward the end of my career, though, Lanie convinced me to try Pilates, and I've been doing it ever since. It definitely helped the longevity of my career.
Best advice you ever got:
Two pieces of advice have stuck with me. One is to never settle for mediocrity. The second is to shoot for the moon because even if you miss, you land among the stars.
What's your passion in business?
I really love to network. I like going into our community and starting conversations with people. Lanie's passion is more the marketing and sales side of things.
How do you balance life and work?
We work as a team. Sometimes our roles have to change and we are a team while they are changing.
Guilty pleasure:
I love Coca-Cola and candy.
Favorite movie:
"The Natural."
What do most people not know about you?
My wife says I'm a softy. I might put on a hard exterior, but I truly do want the best for everyone.
Pet peeve:
I would have to say punctuality.
What did you want to be when you grew up?
I always wanted to be a baseball player and that came true. I'm very lucky.
Last vacation:
We went on a trip to Disney World! We are Disney Club members.
Management
Business philosophy:
We believe that every experience our members have should be a luxury, premium experience. We try to treat everyone as kindly and fairly as we can.
Management method or style:
Our management style is rooted in the ideas of being consistent and fair.
Greatest challenge:
Adjusting to the new lifestyle of franchising after so many years having been focused so much on baseball.
How do others describe you?
People describe me as a good, fair guy and a great networker. Lanie is often described as bubbly and outgoing. One thing I'm looking to do better: We want to get better at managing employee expectations. We want to be sure that we are maintaining a happy work environment.
How I give my team room to innovate and experiment:
It is important for us to keep an open-door policy. If an employee sees room for improvement in a specific area, we want them to be able to tell us.
What are the two most important things you rely on from your franchisor?
We really value the marketing and sales advice they provide. When we aren't sure what to do surrounding a certain initiative or event, the corporate team is always willing to hop on a call or help us out. Xponential Fitness (Club Pilates' franchisor) has been incredible.
What I need from vendors:
Our two greatest vendors have been extremely punctual, accountable, and dependable, which is what we were really looking for. It's one less thing we have to think about among all of our other duties.
Have you changed your marketing strategy in response to the economy? How?
We are still learning how to navigate that. We are currently using marketing in a layering effect. For example, we use Facebook, but not everyone is on Facebook so we use other marketing tactics as well.
How is social media affecting your business?
Social media is a huge part of our business. We place a lot of focus and attention on it to help grow our studios. Facebook, Instagram, etc. are all hugely important in the fitness world.
How do you hire and fire?
A lot of our best employees have been found and hired through word of mouth. Firing, on the other hand, is never easy, nor is it ever our first choice. We put a lot of thought into that decision and give a lot of second chances before we decide to terminate an employee.
How do you train and retain?
We do the best we can to accommodate schedules. The fitness space can sometimes be a bit tricky, as some of our employees are students and eventually will graduate and move into their own full-time careers.
How do you deal with problem employees?
The most important thing we try to do is remain consistent. We'll give them a few chances, but if they continue to fall short in the same area over and over or simply don't have respect for us and the business, we sometimes have to part ways.
Fastest way into my doghouse:
A lack of respect. I try to be as respectful as possible, so I expect the same in return. We also hate gossip and drama. This is a place where people come for a positive, fun experience and we don't like it when people try to poison that with gossip.
Sports & Business
Which do you find more competitive, sports or business?
I would have to say sports.
Why did you choose franchising as an investment option?
We didn't want to reinvent the wheel. We like that there was already a whole business plan established and a support system rooting us on.
How did you transition from sports to franchising?
After experiencing a second head injury on the field, I eventually retired. We were flipping houses when Lanie convinced me it could be a great opportunity to open a Club Pilates.
Bottom Line
2019 goals:
We would love revenue to be over $1.2 million by year-end.
Growth meter: How do you measure your growth?
We are just now getting in the stages of owning our franchise to do that. We plan on measuring it through revenue, membership, and employee retention.
Vision meter: Where do you want to be in 5 years? 10 years?
We just hope to still be open and our studios thriving like they are today.
How is the economy in your region affecting you, your employees, your customers?
The South isn't very fitness-centric so we have to work really hard to recruit members and maintain a sense of community. As the cost of living rises, employees expect to be paid handsomely for doing a small amount of work. Being a small business, we can't always do that and we have to readjust expectations sometimes.
Are you experiencing economic growth in your market?
Auburn is definitely growing. The population is young and there are lots of businesses popping up. Montgomery does well too, but there can be challenges.
How do changes in the economy affect the way you do business?
If the economy falters, we keep doing what we're doing, but even better. Fitness will always be a part of people's lives once they find an activity they enjoy, so we have to enforce that by continually providing hospitality and a welcoming community.
How are you handling rising employee costs (payroll, minimum wage, healthcare, etc.)?
We hire well-rounded, skilled individuals who are prepared to work hard and jump in to help wherever and whenever necessary. If we can find an instructor who's also willing to work at the desk, that maximizes our resources and also helps build community. For example, Lanie is not only a co-owner with me, she is an instructor. We also have to make sure we set expectations right from the minute we hire someone on wages, payroll, etc., and stay consistent among everyone.
Published: October 11th, 2019
Share this Feature
Recommended Reading:
Comments:
comments powered by

Disqus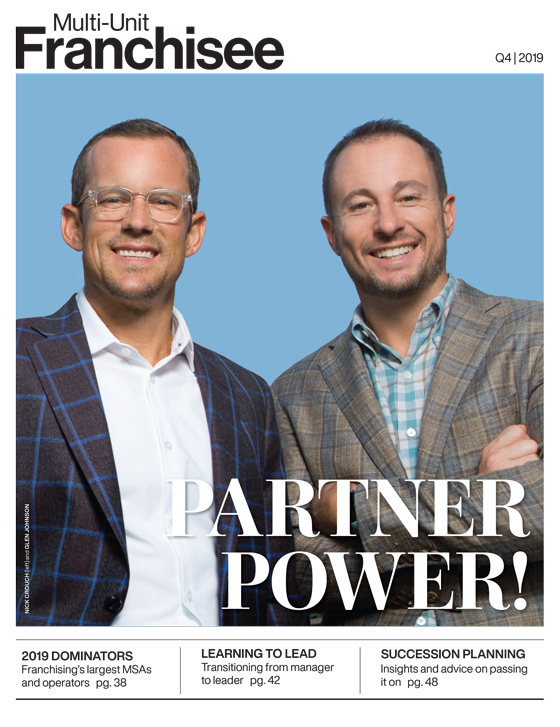 Multi-Unit Franchisee Magazine: Issue 4, 2019
The #1 fast casual Mexican franchise in the industry offering flexible formats with ample white space to grow.
Cash Required:
$350,000
Teriyaki Madness is the #1 Fastest-Growing Big Restaurant Chain for a reason: high-quality food, cutting-edge technology and incredible franchisee...
Cash Required:
$200,000