Louisiana Lover: Just 29 with 2 Brands and 6 Units
As part of his entrepreneurship concentration at LSU, Andrew Jones took a course on franchising. The class and guest speakers piqued his interest--so much so that in 2015, still in their mid-20s, Jones and his business partner Teddy Amar, walked away from their jobs at Ernst & Young and straight into the world of franchising, signing on with Zaxby's.
"The franchising model is tried and true and takes the risk out," says Jones. "It also gives us the opportunity to grow in other markets and with other brands."
That's exactly what they did 2 years later, when they signed on as PJ's Coffee franchisees. Jones liked that the brand was based in Louisiana and offered great potential for growth.
"We were looking for something that people can really get behind and that they already enjoy," says Jones. "We also wanted to grow. We wanted more reach and more opportunity to get into different markets."
Fast forward to 2019. Jones operates two Zaxby's in Gonzales, La., and is still partnered with Amar in three PJ's Coffee locations in Baton Rouge and Lafayette.
Now approaching 30, Jones says he truly enjoys operating franchised businesses and being connected to the local communities where his stores are.
"People go to places they are familiar with, especially a coffee shop," he says. "You've got to be involved in the community and give back to the communities you're serving. It's important, especially in Louisiana. People like things local and they want that sense of the brand being part of Louisiana."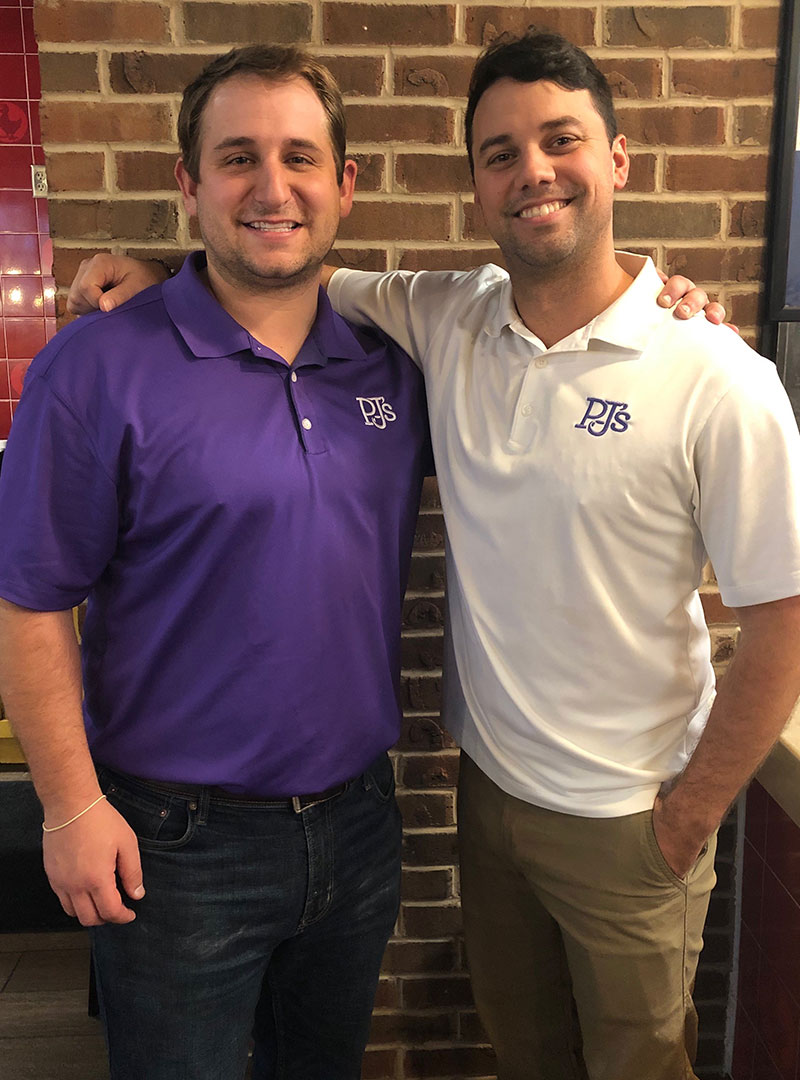 Name: Andrew Jones
Title: Owner
Units: 3 PJ's Coffee, 3 Zaxby's
Age: 29
Family: Wife Courtney, 1-year-old daughter Camille
Years in franchising: 5
Years in current position: 5
Personal
First job:
Financial consultant, Ernst & Young.
Key accomplishments:
Opening my first Zaxby's location--a lot of moving parts and coordination.
Biggest current challenge:
Managing time across five different businesses.
Next big goal:
Currently looking to expand my PJ's Coffee footprint. I would like to have 10 to 15 stores in the next 5 years.
First turning point in your career:
Having our first restaurant start to see stable year-over-year growth.
Best business decision:
Opening a PJ's Coffee. Love for coffee and an intimate environment makes for a fun business.
Hardest lesson learned:
Trusting and delegating to employees and key management.
Work week:
Monday to Sunday, 5 a.m. to 11 p.m. on call.
Exercise/workout:
Every weekday morning with PJ's Coffee business partner.
Best advice you ever got:
Do things right the first time and you will not have to do them again.
What's your passion in business?
People. Seeing employees grow into something they didn't think they could do. Seeing them move on and go to college or start professional careers.
How do you balance life and work?
I try to set things up to be somewhat free on the weekends. My wife and I enjoy keeping up with our one-year-old daughter Camille. Sometimes we have to play at one of the stores, though.
Guilty pleasure:
Caramel Granita from PJ's Coffee.
Favorite book:
Rich Dad Poor Dad.
Favorite movie:
"Blue Streak."
Pet peeve:
Tardiness.
What did you want to be when you grew up?
Dentist.
Last vacation:
Gulf Shores Beach.
Person I'd most like to have lunch with:
Warren Buffett.
Management
Business philosophy:
Growth. Progression. If you're not moving forward, you're moving backward.
Management method or style:
Personal connection. Establishing a trusting relationship with your management team. Make them feel a part of a family and they are more likely to feel prideful about your business.
Greatest challenge:
Managing time across five businesses in different cities.
How do others describe you?
Hardworking. I can never turn off my brain.
How I give my team room to innovate and experiment:
We want our managers to be problem-solvers. Unless the decision is life or death, we ask that they make the decision themselves. After they make the decision, we can talk about it and see if it could have been done better. This allows them to have a managerial presence and not rely on us for every small thing.
How close are you to operations?
Very close. Sometimes that can be a downfall.
What are the two most important things you rely on from your franchisor?
Marketing and new opportunities.
What I need from vendors:
Fair pricing, quick response time, and resolution of issues.
How is social media affecting your business?
We use social media with every business. It's an easy and cheap way to connect with your guests.
How do you hire and fire?
Hire for attitude, train the skill. We like to think that if we do the work on the front end (hiring), the work on the back end will be minimal.
How do you train and retain?
Retention is a result of an effective culture. People want to work where they feel valued and comfortable.
How do you deal with problem employees?
We feel that people who don't fit into our culture weed themselves out on their own. Typically, they get the message pretty quickly before it gets too far down the road.
Fastest way into my doghouse:
Be late!
Under 30
How did you get into franchising at such a young age?
I decided I wanted to do something on my own, and franchising is a fairly proven model. It takes some risk out of the entrepreneurial equation.
Was becoming a franchisee something you'd planned on?
I took a franchising class at LSU as part of my entrepreneurship concentration. It was very eye-opening, and we had some very influential speakers in this class.
Did you have a mentor or inspiration for getting into franchising?
Robert Justis at LSU.
What jobs, skills, and experience have helped you operate a franchise business?
Working at Ernst & Young we were exposed to many different business processes. We were taught to assess analytically. We also learned how to communicate at a professional level, which is a very great asset.
What kinds of obstacles did you face in franchising at such a young age?
Establishing your management style while managing people older than yourself. In most desk jobs, promotions and corporate hierarchy follows age.
How would you describe your generation?
I think I'm on the tail end of the "old school" generation. Technology didn't really boom until I was in high school. The next wave is so advanced technologically, and also exposed to so much more because of their connectivity.
Do you see franchising as a stepping-stone or a career for you?
Career.
Bottom Line
Annual revenue:
$3.8 million.
2019 goals:
See an average of 8 percent year-over-year growth across all stores.
Growth meter: How do you measure your growth?
Year-over-year sales growth.
Vision meter: Where do you want to be in 5 years? 10 years?
I want to own 10 more PJ's within 10 years.
Do you have brands in different segments? Why/why not?
Yes, coffee and restaurants.
How is the economy in your region affecting you, your employees, your customers?
The economy is fairly strong. Oil and gas could be a little stronger, which would help.
Are you experiencing economic growth in your market?
Yes.
How do you forecast for your business?
Trends and benchmark data.
What are the best sources for capital expansion?
Cash flow.
Experience with private equity, local banks, national banks, other institutions? Why/why not?
We use a regional bank. It's good to have a local connection with them.
What are you doing to take care of your employees?
Competitive pay and fun environment. We do competitions within stores with rewards.
How are you handling rising employee costs (payroll, minimum wage, healthcare, etc.)?
Adjusting prices and making sure our labor dollars are very efficiently spent.
How do you reward/recognize top-performing employees?
We manage metrics: labor, speed of service, COGS, and customer satisfaction.
What kind of exit strategy do you have in place?
Growth strategy for now. Eventually we would like to move into real estate and grow from there.
Published: October 25th, 2019
Share this Feature
Recommended Reading:
Comments:
comments powered by

Disqus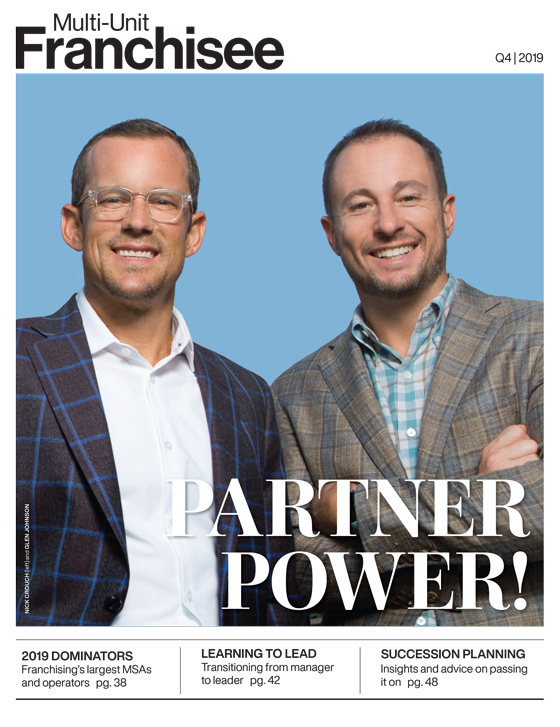 Multi-Unit Franchisee Magazine: Issue 4, 2019
L&L Hawaiian Barbecue has grown to become the leading Hawaii-based restaurant franchise, consistently appearing in national franchise and restaurant...
Cash Required:
$200,000
Pizza Factory houses hardworking owners, family-friendly dining and high-quality products. Restaurant design options include a Pizza Factory Express...
Cash Required:
$90,000