Hurricane John: It's A Good Wind That Grows A Brand
After years of building his company by acquiring distressed franchise units and real estate, John Metz bought a distressed franchisor. That's right, a franchisor. On December 17, 2008, Metz took over Hurricane Grill & Wings. And he's from Buffalo.

"It's great food, a great concept, people love it, and it's doing well," says Metz. And with the right direction from the top and what his team brings to the table, he says it's an opportunity to be a great franchisor to his franchisees.

Thirty Hurricane Wings restaurants are open and operating, all in Florida, with 2 more ready to open and another 4 in the pipeline through the first half of 2009. The brand has no corporate stores, but Metz plans to open two in 2009, as well as two to three joint ventures. The goal is 40 units by year-end.

The joint ventures, he says, will be 60 percent owned by the brand and "fall under our definition of corporate stores." One is with a former district manager who ran Metz's eight Bennigan's before that franchisor collapsed into bankruptcy. "He's a great operator and wants to go into business himself. Money is tough to get, and we want to keep this brand growing. Why not take advantage of our access to capital and those great operators?"

As for how he became a franchisor, Metz says, "I acquired the secured debt, contacted the owner to tell him, and asked if he wanted to restructure the company. We couldn't come to terms, and he basically surrendered the assets to forgive the debt."

After taking control, Metz hit the road to speak with the franchisees. "It went great for one reason: Hurricane Wings was charging 6 percent of sales. I rolled it back to 5 percent for the next six months and hope to keep it permanently in place within a year," he says. "It goes back to making money. The franchisees have to be making money. So I make a little less money on every franchise, and have more franchises." He's also renegotiating agreements with area directors--amicably he says.

Metz says one of the first things he did with Hurricane Wings was create a new position: franchise business consultant; another was to increase the operations group.

Being a franchisor is "a whole different ballgame," says Metz. For example, he now must negotiate contracts for food, distribution, and "all of those contracts you need to run a franchise organization. That's why I liked being a Denny's franchisee--they did all the heavy lifting for me and I didn't have to worry. Denny's procurement and marketing is great. Now I pull my hair out," he says.
RREMC: The Adventure
You need a scorecard (and maybe a map, a lawyer, and an accountant) to keep up with Metz and his multi-brand franchise company, RREMC Restaurants.

His first foray into life as a franchisor was with the Original Roadhouse Grill. "The company was in dire distress, so we picked it up for basically a dollar plus existing debt," says Metz. He says with 38 stores it was losing about $1 million a month when he acquired it in October 2007. By March 2008, Metz says he'd managed to turn it around to a profit of about $100,000 a month, but could not come to terms with creditors. "We put it out to bid, but there were no bidders and the creditors didn't agree to my bid." And it was converted from Chapter 11 to Chapter 7.

A couple of months after acquiring Roadhouse, Metz bought all of the operating Hops Grillhouse & Brewery units about a dozen) in Florida out of bankruptcy. He'd planned to convert them to Roadhouse Grills, but decided to sell the leaseholds individually instead. "The reason I bought them is I thought I had Roadhouse turned around and had an agreement with the creditors. The Hops were cheap leases," he says. "It didn't work out so great."

Metz says he lost money on the Roadhouse deal (he'd lent about $1 million in debt before the creditors pulled the plug), "but the jury is still out." On the Hops, he says he broke even, selling them all by last July. He's even buying one back.

At last count, RREMC has 29 Denny's, 1 Dairy Queen, and 1 Fairfield Inn. He was approved for Old Chicago Pizza, never opened any, but is negotiating with a landlord and hopes to announce one around April. He sold his Hampton Inn December 31st. Roadhouse Grill is gone too (he was president and chief restructuring officer for six months until April 2008); and he sold the last of his Hops in July.

In general, Metz says, he looks for a three-year payback on anything he does. "My companies operate under a very minimal amount of debt, so we don't have the banks breathing down our necks," he says. "My Denny's have no debt. We open new ones out of cash flow." RREMC owns the real estate for all but six Denny's, and Metz has renegotiated two leases for significant rent reductions and is working on a third.

"The reason we went into Denny's and Bennigan's was to self-develop the real estate under our stores," he says. But toward the end of 2006, real estate became "too damn expensive in my opinion," he says. "In 2007, we had pulled back on a lot of real estate projects. With the price of dirt, we couldn't make them work as freestanding units."

The only way he saw to make a new Denny's work for him was to develop a small strip center and put Denny's in as the anchor. He has two Denny's in the works that will be inline stores. One thing he likes about Hurricane Wings is that most of them are in inline strip or shopping centers.

"We have a fairly small footprint (1,800 to 2,400 square feet) yet average unit volume is about $800,000--and if you take out the five low-volume stores it exceeds $900,000." His goal is to build that to $1 million per store--and he's bullish about finding Class B+ and Class A real estate at low prices and drive volumes, even in this down economy.

As he continues learning to be a franchisor, Metz says Denny's does a lot of good things and he plans to apply those positives--as well as avoid the bad he saw Metromedia Restaurant Group (MRG) do with its Bennigan's franchisees before filing Chapter 7. "We believe in full transparency with our franchisees. We'll make sure to avoid like the plague the things MRG did to us. I understand, hopefully fully, both sides of the arguments."

Name: John Metz
Title: President
Company: RREMC Restaurants
No. of units, by brand: Denny's, 29, with 5 under development; Dairy Queen, 1 (approved, designed, permitted); Fairfield Inn, 1; joint venture for Capone's, a new concept in Miami to open by mid-April. As a franchisor for Hurricane Grill & Wings, we have 30 units franchised, 10 in the pipeline, and hope to have 4 or 5 corporate stores open by year-end.
PERSONAL
Age: 55
Family: 2 ex-wives and 2 children, Zander and Alexis
Years in franchising: Denny's 8 years, longer with Marriott; licensee of Howard Johnson's, 1989-90.

Biggest mistake: When I bought the Bennigan's, I knew it was a distressed brand. We thought we'd negotiated a good deal, with the right to close unprofitable stores. The biggest mistake is that once we got in, we couldn't do anything about it. We never anticipated corporate would shut down stores. It all goes to lack of transparency--MRG was basically hiding stuff. I considered buying Bennigan's, but it was too broken and too large to repair. The good news is it didn't kill us, but it was not exactly our best investment. That experience should teach me how to be a good franchisor, because they were so horrendous. It was an expensive lesson.

Smartest mistake: I still say I'd rather be lucky than smart. My best decision? Taking over the original group of Denny's distressed debt, which allowed me to build a significant company. With Hurricane Wings it's too early to tell.

How do you spend a day, typically? There is no typical day. The bad news is that since I've become a franchisor, I have more meetings. At Hurricane Wings we spend most of our time talking about operations because I'm most concerned about good operations and financially successful franchisees.

Favorite fun activities: Work is number one, I enjoy my work. I ski, sail, and spend time with my kids. Last summer I sailed a major regatta with my son for almost a month.

Favorite stuff/tech toys: My iPhone. When I saw one the first time, the person who owned it called it a "game changing" device. I don't need to carry my laptop as much. Is Facebook a tech toy? My kids talked me into doing it, and I love it.

Exercise/workout: I've gone from running 3 miles a day to zilch. I'm still working out 3 days a week, but I'm losing the battle of the bulge: one can eat through only so many menus without showing some "job-related stress."

What are you reading? The best last book I read is Snowball, the biography of Warren Buffet. Before that, First a Dream, the autobiography of Jim Clayton--he's my banker and gave me the book; he sold Clayton Homes to Berkshire Hathaway for $1.7 billion. Also, L.L. Bean: The Making of an American Icon by the founder's grandson; and Steve Olson's book on franchising, Grow to Greatness since I'm a franchisor now. My next book is Everything I Know About Business I Learned at McDonald's.

Do you have a favorite quote or advice you give? Your house is your home, it's not an investment.

Best advice you ever got: A newspaper editor once told me that as a consultant, you're hired to solve problems. You first have to find the problem, but if you listen carefully to the people around you, they will give you the answer. He turned out to be 1,000 percent correct.

Formative influences/events: I've had two great mentors in my life: my boss at PeatMarwick, and my boss at Servico, Arthur Meyer, who became my partner; he passed away last year.

How do you balance life and work? I just work.
MANAGEMENT
Business philosophy: I work on a 3-year payback primarily. I like to give opportunities to other people in connection with expanding my business or going into new ones. Our real key is that we try to empower the general manager to take an ownership interest in that store, to act like an owner, as opposed to an employee. They get 10 percent of the net; we believe in compensating our people for a job well done.

What's your passion in business? I like fixing broken companies, I like building companies and assets, and I like to see other people make money with me.

Management method or style: I get each of my district managers and my director of operations together four times a year. We call them district manager meetings, but they're really leadership meetings. One of those times I get all of our general managers and field people together too. I make both announced and unannounced visits to each store three to four times a year.

How close are you to operations? Very.

Greatest challenge: The economy, and giving value. We're very fortunate we don't have a lot of debt. We've grown the old-fashioned way: cash flow and operations. We had to fund a little bit, but not really much.

Personality: I'm intense and very passionate about what I do.

How do others describe you? Straightforward, thinking outside the box

How do you hire and fire? We're not really very good at hiring. One reason is we have almost no turnover in our management ranks--and I don't think I'm overpaying. We have 90 percent the same people we had 8 years ago in our top management (GMs and administrative staff). We evaluate people twice a year and are candid with them. We've even hired people back; we have a compassionate side, but you better perform.

How do you train and retain? We have a director of HR, a director of training, and a new restaurant opener. We have 1,500 restaurant employees. We also have 30 GMs and 12 administrative staff, who we take on a trip every year; we also do training on these trips. We've also awarded PT Cruisers to the GMs at 14 of our 26 Denny's.
BOTTOM LINE
Annual revenue: About $35 million for the 26 Denny's open a full year in 2008.

2009 goals: Denny's--open four new stores and grow same-store sales about 1 percent. Hurricane Wings--open 2 corporate stores, 3 joint venture stores, and a minimum of 10 franchised stores.

Growth meter: How do you measure your growth? For RREMC, it's the bottom line. All of our managers get a piece of the bottom line.

Vision meter: Where do you want to be in 5 years? 10 years? For RREMC, we want to be at 36 Denny's within 3 years; I have no interest in having more than 36 Denny's. Then RREMC will probably do some other concepts, which is why we have Old Chicago and Dairy Queen, which we'll then very carefully expand. Our focus is to get to 100 units within 3 to 5 years; we're singularly focused on that. After 100, our next goal is 300 within 3 to 5 years.

How is this economic cycle affecting you, your employees, your customers? Everybody is being squeezed by this economic downturn. If they're not, I'd like to meet them. Everybody is looking for value and bargains, and they're managing their money much more carefully than 12 months ago.

What are you doing differently in this economy? With Denny's, we're stressing value--that's what it's all about. With Hurricane Wings, it's too soon to say; it's already a value concept and we haven't made any changes.

Where do you find capital for expansion? For Denny's, we're generating it internally from operations, and if necessary with equity from my partners. For Hurricane Wings, from "distressed" landlords, the SBA, and we're prepared to do joint ventures under certain circumstances with new franchisees.
Published: May 18th, 2009
Share this Feature
Recommended Reading:
Comments:
comments powered by

Disqus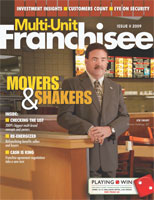 Multi-Unit Franchisee Magazine: Issue 2, 2009
The Shipley Do-Nuts concept, like many successful foodservice operations, relies on well trained and qualified staff to support its daily goal of...
Cash Required:
$200,000
Discover opportunities with Liberty Tax. As one of the nation's largest and fastest-growing tax preparation companies, there are tremendous...
Cash Required:
$65,000