It's Mega-nanimous!: Six Great Stories to Start the Year
Here comes 2018, and we're starting the year in our usual way: with our "Mega 99" list of the largest U.S. franchisees, ranked by total number of units. We also feature profiles of six successful multi-unit operators—including our Reconnect with Anil Yadav; an Athlete profile with a former professional basketball player; and an Under 30 profile of the son of Orangetheory Fitness co-founder Ellen Latham. Together they provide a broad spectrum of size, industries, and scope of operations. Perhaps more important, each has been successful in their own way and has a unique story to tell—and learn from.
Successful franchisees, from mega to mini, must learn to become leaders, the CEOs of their own organizations, who know how to make a deal work, hire the right people, and create a dedicated, hard-working team, both internally and on the front lines. With the right combination of skill, brains, heart, and soul, they're able to create, build, and sustain companies that offer high-quality products and services, top-notch customer service, provide a wide range of job opportunities and training in their communities, and build revenue and royalty streams for their brands.
Once again we are privileged to have been granted a look behind the scenes at six franchisees who have carved their own paths to success. These are highly personal stories of how they've overcome obstacles and grown not only their organizations, but also their employees and themselves in the process. It's rewarding and inspiring for us—and we hope for you—to read their stories, now in progress at many locations near you.
Emily Harrington has spent her life as a high achiever and shows no signs of slowing down. After leaving the U.S. Army as a second lieutenant, she worked in private equity, all the while pursuing her passions for biking, rowing, Olympic weight lifting, high-intensity interval training, and playing music. She left the corporate life, built a Hardee's operation to more than 40 units, sold them, and today operates 5 Tropical Smoothie Cafes, with 4 more planned for this year and 50 in the next 10.
Mike Hamra was born and raised in his family's Midwest restaurant business. Today he's the CEO, but en route became an attorney, spent 8 years in Washington, D.C., as a political appointee in the Clinton administration and as chief of staff and legal advisor for the FCC's Wireless Telecommunications Bureau. In 2001, he returned to the family business and in 2011 was named CEO of Hamra Enterprises, which operates 157 units (Wendy's, Panera Bread, Noodles & Company, and Holiday Inn Express) in six states.
Tracy Bouwens was a stay-at-home mom who never stayed home when she discovered Scooter's Coffee, an emerging brand based in her home town of Omaha. In 2004 she and her husband bought their first Scooter's store. Within six months, they'd moved to Kansas City as area developers for the brand. Thirteen years later, she is the brand's largest franchisee, with 37 coffee shops in four states (Kansas, Missouri, Nebraska, and Iowa).
Anil Yadav (Reconnect) is big man, both physically and in business. When we met him in 2008, he had a combined 94 locations for his Jack in the Box and Denny's units. He has nearly quadrupled that number through growth, acquisitions, and by adding new brands… not to mention buying three golf courses/resorts. Beginning as a fry cook at Jack in the Box, he was awarded his first JIB franchise when he was 25. Today, with 227 locations, he's the brand's largest franchisee.
David Schuck (Athlete) played forward for the Air Force and UNC Greensboro basketball teams before heading to Spain to play professionally. "The apartment I lived in was 5 minutes from the Mediterranean Sea," says Schuck, who spent 2 years traveling through Europe playing b-ball. Returning to the U.S., he tried teaching and coaching, and then spent several years in banking before finding his way to franchising back in North Carolina. Today he operates 15 Liberty Tax stores and 2 Club Pilates, with plans for more.
Evan Latham (Under 30), son of Orangetheory Fitness co-founder Ellen Latham, says he's been a part of the business since its inception. "My first job was cleaning the original fitness center," he says. Today he operates an Orangetheory Fitness location in Cooper City, Fla., and another in Nashville, and says he can see himself teaming up with another brand and becoming an area representative for a brand someday.
So whether you have a single unit with dreams of 100, or dozens spread across several brands and regions, you're sure to find something interesting, educational, even entertaining in the stories of these successful multi-unit franchisees.
And since this is our annual Mega 99 issue, be sure to check out our ranking of the country's largest multi-unit franchisee organizations, ranked by number of units, beginning on page 40.
Published: February 8th, 2018
Share this Feature
Recommended Reading:
Comments:
comments powered by

Disqus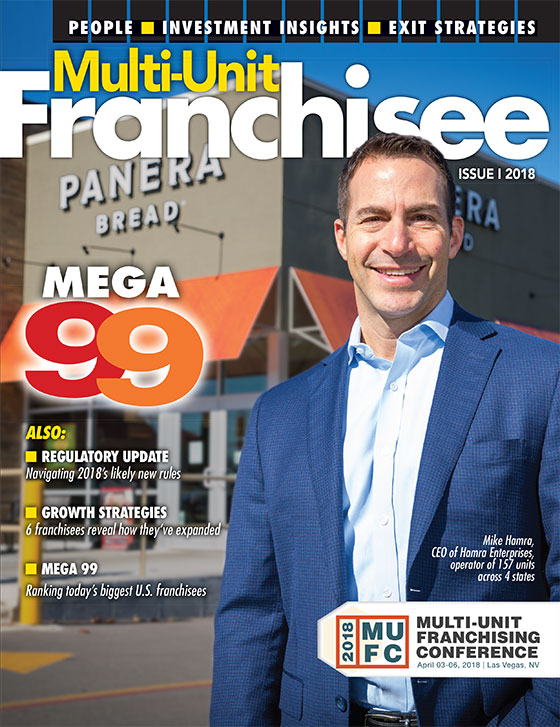 Multi-Unit Franchisee Magazine: Issue 1, 2018
Garage Living is expanding their successful franchise network by seeking a select group of individuals who are passionate about building a business...
Cash Required:
$100,000
No Franchise Fees! Join the nation's leading independent discount grocery chain. Your success is our success, so we're invested in...
Cash Required:
$300,000