Leave Your Mark: Two Brands, 90 Units, 40 to Come
JD Busch's path to franchise success is paved with what he calls "little nuggets" of learning.
"Everybody has problems and issues," says Busch, chief energy officer of Houston-based Busch Global. "It is about how people have succeeded and grown effectively. I'm not afraid to ask people to learn from their mistakes and to learn from people who are doing things right."
These days, Busch is doling out as much advice as he looks for. He has built a successful business by aligning himself with emerging brands that, he says, "really need someone like me to help develop nationwide."
His current portfolio of 60 Amazing Lash Studios and 30 Massage Heights retreats, is no exception. The first franchisee of the Amazing Lash concept, Busch is its largest developer, and is gearing up to open 40 more this year in Texas, Florida, and Georgia. And, as a regional developer for Massage Heights, Busch operates more than 30 percent of the franchised locations, accounting, he says, for 40 percent of the brand's revenues.
Busch has been a disrupter in franchising from the start. In 1995, the former college cheerleader put three different franchises--an NCA Super Center, Kid Fit Sports Day Care, and United Taekwondo--under one roof, long before brand synergy was common practice.
"I've never run just a single business in my life," says Busch. "I have always had multiple units of multiple brands since the day I turned 21."
A serial entrepreneur, Busch loves to develop. He has evolved over the years from being a self-described "nobody can do it better than me" micro-manager to a leader who thrives on finding the right team. Busch says he will never turn down a great hire if it fits the company culture and his own long-term growth plan.
"When I learned to give up the ego and hire people who are smarter than me and able to do things better is when my whole life changed," he says. "I'm always looking for great people, anywhere and everywhere."
Busch is now setting his sights on disrupting the business intelligence field with his newest entrepreneurial journey, Manage 2 Profit. The adaptable technology platform, developed and based on Busch's own data and systems, connects to QuickBooks and POS software to allow users to track the KPIs of multiple locations through a single dashboard. Busch believes Manage 2 Profit will be his biggest venture yet.
"One thing I love about software is that it is never done," he says. "Like many serial franchise people, I want to keep growing and adding and learning new things. For me, every franchise I have ever been involved with has been my master's and doctorate in how to operate and run other businesses. That has been key to the excitement for me."
Name: JD Busch
Title: Chief Energy Officer
Company: Busch Global LLC
No. of units: 60 Amazing Lash Studio, 30 Massage Heights
Age: 45
Family: Wife Tammy, and 2 children, Jossilyn, Kensington
Years in franchising: 23
Years in current position: 12
Personal
First job:
My stepfather's construction company. I started working summers when I was 12.
Formative influences/events:
My involvement in EO (Entrepreneurs' Organization), the IFA, and attending Multi-Unit Franchising Conferences.
Key accomplishments:
Featured two consecutive years in the Inc. 5000 annual list of America's fastest-growing private companies; 2015 IFA Franchisee of the Year, recognizing outstanding contributions to franchising; University of Houston Cougar 100 list of fastest-growing businesses owned or led by alumni, 2014-2018; Massage Heights Regional Developer of the Year, 2009-2012; multiple awards from Amazing Lash Studio including the 2017 Regional Developer Top Sales Award, 2017 and 2018 Multiple Leadership Award, 2017 Highest Performing Studio Award, and 2017 The Trailblazer Award.
Biggest current challenge:
To sustain growth, you have to have the right people on your team, which can be hard when you're up against a lot of competition. Pay is an important factor, but so is culture. I'm always thinking of ways we can attract and keep the right people, while making sure our values are being rolled down to all of our locations.
Next big goal:
Our goal is to be a disrupter in the business intelligence field with our newest venture: a tech company called Manage 2 Profit. There is a need within the entrepreneur community for tools that allow business owners to better manage their operations. Beyond quickly getting data, business owners need tools that help them use that data to drive profits and success. The tools that currently exist for the entrepreneur are not geared toward easy implementation--and they don't show users what they should do with the data. Manage 2 Profit is a core group of people with over 50 years of combined entrepreneurial experience. We know how to run a successful business. We know how to help someone run a successful business. We know the tools necessary to be successful. We know Manage 2 Profit works because we were the first customers.
First turning point in your career:
Reaching a point where I couldn't handle every detail. Growth is great, but it created a scenario I was unaccustomed to where I had to lean on and trust others with my business. I was forced to find great people, and it was one of the best things that has happened.
Best business decision:
Deciding to commit continuing resources to building an unbelievably awesome team. It started with hiring a core group and letting them build out their teams in the same way. They bring real-world experience, knowledge, incredible support, passion, and dedication--each and every day.
Hardest lesson learned:
Learning that closing a business is only a failure when you don't handle it the right way and when you don't learn from those mistakes. I spent years throwing good money after bad to prop up businesses that would have served everyone involved better if I had closed sooner than later. Those mistakes can drag an enterprise down. Don't get comfortable where you are today, be a disrupter. Your company needs to evolve as consumer purchasing habits change. Just look at big box stores, which are suffering because they didn't plan for consumers being more digital-savvy. To evolve as a company, you need smart people. I think success comes with being comfortable surrounding yourself with people who are smarter than you. We focus on putting a plan together and then making sure it gets executed.
Work week:
Always working.
Exercise/workout:
Tennis, golf, and skiing--snow and water.
Best advice you ever got:
Hire the best people, treat them well, and make sure you keep them.
What's your passion in business?
"Leave Your Mark" is a saying I adopted early in my career. It not only spoke to my passion to continually evolve, but to also inspire others to achieve their path to success. Over the years, I learned that the power of controlling one's attitude toward life is truly the most significant and effective way to reach one's goals.
How do you balance life and work?
Working on that every day.
Guilty pleasure:
Boating.
Favorite book:
The Four Obsessions of an Extraordinary Executive by Patrick Lencioni.
Favorite movie:
"Top Gun."
What do most people not know about you?
I was a college cheerleader at the University of Houston.
Pet peeve:
Laziness and an "I can't do it" attitude.
What did you want to be when you grew up?
Be creative, but a role model.
Last vacation:
Beaches in Turks & Caicos with the family.
Person I'd most like to have lunch with:
Will Smith. I have used a motivational video of his called "Wisdom" to inspire all our new team members.
Management
Business philosophy:
I take great pride in the people I've surrounded myself with. My vision has always been about leaving my mark. What better way to leave your mark than to have an organization that creates opportunities for our team members, our partners, our franchisees, and their team members to grow and succeed. I couldn't be more proud of what Busch Global has laid as a framework for sustainable future growth.
Management method or style:
I am an extreme visionary. I look down the road and see potential two to three times what the team believes is possible. To put it another way, I know my team is capable of what they believe is impossible. I push our team members to see the vision and get there, even when they don't believe they can.
Greatest challenge:
Knowing what to prioritize and when. There are details that need my attention and there are details that are best left to the experts on my team. Knowing what needs my attention is key to a successful venture or project.
How do others describe you?
There is no slowing down for JD, you can see and feel his passion every day for his brands. He focuses on delivering the highest level of performance and profitability. There is no denying the pride he shows for his team and franchisees in his region.
One thing I'm looking to do better:
Grow all around me.
How I give my team room to innovate and experiment:
We have no sacred cows. I'm willing to be convinced to try new things.
How close are you to operations?
It's funny, but I think I'm both too close and too far. There are times when I can get lost chasing details and miss pointing the team at the bigger picture. In the same vein, there are details that slip by I wish I would have paid more attention to months before.
What are the two most important things you rely on from your franchisor?
Maintaining the consistency of the brand in regions and territories outside my own, and growing the brand nationwide.
What I need from vendors:
Accountability. They need to deliver on the commitments they make, and when they miss that mark they need to own it and make it right.
Have you changed your marketing strategy in response to the economy? How?
Yes, we are constantly looking at ways of evolving. Many businesses make the mistake of just focusing on one tier and not understanding the customer journey. It takes 10 touch points before the consumer even starts to acknowledge you. Digital seems easy when you don't have lots of dollars to spend and it's trackable, but if you're not cultivating local relationships with grassroots and B2B efforts then you're missing those personal connections. In several of our markets we've started to include TV segments to help tell our story, and some sponsored content with local magazines that target our demographic. It's easy to want to cut back but you have to fight that gut reaction. You want to do what it takes to keep yourself interacting with your customers within the budget you have.
How is social media affecting your business?
In every way. It changes how we interact and communicate with our vendors, our customers, and our own team members. It's changing how we attract new customers. The bigger challenge is trying to get ahead and understand what additional components of the business it will change in the very near future.
How do you hire and fire?
The workplace is ever-evolving, but it seems to be accelerating in change as Millennials make their way in. The way business owners approached employment can be seen as "old-fashioned" thinking as potential employees are looking for more perks, flexible work environments, and benefits. So how do we adapt? We just underwent this exercise with our team, as we know we need to continually evolve. We have rolled out some changes and are researching others to find the best way to balance running our business and providing the elements employees are seeking. We have been using a recruiter for our local stores for the past year. She definitely does more hunting than waiting for ads to produce candidates. We are also researching to better understand if we are looking for staff in the right places. Most owners get in a trap of advertising in the same places as everyone else, so the pool doesn't seem as full, or limited on talent. We look at other places we can hunt for employees to fit the culture we're trying to create. Ideas include revamping the referral program we currently have in place to leverage our best employees to help us attract more employees just like them.
How do you train and retain?
Retention will always be a struggle for a retail business. However, we're trying to minimize it by offering awards for annual service, monthly shout-outs, awards for tenure, and as we mentioned earlier, looking for creative ways to compensate them for their achievements. Some owners make their employees for-profit partners to make them feel like they have a say in the business. We have been trying different tactics with culture. For example, we rolled out a series based on the book The Energy Bus to help promote a fun work environment. We're focused on creating a more customer-centric culture.
How do you deal with problem employees?
Check yourself and your process first. Is the person in the right seat on the bus? Do they belong on the bus? People should be treated as the individuals they are, recognizing there is no one-size-fits-all solution. If you believe they should be on your bus, then you work with them to find the right seat. If they don't belong, then you find a way to help them off your bus and find the path where they can be successful.
Fastest way into my doghouse:
Fail to respond. Everyone is busy, and I know that, so when I reach out, it is because I really do need your input.
Bottom Line
Annual revenue:
$63 million.
2019 goals:
Add 40 more locations and have revenue of $79 million.
Growth meter: How do you measure your growth?
We track open locations and generated gross revenue by location, region, and brand.
Vision meter: Where do you want to be in 5 years? 10 years?
In 5 years, we will have a software company that has become a true disrupter in the marketplace, generating substantial sales. In 10 years, we will have invested in new software and franchise opportunities as our current agreements begin to reach their end.
How is the economy in your regions affecting you, your employees, your customers?
The hardest impact, I believe, has been to staffing. The low unemployment numbers make it difficult to fill, find, and keep great staff. There are so many opportunities for intelligent individuals with drive. Even with good pay and great culture, we face stiff competition from other companies with the same benefits.
Are you experiencing economic growth in your markets?
We see new shopping centers and general positive economic growth in most of the markets we are in.
How do changes in the economy affect the way you do business?
They affect how you market--not just in spend, but also in your messaging and delivery. They also affect how you recruit for talent. Regardless of the economy, we watch our margins.
How do you forecast for your business?
We try to take in multiple factors, including economic predictors, past performance, upcoming changes in the brand, and national brand trend data.
What are the best sources for capital expansion?
Private equity.
Experience with private equity, local banks, national banks, other institutions? Why/why not?
We have experience with all those institutions. Really, the "best" solution is dependent on the particulars to each individual request for capital. It's important to explore every option to really understand the potential variables.
What are you doing to take care of your employees?
We constantly discuss and review all aspects of compensation, including salary, benefits, educational opportunities, and culture.
How are you handling rising employee costs (payroll, minimum wage, healthcare, etc.)?
We keep close tabs on our margins. We look for opportunities to improve the average income per transaction, as well as create efficiencies in the operations. Beyond that, we evaluate our payroll providers regularly to look for options.
How do you reward/recognize top-performing employees?
Publicly praise, compensate fairly, and make sure they know the path they have available to them within the organization.
What kind of exit strategy do you have in place?
Every good business plan has an exit strategy. We have plans on exits that involve performance and targeted goals. We review those plans as an executive team to ensure everyone is comfortable with the plan and on the same page as much as possible.
Published: March 8th, 2019
Share this Feature
Recommended Reading:
Comments:
comments powered by

Disqus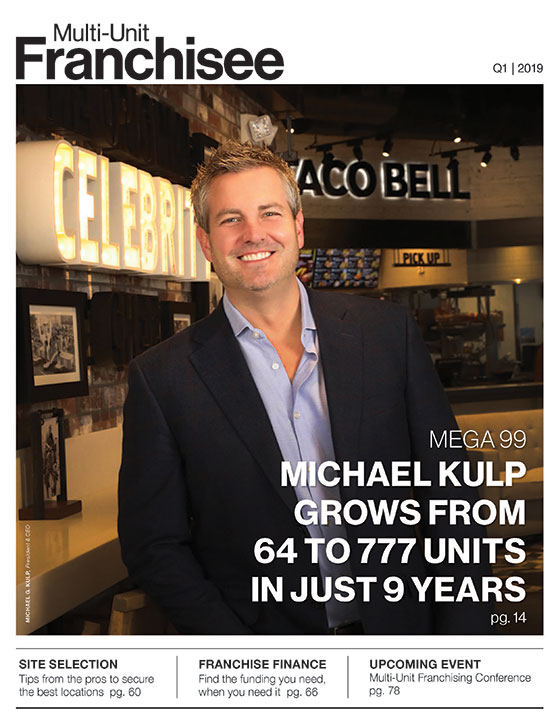 Multi-Unit Franchisee Magazine: Issue 1, 2019
Hungry Howie's is currently EXPANDING! Top Markets are available for single or multiple unit development. Get the EDGE over the competition with...
Cash Required:
$220,000
Pizza Factory houses hardworking owners, family-friendly dining and high-quality products. Restaurant design options include a Pizza Factory Express...
Cash Required:
$90,000