Let's Make a Deal!: The Do's and Don'ts Of Successful Transactions
In nearly 30 years since founding The Cypress Group, I have encountered a multitude of client types on both the buy and sell sides. While the unique circumstances of each deal can vary significantly, a number of common threads can make or break a divestiture or acquisition. Here are some "do's and don'ts" of successfully managing a transaction from both the buyer and seller perspective.
Seller do's and don'ts
Decisiveness. When it comes to being a successful seller, decisiveness is key. It is imperative to thoroughly contemplate all the major decisions that may come into play in a sale process. This way, you and your working group have a shared philosophy and action plan to respond to both the known and unknown. Indecision or deviating from a planned course is one of the top reasons transactions fail, as it can lead to reevaluating, renegotiating, and re-trading. As a seller, do develop a transaction philosophy, and do map your game plan and stick with it. Don't waffle and fall victim to indecision or a significant change in mindset.
Post-sale planning. It is critical to have a post-sale plan in place. The best way to establish your plan is to answer the following question: "Why am I selling right now?" The answers to that question are numerous, but are led by one or two strong desires. Let's say the answer is you are ready to retire. A retiree's post-sale plan should focus on wealth and life stability. Have you worked with your advisors and tax counsel to understand valuation, net proceeds, and other sources of funds so you are able to maintain a safe, stable cash flow to live your life comfortably?

A multi-brand operator might be selling to focus on a different aspect of their business. Are you divesting one brand to concentrate on another? If so, your post-sale plan should address how your operating platform must evolve to sustain an alternate business model. We've advised sellers of large, stable QSR brands on how to evolve their development, marketing, and training infrastructure to adopt a fast casual development agreement. The two businesses are certainly similar, but the infrastructure needs and cash flow planning vary, particularly in the early years. Also important is that all post-sale planning should happen in conjunction with your decision to sell. This way you know up front if you're trying to sell all of your assets or if it makes more sense to retain some. Do understand your post-transaction operational and financial picture as part of the decision process. Don't go into a sale blindly and unsure of your future plan.
Know your franchisor. If you are a franchisee looking to sell your restaurant assets, it would behoove you to be aware of your franchisor's growth and acquisition strategy. Is your franchisor currently selling company-owned restaurants, acquiring franchisees, or developing new units themselves? Are they looking to bring new franchisees into the system or expand with existing ones? Even if the answers to these questions are not perfectly known, a thoughtful analysis of your business geographies, operational and financial metrics, and development rights will help you prepare for the franchisor's reaction. It is in your best interest to be well versed in your franchisor's approval guidelines and expansion plans and select a buyer accordingly. Do know your transfer rights, and do be aware of what makes a buyer attractive to your franchisor. Don't let the franchisor dictate your process, and don't select a buyer that won't pass their approval process or provide them leverage to force a an alternative that is less than ideal.
Identify and own potential problems. It is almost impossible to operate a multi-unit restaurant business without experiencing some issues over time. Store closures, lease expirations and assignment issues, specific unit performance problems, environmental issues, and more will affect your business at some point. It is understandable to want to mask any struggles your company has experienced, but it is crucial to resist this urge. Any problems concealed initially will surely be transparent during due diligence, which discourages the buyer and hinders the transaction process. A constructive business issue identified late in a transaction is more punitive than if articulated in advance. Do have any business, operating, and legal issues identified, and do have a plan for addressing them before bringing a transaction to market. Don't ignore problems and think prospective buyers won't identify or overlook them.
Buyer do's and don'ts
Decisiveness. As with sellers, it is imperative that buyers operate in a direct and decisive manner. This means establishing your target criteria <before> you begin looking at acquisition opportunities and sticking to that game plan. When confronted with the sheer breadth of options in the multi-unit restaurant business, it is easy to get distracted. Instead of running yourself ragged looking at every deal in the market, set yourself up for success by knowing exactly what you are seeking. If you find casual dining concepts the most enticing, don't waste your time and energy examining QSRs. Do decide which factors make a deal most compelling to you, and do center your acquisition strategy around these criteria. Don't start actively pursuing transactions before you have a strategy in place.
Financing. Most people wouldn't go to the supermarket without knowing how they planned on paying. Not everyone applies this logic when they seek restaurant acquisitions. Buyers should establish strong relationships with various financing sources before they even begin looking at buy-side opportunities, so when the right deal comes around they aren't scrambling to secure the acquisition capital. Further, a bid that details the buyer's proposed debt/equity structure, with a signed commitment from a capital provider, is substantially more compelling to a seller than a bid lacking these things. Do have a financing options in place. Don't wait for a sell-side advisor to tell you your bid was interesting, but their client chose the buyer with more certainty around funding.
Know the franchisor. Whether you are an existing franchisee or not, it is vital to know the franchisor you will be dealing with. What is their current growth strategy? What kind of franchisee do they prefer? Are they trying to bring new blood into the system or bulk up the operating platforms of existing franchisees? This last question is crucial, especially if you are looking to enter a new brand. Before pursuing a specific opportunity, meet with the franchisor to discuss their approval process and present your operating plan and team. Transactions move far more easily and quickly when a buyer is preapproved and in good standing with the franchisor. Do establish this relationship early. Don't wait until the bid process is complete to learn that the franchisor doesn't view you as a viable buyer.
Be aggressive. In today's market, restaurant acquisitions are highly attractive, making for an exceedingly competitive environment. Buyers must be aggressive. This is especially true when the transaction is the buyer's initial investment in a brand. Existing franchisees may have built-in advantages (e.g., predicted synergies that allow them to make a higher bid, and/or having strong ties with the franchisor). New entrants be wary: you may have to pay a premium to tip that first deal in your favor. Buyers must always be prepared to move quickly as delays often cause sellers to become discouraged or reexamine the sale. Another way to anger a seller and potentially lose a deal is to delay the purchase process in an attempt to re-trade at a lower price. If you're actively looking to buy and you come across the right deal, Do pursue it aggressively. Don't dawdle and miss your opportunity.
Do's and don'ts for all
Have proper advisors. Whether buyer or seller, engaging experienced, industry-specific investment advisors and transaction-specific legal and tax counsel is paramount to your success. Acquisitions and divestitures alike have many moving pieces that can seem overwhelming without proper counsel. To achieve the utmost success, enlist the help of people who know how to plan, position, and execute transactions to your benefit. The resources required to navigate the intricacies of a multi-unit restaurant transaction are considerable. Do hire professionals with proven insight and transaction expertise in the industry's inner workings. Don't rely solely on your everyday business advisors or attorneys.
Be realistic. This is possibly the most important concept in successfully completing a transaction. Both sides must be realistic about their expectations. If a seller is stuck on an unrealistically high purchase price or multiple, finding the right buyer will be a far greater challenge. On the flip side, it isn't realistic for a buyer to propose a purchase price based on a 2009 transaction multiple. The most realistic thing for both parties is to recognize that every transaction is a constantly moving, two-way street. If you want a deal to be successful, the negotiated terms must be satisfactory to everyone involved. Do view transactions in an objective and realistic manner. Don't rely on subjective inclinations or conjecture.
Dean Zuccarello is CEO and founder of The Cypress Group, a privately owned investment bank and advisory services firm focused exclusively on the multi-unit and franchise business for 25 years. He has more than 30 years of financial and transactional experience in mergers, acquisitions, divestitures, strategic planning, and financing in the restaurant industry. Contact him at 303-680-4141 or dzuccarello@cypressgroup.biz.
Published: November 10th, 2016
Share this Feature
Recommended Reading:
Comments:
comments powered by

Disqus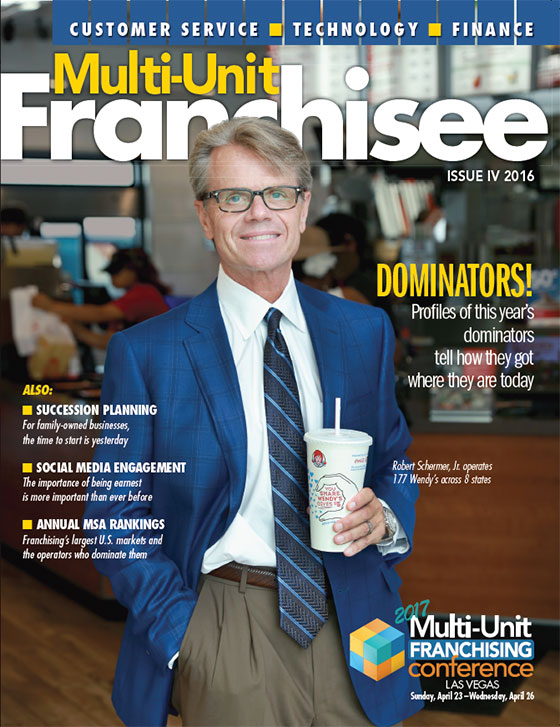 Multi-Unit Franchisee Magazine: Issue 4, 2016
Altitude Trampoline Park is the premier indoor trampoline park destination, bringing active family fun through its JumpLife(SM) mantra to the global...
Cash Required:
$600,000
With over 2,000 locations globally, Midas is the auto repair and service shop people know and trust. Multi-unit ownership with Midas is a terrific...