Making His Move: Shift from Corporate Coach to Franchise Operator Pays Off
In the late 1990s, Jeff Reetz was a head coach at Pizza Hut, helping to inspire a group of regional coaches to winning records at dozens of restaurants in eight Southwestern markets.

"I helped them make their operations as successful as possible," recalls Reetz. However, like many working in a corporate environment, he dreamed of the day when he could manage his own business.

About nine years ago, Reetz got his shot. Working with the company's COO, he found a market he liked in Louisville, Ky., and southern Indiana-and he bought 25 Pizza Huts.

He threw himself into operations, working around the clock to get the restaurants where they needed to be. If it meant answering phones, he'd answer phones. Deliver pizza? He could do that. Work with the crew? No problem.

Today, Reetz owns 32 Pizza Huts in his region, 12 of which are co-branded with WingStreet.

"We opened our first WingStreet four years ago," says Reetz, "and we'll have 17 by the end of June. That will be more than half of all the restaurants and will allow us to leverage the national advertising window later this year."

Success has allowed Reetz the opportunity to lead a different kind of life these days. The hands-on, turnaround work is over. Most of his time now is spent doing more long-term strategizing. And his son has come in to take the reins of day-to-day management.

Despite his shift in focus, Reetz hasn't lost his edge. "You have to be on top of it at all times," he says. "And you have to be able to change with the times. The challenge is change, and change is ever-present."
QUESTIONS
Name: Jeff Reetz
Title: Owner
Company: 2JR Enterprises LLC
No. of units by brand: 32 Pizza Huts and 12 co-branded WingStreets
PERSONAL
Age: 56
Family: Wife of 35 years and 4 children

Years in current position: 10
Years in franchising: 10

Key accomplishments: Building an effective organization that's able to grow and build sales and profits and have excellent operations.

Biggest mistake: I went off and tried to do another brand. It was a relatively new brand and I thought it would complement the portfolio. It was a young company and the franchisor was not as attentive to business as they could have been. They didn't focus all their attention and energy on their core brand, and as a result we didn't have the focus in our own organization. We probably didn't think it through enough and weren't effective enough in the planning process. We made a lot of mistakes on our side. We thought we knew it all without doing due diligence.

Smartest mistake: It's not necessarily a mistake, but when you grow up in this business you have a tendency to keep decision-making and key things to yourself. By necessity as a franchisee, what I learned to do was involve others in the decision process and enlist others in leading and guiding the organization.

How do you spend a day typically? It's kind of unusual. I'm not as involved as I once was. My oldest son is working in the business and I have a director of operations for day-to-day affairs. I do lease renewals, new unit development, and I make key decisions.

Work week: My average week is pretty much open-ended. In another week I'll be in Phoenix for a Pizza Hut meeting. A couple of weeks ago I was in a conference in Vegas. I try to go to events and stay abreast of industry events. And then I travel a lot. I have a place in Arizona and Florida.

Favorite fun activities: Traveling, golf, and I enjoy reading.

Exercise/workout: I like to walk three or four days a week. I also lift light weights and do aerobics. I like to keep in shape.

Favorite stuff/tech toys: I plan on getting an iPhone. I have an iTouch which is really cool.

What are you reading? A lot of fiction. I like a lot of beach books, newspapers, the Wall Street Journal, and I read the industry magazines regularly.

Do you have a favorite quote or advice you give? My favorite quote about advice is, "Wise men don't need it and fools don't heed it."

Best advice you ever got: It was something my father told me. He always said to persevere, hang in there and be true to what you believe in, and follow your dreams.

Formative influences/events: I managed my first restaurant when I was 19 years old and had responsibility for 30 employees. So at a very young age I had a lot of responsibility. I had the good fortune to work with three or four individuals in the course of my career who were very helpful to me and taught me a lot about the pizza industry, and about myself and what I need to do to be successful in this industry. This industry is not for everybody.

How do you balance life and work? I think I have it pretty much figured out. My first two years it was basically 24/7. It was a turnaround situation and it took everything just to make sure the restaurants were open and properly staffed. When I visited I was answering phones, taking care of customers. That's not what my job was supposed to be. The next three years it was a matter of getting everything in order, making sure everything was put in the right place, and reducing turnover at the crew level and the management level. Today, I can go into any of my restaurants at any point and the operations are running very well and executing on a high level. It's pretty consistent.
MANAGEMENT
Business philosophy: As a franchisee, my guiding principle is to enable my organization to execute the programs and initiatives of the franchisor as best they can; to not reinvent the wheel or the brand but to execute what the brand is. If we do that, we'll be successful.

Would you say you are in the franchising, real estate, or customer service business? Why? At the end of the day I'd say we're all in the customer service business. Everything we do is focused against providing a product and service that meets our customers' needs. It's all focused on what the customer wants, where he'll be, and what's relevant today. The business model is changing on a daily basis.

What gets you out of bed in the morning? The key thing that gets me out of bed is that today is another day. There are always opportunities to do new things and every day is a new adventure.

What's your passion in business? Operations. There are a lot of facets to the business, but I just love restaurant operators who run great operations. You can tell it. I know how difficult that is to do.

Management method or style: Today it's more about setting the course and direction and enabling those people responsible for doing that to craft and develop the tactics needed to get things done. My job is to make sure the canvas is there and the paint brushes are available and let them paint their pictures.

Greatest challenge: The greatest challenge in business is to really stay up with the times. You'd think that the pizza business is a relatively uneventful business, but in the years I've been running the business, and the years before, I've seen it change all the time.

How close are you to operations? I'm not as close as I have been. I suppose any franchisee would say they could always be closer. My job now is to be more of a cheerleader, provide recognition for accomplishments, and encourage people in a down situation.

How do others describe you? I would say passionate is probably the word most used.

How do you hire and fire? I don't do that anymore. My folks do that in the organization. When it comes to hiring I believe you have to have a strong idea of who you want to bring into your organization. We've had a lot of hits and misses bringing in people from outside. We've had the greatest success in our organization with people coming in as team managers. We develop them into assistant managers and restaurant general managers, and in some cases have promoted them to area coaches. We use Pizza Hut tools in screening to get the right profile. Then you need to make sure they're trained effectively.

As for firing, there are two kinds of people. You have a person who's blatantly not following your program or is not honest with you or has a tendency to sabotage your business. When you identify them, you need to move them out of your organization as quickly as possible. And there are some people who try hard and struggle, and our goal is to put them into situations where they can be successful. They can be good long-term folks and keeping that team in place is paramount to your success. The bugaboo of this entire industry is turnover.

How do you train and retain? It's pretty straightforward. We have training that Pizza Hut has published and we make sure everyone has access to that. As for retaining people, I think it starts really from the top down. When I think back on my corporate days it seemed like I had a new boss every six months; another guy to get to know, another set of objectives and expectations. Stability and consistency in franchisees is critical to gaining and retaining longevity with your team. Minimize change at the above-store level so that expectations and agendas don't change all the time.
BOTTOM LINE
Annual revenue: Close to $32 million

2009 goals: It's buckle down and hang on.

Growth meter: How do you measure your growth? We measure our growth in a number of ways. One is sales growth; another metric, which is more relevant, is transaction counts. We shifted our incentive program to reward guest experiences. That will affect the number of transactions.

Vision meter: Where do you want to be in 5 years? 10 years? I'd like my oldest son to be fully running the business, making long-term decisions. I'd like to be in a position to continue to grow. And if that's where our direction leads us, I'd like to acquire more restaurants in the same brand or other brands that may make sense.

How is this economic cycle affecting you, your employees, your customers? It's affecting our customers significantly. Our restaurants in southern Indiana are in smaller towns. We have a lot of auto parts manufacturing that's suffering and plant closures are affecting customers. We think long-term that we'll be OK. Our unemployment rate is paralleling the national rate. As far as employees, they're going through the same things. We haven't had to lay off anybody. We're down a little and not hiring as many folks this summer. We're going to bunker down and hang on and work through this.

What are you doing different in this economy? We've been fortunate. Last year we had very goods sales, but the downside was high commodity costs that hurt margins. Now traffic is softer, but commodity costs are down. We've maintained the spread between sales and margins. Last year we reduced discounting and promotions, and now we're paying more attention to promotions and discounting to keep traffic going.

How do you forecast for your business during these trying times? I couldn't forecast this business for the next week, let alone the next year. There are so many different variables that affect us. You have to stay focused on every day. How are operations and how are you executing? That helps you get to the longer term. If you worry about Bank of America or GM you can get paralyzed in the short term. Take it one day at a time. Try to make the smartest decisions you can, and be flexible enough to change things if it isn't working.

Where do you find capital for expansion? Not many places now. It's pretty much dried up. We had looked at doing some expansion, and we put that on hold.
Published: July 8th, 2009
Share this Feature
Recommended Reading:
Comments:
comments powered by

Disqus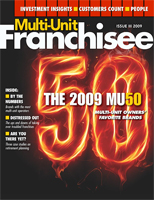 Multi-Unit Franchisee Magazine: Issue 3, 2009
Edible has been the world's leader in the gifts and treats category for 20-plus years with more than 1,000 locations globally. Edible Brands is...
Cash Required:
$80,000
Our commitment to developing the best drive-thru espresso led us to franchising. Unlike nearly all other franchises, we do not charge...
Cash Required:
$100,000