Man of Many Hats: Former NFL Pro Thrives with Lots of Balls In The Air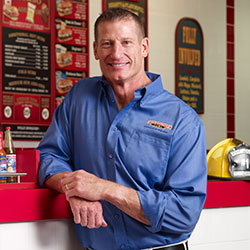 When you look at the life and career of multi-unit franchisee Don Davey, you'll notice a pattern. From professional football (he was an NFL defensive tackle for 10 years) to his 20-unit ownership of Firehouse Subs franchises to the six Ironman competitions he's completed, everything requires discipline, tenacity, focus, and a competitive nature.
Sound tough? Not to Davey, who was named the 2013 IFA's Franchisee of the Year. In fact, he eats it up. "As an entrepreneur, I love being completely responsible for both our successes and our failures. It's stressful, but extremely rewarding," he says.
"Some people look at my life as hectic and chaotic," says Davey, who earned bachelor and master's degrees in mechanical engineering at the University of Wisconsin-Madison. "But I thrive with lots of balls in the air. I guess you could say I'm opportunistic." Two more balls Davey is juggling successfully: he founded an investment firm that manages more than $150 million, and he is involved with the NFL's Player Engagement program.
One example of Davey taking advantage of an opportunity was signing on with Firehouse Subs. "My Jaguar teammates and I had been eating at Firehouse several times a week because we loved the food. I got to know Robin and Chris Sorensen there. At first they weren't sure they were going to make it, but I stayed close to them and watched them grow over the years. By the time I retired from football, they were selling franchises. My wife Kristen said, 'You eat there so much, you might as well own one.' So I decided to carve out Orlando."
The father of five daughters praises the Sorensons, the firefighter brothers who founded Firehouse Subs, for their great family values. "They treat their employees and franchisees well. They're just a first-class operation," he says.
Davey, who in 2012 signed a 10-year contract to develop 42 restaurants in his native Wisconsin, especially appreciates Firehouse Subs' Public Safety Foundation. "It's a great foundation. We're saving lives and keeping people in the community safe by buying bulletproof vests for police, and fire trucks and other equipment for fire stations."
Q&A
Name: Don Davey
Title: Owner/CEO, DKSS Subs (Florida), Badger Development Group (Wisconsin area developer), and Badger Restaurant Group (Wisconsin franchises)
No. of units: 20 Firehouse Subs
Age: 46
Family: Married to high school sweetheart Kristen; 5 daughters: Livy, Carly, Kuki, Chloe, and Kasey
Years in franchising: 12
Years in current position: 12
Personal
Formative influences/events:
I was the fourth of five children. We were raised by two extremely loving parents who taught us all to value faith, family, hard work, discipline, education, athletics, and having fun.
Key accomplishments:
Bachelor's and master's degrees in mechanical engineering from the University of Wisconsin; first and only four-time First Team Academic All-American in NCAA history; Green Bay Packers, 1991-95; Jacksonville Jaguars, 1995-99; 2013 IFA Franchisee of the Year; and six-time Ironman finisher. And of course, this award is exciting as well.
Work week:
35 hours.
What are you reading?
Simple Wealth, Inevitable Wealth by Nick Murray.
Best advice you ever got:
Be self-reliant (from my father).
What's your passion in business?
As an entrepreneur, I love being completely responsible for both our successes and our failures. It's stressful, but extremely rewarding.
Management
Business philosophy:
"We are what we repeatedly do. Excellence, then, is not an act, but a habit." (Aristotle)
Management method or style:
I grant both of my partners complete autonomy to run day-to-day operations as they see fit and hold them accountable for their results.
Greatest challenge:
Finding quality managers committed to our culture of excellence.
How do others describe you?
Driven, disciplined, hard-working--and hopefully--fair.
How do you hire and fire, train and retain?
My operations partners Scott Anthony and Eric Erwin handle all personnel issues. Our crew members are on the front line every day and we trust and value them to be ambassadors of the brand.
Bottom Line
Annual revenue:
$14 million.
2014 goals:
Increase same-stores sales by 12 percent through the rollout of our new under-500 calories Hearty & Flavorful Menu.
Growth meter: How do you measure your growth?
The bottom line.
Vision meter: Where do you want to be in 5 years? In 10 years?
I'd like to have 25 more stores in Central Florida and 42 stores in Wisconsin.
What are you doing to take care of your employees?
We offer competitive salaries and wages, generous bonus potential, comprehensive healthcare plans, and a defined contribution plan with an employer match. We have a history of promoting from within, so our employees have tremendous opportunities for advancement. In an industry notorious for high turnover, some of our original employees are still with us today.
What kind of exit strategy do you have in place?
Someone once told me that entrepreneurship offers you the opportunity to create your own utopia. I love our food, our founders, our culture, our brand, my partners, and my employees. Why would I ever leave?
2014 MVP Influencer Award for Former Pro Athlete
FOR ACHIEVING EXCELLENCE IN FRANCHISING AS A FORMER PRO ATHLETE
Why do you think you were recognized with this award?
In recognition of the success we've had and the expansion we've seen over the last few years with Firehouse Subs.
How have you raised the bar in your own company?
It starts with our expectations. We set them high from the minute we hire people and hold them accountable. We're constantly upgrading and improving our people from top to bottom.
What innovations have you created and used to build your company?
We more than doubled our marketing expenditures to roll out a new TV commercial touting our new flavorful menu. It hit the airways in Central Florida in May.
What core values do you think helped you win this award?
Teamwork is something ingrained in me throughout my career in the NFL. I'm the first to admit I can't succeed without my fantastic team--from operations to bookkeeping to accounting to GMs in the stores and hourly crew members.
How important is community involvement to you and your company?
For us, it's extremely important. In 2013, the Firehouse Subs Public Safety Foundation gave away $3 million to local police and fire departments in communities where we do business.
What leadership qualities are important to you and your team?
Most important, a leader needs to set expectations and clearly communicate them to everybody on the team and then lead by example, working harder than anybody in the company. It trickles down from the top.
Published: September 29th, 2014
Share this Feature
Recommended Reading:
Comments:
comments powered by

Disqus

Multi-Unit Franchisee Magazine: Issue 3, 2014
810's mission is to bring there premium entertainment experience, traditionally available in large metropolitan markets, and makes it available...
Cash Required:
$550,000
uBreakiFix is a consumer electronics repair company based out of Orlando, FL that specializes in refurbishing and restoring smartphones, tablets,...
Cash Required:
$125,000