Market Operator: It's a Team Effort at East Coast Wings & Grill
"Global Director of Buzz" was Stacey Kane's title when she worked for AmRest Holdings, a Wroclaw, Poland-based company with more than 900 restaurants in 12 countries in Eastern and Central Europe. It was a great title and describes the energy and focus Kane brings to her job.
"I've been working with and building multi-unit restaurant chains for more than 20 years," she says. That time includes serving as media buyer for Subway and as vice president of marketing at California Tortilla, where she was responsible for overseeing all marketing functions. In both 2012 and 2013, Fast Casual magazine named her one of the Top 20 Movers and Shakers in the fast casual restaurant industry.
In March 2015 she joined East Coast Wings & Grill as vice president of marketing, overseeing the marketing department and contributing to the brand's 12th consecutive year of positive same-store sales. In January 2016 she was promoted to CMO.
Describe your role as CMO.
I have continued my previous responsibilities of overseeing brand positioning, digital marketing, customer acquisition, and social media platforms. Additionally, I've increased my focus on data analytics, franchise sales, and brand culture. My job is to not only look at the business from a marketing perspective, but with an operational mindset as well. I'm here to continue implementing both national and localized strategies to generate sales and the healthy EBITDA that East Coast Wings & Grill is known for.
What's unique about the CMO position at East Coast Wings & Grill?
It's the people who built the brand. There are folks who have been here since the first day we started franchising and have worked their way up the ranks. When one is that invested in a company it becomes more than a job, it becomes a family. That relationship makes everyone extremely passionate about the success of the brand.
What's the most challenging part of being a CMO today?
The term "big data" is bandied about a ton, and I firmly believe that understanding the numbers is a huge part of a CMO's role today. In fact, there is so much data in our business that we have an entire unit-level economics department to help out! However, it is sometimes overwhelming to make all of that data actionable.
What are the 3 most important keys to being an effective CMO leader today?
1) To make sure every initiative gets buy-in from all functions within the company. Does the operations team know how to train it? Does the unit-level economics department know how to measure it? Is the store-level staff going to embrace it? No matter how great an idea is, if the whole team doesn't get behind a marketing initiative it will not succeed. 2) As the movie "Frozen" says, learning to "Let It Go" is really important to being an effective CMO. Sometimes the marketing department comes up with what we think is the greatest idea since Facebook. Then we pitch the operations team and they provide feedback as to why that idea just can't work in a real-world store, or unit-level economics says it is not a financially viable program. As creative and fun as the idea may be, sometimes you have to say good-bye to it and not take it personally. 3) Be nimble. Make sure you leave room in your budget and that you and your team are up on the world around you to take advantage of spontaneous moments of awesomeness.
How do you prepare a marketing plan and execute the strategies?
Everything here is a group effort, so from the beginning we have the end goal in mind. If the team agrees on the goal, we look at that marketplace and tap our vendors to create the best strategy to reach it.
How do you measure marketing results and effectiveness?
As CMO, I have the luxury of tapping into our unit-level economics department. So any time we run an initiative, promotion, or any marketing action, I can see how it directly affected traffic, average check, or profitability pretty quickly and in a robust way. In addition, my department is very adept at pulling metrics off things like social media, digital, and loyalty.
Discuss your core consumer marketing strategies and objectives.
First of all, it's important to note that the brand's universal goal has been the same since the beginning of time. With that, our consumer marketing strategies are the same as at any restaurant chain: to increase sales. To achieve this, no matter how you do it, you must attract new customers, retain existing customers, and get existing customers to come more frequently and pay more during each visit. We use many varying tactics to achieve those goals. For example, we have a very healthy rewards program to retain customers. We also put a large part of our budget into PR and social platforms to attract new customers. It really comes down to one of our core marketing strategies: delivering great customer service every time so customers come back and spread the word in an authentic way.
How do you go about creating a "customer-centric" marketing and brand philosophy?
Given all the metrics we're pulling, we have the capability to see what our customers' behaviors are in our restaurants. From there, we mold our menu and our service based on what those metrics indicate. We are also heavily committed to customer engagement in the digital landscape, making us fully aware of conversations customers are having. We find it extremely valuable to take part in these conversations about the brand to explore our guests' opinions.
Describe your marketing team and the role each plays.
I have a lean, yet experienced marketing team. My marketing coordinator handles social media and customer engagement, and my director of marketing handles local store marketing, design, and anything going on at the store level. They both come from working in East Coast Wings & Grill restaurants, so they speak the "server" language and bring with them firsthand understanding of the impact our marketing programs will have at the store level.
When it comes to helping the brand connect with franchise prospects, why is it so important for the marketing department to have a "personal touch"?
I think it's important for any brand to have a strong and defined marketing department when selling a franchise because marketing is probably the top discipline prospective franchisees are most nervous about executing on their own. Knowing that they're provided with marketing resources is very assuring, and our team collectively has more than 35 years of experience in restaurant marketing. Additionally, we have a very hands-on approach to helping our franchisees and walking through all the steps, which they've shown to really appreciate.
How does this help your franchise sales and development effort? What ways/tools do you rely on to do this?
Many aspects go into increasing franchise sales and development efforts, including our marketing expertise. We're able to provide a relief to many new or prospective franchisees. We see a lot of people who have past experience in the restaurant industry or in owning their own business but, more often than not, marketing their new store on their own is what they are apprehensive about. To conquer this fear, we get down and dirty: we research third-party data to understand the market, do a trade area analysis for them, and even go so far as to teach their designated agents how to go out and shake hands and kiss babies. We welcome hand-holding and believe in a show, not tell, approach. Whether it's my team or me, we go directly to the store and demonstrate the process to the franchisee.
Do today's prospects expect more from the franchise marketing department? What, and how do you provide it?
It's not that they're expecting more (they've always wanted a lot of marketing help), it's just that marketing has changed. It's no longer about designing a flyer or using clip art to create a poster. It's much more innovative and is about being able to come up with a meaningful social media campaign that's going to drive business on a certain day. Again, it's not that they're more demanding, it's just the work is different and the mediums have changed. As marketers, we have made sure that we have the right tools in our toolkit to meet those needs. We staff appropriately, have relationships with the right vendors, stay on top of relevant trends, etc.
How is technology changing the way franchise marketing is done in terms of one-on-one contact?
A lot of marketing departments would like to do marketing remotely, but there is a certain level of really needing to get in there and feel it. You have to be there to properly assess the entire situation. All of the marketers in our program go out to the stores and evaluate issues and opportunities so we can produce effective results.
How are you assisting your existing franchisees with more contact and transparency? What are their immediate needs?
We're there for everything and anything they need. Their immediate needs are establishing realistic goals. From there we create buzz about the restaurant in the local community, ultimately driving traffic to their location. Whether they're struggling to meet numbers or want help hosting a blogger event, we're in the store helping them make it happen.
How do you work with other internal departments and does technology help?
It's a constant dialogue. Technology doesn't hurt, but nothing beats an old-fashioned conversation. All day, every day, each department is sharing information and giving input on initiatives. We very much have an "It takes a village" attitude.
How do you manage costs and budgets for the marketing department?
Our budget is derived from percentage of sales and then we manage the cost based on what we need to spend to accomplish those goals. It's all about prioritizing.
Do you see vendors as business partners? Why/why not?
Of course! We want our vendors to be just as invested in our success as we are. We're constantly looking at all different types of vendors to make our franchises more profitable. The last thing we want to do is be at odds with vendors--it's a waste of time. It's important to build and maintain healthy relationships with them.
How have marketing strategies/tools changed over the past decade? How have you adapted?
It used to be that you could go out in any given market, spend a substantial amount of money on TV, and you would be fine. You would reach everyone and they would have gotten your message. We can't do that anymore because media is so fragmented. Smaller brands have to be more creative. With so many more efficient ways to reach consumers you need to recognize what will achieve the most bang for your buck. In most cases, digital, social, and using PR creatively are the most cost-effective ways to reach consumers. These are also the most authentic ways to reach target consumers. For example, in 2015 we shifted our focus to PR and influencer marketing, leading us to produce more than $1.4 million in ad value and $4.3 million in publicity value for a fraction of the budget the same amount of media would have cost.
What advice would you offer to aspiring CMO executives?
Listen to your people in the field, especially your operators. Start with the end in mind for any project and learn how to roll with the flow.
Published: May 26th, 2016
Share this Feature
Recommended Reading:
Comments:
comments powered by

Disqus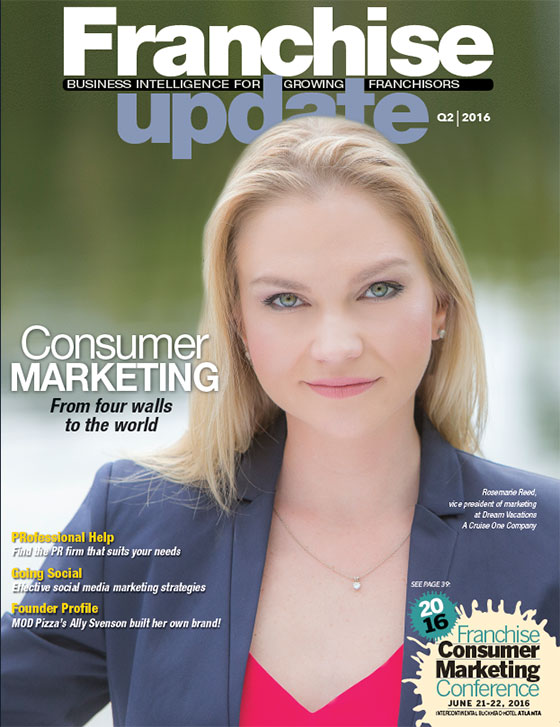 Franchise Update Magazine: Issue 2, 2016
Conferences
InterContinental, Atlanta
OCT 18-20TH, 2023
David Energy is a software-enabled retail energy provider bringing the power of visibility, savings and peace of mind to mid-market brands.
Hub by Thryv is an end-to-end client experience platform custom-built for franchises. Its ready-to-use business apps help franchisees view their...