Maximum Exposure: Multi-Unit Operators Make the Most of their Advertising Dollars
John Wanamaker, considered the father of the department store and modern advertising, once said, "Half my advertising is wasted; I just don't know which half."

Business owners understand the importance of advertising and the need to maximize how their dollars are spent. But how do you do that? For multi-unit franchise operators, much is at stake. Here's a look at what four area developers have done to make the most of their advertising spending.

"We spend between 5 and 7 percent of our budget on advertising," says Chris Farwell, owner of The Piper Restaurant Group, which operates four Houlihan's restaurants in the suburban Philadelphia and Delaware areas. "We've been able to utilize the corporate library of advertising materials for use in our local efforts."

He says his company has, at times, worked with ad agencies to develop some specific materials, but emphasizes that it can be an expensive way to go. "We don't want to be in a situation where we are paying regular retainer fees to anybody. But we have used agencies before, as well as independent consultants who helped us put together a marketing plan."

For Mark Riggle, who owns seven CertaPro Painters franchises and has exclusive franchise rights to the city of Indianapolis, "I've learned enough through working with ad agencies in the past that I can now take care of much of our advertising needs myself." He says the franchise's corporate office provides him with the services of a graphics person, and that his team creates its own media plans each year based on their knowledge and experience—again, bypassing the need of an outside agency and the associated costs.

Tom Barzizza is senior vice president of marketing for Tan South, a company that operates five Palm Beach Tans in the Memphis area. He too, makes full use of the corporate store of available advertising materials. Barzizza is in an enviable position because his company also operates 100 Blockbuster Video stores throughout the Southeast. These numbers allow him to employ a full-time, internal department of advertising and marketing staff, with creative directors, media buyers, and others to help him optimize his advertising dollars. "We get basic creative content from corporate, and then we can make adjustments or build on that based on the specifics of what we're doing here," he says. The company has even customized its advertising efforts to address specific needs at each of the individual Palm Beach stores.

But there's even more upside to the Tan South story. Barzizza's company creates advertising not only for his stores, but also for other Palm Beach Tan franchisees. In fact, 17 other Palm Beach Tan stores from Chicago to Atlanta share in the costs and development of Barzizza's ad materials. "We can create a great, professionally done radio spot for several thousand dollars," says Barzizza. "We can't afford to do that for just our five stores. But we can justify and afford it for 22 stores." He says the same goes for window banners and other forms of advertising. There's leveraging power in numbers. He says that in addition to providing these other franchisees with a marketing resource, together, they all have a combined buying power.

At CertaPro, Riggle finds a more grassroots approach to advertising working for him. "We've maximized our ad dollars by focusing on the basics: door hangers, lawn signs, vehicle wrap signs, uniformed employees. Inexpensive, do-it-yourself-type stuff can create a lot of awareness at minimal cost," he says.
Hitting your target
Regardless of the type of advertising materials you can access, create, and use, it's essential to reach the right markets. Once you have your basic advertising materials in place, it's a matter of effectively identifying your target areas and determining which advertising vehicles can provide the biggest bang for your buck.

Franchisors usually have reams of demographic data they can provide to their franchisees. That's one place both Riggle and Barzizza obtain key data. Mail houses and other third-party companies also can be great sources of targeted demographic data. Everything from ZIP codes to income levels to buying patterns are generally available.

Tom and Kim Youngerman know all about target marketing. Together, they operate three Max Muscle stores in Scottsdale, Mesa, and Glendale, Ariz. They have nine more stores on the way in the next few months, all in Arizona. The Youngermans understand that their clientele is traditionally the serious athlete, and they've pursued that market. But they've also repositioned themselves to attract a more casual segment of men and women.

"We wanted to solidify our traditional customer base, so we teamed up with the National Physique Committee to sponsor some of their events," says Tom. "We were there to give out awards for the competitions, which gave us great exposure, and the tickets to the events were sold only at our stores." Another low-cost and effective way to create awareness and bring patrons into the store. Once a customer is in the store, the Youngermans capture customer data through their POS system and constantly track it through Excel spreadsheets.

Although advertising is far from a science, most savvy multi-unit operators do whatever they can to keep tabs on the effectiveness of their advertising. "We track everything we can through our store computer system," says Barzizza. "Whenever a customer is in, we ask how they heard about us—radio, email, whatever."

Farwell, at The Piper Restaurant Group, does the same at his Houlihan's restaurants. "We can track response through the various offers, discounts, and comment cards we collect, so that we know what's working and what's not." He identifies a certain radius surrounding each of his Houlihan's and uses the information he gathers to fine-tune his marketing campaigns.
Media negotiations and placement
Any Advertising 101 class will tell you that frequency, size, and positioning are crucial elements to successful advertising. And savvy negotiation can save you a bundle. "We always negotiate ad rates," says Farwell. "We ask them what 'plans' they have to offer us. Frequency and placement are imperative." And so is the cost. He says his company has avoided TV and billboards because of the tremendous cost—but doesn't rule it out down the road. He estimates about half of his advertising is spent on newspaper and print, another 30 percent on sponsorships, and the remainder on radio, email, and other media.

Tom and Kim Youngerman discovered that some local newspapers offered "franchise rates" for advertising. "Negotiating your advertising rates and ad placement are essential elements necessary to maximize your ad dollars," says Tom Youngerman. They also managed a good deal with a local radio station—after a couple of weeks of negotiating. They not only got a good deal on the ads, but also got the station to throw in some on-air giveaways, location remotes, and website advertising.

When Riggle identified a local lifestyle magazine as a good vehicle for his advertising, he too, put on his haggler's hat. "We worked with them and ultimately negotiated a double-spread advertisement that we estimate saved us $25,000 to $30,000 for the year." Never underestimate the power of negotiation. Don't be afraid to ask.

Part of a cost-effective advertising strategy is frequency. "We know we want to advertise every month, not just a few times a year," says Barzizza. Again, it's a fundamental strategy and one that can help out when it's time to sit down and negotiate rates.

It's also important to keep an eye on the competition. Barzizza says that although he likes to schedule his advertising for the whole year, to maximize his dollars, he keeps aside some extra funds in case he needs to react to how the competition is advertising.
Advertising in action
There are many factors to consider when you get ready to put it all into play. Consider Farwell's situation. The Houlihan's corporate franchise does not buy any national broadcast advertising. Yet his competitors, like Outback Steakhouse and Applebee's, are big national TV spenders. So Farwell took matters into his own hands—and his own community. "We go the local angle," he says. "We do lots of youth sports sponsorships, school and community fundraisers, local hospitals; anything that conveys the message that we are part of the community."

Farwell also leverages what he refers to as an 'email club.' "This is a very cost-effective way to reach people and generate more business," he says. There are nearly 30,000 people signed up to receive his emails regularly. They include everything from special offers and coupons, to ads for a special Mother's Day lunch. He says a third-party company manages the list for them.

Finally, Farwell has teamed up with a local car dealership group as part of its "Auto Rewards" program. "It's a 30-dealership chain that gives its car buyers a special card that gets them discounts at various retailers. We offer cardholders 15 percent off their bill. It's no cost to us except for the discount." And that's a minor cost to get customers in the door.

Earlier this year, the Youngermans put together an advertising blitz that not only maximized their investment, but gained them enormous exposure. They spent about $15,000 on a five-week media campaign that included direct mail, email, radio, magazines, and the newspaper's Sunday supplement.

"When we identified that we wanted to reach the female market, we softened our message and looked for vehicles that targeted that market," says Tom Youngerman. One way they did it was by using a local radio station that had a mostly female listening audience. The Youngermans created "health tips of the day" that were featured on-air during their campaign. Live radio remotes were done to bring women into the stores. Sunday supplements were used three times during the campaign, and there were five weeks of direct mail.

The Youngermans were able to work with Max Muscle corporate and convinced them to pick up the cost of the radio portion of the campaign. "It was a great deal for all of us," says Tom Youngerman. "We got the exposure, and corporate got the opportunity to test the effectiveness of the efforts."

Co-op dollars from vendors have helped Barzizza get the most from his advertising budget. "We've worked out deals with companies, for example lotion companies, where they supply us with dollars and we include their products and name in our advertising," he says. He's done similar things with other local businesses that have a customer base similar to Palm Beach Tan's. "We've partnered for direct mail pieces with some local pizza restaurants. We share the costs and it reduces our cost per piece while increasing our exposure."

Says Barzizza, "One of my goals is to spend the advertising budget delivering the message, not creating it." That's a smart approach.

Multi-unit operators agree that in order to maximize advertising dollars, you must minimize the expense of creating the ads, carefully identify specific markets, determine the best vehicles to reach those markets, and leverage your efforts either through partnerships or negotiations. Effectively navigate these critical steps and get the most out of your advertising dollars.
Published: February 6th, 2007
Share this Feature
Recommended Reading:
Comments:
comments powered by

Disqus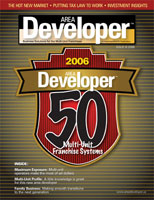 Multi-Unit Franchisee Magazine: Issue 3, 2006
With 5 locations currently open and several in the development pipeline, Bobby's Burgers by Bobby Flay has launched its full-scale U.S. and...
Cash Required:
$500,000
Genghis Grill, the nation's premiere fresh bowl concept, offers guests broad appeal and caters to various flavor preferences and lifestyles by...
Cash Required:
$250,000