Mentor-Motivated: Two Key Individuals have Inspired Jerry Heath
Two people have figured prominently in Jerry Heath's career. The first is his father, who helped bankroll him when he started out in franchising. The second is Steve Jackson, the president of Hungry Howie's Pizza, who began mentoring Heath at an impressionable age (12).
It was Jackson who first showed Heath how much fun it could be to make pizza. And it was his dad, who was always there to lend a helping hand, who helped make his career take flight. Eleven years after his first pizza-making experience under the tutelage of Jackson, Heath opened his first Hungry Howie's franchise location, in Grand Rapids, Mich. He's continued to expand in the city, growing to 11 Hungry Howie's locations.
"After I decided in college that I didn't want to be an architect I worked at a couple of Hungry Howie's in Westland, Michigan," says Heath. That's when he knew he wanted to open a franchise. However, at the urging of Steve and Sarah Jackson, he went back to college and earned a business degree.
"I was planning to open a Hungry Howie's as soon as I finished," says Heath. "I moved to Grand Rapids and opened my first store with the help of my Dad. He owned half, I owned half. He was the silent partner while he continued to work as an engineer at Ford." That was 16 years ago.
"It did pretty well," says Heath. "At the time there were only two Hungry Howie's in Grand Rapids, so it was still a new concept to the area. They were mainly in the Detroit area and Florida at the time." That was about to change. Over the next decade, Heath opened 10 more Hungry Howie's, then decided to start building Jimmy John's Gourmet Sandwiches restaurants. He now has five of those.
Jackson and Heath's father are still big players in his life. His dad, retired now after a long career in engineering, has stayed on as a silent partner at six of his son's stores. He even helped him build several locations by hand. Says Heath, "He helped me get started, and I helped him stop working."
Heath is still looking to add new locations, despite having to stare down one of the toughest economies to hit Michigan in post-World War II history.
Heath moved back to Detroit awhile back to be closer to his family. But with a high-speed Internet link to many of his stores and a pilot's license, he's able to be "there" virtually every day. With his BlackBerry always within reach, it's given the franchisee a chance to have a closer family, without losing touch with the business.
Questions
Name: Jerry Heath
Title: President
Company: Heath Management LLC
No. of units: 11 Hungry Howie's Pizza; 5 Jimmy John's Gourmet Sandwiches
Personal
Age: 39
Family: Wife and two daughters
Years in current position: 16
Years in franchising: 16
Key accomplishments:
Opening multiple stores and keeping them all profitable while expanding; starting a new concept and being successful in two things. I've been able to lead a good life doing what I like to do.
Smartest mistake:
Deciding where to put the first Jimmy John's was the toughest decision. The location was actually in a movie theater, hidden back behind some other buildings. I was not sure that was the right place to go. It was a tough decision and now that's our busiest store.
How do you typically spend a day?
On the days I do not go to Grand Rapids to visit the stores, I start my day by reviewing the previous day's numbers. I then work on many different subjects, such as planning the advertising for the Hungry Howie's, paying bills, and communicating with my area supervisors.
Work week:
I go to Grand Rapids three or four days every week. I visit all the stores and do a lot of the repairs. I built most of my Hungry Howie's with help from my Dad and a couple of friends. I'm pretty hands-on.
Favorite fun activities:
I became a licensed private pilot six years ago. I fly a small Cessna back and forth to Grand Rapids. That's my biggest hobby.
Exercise/workout:
I play golf and I run quite a bit. I've done some marathons. I've run the marathon in Las Vegas five years in a row.
Favorite stuff/tech toys:
I love my BlackBerry. I've had it a little over a year and now I can't imagine being without it. Also, most of my stores have cameras so I can watch them from home and see what's happening.
What are you reading?
I read Runner's World magazine. I read your magazine and Sports Illustrated, QSR, and Pizza Today.
Do you have a favorite quote or advice you give? Being a franchisee, you're going to have to work a lot. Make sure you find a concept you believe in, be ready to put in the hours, and all of your hard work will pay off.
Best advice you ever got:
When I first decided I wanted to open a Hungry Howie's, I was talking to Steve Jackson (president of Hungry Howie's) and his wife Sarah. They wanted me to get my college degree before they would allow me to franchise.
Formative influences/events:
I first went to work with Steve Jackson when I was 12, and it was one of the best days of my life. I made pizza, cut and rolled dough, and when it was time to leave, he let me make my own pizza to take home. I was hooked then, always had that in my mind. He definitely was an inspiration. My Dad was an engineer at Ford Motor Company and didn't necessarily like his job. I knew I wanted to find a career I would enjoy.
How do you balance life and work?
That's where it gets difficult. My wife says I'm always working, and having an office in my house doesn't help. But I can take breaks whenever I want. With a flexible schedule, I'm able to go to my daughter's school for special events, and I can go out to lunch with my wife a few times a week.
Management
Business philosophy:
I treat my employees well and I'm honest with them. I'm a pretty nice person, probably too nice sometimes. I have managers that have been with me 15 years. The manager who's been here the shortest time has been here three years. I provide a great work environment.
Would you say you are in the franchising, real estate, or customer service business?
Definitely customer service. That's the key part that keeps the business going.
What gets you out of bed in the morning?
Every day is different running these businesses. There's something new every day and I look forward to seeing what will happen today. But most of all, I enjoy spending time with my family.
What's your passion in business?
I enjoy being my own boss. I've been working in the food industry for almost 25 years and really enjoy it. At times I think I'm done opening stores, and six months later I'm out looking for a new location. I also like providing new jobs in Grand Rapids with the two best franchises.
Management method or style:
I am demanding, but I'm not going to come down too hard on people. Getting involved with Jimmy John's has changed things a little. They talk about hiring slow and firing fast. We look for the best people and we're not afraid to replace people if they don't work out. We do try to make for a fun work environment.
Greatest challenge:
It's probably finding the right employees, getting good ones and keeping them around. With the economy the way it is, you have a few more people to choose from.
How close are you to operations?
By car, I'm 1 hour 40 minutes from Grand Rapids. My farthest location is two hours. I have cameras in most of my Hungry Howie's and all of the Jimmy John's. I try to get into all of my locations at least once every two weeks.
Personality:
Easygoing. I'm a calm, friendly person.
How do others describe you? They'd probably say the same. At least I hope they would.
How do you hire and fire?
We try not to fire anybody. We try to work with them. We give them a few warnings, and if it doesn't work out we have to let them go. The Internet has been great for finding people. For example, if we put an ad on craigslist for a new employee we'll have 40 to 50 people looking for a job.
How do you train and retain?
Hungry Howie's has a training manual and we'll start out with simple things like making a pizza, taking orders. Jimmy John's is a little more involved. Prospective employees have to memorize every sandwich on the menu before they will be hired.
How do you deal with problem employees?
Personally, I don't have to very often. But Randy Arntson, the managing partner at Jimmy John's, and Bill Sutter, my supervisor at Hungry Howie's, are great with people. They try to work with the problem employees and their general manager to resolve the issue in a professional manner.
What kinds of things are you doing to take care of your employees?
We try to supply them with health insurance. We've had to institute a 50/50 co-pay for insurance, with the cost of health insurance lately. If they need a weekend off we try to accommodate them. We are very flexible, seeing that most of our employees are still in school.
How are you handling rising employee costs (payroll, healthcare, etc.)?
We try to limit the amount of people we have to train, hopefully have them stick around so we don't have to retrain new ones. I'd like to pay them more, but that's tough in today's economy. Healthcare has gone up, but we're trying to keep that in place for the managers.
How do you reward/recognize top-performing employees?
We pay a performance-based bonus. For example, Hungry Howie's corporate just went to all of the stores and graded them, and we gave small bonuses to the two managers with the highest scores. And we have a big bowling party every year. We had over 150 employees last year and everybody looks forward to it.
Bottom Line
Annual revenue:
Our Jimmy John's will do between $2.8 and $3.2 million this year. Hungry Howie's will probably get close to $4 million in sales.
Growth meter: How do you measure your growth?
Profit. How much we make is always a good indication, as well as the number of stores we have that are profitable.
Vision meter: Where do you want to be in 5 years? 10 years?
It changes from week to week. At times I think I wouldn't mind opening 10 to 20 Jimmy John's in a new market. I live in Michigan and I would like to get somewhere warmer someday, maybe go south or west.
How has the most recent economic cycle affected you, your employees, your customers?
I think with the pizza it has really affected us. In the last two years, Michigan has been hurting. Our customers are definitely spending less money. The competition is offering $5 pizza and that hurts us. It's not a good-quality pizza but it fills their kids' stomachs. At Jimmy John's, though, sales are going up.
Are you experiencing economic growth/recovery in your market?
Things do seem to be leveling off. Hopefully we'll start to see our bottom line improve in the near future.
How do you forecast for your business during trying times? Can you even forecast at all?
It's tough lately in the pizza business. Some markets are going up, but it's tough.
Where do you find capital for expansion?
We had a good relationship with Fifth Third Bank. And we use a lot of our own money. We only borrowed about half the money we needed to open our new Jimmy John's. We'd save up the money our stores were making and invest it in the next store.
Is capital getting easier to access?
Normally we could go in and get $150,000 with just a few signatures. But this last time was a lot different, we really had to jump through hoops. We opened a store in December, but it was frustrating. I was ready to tell the bank to take a hike. It took five months to get a loan and we were open a month before we got our money.
Have you used private equity, local banks, national banks, other institutions?
We never borrowed money from local banks before, but that's probably the route I'd try next time.
What kind of exit strategy do you have in place for your business?
I have buy/sell agreements for all my companies. But I'm not planning on exiting anytime soon. Aside from that, I don't have one.
Published: September 7th, 2010
Share this Feature
Recommended Reading:
Comments:
comments powered by

Disqus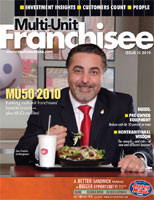 Multi-Unit Franchisee Magazine: Issue 3, 2010
Vitality Bowls specializes in acai bowls, smoothies, juices, salads, grain bowls, wraps, toast & panini, made with unique superfoods like pitaya,...
At Radiant Waxing, we make it our mission to help people achieve smooth skin and beautiful brows in mere minutes.
Cash Required:
$100,000