MMA-ade in America: From Cage Fighter to Franchisee -- and More!
Albert Tadevosyan was an MMA (Mixed Martial Arts) fighter with a professional fight record of 7 wins, 1 loss, and 1 draw. Now, at 25, he owns three Baskin-Robbins stores in Washington, is a State Farm-approved candidate looking to start his own insurance agency, and is a husband and new dad to an 8-month-old daughter.
The Armenian native remembers growing up poor and vowing to not have any money problems when he grew up and was on his own. After moving to the U.S. and settling in the Kent, Wash., area, he built a career in cage fighting. Cage fighting is a tough business, and Tadevosyan fought his way up to being recognized as one of the top fighters in the Pacific Northwest. He fought at the amateur and professional levels before a discussion with his brother-in-law helped him learn about the Baskin-Robbins opportunity, and he decided to pursue his business interests.
He's been with Baskin-Robbins for about three years, growing from one location to three, and employs 20 people. He says the franchise model made sense and has worked well for him. "The one-on-one support, simple operations, easy-to-use store planning tools, and strong brand recognition are among many of the reasons I was able to expand quickly. The franchise model gave me the chance to achieve more than I could ever dream of through a conventional career," he says.
Tadevosyan hasn't completely given up his desire to stay in top physical shape. "I still run at least 30 minutes a day and do Brazilian Jiu-Jitsu and kickboxing training anywhere from two to four times a week," he says.
Looking ahead, Tadevosyan is working to become a State Farm insurance agent, plans to continue expanding his Baskin-Robbins stores, and envisions starting a cage fighting/mixed martial arts gym of his own.
Name: Albert Tadevosyan
Title: Owner
Company: Albert Tadevosyan Corp.
No. of units: 3 Baskin-Robbins
Age: 25
Family: Wife Alvard, 8-month-old daughter Mariam
Years in franchising: 3+
Years in current position: 3+
Personal
First job:
Selling ice cream and snacks at a park in Armenia at age 13.
Formative influences/events:
We were always poor growing up. My dad always flew outside of the country to work and support us, so my goal was to simply never have any money problems.
Key accomplishments:
Paying off all of my stores, which created a lot of flexibility and free time for me to spend with my family. I have also been the number-one ranked cage fighter in the Pacific Northwest.
Biggest current challenge:
Working 47 hours a week while managing 3 Baskin-Robbins stores. Next big goal: Become a State Farm agent, expand my stores, start a cage fighting gym. First turning point in your career: That happened this year when I paid off all my debts for the business and experienced my first paycheck with no deductions.
Best business decision:
To take a risk and commit to buying a business and multiplying it.
Hardest lesson learned:
To manage time the correct way.
Work week:
I work for State Farm during the week from Monday to Friday, while my wife helps manage the stores. I handle employee meetings, check on all the stores, and train employees.
Exercise/workout:
Minimum 30-minute run daily, as well as Brazilian Jiu-Jitsu and kickboxing training two to four times a week.
Best advice you ever got:
Teach yourself to be happy with what you have. Always work hard but take a step back and appreciate all of your blessings.
What's your passion in business?
I am passionate about my Baskin-Robbins stores and take pride in improving and growing them.
How do you balance life and work?
I try to work efficiently and keep a set schedule with work, exercise, and diet in order to maintain energy.
Guilty pleasure:
Ice cream! Also, mixed martial arts training.
Favorite book:
The Bible and Living with the Seal.
Favorite movie:
"300."
What do most people not know about you?
I am very stubborn. I don't need to be pushed as I push myself the most when no one's watching.
Pet peeve:
People who are disrespectful.
What did you want to be when you grew up?
Nothing in particular except that I wanted to make enough money to not have to worry about finances. Now I understand that life is about balance and money is not everything.
Last vacation:
Back home to Yerevan (Armenia) to visit family.
Person I'd most like to have lunch with:
Francis Chan, a successful public speaker and preacher, because I admire his mindset and how he strives to always help people. Also, David Goggins, a famous Navy SEAL, who I admire for his self-discipline and ability to overcome obstacles.
Management
Business philosophy:
Manage employees correctly and you can multiply businesses as much as you want. Managing people is the best skill set you can have in business.
Management method or style:
Approach with patience and understanding, less demanding, more coaching and reasoning.
Greatest challenge:
Managing, time, tasks, and people.
How do others describe you?
Hard-working, mellow, determined.
One thing I'm looking to do better:
Improve the work environment for all employees.
How I give my team room to innovate and experiment:
We have monthly meetings, and I follow the book The 4 Disciplines of Execution and let employees commit to tasks at each meeting. This allows them to follow through on a task and helps with engagement. I also stay open with my teams to allow them to speak at meetings and give feedback.
How close are you to operations?
My wife and manager handle day-to-day operations. I help manage the team during monthly meetings and stay in touch with store managers.
What are the two most important things you rely on from your franchisor?
Advertising and quality of product.
What I need from vendors:
Timeliness, on-time delivery.
Have you changed your marketing strategy in response to the economy? How?
Increased use of technology, emphasis of online presence, and managing social pages more consistently.
How is social media affecting your business?
With the food business it's all about visuals and reminders, especially ice cream. Once customers see ice cream, they want it. With social media it's very easy to target a particular area to send our visual advertisements to.
How do you hire and fire?
I give a logic test before interviews, then my wife and manager interview them before I conduct the final interview. We always look for honest, quick-thinking, and enthusiastic employees. I give several warnings before any terminations, and, if necessary, have a friendly talk and explain the situation.
How do you train and retain?
They all go through employee training, including training videos that Baskin-Robbins provides. Next, they go through hands-on work under experienced employees for 2 weeks. I retain by giving smaller, more frequent raises so they always feel like they are growing with the company and are motivated to continue working hard. I understand that it's a temporary job for most, so I encourage them to see the bigger picture and that it's a stepping-stone to develop good work habits, which will allow them to be successful anywhere in life.
How do you deal with problem employees?
Before I give a warning I talk to them one-on-one in a nonjudgmental way to try to work through the issue.
Fastest way into my doghouse:
Stealing or lying, because it breaks the trust in the relationship.
Under 30
How did you get into franchising at such a young age?
I never liked school and always wanted to focus on cage fighting, but came across this opportunity through my brother-in-law. I spoke to the CEO of our territorial contractor who gave me a shot, so I made sure to not disappoint him and have been successful ever since.
Was becoming a franchisee something you'd planned on?
No, but at that time I was open to any opportunity that came my way.
Did you have a mentor or inspiration for getting into franchising?
Rod Birkland, CEO of the territory contractor for Baskin-Robbins, guided me through the process, motivated me, and gave me the chance to own my own store.
What jobs, skills, and experience have helped you operate a franchise business?
Working at my brother's business and learning from him allowed me to better manage my employees and serve customers.
What kinds of obstacles did you face in franchising at such a young age?
Handling all the responsibility of owning a business at a young age was challenging. I learned to adapt and grew my confidence as I went along.
How would you describe your generation?
As a younger Generation Y and older Generation Z person, I believe our generation has to work much harder to keep up with increasing inflation and cost of living. We basically have to work twice as hard to afford the same things that our parents did.
Do you see franchising as a stepping-stone or a career for you?
Both. I think I'll always be in franchising as part of my career, but would also like to grow in other aspects.
Bottom Line
Annual revenue: About $650,000.
2018 goals: Open up a State Farm agency and buy a house for my family.
Growth meter: How do you measure your growth? Daily transactions increase for stores.
Vision meter: Where do you want to be in 5 years? 10 years? In 5 years I see myself having a very successful State Farm agency and purchasing one more store. In 10 years, open my own cage fighting/mixed martial arts gym.
How is the economy in your region affecting you, your employees, and your customers?
The unemployment rate is very low right now, and the increasing minimum wage forces me to increase prices.
Are you experiencing economic growth in your market?
Yes. Seattle is currently one of the fastest-growing cities in the U.S.
How do changes in the economy affect the way you do business?
We have to continue to evolve, and as we get busier I have to constantly improve my system.
How do you forecast for your business?
I monitor weather closely to forecast how much business to expect. Also, based on experience I can predict both the times of day and days of the week that will experience the most traffic.
What are the best sources for capital expansion?
For me it is friends and family.
Experience with private equity, local banks, national banks, other institutions? Why/why not?
I do not yet have any experience with these institutions.
What are you doing to take care of your employees?
I work hard to create a positive work environment and give employees more freedom to set their schedules.
How are you handling rising employee costs (payroll, minimum wage, healthcare, etc.)?
I gradually increase prices once a year, and spend more on advertising to drive sales.
How do you reward/recognize top-performing employees?
I will give bonuses to employees who receive good reviews from customers, as well as free product.
What kind of exit strategy do you have in place?
I don't see myself ever selling or retiring, but I anticipate handing the business over to my children one day if they are interested.
Published: December 16th, 2017
Share this Feature
Recommended Reading:
Comments:
comments powered by

Disqus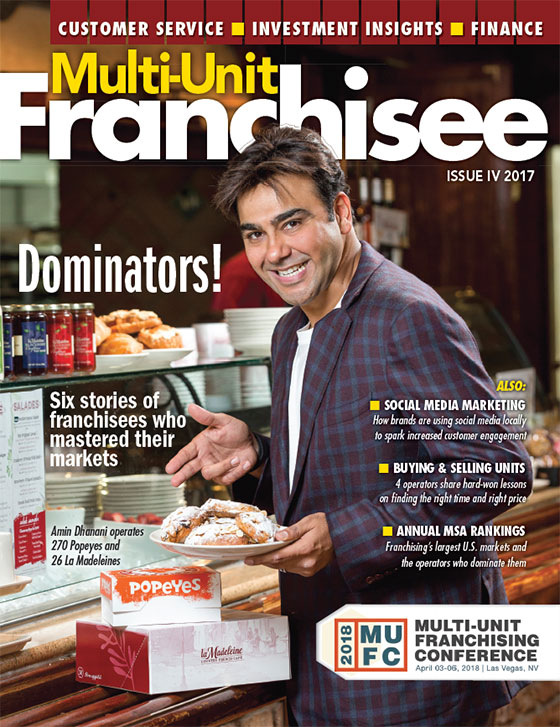 Multi-Unit Franchisee Magazine: Issue 4, 2017
Basecamp Fitness is empowering entrepreneurs to build an innovative fitness franchise in their markets while helping create happier, healthier...
Cash Required:
$250,000
With a passion for creating happy 'Human Beans', the company's drive-thrus have established a reputation for friendly baristas, high-quality coffee,...
Cash Required:
$200,000