More Are Better: Multi-Brand Franchising Continues To Grow
One brand, two brands, three brands, more. When it comes to growth and expansion, that's exactly what many multi-unit operators have in mind. While some are content--and quite successful--operating many units of a single brand, others like to play ball with many different brands, even different sectors.
With the right people and infrastructure in place, multi-brand growth is a lucrative way to grow a franchise organization--providing power in numbers, the additional security of spreading risk across several concepts, and cross-pollination of best practices from each system.
Although the payoff can be much more rewarding, managing multiple brands is much more complex than sticking with one brand. Multi-brand franchising demands skilled, knowledgeable, experienced professionals and team members who can operate under diverse system requirements, market conditions, and consumer profiles and tastes. It's not for every franchisee--in temperament or skill set--but those who do it, and do it well, say the benefits far outweigh the risks.
It's all about the people
This issue marks our fifth year of celebrating and recognizing multi-brand franchisees. Once again, we've teamed up with FRANdata to create our "Multi-Brand 50" rankings of the country's largest multi-brand operators, along with a list of the MU50's 25 favorite brands.
While "top" lists are valuable, they don't tell you about the people behind the numbers--how they got there, what they invested, and what they sacrificed. That's why we search out inspiring and remarkable success stories for every issue. This time we've "reconnected" with two multi-brand operators we've profiled in the past, to complement our first-timers. No matter what brand or sector they're in, all have poured their blood, sweat, and tears into creating successful franchise organizations. Here's a taste of what you'll find in the pages ahead:
Johnny Collins had worked for years as a fireman and a security officer before he set out on his own. At first, the going was rough. Several businesses he started just didn't make it. When he opened his first Wingstop, making the store succeed seemed like a test of his faith. But he has made it, and today operates 3 Wingstops and 2 Mooyah Burgers.
 Craig Colby earned a degree in computer science and started his own consulting and programming business. But he wasn't happy--and realized that loving his work was critical to both his career and quality of life. His love was food and restaurants, so he made it his business. Today he operates 4 Red Robins, 4 Così restaurants, and now is developing 5 Tio Juan's Margaritas--and loving it.
Gavin Hart believes that a relaxing, fun, upbeat work environment is largely responsible for the success of his 9 Dairy Queens and 14 Dunkin' Donuts in Indiana. There must be a lot of fun going on, because he's scheduled to open five more DQs and five more DDs this year. He's one multi-brand operator who loves his business and family. With his wife Kim active in the business and his daughters interested in it, "There's a lot of flow between our work and home lives," he says.
Chirag Patel left India for the U.S. 15 years ago to join his wife and look for work. He began as an engineer and consultant, but soon learned through his family members that franchising offered big opportunities for anyone with an entrepreneurial bent. In 1999, he acquired his first Dunkin' Donuts, in Burlington, N.J. Today he has 10--along with 3 Moe's Southwestern Grills, 1 Howard Johnson, 1 Comfort Inn, 1 Holiday Inn, and 1 Hampton Inn--and he just signed a 30-store development deal with Schlotzsky's.
The last time we profiled multi-unit Subway operator Eric Werner, he had just added LA Sunset Tan to his portfolio. Now the Texas operator has added Mooyah Burger & Fries--bringing his totals to 56 Subways, one LA Sunset Tan (with plans to open at least one a year for the next 20 years), and one Mooyah. Speaking of growth, he and his wife are expecting their ninth child.
Anil Yadav has been profiled in this magazine twice before, including one cover appearance. The first time we interviewed him, in 2008, he had "only" 78 Jack in the Boxes and 16 Denny's. Two years later, he had expanded to 155 JIBs and 26 Denny's. Now he's done it again, staking claim to 227 Jack in the Box units (making him the brand's largest franchisee in the country) and 30 Denny's units. Not enough? He recently become involved with Marco's Pizza as the broker for both Northern and Southern California, so check back with us in 2 more years!
Published: April 20th, 2012
Share this Feature
Recommended Reading:
Comments:
comments powered by

Disqus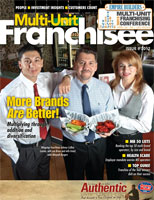 Multi-Unit Franchisee Magazine: Issue 2, 2012
At Nautical Bowls, we combine healthy, fresh superfood bowls with an uplifting atmosphere, giving you energy to life a full life! Our goal is to...
Cash Required:
$100,000
If you're interested in a bold do-nut business opportunity one with strong multi-unit appeal a Shipley Do-Nuts franchise offering is one of the very...
Cash Required:
$225,000