Need Cash Fast?
Merchant cash advance can help your business grow

Too often, franchise owners lack the cash flow needed to act fast enough to capitalize on an opportunity. As a result, franchisees are forced to sit back and watch others take advantage of the situation.

Applying for a line of credit at the bank is the first option to look at, but often the process of gathering all of the required documents is time-consuming and work-intensive. Not to mention that in today's market, banks are taking a much harder look at who they are financing and how much money they are putting out there.

What franchisees don't know is that there is an asset they can leverage today to help take advantage of those windows of opportunity as they arise. In fact, a franchise owner can leverage this asset in as little as 5 to 10 business days, and the money can be used for virtually any franchise need (opening new locations, special marketing programs, new signage, equipment upgrades, or general repairs) with no restrictions.

The little-known "merchant cash advance" program provides funds for these types of expenses. Banks are simply not handing out cash at rates they used to in the past. If franchisees have the opportunity to acquire capital from traditional sources, they should. However, many times the window of opportunity is short for franchisees, and the merchant cash advance program is an excellent way to get the money needed quickly.

Basically, with merchant cash advance, franchisees are leveraging a real asset: their future credit card receivables. It is similar to factoring. Merchant cash advance is not a loan and will not show up on a credit report. Franchisees can usually get 1 to 1.5 times their monthly Visa/MasterCard credit volume and can qualify for between $5,000 and $3 million depending on processing volume.

Franchisees can pay this back by allowing the credit card processor to take an agreed-upon percentage of the daily credit card sales back until the advance is paid off. In other words, there is no monthly payment to deal with since the franchisee is paying that percentage out of their daily credit card sales.

The majority of merchants who have done this describe merchant cash advance as a painless repayment method, as they never saw the money come in and then out again. Typically, this is never higher than nine percent of your daily gross sales. According to industry-wide accepted statistics, more than 60 percent of merchants who have used merchant cash advance have renewed again at the completion of the first deal.

In today's franchise space, operators are beginning to find that they need to be multiunit owners to meet their financial goals. However, challenges arise when franchisees have one or two locations and are just making ends meet. How can they open a third location and more down the road? Adding a third, fourth, and fifth location, would give franchisees the additional revenue they need, but the banks are not giving them the capital they need to get over that hump.

A franchisee may have signed a development agreement with a franchisor and need to meet those store opening requirements. The franchisor may want to help, but is in the same boat as the franchisee with their funding sources drying up. With merchant cash advance, a franchisee can leverage future credit card sales in currently open locations to help fund the expansion of new locations or to remodel existing ones.

Another challenge franchisees face is staying competitive in the marketplace as their franchise systems evolve. This might mean they need to upgrade the image of their stores with a new logo or design, resulting in large expenses for new signs or interior construction. Also, this can require the addition of new products or services that need new, upgraded equipment. In either case, the franchisor will typically give the franchisee a timeline they must comply with. Franchisees who cannot are at risk of being in violation of their franchise agreement. Merchant cash advance can help meet those deadlines.

The process for receiving an advance is pretty simple. Payment processors will need to verify a franchisee's credit card volume for the past six months and run a very basic credit check to ensure that the minimum FICO score is met. Typically, anyone with a FICO of 500 or more would be considered. Merchant cash advance has no application fee or closing costs, but franchisees are required to fill out a one-page application. Other advantages of merchant cash advance include no personal guarantee, collateral, or big monthly checks to write.

More than 100 franchise concepts have been funded by our partners in almost every industry segment, including, lodging, retail, restaurant, service, and more. To facilitate the repayment, franchisees will need to process their credit cards with the merchant cash provider or one of the provider's partners.

This is not as cheap as a bank product, but if that option fails you will be able to meet your goals by putting tomorrow's sales to work for you today.

Thomas Epstein is founder and chief executive officer of Franchise Payments Network (FPN). He has worked extensively in both the retail and payment processing industries. FPN focuses on providing solutions for payment processing to franchisors and their franchisees and has been endorsed as the IFA's exclusive provider of payment processing services.
Published: November 3rd, 2008
Share this Feature
Recommended Reading:
Comments:
comments powered by

Disqus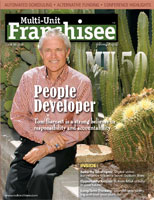 Multi-Unit Franchisee Magazine: Issue 3, 2008
Vitality Bowls specializes in acai bowls, smoothies, juices, salads, grain bowls, wraps, toast & panini, made with unique superfoods like pitaya,...
Ace is #1 for convenience hardware! You pay no royalty fees. Instead, Ace pays you a year-end rebate based on your annual purchases. Enjoy the...
Cash Required:
$250,000