New Mexican Franchising Bill
The Mexican Congress is reviewing a bill ("Bill") intended to amend the Mexican Industrial Property Law ("IPL") to regulate franchise agreements and to add new disclosure procedures. It is still uncertain whether the Congress will approve the Bill. Currently, the IPL franchise regulations are very limited, and do not regulate the content of franchise agreements. The Bill adopts a very different approach in order to protect franchisees from perceived franchisor abuses.

The Bill defines a "franchise" as an agreement that contemplates a trademark license and the transfer of technical knowledge or technical assistance. Franchisors would have to provide a disclosure document containing the information required by existing law at least 30 days prior to execution of the franchise agreement. No time is specified under current law. If the disclosure document is not provided by franchisor, or if the information is not accurate, then the agreement may be nullified.

The Bill also contains an article establishing the minimum content requirements of a franchise agreement. If the agreement does not include the provisions mentioned below, it will not be registered by the Mexican trademark office ("IMPI"). The Bill would retain the duty to register franchise agreements after they have been executed. If IMPI refuses registration, although the franchise agreement remains enforceable between the parties to the agreement, the agreement could not affect or be enforced against third parties.

Mandatory franchise agreement provisions include descriptions of: (i) the geographic zone where the franchised business will operate, (ii) characteristics of the investment required in physical, technical and administrative infrastructure, (iii) policies related to retail and wholesale selling, inventory, marketing and publicity which are uniformly applicable to franchisees, (iv) applicable criteria and methods to determine profits and/or commissions of franchisees upon which fees are based, which must be uniform among franchisees, (v) causes for termination or unilateral rescission of franchise agreements, including the procedures that guarantee equitable conditions regarding the recuperation of franchisees' investments, and (vi) provisions regarding supplying goods and using suppliers. The Bill would also establish that franchisees cannot be obligated to (i) transfer their assets to their franchisors or to another person upon termination of the agreement, or (ii) to transfer their shares or make their franchisors their partners, unless the parties agree otherwise. Also, franchisors and franchisees will not be allowed to terminate, or unilaterally rescind franchise agreements, unless such agreements are for an indefinite term, or unless there is just cause for termination. The agreement must also describe termination procedures.

The Bill also provides a right of first refusal for franchisees in good standing, in the event the franchisor desires to grant new franchises in the same geographic zone. It is unclear how this would operate unless the franchisee's geographic zone is not exclusive.

In addition, the Bill provides that franchisees may request the cancellation of their franchisors' trademark registrations if their franchisors have repeatedly violated the law or international treaties, if their franchisors have used or licensed industrial property rights in bad faith, or if franchisors engage in material anti-competitive conduct.

Needless to say, if enacted, the Bill would significantly alter the franchisor/franchisee relationship and place considerable new burdens on franchisors We will continue to monitor the Congress' action on the Bill.

Alberto de la Peña is a Mexican attorney in the International Practice Group of Haynes and Boone, Dallas.
Published: September 22nd, 2005
Share this Feature
Recommended Reading:
Comments:
comments powered by

Disqus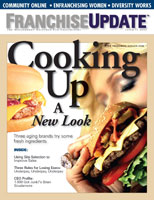 Franchise Update Magazine: Issue 2, 2005
Conferences
InterContinental, Atlanta
OCT 19-21ST, 2021
MSA provides domestic and international franchise advisory services to franchisors and companies seeking to establish franchise and licensing systems.
BrandWide offers a software platform and services to help franchise brands grow and make their franchisees successful. We also offer full-service...