No Excuses!: From Marine to Ironman to Franchisee of the Year
Sean Falk's "secret weapon" for achieving success in business may lie in his Ironman triathlon creds. This three-time triathlon winner (a race that combines a 2.4-mile swim, a 112-mile bike ride, and a 26.2-mile run) harnesses his drive and energy to ride herd on 10 retail units (four brands) and one restaurant in three states. Or maybe it's experience in the U.S. Marine Corps., where he attained the rank of captain.

Whatever it is, Falk has pretty much cornered the market for cookies, pretzels, and snacks in his hometown of Monroe, Mich. He's also branched out into Kentucky and Ohio, opening his first restaurant, Salsarita's Fresh Cantina, last year in Maumee, Ohio, and taking the organization's Franchisee of the Year honors.

"I worked for corporate America for nearly five years after my time in the Marine Corps, and I liked it and did well," says the University of Michigan engineering graduate. "But I'd always wanted to own my own business."

When the Mrs. Fields Cookies shop in Monroe became available, Falk jumped at the chance. "I looked at the pros and cons and decided it was a low-risk opportunity. It was business and baking, two things I liked, meshed together. I took it, and within a month I was buying a Pretzel Time," he says.

"I liked a system that allowed me to go in and work--it wasn't something I had to prove. When someone gives you a system, they give you freedom," he says.

From there, he added Great American Cookies and Pretzel Maker, getting a feel for how mall-based shops work. But as more mall developers struggle or declare bankruptcy, he worries about public perception. "People don't necessarily understand that the mall is not closing just because it's in bankruptcy. Every time a TV truck outside the mall reports that, my sales fall."

Falk decided to diversify from his mall-based brands. He considered a lot of concepts, but he fell for Salsarita's and signed on to open the brand's first restaurant in Ohio. "I just completed a full year with Salsarita's. It's hard to tell exactly how things are going, because nothing's ordinary this year. But I'm learning a lot, and I'm happy about that," he says.

After a hectic 2008, Falk is taking this year off from new builds and acquisitions to put his companies and their finances under a microscope while continuing to grow his 11 units. "I'd strayed a little from my original plan of moving slowly, but I'm getting back to that now. No excuses," he says. "That's what we always said in the Marines."
QUESTIONS
Name: Sean Falk
Title: Owner and president
Company: Wolfteam LLC; Nacho Gang LLC
No. of units by brand: 4 Great American Cookies; 3 Pretzel Time; 2 Mrs. Fields Cookies; 1 Pretzelmaker; 1 Salsarita's Fresh Cantina
PERSONAL
Age: 42
Family: Wife Kecia; 1 daughter and 2 sons

Years in current position: 11
Years in franchising: 11

Key accomplishments: I was Salsarita's Franchisee of the Year in 2008. My store revenues have increased 11-fold through acquisition, new store openings, and year-over-year increases. I was elected vice president of the Association of Pretzel Store Owners. I'm proud of my time in the U.S. Marines, where I reached the rank of captain. And on a more personal level, I am a three-time Ironman triathlon winner.

Biggest mistake: Given the current economic situation, my biggest mistake was allowing growth to help pay down debt. Access to cheap credit made me expand quickly before I had paid the debt down. I'm a pretty conservative thinker, but I strayed from that because opportunities presented themselves as too good to miss. So now things are tight.

Smartest mistake: I wanted to sell three locations a couple of years ago. At the time, I made the mistake of asking top dollar for locations just when the downturn was presenting itself. People were hesitant because they were concerned about value. The sale didn't happen, and I was disappointed at the time. But today those three stores account for 20 percent growth in this year's severe recession. They've been very profitable. They alone made it possible to keep our heads above water.

How do you spend a day, typically? I'm in one of the stores every day of the week. I do my own accounting and bookkeeping from the backroom.

Work week: It's pretty much 24/7. I'm in retail with one restaurant, which means Saturdays and Sundays are big days. So I don't usually take weekends off. Work is a big part of my life, which is fine because I love it.

Favorite fun activities: I like spending time with my family on the lake. I truly love introducing the kids to fun things I used to do, outdoor adventure, adrenaline, and excitement.

Workout and exercise: I did three Ironman competitions in one year and nine months, so I've taken a two-year break. But I'm up early every day either taking a swim or a run before work.

Favorite tech toy: I'm just happy that my phone receives and sends calls. I'm not technically illiterate, but I'm not driven by it. Same with my car: if it gets me from point A to point B, I'm happy.

What are you reading? I read lots of periodicals, newspapers, and trade journals every day.

Do you have a favorite quote or advice you give? I don't know who said it first, but I like: "Most people do not get rich by the money they make, but rather by the money they save." I also like to say--and I guess this goes back to my Marine Corps days--"Make it happen." Obstacles don't matter. Just go out and do it.

Best advice you ever got: I learned from a Marine Corps commander that, as a leader, everyone reacts to your attitude, your demeanor, and your drive. So every day in the stores I try to be upbeat, motivated, inspiring, and most of all, fun.

Formative influences/events: A high school running coach taught me to always do my best under any given set of circumstances; to figure out what I have to do to accomplish something. My years in the Marines also taught me to persist, always move forward, never give up, and never give excuses.

How do you balance life and work? It's been very difficult for the last year and a half because of the economy. I need to do better with the balance. I make it to most of my kids' events, but this year's trip to Washington, D.C., is the first non-business-related, true family vacation that we've taken.
MANAGEMENT
Business philosophy: I take each day one at a time and really pay attention to the numbers. I try to make sure that I have a good staff and good managers and that we really make the guest's experience incredible.

Would you say you are in the franchising, real estate, or customer service business? Why? I'm in the customer service business. Good customer service is trying hard to make a raving fan from every customer. I don't just go for the transaction, I want them to rave about our treats, food, and service and feel like they're guests for a lifetime. If I just went for the transaction, I'd be dead tomorrow.

What gets you out of bed in the morning? I'm a morning person--I love getting up early and getting in a swim or a run. I like to get to work early. I get so much more done in the morning because my mind is just ready to go.

What's your passion in business? The possibility for success and the drive to be great. I love the idea of being a #1 store, franchisee of the year, and having profitable stores. One of the things I've done is taken on some smaller market stores and turned them into profitable machines. It's not easy to do when, at that level of profitability, so much goes to labor, the cost of goods, and so on.

Management method or style: I like to provide the tools and let the managers run their own stores. I don't have one magical method for controlling costs or dealing with employees. I try to guide the managers to make their own decisions, based on the information I provide.

Greatest challenge: Today it's to visit all the stores enough to figure out what actions are needed to control a drop in revenues. Each community has been affected in different ways. Some of our stores are in Southeast Michigan, where there's the worst unemployment in the nation. Others are challenged by name recognition, or bankruptcy by real estate developers. Every store has a different issue, so my challenge is to visit the stores more often, and to get into the community so I can figure out how to market our product there.

How close are you to operations? Very close--operations is my specialty.

Personality: I guess I'm easygoing, but at the same time I'm motivated and driven. I let a lot roll off my shoulders and try not to stress out when a manager calls and it sounds like the store is burning down. I believe in figuring out a plan to make things right. Recently when the POS system was broken, an employee called, ready to close down, and I said, "No, get out a piece of paper and a calculator and let's figure this out."

How do others describe you? I don't spend a lot of time thinking about this. I focus more on the big picture. But I do a lot of field trips with school kids, teach them about Mrs. Fields or about the history of pretzels. The little kids get to decorate their own cookies. I get a lot of comments from parents that I make learning fun for the kids.

How do you hire and fire? In 11 years, I've never fired a manager. One retired this year. Besides that, they've all stayed with me. I learned long ago to let the managers hire their own staff. Overall, I'd say that we hire slowly and fire quickly.

How do you train and retain? I work closely with my managers, make sure they have the tools they need and make them feel good about their jobs. It's important to give "ownership" of the store to the manager, reminding them that it's their store and their responsibility.
BOTTOM LINE
Annual revenue: $2.3 million

2009 goals: To review all expenses, everything we're doing, maintain profitability, grow our existing stores, and most important, re-establish our base and firm up our foundation. I moved a little quickly, and I want to take a step back and examine things.

Growth meter: How do you measure your growth? By bottom-line profits. I'm not a top- line revenue person. This year alone, I have less revenue but a lot more profit.

Vision meter: Where do you want to be in 5 years? 10 years? In five, I'll probably have two to five more stores open. Between 5 and 10, I hope I'll have reached the point where I'll re-evaluate, spin some off, sell for better regional influence and local support, and share with management and staff.

How is this economic cycle affecting you, your employees, your customers? It really only affects me--I expect the same thing as usual from staff. Customers shouldn't see or feel any problems whatsoever. We've had no drastic price increases, and while staff may be getting less hours, there's always enough staff present to serve the customer.

What are you doing different in this economy? I'm revisiting vendors for different quotes, looking at everything, reviewing plans, and making conservative decisions. I'm getting back to my original plan.

How do you forecast for your business during these trying times? Can you even forecast at all? You always forecast for positive or negative growth. You have to predict revenue to order products. I know where we are at all times. In some cases, I don't like the answers, but I still know.

Where do you find capital for expansion? I've always worked with Monroe Bank & Trust, which is a strong community bank. They've grown accustomed to my strengths and watched my success and growth. We've forged a partnership based on experience, trust, and, of course, timely payments. They believe in me--you don't get that from huge banks just trying to lend money.
Published: October 16th, 2009
Share this Feature
Recommended Reading:
Comments:
comments powered by

Disqus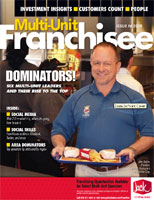 Multi-Unit Franchisee Magazine: Issue 4, 2009
Sizzle Your Way to Success with Pepper Lunch: A teppanyaki sensation! Join our proven brand with 500+ global locations. Ignite your entrepreneurial...
Cash Required:
$690,200
Craveworthy Brands is a hospitality-first company with a portfolio of unique, engaging, and scalable brands dedicated to delivering truly CRAVEABLE...