Not One for the Money
"I do it for the fun," says Mike Treadwell
When he was a young man fresh off the farm in Dalhart, Texas, Mike Treadwell wanted to stretch his entrepreneurial wings by opening a restaurant. First, he opened an Alfie's Fish 'n Chips in Amarillo, then a Mike's Fried Chicken & Fish.
One day, a friend who operated a nearby taco stand came over and asked Treadwell about his food and labor costs. "I said, 'Heck, I don't know. I've got money in the bank so I guess I'm doing okay.' He said, 'Oh Mike, you've got to know your food and labor costs if you're going to be in this long term,'" Treadwell recalls. "I thought at the time that I wasn't smart enough to do this."
Deciding he need to educate himself about the food and franchising business, he sold both of his restaurants and moved to Little Rock to manage a KFC restaurant for a franchisee.
That franchisee sold out to a bigger franchisee, Scott's Foods, and Treadwell went along as director of operations. When Scott's sold out to PepsiCo, he stayed again, as operations director. After spending time as a division training leader in Dallas for KFC Corp., he was given an opportunity to work for Restaurant Systems in Springfield, Mo., which had started building KFC restaurants there.
"The only way I'd go, I told them, was if they gave me a chance at sweat equity, and they agreed," Treadwell says. After opening 18 KFCs across Texas, he became president of the company and a full partner with the owner. When his partner decided to retire, they sold off 18 stores and Treadwell used his share to buy him out. Treadwell was left with about 3 dozen restaurants, and in the late 1990s formed Treadwell Enterprises, which today has nearly 100 restaurants encompassing five brands across eight states.
If all that sounds like hard work, it was, Treadwell says, but there's more to it for him than the bottom line. "I get up every day excited about what I'm going to do today to improve the business or different restaurants. I get a kick out of it. If I'd done it just for the money, I'd have been bored long ago. I do it for the fun. I love what I do and I have a great team," he says.
Treadwell, still going strong at 65, says his favorite thing to do outside the office is to take exotic fishing trips on the Amazon River, and offers his own "formula" for building a successful multi-unit business. "I've always thought that the trick to this business is to have three restaurants. After you've done your homework, you can make a living from one, grow from the second, and do remodels and new equipment purchases out of the third," he says. "But you've got to enjoy it or it won't be successful."
Name: Mike Treadwell
Title: Owner & CEO
Company: Treadwell Enterprises
No. of units by brand: 75 KFCs, 13 KFC/Taco Bells, 2 KFC/Long John Silver's, 2 Ruby Tuesdays, 2 HuHot Mongolian Grills
Age: 65
Family: Married to Marla, 2 daughters and 3 grandsons
Years in franchising: 25
Years in current position: 11
Personal
First job:
Restaurant GM of a KFC in Little Rock.
Formative influences/events:
My former partner Dick Pendleton was a significant influence in my career and gave me the opportunities I needed to become who I am today.
Key accomplishments:
Working my way up in the company and acquiring ownership along the way. This ultimately allowed me to purchase the business and become my own boss.
Biggest mistake:
Not doing adequate research into site selection for restaurants.
Smartest mistake:
Investing more than most thought was wise in the relocation of a KFC in New York. That investment resulted in the store becoming the highest-volume, revenue-generating KFC I own.
Decision I wish I could do over:
I wish I had created a concept to compete with a well-established brand.
Work week:
Six days. I try to take half a day off on Saturday and Sunday, but this business is 24/7.
How do you spend a typical day?
I typically spend Monday in the office, then travel to spend time in restaurants the rest of the week.
Favorite fun activities:
Peacock bass fishing in the Amazon and working in the business.
Exercise/workout:
I have an exercise room in the office that I never use.
Favorite tech toys:
iPhone and iPad.
What are you reading?
All trade journals related to the restaurant industry and The River of Doubt: Theodore Roosevelt's Darkest Journey by Candice Millard.
Do you have a favorite quote?
I always say, "We are thrifty, not cheap."
Best advice you ever got:
Never give up. In our business you will always have highs and lows, so you better understand that and never give up!
What gets you out of bed in the morning?
I really enjoy what I do. This is not work to me, this is something I have been blessed to do.
What's your passion in business?
I enjoy seeing those on our team grow and succeed.
How do you balance life and work?
It's pretty easy. I love what I do and feel like I am on vacation every day.
Last vacation:
Alaskan cruise.
Person I'd most like to have lunch with:
Warren Buffet.
Management
Business philosophy:
To encourage my team to always think like entrepreneurs while working within the franchise guidelines.
Management method or style:
I am pretty easygoing. My passion is to be in the restaurants coaching and encouraging the teams.
Greatest challenge:
Finding, hiring, and retaining great employees, and labor and food costs.
How do others describe you?
Fair, caring, and easygoing, as well as firm and direct regarding standards and protocols.
One thing I'm looking to do better:
Operate better restaurants; be the best we can be at what we do.
How I give my team room to innovate and experiment:
I give my team autonomy and empower them to make the decisions necessary to run the business.
How close are you to operations?
Very close. I am in my restaurants almost every week.
What are the two most important things you rely on from your franchisor?
Strong leadership and solid marketing of the brands.
What I need from vendors:
Our vendors are our partners, so I need them to be honest, timely, and fair in our dealings.
Have you changed your marketing strategy in response to the economy? How?
Because of the soft economy, consumers are focused on getting more for their dollar. We have responded by focusing more on the value of the menu items that we offer.
How is social media affecting your business?
Social media has and will continue to have an impact on the business. Consumers and employees can quickly and easily report both good and bad experiences. It is vital for any company to stay on top of what is changing in the realm of social media from both the consumer aspect and also the employee relations aspect.
How do you hire and fire?
We have recently adopted a culture of "Everyone's a recruiter." This means that every member of the team should be looking for individuals who are genuine, motivated, and committed to serving our guests with pride and inviting them to join our team. We strive to ensure fair and consistent treatment of all employees. As a company we do not fire employees. Employees makes poor choices that are not aligned with our policies and procedures resulting in employees essentially firing themselves.
How do you train and retain?
We use several different methods, such as The Learning Zone (provided by KFCC), in-person classroom settings, and on-the-job training to train and retrain our team members. We ensure that we stay compliant with the standards of the brands I have chosen to represent.
How do you deal with problem employees?
We address issues head-on, first with coaching, and if the behaviors do not show sustained and significant improvement, we move to progressive discipline as warranted.
Fastest way into my doghouse:
Being dishonest and demonstrating a complete lack of care for others and the company.
Bottom Line
Annual revenue:
$100 million.
2014 goals:
3+ percent increase in sales.
Growth meter: How do you measure your growth?
I look at the performance (sales and profits) of each individual restaurant.
Vision meter: Where do you want to be in 5 years? 10 years?
My long-term goals are to continue to acquire solid performing restaurants.
How is the current economy affecting you, your employees, your customers?
The soft economy has affected me, my employees, and our customers significantly. Customers are not making unnecessary purchases. They are looking for value, which means that we must offer menu items they consider to be a value.
Are you experiencing economic growth in your market?
We operate in multiple markets. Our company as a whole is trending negative for the current year, but we do have several locations that are experiencing growth this year.
What did you change or do differently during the economic downturn that you are continuing to do?
We became more aggressive from a value-to-our-consumer perspective, reduced overhead, and implemented tighter management controls of every aspect of our business. We are more aggressive today in controlling labor costs and food and paper costs than we ever have been before.
How do you forecast for your business?
We review sales daily and analyze prior trends compared to known events in the future.
Is capital getting easier to access? Why/why not?
Yes, investors and banks have been yield-starved for a long time and are now putting their sidelined cash to work. This is creating a very strong environment for operators to grow their business in.
Where do you find capital for expansion?
Banks and large lending institutions.
Have you used private equity, local banks, national banks, other institutions? Why/why not?
We have used all of the above. Early on we used local banks because we had a relationship with them and it was easier to tell our story and get things accomplished. As we grew, it became easier to attract large national banks to our business as well as private equity. The larger the institution, the larger the deal they are looking to do.
What are you doing to take care of your employees?
Our employees are the greatest assets to our business. We strive to ensure that their safety, health, and overall well-being are first and foremost. We offer competitive compensation packages and take time to make sure that each employee knows how much their effort is appreciated.
How are you handling rising employee costs (payroll, healthcare, etc.)?
Employee costs are increasing exponentially. Because of this we hold all levels of our team accountable for controlling these costs on a daily basis and are constantly looking for ways to streamline our business and reduce our costs. Healthcare costs have created many challenges for the restaurant, and I suspect will continue to do so over the next several years. The larger the employer, the more costly it is.
How do you reward/recognize top-performing employees?
We reward/recognize top-performing employees through our "PRIDE Every guest--Every visit" recognition program, in our Fried with Pride Newsletters, birthday cards, service awards, sales incentives, bonuses, and career advancement.
What kind of exit strategy do you have in place?
I do not have one at this time.
Published: April 14th, 2014
Share this Feature
Recommended Reading:
Comments:
comments powered by

Disqus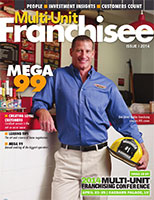 Multi-Unit Franchisee Magazine: Issue 1, 2014
Blend opportunity with success and join the nation's #1 health and fitness smoothie brand today!
Cash Required:
$100,000
Discover franchise opportunities with one of the world's largest chains of ice cream specialty shops.
Cash Required:
$100,000