Not Your Average Anything: Former C Student Is All Aces Today
Ella Avery-Smothers may have been a C-level student in high school, but she's far from average.

This 63-year-old multi-unit owner, who operates seven Burger Kings in the Los Angeles area, pulled herself out of poverty as a child to become a player in the franchise restaurant industry. And she's just opened two El Pollo Locos, with two more under construction.

The going hasn't been easy. One of seven children growing up on a tobacco farm in a poverty-stricken section of southern Virginia, Avery-Smothers had to pitch in and do manual labor around the farm--all while attending school through grade five in a one-room schoolhouse--which today, she owns.

At age 15, her life took a turn for the better. A teacher told her that students like her with C-average grades could make a difference and succeed in the world. Taking the teacher's words to heart, Avery-Smothers not only got into Saint Paul's College in Lawrenceville, Va., she paid her way with the help of a United Negro College Fund scholarship. She earned her bachelor's degree in elementary education, followed by a master's in early childhood education from George Washington University.

If life was a struggle, she says her background also taught her the value of hard work, dedication, and teamwork. She spent more than a decade putting those values to good use as a public school pre-kindergarten and kindergarten teacher in Washington, D.C., Dade County, Fla., Royal Oak, Mich., and San Diego, along with a year as a visiting lecturer at the University of Miami.

"Since I was a solid C-plus student, I realized that I could make a difference by always doing the task at hand very well, and I promised myself that I would," she says. In fact, she always assumed she would have to be "twice as good to be thought of as half as good." But over the years, she came to realize that she really had the ability to make it and has earned a reputation, she says, as being "hard-working, honest, and truthful."

By the mid-1970s, Avery-Smothers had caught the entrepreneurial bug. Together with her (now former) husband, she cobbled together the financing from her retirement funds, and SBA loan, and funding from the Minority Enterprise Small Business Investment Company, and opened her first Los Angeles-area Burger King on Feb. 4, 1976.

Since then, this vibrant, cheerful woman has opened seven more Burger Kings (she recently dropped one), and has signed an agreement to develop 10 El Pollo Loco restaurants in the Norfolk, Va. area. She opened the first in June 2008 in Virginia Beach, promising residents, "It will be love at first bite."

Over 30 years Avery-Smothers has survived gas crises, earthquakes, crime, workers' compensation fraud, the Rodney King riots, a 1992 divorce, and "greedy, ruthless landlords in Los Angeles," she says.

Although she is a business person first, Avery-Smothers is a teacher at heart. She has made it a point to mentor C-level students and has provided financial assistance to her employees who enroll in college. Her good works were recognized in March when she was featured on the "Today" show. And in April she was profiled by Reader's Digest in its first "Make It Matter" column, for which the publication donated $100,000 to the United Negro College Fund (the first of only 10 such grants to be made under its "Make It Matter" initiative).

Each day she gets up knowing "there's room for improvement, and I feel that I must work on that right away. I simply love to see things going right!" she says.

With all she has going on these days, Avery-Smothers says she has very little time for fun. "I guess it's good that I thoroughly enjoy working. Boring, huh?" she jokes.

Editor's Note: Shortly after her interview for this profile, Avery-Smothers wrote, saying she was scrambling to find financing to keep her new El Pollo Locos open after the withdrawal of a funding commitment from GE Capital (see "Biggest Mistake," below):

"The news media seems to be giving inadequate attention to the crisis that the small business community--the folks who employ over 80 percent of the population--is facing. The country seems to be willing to see us fail without equal concern with the big boys who must obviously employ part of the remaining 20 percent.

"I feel as if I am getting the same level of concern as a developing small business owner that I got as a "C+" student years ago. In this case, I must continue to work hard, carry the burden, make my payroll to keep my employees working, and pay my bills--but not turn to any financial institution nor the government for any help at all, and do it all with a profit margin that is in the negative column.

As far as I can determine, all funding sources have been taken away since I started the building stage of the development--which was after I could have backed out! This has left me in a terrible dilemma that could very well lead to my failure through no fault of my own. I have not missed one payment in years, but still, I cannot get financing to pay for the two restaurants that are already built. Although I have made a considerable investment in the projects, I cannot finish paying for the building without funding. In short, I cannot survive beyond the end of the year unless the situation changes."

Since then, she reports that El Pollo Loco has put her in touch with a funding source, but at press time the outcome was still uncertain.

Name: Ella Avery-Smothers
Title: President
Company: Metro Management Systems (Burger King); Paragon Management Services (El Pollo Loco)
No. of units by brand: 7 Burger Kings; 2 El Pollo Loco units open, two under construction
PERSONAL
Age: 63
Family: Divorced. I dote on a granddaughter, who lives on the West Coast.

Years in current position: 33 with Burger King, 2 with El Pollo Loco
Years in franchising: 33

Biggest mistake: Acquiescing to the limitations the development manager (then) for Burger King fabricated for me after my divorce in 1992, which caused me to develop two very poor restaurants and created many regrets.

Currently I am facing a lack of funding because GE Capital neglected to fund my latest two El Pollo Locos--although I had been given a loan commitment for the first four. I learned of their decision after the restaurants were built and am struggling to acquire financing elsewhere. I am being told that El Pollo Loco is considered a "startup" on the East Coast, and it seems that money for funding this type of business is virtually impossible to obtain right now. This, coupled with the woes of today's economy, has quickly propelled my business into a position of economic crisis. I am keeping the Faith at this point.

Smartest mistake: Purchasing two pieces of land during a down real estate market in Los Angeles, which later allowed me to build two very good restaurants on those lots.

Work week: I'm a workaholic. Being unmarried with two adult sons now allows me more time for my businesses. My older son, Ronson, works with the Burger King business in Los Angeles and my younger, Stewart, has recently joined me in the El Pollo Loco business in Hampton Roads, but I still work from 12 to 15 hours, 6 days a week with time split between my home office and my restaurants. There's usually only time for the news before heading to bed.

Exercise/workout: I try to walk at least 30 minutes three times a week. Beyond that, I feel that my staying on the go is enough.

What are you reading? I just finished reading, for the third or fourth time, The Richest Man in Babylon by George S. Clason. I've started reading Creative Mind by Ernest Holmes.
MANAGEMENT
Business philosophy: Treat your employees as you'd like to be treated, and always work to improve yourself. Set goals that always allow you to grow your business.

Are you in the franchising, real estate, or customer service business? All three. Customer service is of prime importance because good service is the practice that allows a restaurateur to sustain and grow the business. It is very important that the customer enjoys his visit and returns again and again. Word of mouth is powerful and it can be directed either way.

Management method or style: I am what one calls a working manager, or a hands-on manager. I personally interact with my managers and staff. The benefits are great.

Greatest challenge: Controlling frivolous workers' compensation and other lawsuits that devastate my bottom line.

How close are you to operations? Very close.

How do you hire and fire? I interview and give the applicant the opportunity to reveal his desire to work with us. I use my best judgment to decide, and then I give the individual the opportunity to perform. I discharge when the person does not live up to the standards that I have set. Before any discharge, I insure that we have given the individual ample opportunity to learn and to perform.

How do you train and retain? We teach and follow up, teach and follow up, teach and follow up. We recognize good performance and acknowledge such. We use constructive criticism for improvement and direction. We promote from within. We appreciate good employees and let them know that we do.
BOTTOM LINE
Annual revenue: about $10 million (flat in 2008)
2009 goals: $15 million
Growth meter: How do you measure your growth? By increase in unit sales and by increase in units. I expect to accomplish both in the coming years.

Vision meter: Where do you want to be in 5 years? $20 million
10 years? $50 million

How is this economic cycle affecting you, your employees, and your customers? We are all suffering. I have had my loans withdrawn on two new restaurants after the restaurants were built. I was fortunate enough to have a house that I could refinance to obtain money to complete one of the restaurants and open it. The other one's financing is still not finalized. My employees are suffering from decreases in income because we have been forced to cut back on hours because of double-digit losses in sales. My customers are purchasing less and coming less frequently. We are all negatively affected.

What are you doing differently in this economy? We try to give even better service, but find that hard to do in light of the fact that we have been forced to cut back on payroll.

Where do you find capital for expansion? I am desperately seeking financing right now. I got caught in the middle of the financial shutdown and lost the loans for which I already had commitments.
Published: March 30th, 2009
Share this Feature
Recommended Reading:
Comments:
comments powered by

Disqus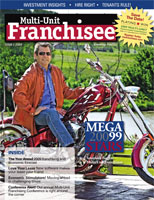 Multi-Unit Franchisee Magazine: Issue 1, 2009
At Twin Peaks, expect to enjoy scratch-made food, sports on TVs from every angle, frosty 29° beers, and the fun and friendly Twin Peaks Girls....
Cash Required:
$2,000,000
Buddy's Home Furnishings is one of the fastest growing rent-to-own franchises in America with a 60+ year legacy of proven success.
Cash Required:
$150,000