Officer on Deck: Captain D's Largest Franchisee has Big Plans!
Chris Benner, along with partners Ed and Tim Stokes, has sailed full-speed ahead into the top spot as Captain D's largest franchisee. Their company, Trident Holdings, signed its first development agreement with the fast-casual seafood brand in 2015, and by the end of their second year had become its largest franchisee. In 2018, the company, which operates 33 Captain D's restaurants in 7 states, was named the brand's Developer of the Year. They have 3 more in development, a deal to develop 10 Grandy's, and are looking for a third brand.
Benner seemed headed for a successful business career early on. "I was hired as a cashier and ice cream server at Baskin-Robbins, and ended up with the keys and closing up the shop when I was just 14 years old," he recalls. At the same time, he also was mowing yards and had two paper routes.
With nearly 30 years of food service management under his belt, Benner primarily handles operations, HR, and development for Trident. Previously he was a general manager and area director at Famous Dave's of America, and in 2001 became director of operations for a Famous Dave's franchisee in Tennessee until 2015, when he teamed up with Ed and Tim Stokes to become Captain D's franchisees.
Benner says his main challenge as a franchisee today is balancing the growth and development of his organization with the growth and development of his people. He's big on giving his area directors the autonomy to make their own decisions at their restaurants. To inspire and motivate both managers and crew, he relies on incentive and recognition programs--everything from cash awards to recognition to paid vacations at the company's condo in Destin, Florida.
The future looks busy for Benner and his partners. In addition to the three Captain D's currently under development, Trident has agreed to develop those 10 Grandy's (which Captain D's acquired in 2011) over the next 5 years. "We are close to getting our first location under development. We have also been searching for another brand that is a good fit for us," he says.
In 5 years, Benner says, he'd like to be at 100 locations with two to three brands and annual revenue topping $100 million. We can't wait to catch up with him a couple of years from now!
Name: Chris Benner
Title: Owner, VP of Operations, HR, and Development
Company: Trident Holdings
Units: 33 Captain D's with 3 under development; 10-store development deal for Grandy's
Age: 49
Family: Married to Tracey for 21 years this October. We have a 20-year-old-son Garrison and a 13-year-old daughter Gracie
Years in franchising: 4.5
Years in current position: 4.5
Personal
First job:
I had three jobs all at the same time in my life. I was hired as a cashier and ice cream server at Baskin-Robbins and ended up with the keys and closing up the shop when I was just 14. I also mowed lawns and had two paper routes at the same time.
Formative influences/events:
I grew up as a missionary kid in the war-torn country of El Salvador in the 1980s. My dad was born into the Great Depression and served in World War II. He became a very wealthy and successful man by his early forties. When he was 50 and I was 5, he sold and gave away everything to become a missionary and spend the last 40 years of his life serving others. His work ethic, patriotism, faith in God, and generosity are the "gold standards" for my own life.
Key accomplishments:
In 1997, I was brought into Famous Dave's of America as the general manager of their 14,000-sq.ft. "BBQ & Blues" big box venue in Minneapolis--a $5 million-a-year operation with a 35 percent alcohol sales mix. I was later promoted to area director for the brand and had four locations in Minneapolis while opening a new location in Vernon Hills, Illinois, a suburb of Chicago. I opened another Illinois location, in Yorktown, and finally moved to Chicago. There, my area included the Famous Dave's BBQ & Blues venue on Clark St. in downtown, along with four locations in surrounding suburbs. In 2001, I left Famous Dave's to join the brand's former senior vice president of operations, who had become a franchisee in Tennessee. I was his director of operations from 2001 until 2015. Then I ventured out on my own as a franchisee for Captain D's along with my two business partners, Tim and Ed Stokes. At Captain D's we became the brand's largest franchisees by the end of our second year, and in 2018 were named Developer of the Year.
Biggest current challenge:
Finding friendly, hardworking folks to join our restaurant teams.
Next big goal:
Reach revenue of $1 million a week.
First turning point in your career:
I was recruited and hired by Brinker International as a manager for its Grady's American Grill concept. It was like making it to the big leagues.
Best business decision:
Joining my partners Tim and Ed Stokes to acquire our first four Captain D's restaurants.
Hardest lesson learned:
I've worked every part of the restaurant business, so my career has had many transitions, from employee to manager to executive, and finally, to owner. With each transition there was a new set of ground rules I needed to learn and adapt to. One of the biggest lessons for me was learning to find the balance between being an effective manager and being someone's friend.
Work week:
24/7.
Exercise/workout:
Jump on the Peloton bike in my office whenever possible and walk 18 holes of golf at least once a week.
Best advice you ever got:
As you move up in status/authority the impact of your actions and words gets magnified exponentially; and the more you move up in status, the more intently everyone is watching and listening.
What's your passion in business?
Growth and creating opportunities for our people.
How do you balance life and work?
I am able to spend quality time with my family and doing things I enjoy by empowering, developing, and trusting our top leaders to make their own decisions and be the CEO of their region.
Guilty pleasure:
Captain D's Giant Fish Sandwich.
Favorite book:
The Bible. It never gets old.
Favorite movie:
"Dances with Wolves."
What do most people not know about you?
That I'm a man of faith, a workaholic, and a golf nut.
Pet peeve:
The use of any profanity anywhere in the workplace.
What did you want to be when you grew up?
FBI agent.
Last vacation:
Hawaii, the island of Maui in June.
Person I'd most like to have lunch with:
My dad. He passed away in 2014 at age 90.
Management
Business philosophy:
"Customers will never love a company until the employees love it first," from Simon Sinek. I believe this a cornerstone for running a business.
Management method or style:
Treat others better than they expect to be treated.
Greatest challenge:
Balancing the growth and development of our organization with the growth and development of our people.
How do others describe you?
Friendly, cheerful, outgoing, upbeat, and energetic.
One thing I'm looking to do better:
People development.
How I give my team room to innovate and experiment:
Our area directors are the CEOs of their regions. They have autonomy to make decisions about their people, about wages, and about maintaining the physical plant for each of their locations. I abstain from giving any of their managers or crew any direction (unless a guest's or employee's experience would suffer). I want them to have 100 percent authority over their regions. I never want them to give away their authority by telling a manager or employee that they have to check with me first before making a decision.
How close are you to operations?
I do not cover or work shifts at our restaurants, but I do visit all of our locations and I am a cheerleader at our restaurants. I listen to our managers and crew, I observe and listen to our guests, and I am engaged in the day-to-day operations in some way, shape, or form 363 days a year. (We are closed on Thanksgiving and Christmas.)
What are the two most important things you rely on from your franchisor?
Great national pricing contracts and compelling limited time offers combined with excellent TV and printed marketing.
What I need from vendors:
We really deal with only one main vendor for 100 percent of our food, paper, and supplies. Timeliness and accuracy of deliveries is what makes us happy customers.
Have you changed your marketing strategy in response to the economy? How?
Not really. We engage in local store marketing regardless of how good or bad the economy is. There are standard practices that we follow for local store marketing. We visit nearby businesses with food samples and coupons, sponsor high school sports and cheerleader squads, and provide awards (free kids meal certificates) for all nearby elementary schools. We offer fundraiser programs for churches that are near our restaurants. We are always an active presence in our communities.
How is social media affecting your business?
We are using social media for recruitment and it has actually been one of our most effective tactics.
How do you hire and fire?
We are very cautious about employee terminations. There's always plenty of documented counseling and attempts to improve behavior. We try to hire for friendliness and character. We can teach people to cashier, cook, and be leaders but we can't teach friendliness and high moral character.
How do you train and retain?
We direct our teams to follow the formalized Captain D's training programs, which are excellent. We retain by paying competitively, and we strive to be very competitive with benefits. Most important, we dedicate tremendous time, energy, and costs toward developing the leadership capabilities of our general managers. Most of the time a retention problem has a direct correlation to a general manager with deficient leadership abilities.
How do you deal with problem employees?
Documented counseling in an attempt to improve behavior and/or performance until we realize that they actually aren't coachable. If someone is simply not coachable, we can't use them on our team.
Fastest way into my doghouse:
Berate, abuse, use sarcasm toward, or humiliate employees.
Bottom Line
Annual revenue:
$34+ million for 2019 (projected).
2019 goals:
Open three new locations. Acquire three or more locations. Secure real estate for our next three new locations to be developed in 2020. Introduce a new development program for our general managers that will elevate their leadership, training, recruitment, and marketing skill sets. Successfully implement new incentive and recognition programs to inspire and motivate our managers and crew. Identify another brand to diversify our holdings.
Growth meter: How do you measure your growth?
We have pretty lofty expectations each year for sales growth. This is because we have grown our sales more than 25 percent each year since we started our organization. This has been accomplished through acquisitions and new store development.
Vision meter: Where do you want to be in 5 years? 10 years?
In 5 years we would like to be at 100 locations across two to three brands with annual revenue well beyond $100 million.
Do you have brands in different segments? Why/why not?
We have agreed to develop 10 Grandy's locations in the next 5 years, which is Captain D's sister brand. We are close to getting our first location under development. We have also been searching for another brand that is a good fit for us.
How is the economy in your regions affecting you, your employees, your customers?
Our employee wages have grown significantly in the past 24 months. We have taken price increases three times in the past 24 months.
Are you experiencing economic growth in your market?
We have locations throughout seven states. However, we would definitely say that there is economic growth in most markets where we have a presence. The economy is strong.
How do changes in the economy affect the way you do business?
A strong economy causes us to have to increase wages and increase prices. A poor economy creates the opposite.
How do you forecast for your business?
I spent years and years working for publicly traded companies that required forecasting and budgets. Every year we were required to forecast sales that we very seldom, if ever, reached. We were still under tremendous pressure to deliver the EBITDA on much less revenue. At Trident, we don't play those games. We basically forecast sales to be flat or just slightly improved. Labor costs increase each year, so we are realistic about that, and food and paper costs are budgeted based on the forecasted pricing our franchisor has communicated for the forthcoming year.
What are the best sources for capital expansion?
Flipping real estate either to REITs or through a broker out into the 1031 market.
Experience with private equity, local banks, national banks, other institutions? Why/why not?
We don't have any experience yet with private equity. Local banks are wonderful partners that do not hit us with all of the ridiculous fees. National banks (Regions and BBVA USA) have been our "go to" partners funding our growth and development. REITs (Store Capital and Essential Properties) have been the biggest sources of capital to fuel our acquisitions.
What are you doing to take care of your employees?
We don't charge for uniforms and our "Shoes for Crews" program allows for the cost of shoes to be paid with payroll deduction, split between two pay periods. We offer a 401(k) with company match and medical benefits with Blue Cross Blue Shield with office co-pays and a reasonable annual deductible. All managers get a free shift meal, and they can also bring their immediate family to dine with them at the restaurant once a week. We offer payday cash advances that are as easy as a couple of clicks on a smartphone app, as well as very competitive pay at every level and a very rewarding bonus plan for management, paid 13 times a year. I personally send handwritten birthday cards with a $50 gift card to every manager in the organization. I also personally send a handwritten thank-you card with a $25 gift card to every manager who is a mom or dad and scheduled to work on Mother's Day and Father's Day. We close early on July 4th, Christmas Eve, and New Year's Eve, and we open later on New Year's Day. Through all of our rapid growth through acquisitions and new store development, we are creating lots of opportunities for advancement and always promote from within the organization.
How are you handling rising employee costs (payroll, minimum wage, healthcare, etc.)?
We are paying more for both wages and healthcare costs. It has been unavoidable. To offset these rising costs, we have had to take price increases and abandon the brand's longtime value proposition of various full meals for just $4.99.
What laws and regulations are affecting your business and how are you dealing with it?
Competition for employees is so fierce now that minimum wage laws are of zero consequence. There really aren't any regulations that are burdensome to our day-to-day operations, but new store development costs are rising tremendously, mostly because of regulations about stormwater.
How do you reward/recognize top-performing employees?
We have a sales contest every period that recognizes our top-selling cashiers. They are partnered with a cook, so if the cashier wins, the cook wins too. We have a "Catch Them Doing Something Right" program, where if a general manager or area director witnesses or is informed about an employee having an above-and-beyond attitude or performance, we reward the manager or employee with a lapel pin they can wear on their uniform. These lapel pins can be saved up and traded in for a gift card to a restaurant or retailer of the employee's choice. We also have a "Friday Night Fights" sales growth contest each week where the store with the greatest same store sales growth in their region each Friday wins a prize for all members of the management team. We have a large silver trophy cup we named the Trident Cup, which is passed around our company from store to store for the best overall performance for the accounting period. The winning stores are engraved onto plaques on the wooden base of the cup. We have an annual Christmas dinner at a very nice sit-down restaurant with our general managers. We have a lot of fun at this dinner and play "Dirty Santa" with Christmas gifts provided by the company. Our main program is our "GM of the Year" program. The two restaurants (one location with annual revenue greater than $1.15 million and another with annual revenue less than $1.15 million) with the best overall performance for the year will win GM of the Year. The two winning GMs are provided with an all-expense paid vacation at the company's luxurious deluxe condo in Destin, Florida. Their supporting cast of managers all split $1,000. We also host an annual pep rally event where awards are presented to GMs for performances like "Most Sales Growth," "Best Guest Satisfaction," "Best 90-Day Employee Turnover," "Best Cash Handling," "Best Health Inspection Average," "Best Profitability," and each area director selects one of their GMs to win their "MVP" award for their region.
What kind of exit strategy do you have in place?
None yet--enjoying what we do too much to think about exiting.
Published: October 18th, 2019
Share this Feature
Recommended Reading:
Comments:
comments powered by

Disqus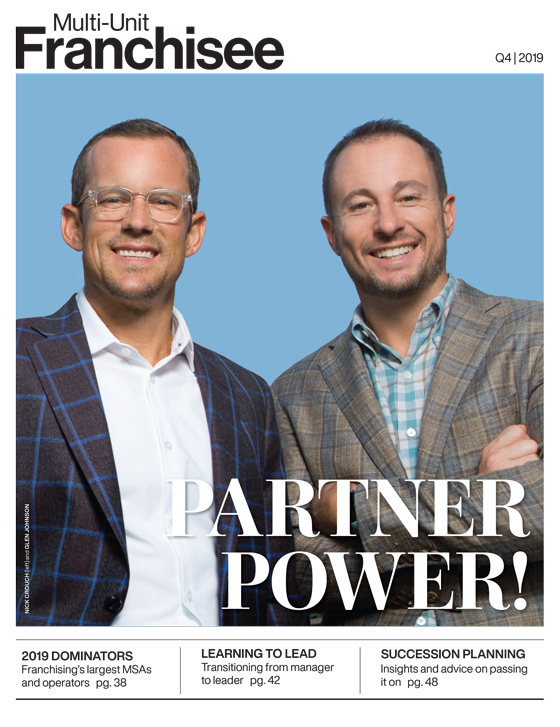 Multi-Unit Franchisee Magazine: Issue 4, 2019
The opportunity to grab a slice of the pie and partner with Perkins Restaurant & Bakery, a tried and true concept, is ready for the taking for...
Cash Required:
$600,000
The Walk-On's Sports Bistreaux delivers authentic Louisiana flavors and a winning guest experience for friends and families alike. With a commitment...
Cash Required:
$500,000