Diversification Rules! Rocketing to Success with 8 Brands
One glance at Robert Wiggins, Jr.'s portfolio and you'll quickly see that diversification is a big part of his business strategy. His Rocket Enterprises organization operates Arby's, Huddle House, Checker's, Pizza Inn, Captain D's, Dick's Wings & Grill, Bubbakoo's Burritos, and Sleep Inn locations throughout the Southeastern U.S. And he has two more units under construction along with development agreements for five more.
After graduating from college, Wiggins learned the ropes of franchising working alongside his father to grow the family business from a single Hardee's franchise to 26. "We sold all but two of those units, and I went into business by myself and began building my own franchise operation," he says.
Wiggins likes to open units in smaller communities like Baxley, Douglas, Hazlelhurst, and Jesup, Georgia. It's something he connects with on a very personal level. "I grew up in, and have always lived in, a small town," he says. "Small communities need gathering places and we try to bring that with our restaurants."
Wiggins says he likes to purchase his own real estate and do his own building, but says restaurant operations is what counts. "If you operate them correctly and take care of your customers, the financial success will follow," he says. "Plus knowing you're satisfying your customers and getting that instant feedback gives you a good feeling."
Today he works alongside his wife and business partner, Pam. They have two sons, Trey, a United States Naval Academy graduate and pilot in the Navy, and Kyle, a Valdosta State University graduate. And he's worked with his operations manager, Shiela Foley, for 35 years.
Wiggins has enjoyed his career in franchising. Next up for him is opening another Bubbakoo's, Arby's, and Captain D's over the next 8 months. One day, when he's ready to hand over the reins, he hopes to keep it all in the family by bringing in his older son to take charge. He says a third generation in the family franchising business has a nice ring to it.
Name: Robert Wiggins, Jr.
Title: Owner/CEO
Company: Rocket Enterprises
Units: 3 Huddle House, 2 Checker's, 2 Dick's Wings & Grill, 1 Captain D's (2 in development), 1 Bubbakoo's Burritos (1 in construction, 2 in development), 1 Arby's (1 under construction, 1 in development), 1 Pizza Inn, 1 Sleep Inn
Age: 59
Family: Wife of 36 years, Pam Wiggins; 2 sons, Trey 35 and Kyle 31; daughter-in-law Alex and 2-year-old granddaughter, Crosby Jean
Years in franchising: 23 Years in current position: 23
Personal
First job:
Picking tomatoes for a local farmer. I received 25 cents per foot tub and usually made about $10 per day.
Formative influences/events:
I grew up in, and have always lived in, a small town. I believe that influenced many of the beliefs and values I have today. I was always taught the importance of hard work and in trying to do my best in all that I attempted. These qualities have stayed with me throughout my life. After I graduated from college, my father and I grew our Hardee's franchise from one unit to 26 units, with me serving as the director of operations. After my father decided to sell the units, I knew it was time to take a chance and start my own franchise. What I thought was devastating turned out to be the beginning of my business career.
Key accomplishments:
My greatest accomplishment in life is my family. My wife has always been supportive and continues to serve as our office manager, doing payroll for all our units. My greatest career accomplishment was building a new business from the ground up after my father sold our 26 unit Hardee's franchise that we had built together. I had a family with two young sons and was completely starting over. With the support of my wife, I built three successful units with the Hardee's franchise before selling out. This allowed me the opportunity to start expanding with other franchises.
Biggest current challenge:
The rising cost of healthcare. Also hiring and retaining qualified, hardworking employees who realize that great customer service is vital for our success.
Next big goal:
Successfully opening one unit each for Bubbakoo's, Arby's, and Captain D's in the next 8 months.
First turning point in your career:
My father selling out our franchise without consulting me and forcing me to start over on my own.
Best business decision:
Selling my three Hardee's franchises and expanding my franchise portfolio.
Hardest lesson learned:
At times what you see as a failure is actually an opportunity for success.
Work week:
Fortunately, I have surrounded myself with great management, but I am still in at least one of our units or at my office six days a week. I try to take off Sundays.
Exercise/workout:
I wake up at 3:30 a.m. five days a week to work out at one of our local gyms. I enjoy doing cardio and weight lifting. I competed in bodybuilding between the ages of 50 and 55. During that time I won Mr. Southern Isles and was second runner-up in the State of Georgia Competition. I plan to compete again next year when I turn 60.
Best advice you ever got:
Never be scared to take a chance.
What's your passion in business?
To always impress our customers and to strive to be the best of the best.
How do you balance life and work?
I try to focus on the people and activities that are most important to me. My priorities in life are "God, Family, Work." God has blessed me in so many ways and I find comfort in worshipping him. One of those blessings is my family, so I make sure to spend quality time with them. Since my wife and I have become "empty nesters" we have started traveling. Our favorite thing to do is spend time with our granddaughter. Of course, none of this would be possible if I didn't set short- and long-term business goals and dedicate the time to accomplishing them.
Guilty pleasure:
Ice cream, cheesecake, and traveling.
Favorite book:
I honestly don't have time to read much so I usually just read business magazines. The one book that I do read is the Bible. I feel it has answers to all of life's questions.
Favorite movie:
"Rocky." I know it's a movie about boxing, but it is also about a man that set his goals, worked hard, overcame tremendous obstacles, and accomplished his dream.
What do most people not know about you?
I met my wife when I hired her at one of our restaurants. She was off for a quarter from college and wanted to work while she was home. Her dad made her quit as soon as we started dating!
Pet peeve:
Employees not recognizing the importance of every customer who walks through our doors.
What did you want to be when you grew up?
A doctor, but after shadowing a doctor for a day I realized it wasn't the career for me!
Last vacation:
A Baltic Sea cruise this past July.
Person I'd most like to have lunch with:
My wife.
Management
Business philosophy:
"Our rewards will always be in exact proportion to our service." (Earl Nightingale) It takes a team to achieve success. A great leader will surround himself with a great team who are motivated to always provide outstanding service and strive to build a better company.
Management method or style:
Our management method is a pyramid style. We start with the CEO to the area manager to the manager to assistant managers to shift leaders to front-line members.
Greatest challenge:
Hiring and retaining qualified managers and employees.
How do others describe you?
Hardworking, driven, energetic, honest, and a risk taker. I also hope they would say I'm fair and compassionate.
One thing I'm looking to do better:
Concentrate more on quality training of management and employees.
How I give my team room to innovate and experiment:
I think it's important to let the managers make day-to-day decisions that will improve their units.
How close are you to operations?
I'm closely involved with all the operations of our units, including the day-to-day operations.
What are the two most important things you rely on from your franchisor?
Product development and training.
What I need from vendors:
Good quality products and on-time delivery.
Have you changed your marketing strategy in response to the economy? How?
Yes. We rely more on social media and digital marketing.
How is social media affecting your business?
I've had to learn to market our products differently and to communicate with customers in new ways. Social media influences the way customers perceive a brand, both in a positive and negative way.
How do you hire and fire?
We look for good communication skills and friendliness. We do our best to promote a positive and healthy work environment. The employee must be willing to be a team player and meet our expectations taught during training.
How do you train and retain?
We use the franchisor mandatory training programs for all employees and reward our employees with incentive raises and bonuses.
How do you deal with problem employees?
The manager is in constant contact with all employees. We use a three-warning concept for problem employees. After the third warning the employee is relieved of their job.
Fastest way into my doghouse:
Inappropriate customer service and stealing.
Bottom Line
Annual revenue:
$11.5 million (2019 goal).
2019 goals:
To increase sales and expand our company. Also to welcome our older son into the business after he leaves the military.
Growth meter: How do you measure your growth?
By unit sales increase over the previous year, not by the number of units added.
Vision meter: Where do you want to be in 5 years? 10 years?
In 5 years I would like to have around 15 restaurants with strong management. In 10 years I hope to have turned over our business to our son and that my wife and I are traveling the world.
Do you have brands in different segments? Why/why not?
Yes, I have fast food, casual dining, pizza, Mexican, and hotels. I feel it's important to always be diversified in your business ventures.
How is the economy in your region affecting you, your employees, your customers?
The economy has had a positive effect on our area. People are spending more and traveling more. We are able to hire more employees at a higher salary.
Are you experiencing economic growth in your market?
Yes.
How do changes in the economy affect the way you do business?
I try to manage labor costs closely.
How do you forecast for your business?
I look back on the same month in the previous year.
Experience with private equity, local banks, national banks, other institutions? Why/why not? I
have always used local banking institutions for building and expansion. It helps our communities, and our working relationships are always more personal.
What are you doing to take care of your employees?
Above-average compensation, paid vacations, performance rewards, and bonus programs. We also promote from within our companies as often as possible.
How are you handling rising employee costs (payroll, minimum wage, healthcare, etc.)?
By cutting fixed expenses and passing the savings to the employees.
How do you reward/recognize top-performing employees?
Quarterly bonus program, a daily text recognizing great performers, and a Manager of the Year Award that is rewarded with a cruise.
What kind of exit strategy do you have in place?
I plan to turn over our operations to my older son within the next 3 to 4 years.
Published: November 8th, 2019
Share this Feature
Recommended Reading:
Comments:
comments powered by

Disqus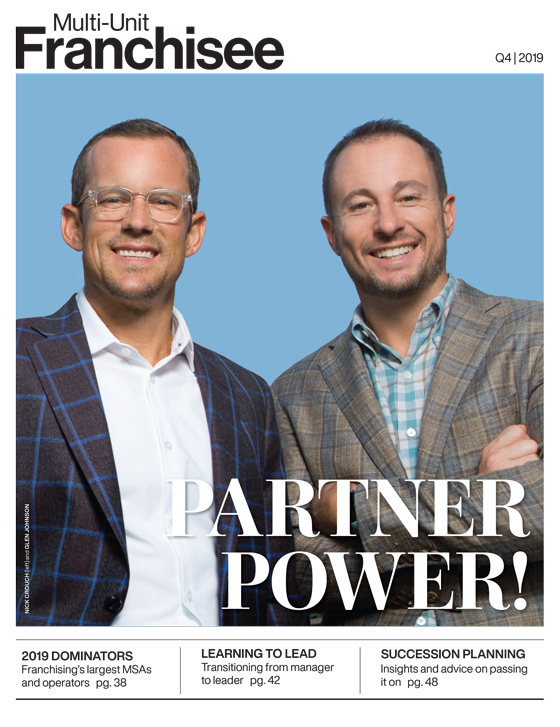 Multi-Unit Franchisee Magazine: Issue 4, 2019
With 500+ restaurants in development worldwide, Wayback Burgers is America's favorite hometown burger joint and one of the world's fastest-growing...
Cash Required:
$250,000
Shakeaway is a unique global company with stores popping up all over the world! Get involved in this fun, fast growing and profitable franchise now...