Cafes To Grow! Targeting 100 Units and $100 Million In Sales
Glen Johnson and Nick Crouch are 30-somethings with 56 Tropical Smoothie Cafes, 30 more under development, 1,400 team members, and a role as area developers--and the brand's largest franchisees.
Though Johnson and Crouch both have been in franchising for 8 years, it was only in 2017 that they merged their interests to form DYNE Hospitality Group. Today, with locations spread across Texas, Arkansas, Oklahoma, Georgia, and Florida, Johnson says they are only halfway to their goal of operating 100 units with more than $100 million in sales.
Crouch is the operations person, and Johnson handles larger projects such as putting deals together, overseeing labor processes and planning for the future. But there's no disputing what they believe are the two most important factors affecting the success of their business: operations and people.
"I love operations," says Crouch, "but ultimately, I have to let our people handle that and be accountable for it." The result, he says, is that employees get to make decisions and grow in confidence and ability, giving him more time for strategic planning and personnel development.
"We hire and develop the best people and empower them to lead and make great decisions," says Crouch. "We try to let our leaders lead, and provide vision and guidance when appropriate," adds Johnson.
Solid operations, dedicated people, and healthy infrastructure will be important as the duo looks ahead. "We want to grow to 75 cafes in the next 24 months," says Johnson. Beyond that, Crouch adds, they are looking to develop another brand or concept. They also are expanding their commercial development company, with a number of construction projects on tap for 2020.
Says Crouch, "Growth and creating opportunity for our team is our #1 priority!"
Names: Glen Johnson, Nick Crouch
Title: Co-CEOs
Company: DYNE Hospitality Group
Units: 56 Tropical Smoothie Cafes with 30 under development; plus 15 in our area developer territory operated by other franchisees
Age: Glen 37, Nick 34
Family:
Glen: wife Kirstin and 3 children, Amelia, Afton, Finn;
Nick: wife Jessica and daughter Isabella
Years in franchising: 8
Years in current position: 8
Personal
First job:
GJ: I painted and sold rocks when I was five for a quarter each. My grandma and her neighbors were my main buyers. Then I sold hot dogs in front of The Home Depot when I got a little older. I was surprised to see how many people bought hot dogs at 8 a.m.
NC: Selling rocks at the end of my driveway when I was five years old.
Formative influences/events:
GJ: I was raised by my mom who had to provide for our family by herself and raise three kids at the same time. I learned from her that by working hard, being creative, having a positive outlook, and focusing on solutions you can get through anything.
NC: I believe that my time spent in the golf industry getting to know some very successful business professionals in my early twenties helped me realize a pattern with all of them: find your passion, understand it, and develop businesses around that passion. When you love what you do every day it never seems like work. I believe that is vital to success in business. You really have to love what you do to be successful.
Key accomplishments:
GJ: My original goal was to have 25 cafes, so that was an exciting number to hit. Several of our team members and I are in leadership positions we have always wanted to have. As we have grown, those have been really exciting accomplishments. I'd also add developing some of our own real estate.
NC: Finding a way to buy my first cafe. My first acquisition started it all for me. I wouldn't have been able to do that without the help from my family. I am extremely grateful for the belief they had in me at a very young age. I had no money and they took a chance on me. I practically lived in that cafe so I would be ready to serve our early morning guests. It was pretty extreme. I always wanted the cafe to look spotless and had a hard time leaving. I would also say a big accomplishment for me was when we surpassed 1,000 team members in the DYNE family. Our mission is to create opportunities for our team. We now have over 1,400 team members, and we are growing every day.
Biggest current challenge:
GJ: Technology can be a challenge at times. Having the right systems in place can make our team more efficient and effective, which can have a big impact on our business. Updating technology is one of our team's main focuses right now.
NC: Rising labor costs and finding the best way to manage that ever-increasing expense through retention, strategic price increases, and cafe-level productivity.
Next big goal:
GJ: Hit the 100 cafe mark. NC: $100 million in sales.
First turning point in your career:
GJ: When I changed my perspective about how to measure success. When I started believing that success should be measured by the opportunities we can create for other people, it allowed me to think differently about business and life.
NC: The first big turning point in my career was when I met Glen Johnson, my business partner. I believe we were meant to build businesses together and we were going to do something really great. He is a very smart guy and I am extremely grateful to learn from him and his approach to life and leadership.
Best business decision:
GJ: Partnering with Henry Investment Group and merging with Nick to form DYNE Hospitality Group.
NC: Deciding to get into franchising. I strongly believe in a systematic approach to business and multiplying something that is working. I think the franchise model is going to continue to grow and be a very attractive and healthy investment. Interest from private equity and other successful investment groups in the franchising space is a testament to the model and the success and returns you can achieve.
Hardest lesson learned:
GJ: Going from six to 24 cafes in three states in two years was very hard to do the right way. I'm glad we scaled quickly, but looking back I put our team through an incredibly demanding two years. I realize we should have invested more on the "people side" ahead of time to make the growth more manageable.
NC: That you cannot do it all yourself. At one point I had 10 cafes open and one person on my G&A corporate team. I handled real estate, operations, marketing, finance, lease negotiation, etc. I was stretching myself too thin and realized it was time to build a solid corporate support team. I was fortunate enough to understand this early enough, but it was certainly a lesson I wish I would have learned even sooner. Building infrastructure ahead of time to support growth is vital to long-term success.
Work week:
GJ: Monday is usually a 14-hour-plus day for me. If I don't do that, I get behind from day one. Tuesday to Friday I try to get home by 6:30 p.m. so I can spend time with family. Saturdays I usually work a half-day and then take Sunday off for church, family, and rest.
NC: I am always connected and available to support our great team. I usually start very early in the morning and work until the job is done. I travel 10-plus days or so each month, so I am usually on the road visiting our cafes across the markets we operate in. I work full days Monday to Friday, usually a half-day Saturday, and take Sunday for church and family activities. Sunday night is the best time to catch up and prepare for the week ahead after my daughter goes to bed.
Exercise/workout:
GJ: Four or five times per week with a mixture of cardio and weightlifting. Working out is a big stress reliever for me and helps me to be a better leader, husband, and father.
NC: I am addicted to Peloton. If I am home, I Peloton every day. If I am traveling, I try to get into the hotel gym for at least 30 minutes at the end of the day. It is a little harder when I am on the road. I try to live by the saying healthy body, healthy mind. I feel my best when I get a good workout in.
Best advice you ever got:
GJ: To focus on the success of other people and not just myself. Once I understood what that meant it made me much more energized and a better leader.
NC: The team you work with is the most important component of a successful business. This is a people business and we have an awesome team here. I feel very lucky. I also got some great advice once to always stay humble, work hard, and treat every day like it's your first day on the job. Remember where you came from.
What's your passion in business?
GJ: I absolutely love what I do. I'm most passionate about the relationships that I have with my team and creating opportunities for people. I also love putting deals together, especially really challenging ones that you think can't get done at first glance.
NC: My passion is creating opportunities for our team. The only way to see our team members' lives improve and provide advancement for them is to keep growing. Growth fuels everything and fulfills our mission which is to "Use our God-given gifts to create opportunities through operational excellence."
How do you balance life and work?
GJ: These are very intertwined for me. I try to prioritize things every week based on what is best for my team, family, and other relationships. I also combine work, life, and family as much as I can. I talk openly with my wife and kids about work, which I think helps with balancing things out because they feel a part of it. My family is very supportive of me and knows how passionate I am about work, so that helps a lot.
NC: We call it a "blend" in our family. We believe that taking care of our businesses and spending time together as a family are both extremely important and necessary. My family supports me in all that I do, and we understand it takes some sacrifice to achieve the goals we would like for our business, team, and family.
Guilty pleasure:
GJ: I love Domino's Handmade Pan black box pizza. Sometimes I want to become a franchisee of Domino's because it's so dang good.
NC: I love snacks. When I am not traveling and at home, after a long day you can usually find me in the pantry eating several different snacks.
Favorite book:
NC: Life Wisdom from Coach Wooden.
Favorite movie:
GJ: "Braveheart." I love this movie because of the passion and sacrifice made for the good of others. It shows how powerful an idea and purpose can be.
NC: I have a hard time sitting through movies, so I don't watch a lot of movies or TV. However, if I had to pick, I would say one of my favorite movies would be "Tin Cup."
What do most people not know about you?
NC: I used to be in the golf industry before getting into franchising. I actually have a second degree in golf complex and operations management and worked at a high-end club in Del Mar, California for a few years. In my early twenties I learned from the very successful members that following a systematic approach to business and being the best at the business you choose to multiply was very attractive to me.
Pet peeve:
GJ: Inefficiency. Whether it's a meeting, process, or some other system. The feeling that I am wasting time is one of the worst feelings for me.
NC: Excuses. Focus on the solution, not the problem.
What did you want to be when you grew up?
GJ: I have always wanted to be a business owner of some type. I think that comes from my parents talking to me about it when I was younger.
NC: Real estate mogul and business owner. I am very thankful I have had a chance to have a career in business and we are starting to develop a portfolio of commercial properties.
Last vacation:
GJ: Costa Rica with my family and some friends.
NC: Atlantis in the Bahamas with my business partner, his family, and mine. It was a great trip.
Person I'd most like to have lunch with:
GJ: Warren Buffet.
NC: John Wooden or President Trump.
Management
Business philosophy:
GJ: You can be successful at almost anything if you have the right people, work ethic, and focus. After you have those things, focusing on the development of yourself and team, giving them the freedom to operate, and always growing to provide more opportunities and maintain a strong culture are the keys to being successful.
NC: Hire the best team you possibly can and trust them. I have learned that not being the smartest person in the room is a great thing, and I am continually learning from the great people I get to work with every day. We try to focus on the mission of our organization, and work hard to continue our growth and provide opportunities for our team.
Management method or style:
GJ: My style is to let our leaders lead, and provide a vision or guidance when appropriate. My job is to hire people who are better and smarter than I am at each role. I give them the freedom to operate and make decisions while holding them accountable to our culture and values.
NC: Hire and develop the best people in the industry and empower them to lead and make great decisions!
Greatest challenge:
GJ: My biggest challenge right now is deciding how quickly to grow and where to get funding from. Deciding what is best over the long term can be a little challenging at times.
How do others describe you?
GJ: I'm described by my team as a hard worker, visionary, strategic thinker, competitive, and motivational.
NC: Highly energetic and meticulous.
One thing I'm looking to do better:
GJ: Learn how to lead daily through our culture and values so it becomes part of our company's DNA.
NC: Let our leaders lead and take on more of the day-to-day operation. I am very hands-on and love operations and all the details of the restaurant business. However, sometimes focusing on the details in our cafes can take me away from the big picture: operational strategy and people development. Both are very important and need a laser focus. I am working on how to approach this as we prepare for more growth, new brands and concepts, and reaching 100 units.
How I give my team room to innovate and experiment:
GJ: Encourage them to come up with new ideas and let them know failure can be part of figuring out the best solution to a problem. I like to ask them to think about what they see as the biggest opportunity that can have an impact on their area of the business.
NC: Everyone has an important voice and is encouraged to speak their mind and bring ideas to the table that can help improve our business. This is a large part of our culture.
How close are you to operations?
GJ: Nick tends to handle cafe operations more closely. I work on larger projects with operations, like a new inventory system, labor processes, and long-term planning.
NC: Extremely close. I'm an operator and love all the details of what makes restaurants successful. I am very hands-on. I like to work the food and smoothie line, help with a catering order when I can, knock out a deep clean for the team, etc. I believe I need to stay connected to cafe operations and continue to perform these roles as often as possible. It gives me real-life experience, which helps me come up with new ideas to improve the work environment for our team and elevate the overall guest experience.
What are the most important things you rely on from your franchisor?
NC: Menu innovation, great national marketing, and brand presence and support, especially in new and emerging markets we are entering. We also look for the brand to use its buying power and help us improve the bottom line.
What I need from vendors:
NC: Timely deliveries, great quality, and competitive prices.
Have you changed your marketing strategy in response to the economy? How?
NC: We have not really changed our marketing strategy. We let
our franchisor focus on national marketing and brand awareness, while we focus on the local level and stay heavily involved with the local schools and churches. We believe in an old-school, beat-the-pavement approach to building business and host many fundraisers and community events in our cafes.
How is social media affecting your business?
NC: We are heavily involved in social media. Our grand opening marketing for new cafes is almost entirely done on social media. You can grow a business and reach a very specific target market quickly through social media.
How do you hire and fire?
GJ: We base all our people decisions on our culture and try to always use it as our guideline. In the hiring process, we are trying to see if someone is a great culture fit and figure out if they have the right attitude. When it comes to letting someone go, we look at ourselves first and ask if we have done everything possible to make this person successful. Before we consider letting someone go, we want to make sure we aren't the real problem.
NC: We always lead with our culture. If we hire with our culture at the forefront of all decisions then we can recruit and retain some great people. We believe in taking chances and investing in our team as much as we possibly can before terminating anyone. If we provide all the coaching necessary but the team member just doesn't fit our culture, then it makes it hard for them to work for us.
How do you train and retain?
NC: Training is done on the cafe level through the franchisor training programs. We have also developed some great internal training programs for our cafe-level leaders and multi-unit field leadership support teams.
How do you deal with problem employees?
GJ: We try to get to the root cause of what the real issue is. If it is something we can help them through by investing in them, we will go to great lengths to do that. If the real issue is something we can't help with or that they don't want the help we can provide, then there is no path forward.
NC: We do everything we can to invest the time and energy into seeing one of our team members be successful. If they just don't fit our culture and don't have the attitude necessary to succeed, then unfortunately we find it isn't a fit on both sides.
Fastest way into my doghouse:
GJ: Not hitting important deadlines.
NC: Excuses. Focus on the solution.
Bottom Line
Annual revenue:
NA.
2020 goals:
GJ: Hit the 75-cafe mark in next 24 months.
NC: Get to 75-plus Tropical Smoothie Cafes, develop another brand or concept, and strong YOY comp sales growth. We also have big goals for our team and look forward to more promotions and success stories. In addition, we are expanding our commercial development company, DYNE Development, and will have several projects under construction in 2020.
Growth meter: How do you measure your growth?
NC: By unit count, comp sales growth, average ticket/transaction growth, AUV growth, etc. Most importantly, we measure our growth by the opportunities we have created for our team. Growth fuels opportunity.
Vision meter: Where do you want to be in 5 years? 10 years?
GJ: Over the next 10 years, we want to create a very strong brand of our own. We want to take what we have learned growing to 100 cafes within our current brand and implement it elsewhere. We have a desire to never stop growing and always be creating more opportunities for people. Ten years from now I think we will be known for our relentless pursuit of that.
NC: I would like our company to be known as a leader in the industry and premier working environment. I would like to continue to instill how important our culture is in our existing new team members. We will have quite a few more Tropical Smoothie Cafe locations, additional brands/concepts, and a substantial commercial real estate portfolio over the next 5 and 10 years.
Do you have brands in different segments? Why/why not?
GJ: We do not right now but that will probably change over the next few years. Right now, there is a tremendous opportunity with Tropical Smoothie Cafe, and we are solely focused on taking advantage of that. Once we get to a point where we have the capital and bandwidth to consider other options, we will.
NC: We only own and operate Tropical Smoothie Cafes at this time. We just started discussing what is next and what additional concepts/brands we might add and start to develop.
How is the economy in your regions affecting you, your employees, your customers?
GJ: Overall, we have growth in all our markets but are doing better in some areas where the local economy is stronger. Our transactions are up, average check is up, and employee wages are up as a percentage of sales. So that makes me think consumers are doing well and spending more. At the same time, our team is making more because of increases in wages, so they are doing better as well.
NC: I would say that we are very blessed in that we have had continued growth and success, not only through organic development or acquisitions, but also same-store comp sales growth, which has been strong over the past several years.
Are you experiencing economic growth in your market?
NC: Yes! Some of our cafes are in very strong growth markets and continue to grow by double digits year over year.
How do changes in the economy affect the way you do business?
GJ: We have had to be very creative on the real estate side of the business because of rent and construction cost increases. Cost have gone up across the board, so we have to look for creative ways to get deals done. It hasn't stopped us from growing, though.
NC: We don't really change our approach. Our goal is to provide a great experience for our guests in a clean, well-organized and efficiently run cafe. We want to be as consistent as possible and ensure that our guests have a great visit each time they dine with us, and hopefully they will tell their friends and family to try us as well.
How do you forecast for your business?
NC: We forecast yearly and adjust when necessary. We have also started budgeting and reviewing monthly with our CFO, general managers, and district managers. Our CFO takes a lot of time to explain budgets versus actual with each district and help our cafe-level leaders understand the budget and financials.
What are the best sources for capital expansion?
GJ: Right now, our primary source of funding is a local bank that has been with us since day one and cash flow from operations. We are looking at different options, but those two sources have worked great for us so far.
NC: We currently work with a local bank and have a relationship that has been great. We are very thankful for their partnership. That being said, we have explored all forms of capital for our growth but have decided to stick with our local relationship. It makes the most sense for us right now.
How are you handling rising employee costs (payroll, minimum wage, healthcare, etc.)?
NC: We do the best we can. Managing rising labor costs and productivity is the number-one challenge in our business. We believe that growing sales and average unit volume is most important. If we can do that then we can pay well and afford to retain great talent. We also strategically evaluate pricing when it makes sense for us and the brand.
Experience with private equity, local banks, national banks, other institutions? Why/why not?
GJ: Before our merger, I did a deal with a family office back in 2014 that really catapulted our growth. One benefit to being backed by private equity or a family office is it can give you credibility with lenders. I think it would be much harder for us to get the terms we have received with lenders if we didn't have a really strong financial partner. It can reduce your equity up front, but create more value in the long term. It really is a case-by-case situation.
What are you doing to take care of your employees?
GJ: We focus on creating as many opportunities for advancement as possible, having a great culture, and creative benefits. Focusing on promoting from within and investing in our team are priorities for us. We want our team to know if they stick with us there is a career path for them because we will never stop growing.
How do you reward/recognize top-performing employees?
NC: We try to compensate above industry average and have a substantial bonus program. We have recently added some new and unique benefits. One of our unique recognition programs is that our Top General Manager of the Quarter gets to drive a Tesla for three months! We just presented and surprised our first recipient with the Tesla in Q2 2019. It was an incredible moment and extremely exciting for our team.
What kind of exit strategy do you have in place?
GJ: We have no exit strategy right now. We are asking ourselves how do we grow quicker, faster, and better? I don't think that will change any time soon. NC: We are operators. We are just getting started and have no plans of any exit any time soon. Growth and creating opportunity for our team is our #1 priority!
Published: October 4th, 2019
Share this Feature
Recommended Reading:
Comments:
comments powered by

Disqus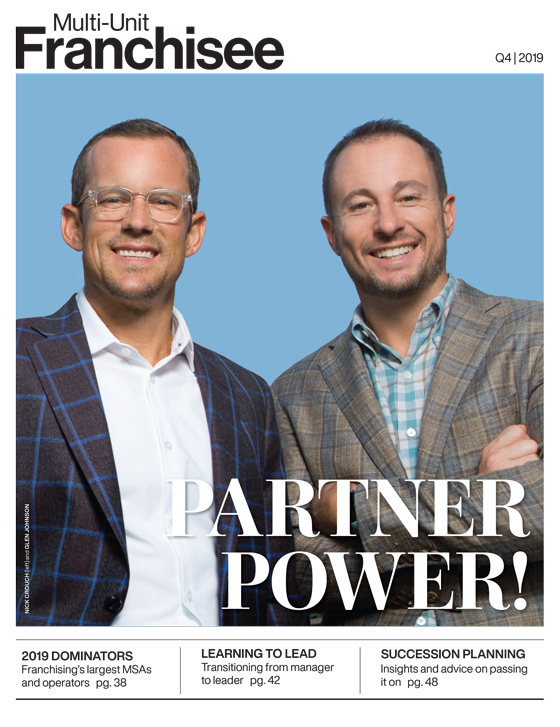 Multi-Unit Franchisee Magazine: Issue 4, 2019
Own a rewarding business and help children develop skills for life with The Little Gym, the world's largest children's motor skill development...
Cash Required:
$100,000
At Celebree School, our child care franchise delivers a safe, nurturing, friendly, state-of-the-art learning environment that fosters a solid...
Cash Required:
$250,000