Online Hiring 2.0: Using Social Media to Find Employees
As is always the case, I learned a lot at the annual Multi-Unit Franchising Conference this year. Most interestingly, while more and more franchisees are using social media to connect with existing customers and attract new ones, more than 90 percent of those I polled are not using these tools to also connect with present and/or potential employees. If you are part of this non-users group, I think I understand why.
First, there's no sense of urgency. Employee turnover is low and there's an overwhelming response to every job opening that does occur. Secondarily, many feel they do not have the time to learn how to use and manage these yet-to-be-proven digital tools. I suspect some reluctance may also be the normal, human aversion to change and perhaps a bit of technophobia.
Remember when you just put out the "Now Hiring" sign, placed a newspaper ad, and took applications? These tools opened your doors to a small percentage of the workforce--mostly unemployed people actively looking for jobs. That was the world before the web.
Then along came the Internet, the infrastructure for the World Wide Web, version 1.0. Users interacted with static web pages, but didn't really communicate through them. Job openings were on websites, but few accepted online applications. Onsite application kiosks, email, and online bulletin board systems opened new doors for recruiting. Snagajob, Monster, and CareerBuilder connected employers and job seekers, but during Web 1.0 far fewer people were online.
Web 2.0 describes today's environment, where user-centric applications facilitate information sharing, collaboration, and portable mobile technology. Now, the doors to your business can be open to everyone everywhere 24/7.
In Web 2.0, Craigslist is the new newspaper, and almost everyone can avail themselves of services like Monster. Even one-person operations have websites, and almost all employers use their sites to post job openings and accept applications. Aggregators, like Indeed, crawl all online job sources to create a "one-stop shop" for job seekers. However, these doors are still seen by only a small percentage of the labor pool--those actively seeking work.
The good news is that spreading your recruiting message is now significantly easier because social networks can connect you to the broader labor pool--all the good people who are already working.
According to the Pew Research Center, 65 percent of adult Internet users are members of and regularly visit social networking sites like Facebook, Twitter, and LinkedIn. These sites open your doors to higher-quality applicants because your social network connections are the people who know your company best: employees, customers, community members, and vendors. When they rebroadcast your job openings to their friends, they are recommending you as an employer. By building your social network presence, you can collect a large following of "virtual recruiters." Here are some things you can do to get started:
Invite applicants to your virtual front door. Your website should let potential employees learn about your company, job openings, and the best ways to apply. Later on, when you activate your social recruitment networks, this is where you will send them.
Make it easy to apply online. Many employers make the mistake of over-complicating the process. They require applicants to enter their entire history one item a time. No one enjoys filling out laborious forms, and passive jobseekers (working, but open to a change) won't take the time. Make it easy by accepting their existing resume/application and cover letter by email.
Use Craigslist to find local talent. Craigslist has to be the simplest site out there. It serves all major and most minor population areas on the planet so you can target job applicants in your city or town.
Get on Facebook and/or Twitter. By having a presence on each, chances are you'll connect to a fair number of customers, employees, and vendors. Here's a quick-start guide for joining the "big two":

Facebook: Facebook treats individuals and organizations slightly differently. Individuals build profiles that focus on lifestyle, and their networks consist of "friends." Business profiles are less personal and build their networks by asking people to "like" them. When an individual user "likes" your business, Facebook tells their friends by posting it on the user's "wall." Depending on how each user sets up their profile, the first user's "like" may also automatically post to their friends' walls as well. These wall posts and "likes" drive more traffic to your business profile.

When you create an account, the main setup page is designed for individual users. Near the bottom, you'll find: "Create a Page for a celebrity, band, or business." Just click the link and follow the instructions. Then search for employees, customers, and other people you know and ask them to "like" your business. Upload some pictures and add new content a couple of times a week to build interest.
Twitter: Twitter is a little more business-savvy. They offer a 20-page "Guide to Twitter for Small Business" to get you started. Twitter has a simpler interface, with individual users and organizations treated the same. After your Twitter presence is built, you'll post "tweets." When another user "follows" you, they automatically receive all your tweets. Twitter uses symbols to keep messages short: "@" identifies a specific user. For example, I am "@MelKleiman." Hash tags (#) place tweets in categories. For example, a tweet containing "#jobs" is automatically placed in the "#jobs" category. A user who clicks "#jobs" in any tweet is taken to a page listing other tweets with the same hash tag where they'll find other users with similar interests.
To set up your account, visit the setup page, enter your information and pick a descriptive user name. Then take the 60-second tutorial. Post a few tweets each week to build your profile. If you choose to link tweets back to your website employment page, you'll quickly use a tweet's 140-character limit. To make tweeting easier, go to TinyURL to create a permanent short link to your website.
Using social networks to promote your company as a great place to work will also promote it as a great place to do business. Both will help you build your bottom line!
For an in-depth (yet easy-to-follow) guide to using and managing the many different Web 2.0 door-opening tools available in addition to Facebook and Twitter, email lhamel@humetrics.com with "Social Media" in the subject line. Normally a $50 value, complimentary copies are being made available exclusively to Multi-Unit Franchisee readers.
---
Mel Kleiman is a speaker, consultant, and author on strategies for hiring and retaining the best hourly employees and their managers. He is one of only 650 speakers worldwide to have earned the Certified Speaking Professional designation and is president of Humetrics, a leading developer of systems and tools for recruiting, selection, and retention. He has written five books, including The 5 Firsts: A Simple System To Onboard and Engage Top Talent, and he publishes a regular blog. Find him at 713-771-4401 or at mkleiman@humetrics.com, www.Humetrics.com, and www.KleimanHR.com.
Published: September 7th, 2012
Share this Feature
Recommended Reading:
Comments:
comments powered by

Disqus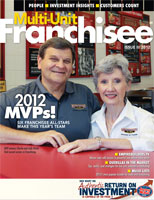 Multi-Unit Franchisee Magazine: Issue 3, 2012
Signage has never been more important. Right now, businesses are looking for new and better ways to compete.
Cash Required:
$80,000
Founded in 2011 in Tokyo, RAKKAN Ramen specializes in authentic Japanese ramen made with a 100% plant-based broth. With a wide range of conventional...
Cash Required:
$200,000