Passionate for Management: Building an Empire with Two Disruptive Brands
Fast-growing ZIPS Dry Cleaners often draws comparisons to Planet Fitness for shaking up an industry with a same-day, one-price model. For Joe Bernatowicz, it's about winning propositions as he gears up for rapid expansion--with both brands.
Bernatowicz is the operating partner of two companies: So Cal PF with11 Planet Fitness gyms; and ZDRY LLC, whose partners own two ZIPS Dry Cleaners, with an ambitious plan to develop 108 more stores over the next 15 years. Yes, 108.
"Our expansion plans are focused on Southern California for both models," says Bernatowicz. "We have five Planet Fitness units planned for opening in 2018, with several more in the pipeline. Our goal is to get to 25 units by 2021. We just opened our second ZIPS location and have a third lease signed. We're focused on developing our infrastructure this year and start aggressively rolling out new stores in 2019."
For Bernatowicz, who grew up in Bucks County, Pa., sports and fitness have played a huge role his life. He earned an NCAA Division 1 scholarship to play football at Ohio University. But when his father got sick, he transferred and graduated from the local state school, West Chester University. His first brush with the business of fitness was as a personal trainer with LA Fitness.
"I loved the social aspect of developing relationships with my clients," Bernatowicz says. "I was promoted to a fitness director of a club within six months, which is where I discovered my passion for managing other people."
Bernatowicz almost didn't pursue this passion. He bounced around jobs, unsure if fitness was the right fit for a secure and stable income--until he discovered Planet Fitness, a concept founded in 1992 that began franchising in 2003. He was intrigued by how the brand was bringing fitness to the masses with affordable, hassle-free prices in a non-intimidating environment that the brand trademarked as the Judgment Free Zone.
"Planet Fitness was unlike anything I had ever heard of," says Bernatowicz, who became a general manager of a Planet Fitness in Malvern, Pa., and never looked back. He learned the Planet Fitness world from the ground up by helping the franchisee develop and oversee 11 gyms in eastern Pennsylvania over a four-year period. When offered the chance to open the first Planet Fitness in Los Angeles, he jumped at the opportunity.
His decision to sign with the brand, now one of the largest and fastest-growing fitness center franchisors, paid off. The success of the first location in Inglewood in 2012 was followed quickly by a second in Covina and led to an area development agreement to open an additional 14 Planet Fitness gyms in the Los Angeles area.
With a solid infrastructure in place to oversee the Planet Fitness model, the partners set their sights on a new investment, ZIPS Dry Cleaning, and are committed to opening those additional 108 ZIPS locations throughout Southern California.
"The ZIPS model was appealing because of the disruptive price point in an antiquated and very segmented industry," Bernatowicz says. "We saw a unique opportunity to develop a brand in an industry that didn't have a brand leader. In addition, we like ZIPS' commitment to innovation and continuing to improve the model."
For Bernatowicz, who moved across the country to pursue his dream, growing his business in California has been extremely gratifying. "I don't think there is anything more satisfying in business than providing others with opportunity," he says. "We've been extremely fortunate to surround ourselves with like-minded individuals who are motivated to be a part of something. I'm excited for the future of our organization and what's to come. This is just the beginning for us."
Name: Joe Bernatowicz
Title: Operating partner
Company: So Cal PF and ZDRY, LLC
No. of units: 11 Planet Fitness, 2 ZIPS Dry Cleaners
Age: 35
Family: Wife Amy, son Jackson
Years in franchising: 6
Years in current position: 6
Personal
First job:
Grocery bagger at a McCaffrey's supermarket.
Formative influences/events:
I was involved in multiple team sports in high school and college. I learned the importance of hard work, accountability, and how to thrive in a team setting.
Key accomplishments:
My biggest accomplishment is my family. I have an amazing wife who has been incredibly supportive. And being a father to my 3-year-old son Jackson has made me more proud than I ever thought possible.
Biggest current challenge:
Work/life balance. Being part of two brands that we're trying to scale rapidly requires a lot of time, and sometimes it's difficult to shut down when I'm home with my family.
Next big goal:
Planet Fitness has been very successful in creating brand awareness and becoming the industry leader. My goal is to help ZIPS get to that level of brand awareness, where it becomes a household name.
First turning point in your career:
I was working in sales and quit my job to become a general manager of a Planet Fitness. This gave me the opportunity to learn the business inside and out, which provided me with the opportunity of becoming a franchisee.
Best business decision:
I took the risk and moved from Pennsylvania to Los Angeles to open our first Planet Fitness.
Hardest lesson learned:
It was challenging for me delegate responsibilities as a new manager. I quickly learned that delegating is a necessary skill in order to operate efficiently, especially when trying to grow a business.
Work week:
I'm kind of always on, but I try to get to the stores and gyms at least two days a week. The other days I'm either at our office or working from home.
Exercise/workout:
I try to get to the gym four or five times a week, with an emphasis on weight training, core stability, and high-intensity interval training.
Best advice you ever got:
When I first started as a general manager with Planet Fitness, the owner was adamant that we "stick to the franchise model." I firmly believe that advice has helped me become a successful multi-unit franchise operator.
What's your passion in business?
I'm very passionate about putting the time into hiring, training, and building an infrastructure that can handle scaling the model, while still delivering a superior product with a high level of customer service.
How do you balance life and work?
Still trying to figure that out, but my 3-year-old son keeps me in the moment when I'm home.
Guilty pleasure:
Pizza and wine on Sunday nights.
Favorite book:
The Pillars of the Earth by Ken Follett.
Favorite movie:
"Indiana Jones and the Raiders of the Lost Ark."
What do most people not know about you?
Most are very surprised that I don't participate in any type of social media on a personal level.
Pet peeve:
When people don't take accountability for their actions.
What did you want to be when you grew up?
A professional athlete.
Last vacation:
Family trip to Dewey Beach, Delaware for a family reunion.
Person I'd most like to have lunch with:
Michael Jordan.
Management
Business philosophy:
Business is all about creating and maintaining relationships.
Management method or style:
I have a very systematic approach to management. We have a set system or procedure for any situation a team member will encounter. I feel our employees thrive in an atmosphere where they understand the standards and expectations. This allows us to be accountable at all levels of our organization, as well as deliver a consistent product to our customers at all of our units.
Greatest challenge:
Hiring and developing staff.
How do others describe you?
Passionate and persistent.
One thing I'm looking to do better:
I'm always looking to improve in all aspects, but one goal of mine is to be less impulsive with some of my decisions.
How I give my team room to innovate and experiment:
We try to create an environment where our employees are encouraged to make decisions and think outside of the box. We're constantly asking our management team for ways we can operate more efficiently, and they're provided with the freedom to pursue their ideas with our support.
How close are you to operations?
In both of the models I'm involved in, I have an individual who oversees the operations. They keep me apprised of the key points of interest at each unit on a daily basis.
What are the two most important things you rely on from your franchisor?
Innovation in order keep up with industry trends, and marketing support from both a local and a national level.
What I need from vendors:
Competitive pricing, reliability, and I want them to care.
Have you changed your marketing strategy in response to the economy? How?
Yes, but not necessarily because of the economy. People are becoming more dependent on their mobile devices, so we have allocated more of our marketing spend toward digital. Our business model at both brands is based on value and being a market disruptor, which works well in any economic climate.
How is social media affecting your business?
Social media has become a huge part of our business. It allows us to reach our customers on multiple platforms through different marketing tactics as well general messaging. Social media also allows us to connect with our customer base to garner feedback, whether positive or negative.
How do you hire and fire?
It depends on what position we're hiring for. If it's an entry-level customer service representative, we typically conduct three interviews to ensure consistency. With regard to management positions, we always look to hire from within. We have found that this motivates employees and increases retention. With regard to terminations, we follow a progressive discipline schedule unless it's deemed gross misconduct.
How do you train and retain?
Our team puts a huge emphasis on training. We have a strict training schedule for all new hires that has sign-offs after each new skill is learned. Additionally, we have developed a certified training club that we use to train new managers and retrain current managers. We also hold quarterly workshops with our whole management team.
How do you deal with problem employees?
California is a very employee-friendly state. We're very careful with giving a "problem employee" the opportunity to improve through communication with our HR department and progressive discipline. However, operating the business is the priority, and once that has the potential to be compromised we look to separate from that employee.
Fastest way into my doghouse:
Make the same mistake twice.
Bottom Line
Annual revenue:
$30 million.
2018 goals:
Open more units than we did in 2017.
Growth meter: How do you measure your growth?
Reviewing our same store sales on a monthly and quarterly basis.
Vision meter: Where do you want to be in 5 years? 10 years?
I want to expand our territory in each brand and build our organization to where we're operating in multiple states.
How is the economy in your region affecting you, your employees, your customers?
Because of the competitive pricing and the value each brand provides, the economy doesn't affect us positively or negatively. However, the minimum wage increase has certainly affected the way we operate. We're focusing on different ways we can increase our operational efficiencies to deal with increasing labor costs.
Are you experiencing economic growth in your market?
Yes, the Los Angeles market is certainly experiencing a lot of growth. Rents are increasing, build-outs are more expensive, and we have low-cost competitors coming into our market.
How do changes in the economy affect the way you do business?
It hasn't had a major impact. We certainly have dedicated more time to real estate, being that it's more expensive. Some brick-and-mortar retailers are struggling, which provides opportunity for competition to come into our market. We're also more diligent about competitively bidding each new build-out.
What are the best sources for capital expansion?
We have had a lot of success with private investors.
Experience with private equity, local banks, national banks, other institutions? Why/why not?
We haven't worked with private equity to this point. We have used a variety of sources to capitalize our business. As the financial landscape shifts, I'm sure it will provide some different opportunities.
What are you doing to take care of your employees?
We try to be very involved with our team. Twice a year we take our company to an outing. Last year we did Six Flags and Disney Land. Our wages are also very competitive and we offer 100 percent healthcare coverage to our management team.
How are you handling rising employee costs (payroll, minimum wage, healthcare, etc.)?
We're looking into different opportunities to operate more efficiently, but it's a delicate balance because it cannot affect the product you're delivering to the customer.
How do you reward/recognize top-performing employees?
We promote from within so top-performing employees have the opportunity to move up in our company. We also reward team members with gift cards for performing well on mystery shops and receiving positive feedback on social media. Additionally, we have our managers post newsletters internally on a monthly basis where they can call out any top performers.
What kind of exit strategy do you have in place?
We're in growth mode right now and haven't seriously thought about our exit strategy. We're focused on growing each brand the right way.
Published: July 12th, 2018
Share this Feature
Recommended Reading:
Comments:
comments powered by

Disqus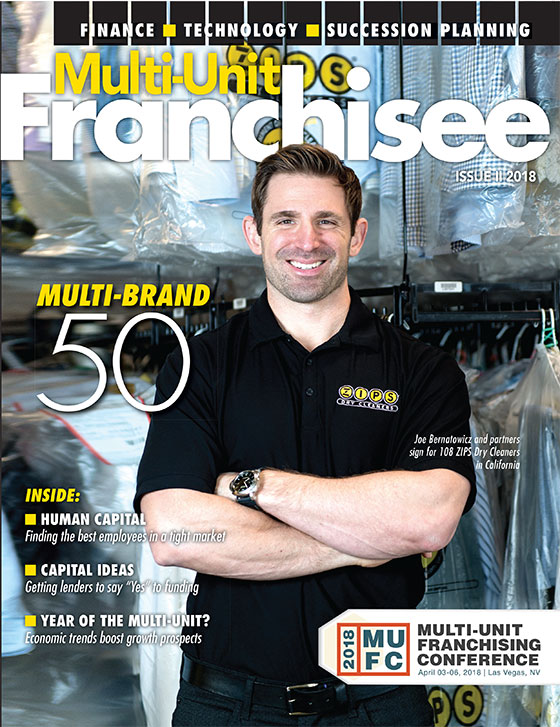 Multi-Unit Franchisee Magazine: Issue 2, 2018
Invest in a legacy brand with 40 years of experience serving up crave-able food in a fun environment. Here's all you need to know
Cash Required:
$1,500,000
Another Broken Egg is an upscale breakfast, brunch and lunch restaurant that specializes in Southern-inspired menu options and signature cocktails....
Cash Required:
$250,000