Proven Results: Hard Work and Dedication Really Do Pay Off
It took Eric Danver only 5 years to become the largest Hand & Stone Massage and Facial Spa franchisee in the system. In that time he grew to 16 units, more than 400 employees, and nearly $20 million in annual revenue. But that's not all. He also oversaw a Papa John's portfolio that reached 53 units at its peak before slimming back to a still-healthy 18 units today. It's all the result of a work ethic that has been part of his life since he was young.
"I started out at 12 or so with paper routes, and by the time I was 14 I was doing some summertime farm labor until I was 16, when I was able to get a 'real' job as a dishwasher," says the 57-year-old.
Danver, who's been in franchising for 25 years, began as an operating partner for a Papa John's franchisee. It didn't take him long to become a full partner. He says that was a real turning point in his career. "I earned a little equity early in the business and proved myself," he says. "The success we had resulted in me becoming a partner."
Until about 7 years ago, Papa John's was his sole business focus. That was when he discovered Hand & Stone. He began as a client who liked what he saw, then did further research, met with corporate leadership, including CEO Todd Leff, and decided he wanted to be part of the brand. Another bonus to operating Hand & Stone came later: his three youngest children have become part of the business.
"Each of them worked their way up all the way from working at the front desk to becoming regional managers," he says. "I've loved watching them grow into great leaders."
Today Danver is primarily focused on expanding the Hand & Stone portion of his business and wants to expand to 50 units in the next 5 years. To do that, he has plans lined up that may include dipping his toe into the private equity pool for the first time. This year he's looking to acquire another 8 to 10 Hand & Stone spas. "We have two under our belt, so we're on our way."
Name: Eric Danver
Title: Founder & CEO, FGG Spa (Hand & Stone); President & COO, PJPA (Papa John's)
Company: FGG Spa, PJPA
No. of units: 16 Hand & Stone Massage and Facial Spa, 18 Papa John's
Age: 57
Family: Wife Rosemarie, married 32 years; children Eric, Darielle, Zach, and Katie
Years in franchising: 25
Years in current position: See below
Personal
First job:
I have always been a worker. I started out at 12 or so with paper routes, and by the time I was 14 I was doing some summertime farm labor until I was 16, when I was able to get a "real" job as a dishwasher.
Formative influences/events:
My parents, wife, and faith have been, and remain, my biggest influencers.
Key accomplishments:
Two of the biggest would be building the Hand & Stone business to 16 units in 5 years and becoming the largest franchisee in the system. We will do over $20 million in revenue this year and employ more than 400 people. Second, I would say is our Papa John's business. At our peak, we owned and operated 53 and were doing over $40 million in revenue and employing more than 1,100 team members.
Biggest current challenge:
Finding and retaining the right people. If you ask anyone in business today what their biggest challenge is, I believe most, if not all, would say it is people and surrounding yourself with the right team.
Next big goal:
I really love Hand & Stone and want to continue to grow that business. We want to be at 50 units in the next 5 years.
First turning point in your career:
When I was given the opportunity to be an operating partner and getting a piece of equity with my partners--that was a big turning point. Over time, once my two partners saw my work ethic and the success we were having, we became full partners and have remained close and are still in business together 25 years later. The other big one would be becoming a Hand & Stone franchisee. I see tremendous opportunity with the brand and am excited to keep growing it in the years ahead.
Best business decision:
Franchising Hand & Stone. I was a client for a couple of years and really liked everything I could see about the business. My wife told me that she thought it would be a great concept to get into. I did a lot of due diligence and met with some competitors. But meeting the corporate team at Hand & Stone, including CEO Todd Leff, I felt they were going to be the clear winner in the category.
Hardest lesson learned:
In the early days, it was probably learning you can't do everything yourself. You have to surround yourself with great people. You reach a point at which you need to rely on people to make good business decisions for you. Every entrepreneur likes to have control, but you need to empower people to be successful.
Work week:
I'm up early at 5 o'clock or so and like to get a lot done in the morning. One of the great things about being an entrepreneur is dictating my schedule. My family would say I'm a workaholic, but I certainly work hard to find a balance as my family is very important to me. My parents are still alive, I have a wonderful relationship with my wife, and we just welcomed our first grandchild (with a second on the way!), so family is extremely important. I work for 5 hours or so and then hit the gym for an hour or so. Afterwards, I'll put in a few more hours of work. And depending on the week and family schedule, I also get some things done in the evening. I also like to get out to our spas and stores as I really love seeing our people. I love it. I really love what I do, and I hope this always shows.
Exercise/workout:
I'm an avid cyclist and like to ride five days a week or so. It's a good break in the day.
Best advice you ever got:
My father told me to enjoy your children when they're young. It's so true. Life accelerates faster and faster the older you get, so it's important to cherish every moment.
What's your passion in business?
I consider myself a people person and love to see young people take advantage of the opportunities we're able to provide them. It's just so awesome to see a young person join our team and work their way up to become an assistant manager, manager, and then regional and beyond. I have also had a few guys go on and become franchisees themselves, which is just so cool to see them fulfill their dreams. The other big one for me is having my three youngest children involved in the Hand & Stone business and watching them grow into great leaders. All of them started at the bottom helping at the front desk for years and have worked their way up to becoming regional managers.
How do you balance life and work?
I think it's important to have balance and try to maintain that while spending enough time with my people so they know I care about and value their work. When my kids were growing up, I could go to sporting events and go back to work. I've been blessed to make my own schedule. That's why I like working for myself.
Guilty pleasure:
I would say I have a pretty good sweet tooth!
Favorite book:
The Bible.
Favorite movie:
"One Flew Over the Cuckoo's Nest,", "Rocky," and "The Deer Hunter."
What do most people not know about you?
I've got a rough exterior since I'm pretty no-nonsense, so people might not know how sensitive I really am.
Pet peeve:
Lazy people who don't care. People who don't try. I always say that I love a trier. My biggest pet peeve is people with the intellect and skill set to succeed who just don't put their best foot forward.
What did you want to be when you grew up?
Like every kid, I wanted to be a cop or fireman. After that, I played hockey so had dreams of that, but never really had the skill set to do it professionally. I was always a hard worker and liked a good challenge, but didn't have a clue until I came into it later in life.
Last vacation:
Skiing in Colorado a couple of weeks ago.
Person I'd most like to have lunch with:
Wayne Gretzky. He has always struck me as a very humble, good family guy who was just such an amazing hockey player and I think beyond anything we've ever seen in the game of hockey.
Management
Business philosophy:
Clients and customers are #1. We talk a lot about setting ourselves apart from other businesses with a world-class customer experience, and that is key. Every day, every one of our people needs to take care of our clients and make sure they know that we appreciate their business, and that without them we wouldn't be here. It's about taking care of your guests.
Management method or style:
I really like the coaching model. I really believe it is our job as leaders to get the most out of our team and show them what they can accomplish when they work hard, stay focused, and really try their best. I'm also a big believer in accountability. We like to analyze a lot of data but not get frozen in this. I heard a long time ago, "What gets measured gets done," and it is so true. We also believe in total transparency. We share income statements with all our managers. We want them to understand and grow, to understand P&Ls, and really understand how everything is top-line related, and that the more revenue we have, the more opportunity there is for them.
Greatest challenge:
People. You need to have enough people trying to take great care of your customers, but the right people too. If we have a happy staff who feels that we care, they're going to take care of our customers and clients.
How do others describe you?
I would hope a good leader, a firm, fair, caring individual. Those are the attributes I'd hope they'd say. But that probably depends on the day. (Laughs.)
One thing I'm looking to do better:
I try to get better every day and keep learning. It's constantly doing the gut check of asking myself, "What can I do to get better?" and really being honest with my assessment of how I am as a leader.
How I give my team room to innovate and experiment:
With Hand & Stone and Papa John's, we give our managers the ability to control their business. Obviously, as a franchisee we have systems and want to stick with them, but we really try to incorporate the entrepreneurial spirit and want our managers to make decisions. If it is a major one we want to be included, but we want and allow them to make a lot of the daily decisions to run the business. We always say it is really simple as we just need to keep the clients #1, and that whenever a decision is to be made, ask yourself the question, "Will this help me gain or retain a customer, or is this more likely to cause me to lose a customer?" If the answer is to gain or retain, then do it.
How close are you to operations?
I'm very close. I still enjoy it. I'm not in the locations every single day, but I try to get out to them on a regular basis and as much as possible.
What are the two most important things you rely on from your franchisor?
Being ahead of the curve when it comes to innovation and technology. Also, protecting franchisees and the system in how they operate and approach the business.
What I need from vendors:
Responsiveness. Like I ask our team to do, I ask them to care about our business. We try to live by the Golden Rule and that's what I expect from vendors. I'm very responsive to people. I get back to people day-of, regardless of who they are. I feel like people are owed the courtesy of returning calls and emails. I pride myself on that and I expect the same thing from our vendors.
Have you changed your marketing strategy in response to the economy? How?
No. We haven't changed it. Do the right thing every day. Clients will notice a difference if you're providing a world-class experience.
How is social media affecting your business?
It can have a very positive or a negative impact depending on the customer's experience. It can be a great asset. We do business where friends and family recommend us, and social media is just like that, it's word-of-mouth advertising. It can be a great help if you're providing a great product or service. With Hand & Stone we are providing something in people's lives who are very stressed out and we've benefited from positive reviews on social media. The other thing with social media is the advertising opportunities and understanding how people are getting information today and how best to get to these audiences. It is a whole other world than it was 25 years ago when it was just print and electronic media.
How do you hire and fire?
We use different platforms for hiring and look for our best team members to bring on friends and family as well. We start with a phone interview and then do in-person interviews, the number of which depends on the position. Regarding terminating employees, this is a last resort as turnover is just so costly. However, keeping under-performers is even more costly, so it unfortunately is a part of the deal. We do a lot of coaching before any firing takes place unless it's an immediate drastic issue.
How do you train and retain?
We have a lot of great systems and some great operations people who get it and invest in our teams and set them up to succeed. When they're put into a position to greet our customers and take care of them, they understand what they need to do for success.
How do you deal with problem employees?
The best thing is to never be passive-aggressive. We want to bring up concerns immediately, discuss what the issue is, and decide how we can fix it immediately. There are variables that play into that. But we're typically going to have a good face-to-face talk and decide where to go from there.
Fastest way into my doghouse:
Being deceitful. I won't stand for sneakiness. Play it straight. If you make a mistake, own it. We all make mistakes every day. It goes so much further if people own up to it and communicate it to me. It's a sign of strength. Asking for help or saying you don't understand is a sign of strength, not weakness.
Bottom Line
Annual revenue:
Hand & Stone, $20 million. Papa John's $13 million.
2020 goals:
We'd like to acquire and hit at least 8 to 10 more Hand & Stone locations this year. We have two under our belt, so we're on our way.
Growth meter: How do you measure your growth?
Comparable sales is what we focus on with both Papa John's and Hand & Stone. I can pull data every day to see where we stand on a daily basis versus last year; forecasting and more analytics.
Vision meter: Where do you want to be in 5 years? 10 years?
In 5 years, I want to be at 50 units for Hand & Stone. In 10 years, I want to be retired.
Do you have brands in different segments? Why/why not?
I saw the opportunity with Hand & Stone specifically. Food was always what I had done in the past, but I really loved the concept and the leadership at Hand & Stone. So far, so good. It proved to be a smart play.
How is the economy in your regions affecting you, your employees, your customers?
When I first looked at Hand & Stone, the economy was kind of in the dumper. And what I saw was all of these mature spas were still having 75 to 100 new customers coming in every week on top of their regular clients. They were still coming into the spas in droves. I thought to myself, "If this is how people are responding to these services and brand when the economy is bad, what will it be like when the economy gets better, which inevitably will happen?" We're still seeing around 15 percent growth year after year with spas that are now over 5 years old, and all of them just continue to grow. This kind of sustainable growth is just unheard of and really exciting for us.
Are you experiencing economic growth in your markets?
Yes, with Hand & Stone it has been significant.
How do changes in the economy affect the way you do business?
Again, it goes back to doing the right things every day and making sure that your clients understand that you value them. I always tell people that we're in the customer service business. If we take care of the customer, all will be well at the end of the day.
How do you forecast for your business?
We have historical data that we look at. We can see membership growth year after year with Hand & Stone, so it's easier to forecast the expected business in the coming year.
What are the best sources for capital expansion?
Up to this point, our growth has been funded within our company with my partners and myself. We have very little debt. However, as I mentioned, our goal is to get to 40 to 50 units in the next 5 years, and to do this we are now preparing to go out to the private equity market to fuel this growth.
Experience with private equity, local banks, national banks, other institutions? Why/why not?
We have not worked much with lenders up to this point, as most of our growth has been self-funded except for one acquisition we did through a local bank with an SBA loan.
What are you doing to take care of your employees?
We had our holiday celebration in Atlantic City and took all of our managers to the Hard Rock Cafe and did our banquet and awards there. We have longevity bonuses in place. If our managers hit their budgeted sales on top of bonus opportunities they are rewarded. We reward for loyalty and for performance. Last, and most important, is to live by the Golden Rule of treating others as we would want to be treated ourselves.
How are you handling rising employee costs (payroll, minimum wage, healthcare, etc.)?
Fortunately, the revenue stream for our Hand & Stone business has been climbing so we're able to overcome some of those rising costs. Inflation is a part of the economy, but the impact is less when revenue is climbing at a much higher rate. At our Papa John's business, this has had a profound impact because, for most of the kids we hire, it is their first job and so historically they have been at minimum wage. You factor this in, as well as health care, escalating occupancy costs, etc., and it has just become harder and harder to overcome these headwinds in the QSR category.
How do you reward/recognize top-performing employees?
We try to do a good job with this as we know just how important it is. We use a lot of different ways to recognize our teams, such as on a platform called Slack that all employees are on. We're constantly putting out data, and when we get positive client surveys we put that out there and are constantly using this to share top performance stories. In addition to this, we have monthly meetings to recognize our top performers. We go out of our way to make sure our team understands that we care about them. I'll pick up the phone to thank employees who stand out, are recognized by a client review, or if I'm just hearing that they're doing a good job. A three-minute phone call can pay huge dividends when they know that everyone, all the way up to the top, cares about them and is acknowledging their hard work and efforts.
What kind of exit strategy do you have in place?
For Hand & Stone, we see private equity as an opportunity to cash out a bit now, and then cash out the rest down the road, if things go as planned. For Papa John's, if the right buyer came around, I'd entertain offers as our primary focus is on the Hand & Stone business.
Published: March 31st, 2020
Share this Feature
Recommended Reading:
Comments:
comments powered by

Disqus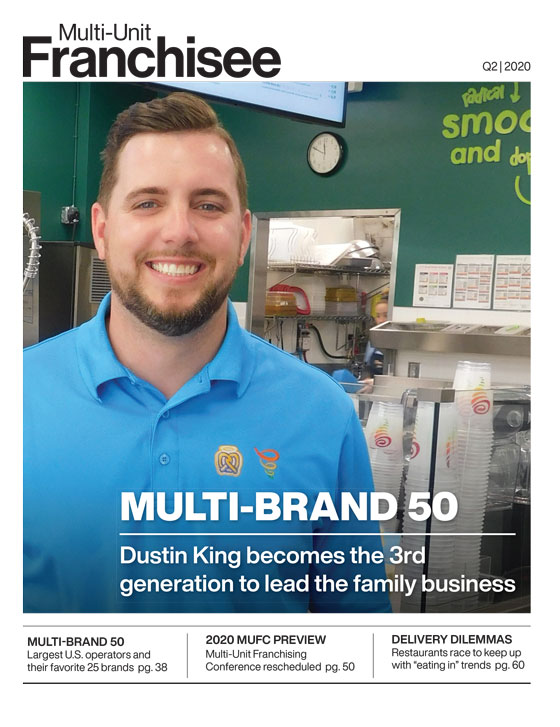 Multi-Unit Franchisee Magazine: Issue 2, 2020
The Joint® Chiropractic is reinventing chiropractic care. Our vision is to become the largest, most respected provider of chiropractic services...
Cash Required:
$100,000
$1M+ Avg. Revenue per Location. No medical experience necessary. Manage the manager franchise. Comprehensive training and support. Unique business...
Cash Required:
$75,000