Pull-Down Menu: Web-Based Tool Allows Customized Menu Creation and Data Reporting
What if there were a web-based tool that could help you create and organize your restaurants' menu quickly and accurately--while also collecting important data and ensuring consistent brand delivery?

There is, and companies including Applebee's, California Pizza Kitchen, O'Charley's, Max & Erma's, and Papa Murphy's are now using the technology to create, design and order printed copies of their menus. The tool, MenuNet, is from Trabon Companies, which provides web-to-print restaurant technology and printing solutions.

Papa Murphy's recently deployed MenuNet on an Internet portal to allow its corporate store managers and franchisees to create, design, and order printed copies of their menus. These customized menus can now reflect regional food, pricing, and other optional information, such as nutritional data. The menus are printed and shipped to each franchise location.

According to Evan Evans, Papa Murphy's vice president of field marketing and corporate communications, the two main goals for Papa Murphy's in creating and launching the portal were 1) to streamline and simplify the process of menu creation, and 2) to provide a way to collect data that helps improve brand consistency.

Evans says approximately half of the brand's franchise owners have successfully logged on to MenuNet since it was launched earlier this year, and they love how easy the system is to use. The service is available to all of Papa Murphy's locations, including its more than 430 franchisees in the U.S. and Canada.

When franchisees log on to work on their menus, they find intuitive functions: change an item, price, or description in one part and it shows up wherever that information appears. And with immediate on-screen proofing, there's no more waiting for proofs to download.

Individual restaurants can custom-build menus online with corporate-approved options for such elements as featured items and pricing. Franchisees also can use the system to order POP materials, marketing collateral, direct mail pieces, and more.

"MenuNet provides Papa Murphy's with unprecedented brand consistency and easier access to comparative market data," says Trabon's CEO, Tim Trabon. "We automate the process of organizing, creating, producing, and distributing complex menus and data, reducing errors and costs while improving marketing capabilities and franchisee support."

The process is proving to be a "seamless ordering system," says Evans. "They can make changes to their menus, order, and track them 24/7/365. In addition, it gives franchisees control over their menu content, including pricing, items, coupons, and promotional offers, all within corporate brand parameters."

The web-based system also provides Papa Murphy's corporate staff with valuable data and insight through real-time, customizable reporting capabilities. Since everything the franchisees do is captured in a database, marketing staff can then analyze the data in many different ways. For example, MenuNet can generate order history reports to help corporate determine which items and corresponding prices are selected most often for menus. They can also evaluate unpopular menu items that may need to be dropped. Evans says they'll be able to compare the menu and pricing data to other sales data over time.

"You really can't have too much data, and now we have the ability to view and analyze all the menu information systemwide--data that was not available prior to MenuNet," says Evans. "The reports include trend analysis on pricing, item selections, by store and region, etc."

In Papa Murphy's pervious menu-creation process, data was stored only as graphic design files. With the new database-driven system, the franchisor can easily capture, organize, and access pertinent information as data files. Evans says the system gives Papa Murphy's the ability to manage changes to menu versions over time and update menu base art as the brand and products evolve. He also says it's a great tool for sharing data with the franchisees in various DMAs. "It's one more added advantage franchisees have."
Published: August 24th, 2009
Share this Feature
Recommended Reading:
Comments:
comments powered by

Disqus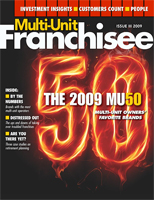 Multi-Unit Franchisee Magazine: Issue 3, 2009
The Drybar® brand, the category creator and a leading blow dry bar salon franchise, is seeking qualified owners.
Pure Fitness is committed to bringing high-quality, affordable gyms to everyone, everywhere by leveraging technology to enable low prices and...
Cash Required:
$500,000