Quick Study: Young TSC Operator Flourishes in Central Florida
Andrew Howell, 29, has been in franchising for just four years but he is making big waves in Florida with his growing chain of Tropical Smoothie Cafes. Within six months of opening his first store it jumped to the number-one sales performer in the Orlando market, a position it has maintained ever since. He's now grown to four units in the area with a fifth on the way, and he has aspirations for many more.
Howell believes his diehard dedication to the stores was a large factor in his quick success. "I was there every single day for months, often open to close," he says. "I got to know our customers and really pushed to make things right every time."
He was drawn to Tropical Smoothie, he says, because he wanted a brand where customers wanted to come in and be happy. "I like hearing the stories of customers' weight loss and journeys to being healthier. I didn't want to feel like I was fattening America," he says.
Before franchising, Howell spent time at The Walt Disney Company. "All through college I worked for Disney in one form or another. It was tons of fun, and I think what I really learned was truly how to delivery world-class service, knowing how to deal with upset customers or how to do little things that make the experience better. I bring that to my cafes and push for my staff to understand and deliver the same."
One of Howell's locations is a non-traditional unit on the campus of the University of Central Florida, inside UCF's College of Nursing. He says he purchased the existing unit because he saw the potential and believed he could ramp up operations. "It's slower in the mornings since it's on a college campus, so we pushed a lot of catering through that store in the mornings," he says. He also made some staffing changes and rethought the marketing plans. The store is currently up 40 percent in sales over the previous year, he says. His newest location is only a mile-and-a-half from campus, a site he hopes will provide additional brand awareness to UCF students.
Howell doesn't shy away from big goals. He says he wants to see his Kirkman Road location, in southwest Orlando, hit the million-dollar mark soon, but recognizes that he and his crew will have to push hard to get there. "If we stay on the same comp sales path and can add an additional 75 cents per check, we'll hit it. I'm pushing harder on the catering sales to give us an extra bump to make sure we reach that goal," he says.
Name: Andrew Howell
Title: Multi-unit franchisee
Company: Tropical Smoothie Cafe
No. of units: 4, with another license to build
Age: 29
Family: Kara Howell, wife
Years in franchising: 4
Years in current position: 4
Personal
First job:
My first job was at a funeral home. I did grounds work during the day and was a valet in the evening.
Formative influences/events:
My wife is always there for me. When it's really tough she always keeps me calm, and when things are going well she pushes me to keep going and move the needle a little more.
Key accomplishments:
Within only six months of opening my first store it was number-one in sales in the Orlando market and has continued to hold that position ever since. I turned a profit on two stores I purchased from another franchisee, one of which is currently up 40 percent in comp sales for the year. I was also nominated for Franchisee of the Year in 2015.
Biggest current challenge:
Trying to find a great drive-thru location. I've been hunting for that perfect property at the right price but it's not easy to find.
Next big goal:
Pushing my first store to break the $1 million sales mark.
First turning point in your career:
Going from a single-unit operator to a multi-unit operator.
Best business decision:
Sometimes you have to know when to hold and when to fold. When I was operating five locations it required more TLC than I was able to give at the time. I've since been able to sell it to a single-store operator who is doing a great job there. It allowed me to free up and refocus my efforts into growth in a different direction.
Hardest lesson learned:
The first winter was tough. I learned how to adjust my workforce and cut labor quickly. I know my labor goals now and I rarely miss them.
Work week:
I leave Mondays open on my schedule to solve any problems that may have come up over the weekend to get that out of the way early. I typically pick a store the rest of the week to work from. I can do computer work from anywhere, but sitting in a cafe allows me to see more of what's happening. I then jump in at lunch, our busiest time, and run a station, typically the register so I can talk to customers and monitor the lobby.
Exercise/workout:
I do yoga. While it's physical, it makes me mentally check out and just focus on the simple task at hand.
Best advice you ever got:
Surround yourself with people who are good at your weaknesses.
What's your passion in business?
People. I enjoy the customers and the employees alike.
How do you balance life and work?
If my phone is on I'm probably doing some type of work, email, checking sales and labor, something work-related. My wife and I make sure we take one really good vacation a year where I turn my phone off for 10 days. It's something I would recommend to everyone--getting away from social media and just being present with the world around you.
Guilty pleasure:
Pizza. Despite owning healthy restaurants, I love a good pizza.
Favorite book:
The Sun Also Rises by Ernest Hemingway.
Favorite movie:
"Top Gun."
What do most people not know about you?
I really enjoy classical music. I listen to Wagner and Mozart at home a lot.
Pet peeve:
Poor English.
What did you want to be when you grew up?
For the longest time I wanted to be a pilot. However that changed for me when I was 14 years old, having overheard a conversation between my dad and the CEO of his previous franchise company. The interaction between the two of them and the business discussions they had just captivated me.
Last vacation:
My wife and I spent 10 days in Kuala Lumpur, Malaysia.
Person I'd most like to have lunch with:
Ernest Hemingway. His adventures just fascinate me.
Management
Business philosophy:
People first, always.
Management method or style:
My role as the owner is to take care of my managers. If they're happy my staff will be happy, and if my staff is happy my customers are happy.
Greatest challenge:
As I said, trying to find a drive-thru location at the right price in Orlando.
How do others describe you?
I actually cheated on this question and asked a few of my closest managers. They all said personable and enjoyed how much I cared about everyone.
One thing I'm looking to do better:
I need to be more organized. I tend to be doing several things at a time, and that leads to missing a few things here and there.
How I give my team room to innovate and experiment:
Any team member who has an idea is always encouraged to bring it to the managers or to me. I've had great ideas come to me simply because someone is working on something and says, "This might be faster." They're the ones on the food line every day so I trust their ideas.
How close are you to operations?
Five days a week I'm in a store. I make sure I'm always in a store for lunch during the weekdays no matter what. We live and die by our lunch rush, so I make sure I'm there.
What are the two most important things you rely on from your franchisor?
Quality of menu is crucial. I'm not a chef, but I need to know the items we get are quality. Supply chain is huge. I need to know that when we have a new item our distributor has it and I can order it whenever I need.
What I need from vendors:
Punctuality. If a vendor says they're sending a part or a piece of material on Tuesday, I need it there that day since I will have scheduled myself to handle that task on that day.
Have you changed your marketing strategy in response to the economy? How?
I try to avoid coupons. The economy is no longer in a situation where everyone is saving all their pennies. I like giving samples at events. The products sell themselves.
How is social media affecting your business?
It keeps you focused on quality. You can make 500 items perfectly, but if number 501 is not right that could be the one someone Instagrams and shows to a million followers. Since every customer has a voice to the world, it leaves no room for carelessness.
How do you hire and fire?
Our CEO, Mike Rotondo, once said: "Hire smart or manage tough." I have to remember that. No matter how short-staffed you are, never just hire to fill a hole. Find the right person.
How do you train and retain?
Inspect what you expect. The trick is making sure people don't fall into bad habits and shortcuts. When you see bad habits arise make sure to reiterate proper procedure.
How do you deal with problem employees?
I try to talk them through it first. I never like to see someone fail. However, sometimes the inevitable happens.
Fastest way into my doghouse:
Don't do your job. We all succeed or fail together. I have to rely on everyone doing what they're supposed to so I can focus on what I'm supposed to.
Life Under 30
How did you get into franchising at such a young age?
My father had been in franchising since before I was born, so the lifestyle and style of work was ingrained into me from day one. In fact, after he was able to see the success I had with the brand, he became a Tropical Smoothie franchisee in the Fort Myers market.
Was becoming a franchisee something you'd planned on?
As I grew up I obviously explored lots of possibilities, but I think given my family's business background, it was almost inevitable.
Did you have a mentor or inspiration for getting into franchising?
My father for sure. He has been very successful in multiple brands. And, as I mentioned, from day one I saw the long hours and hard work it takes to succeed, so the hard work of self-employment was always visible to me.
What jobs, skills, and experience have helped you operate a franchise business?
I'm a people person. I can talk to anyone. It helps a lot with my staff. I know what their needs are, and their frustrations, so I can better lead. I also worked for Disney throughout college, so customer service was always seen as the key to success.
What kinds of obstacles did you face in franchising at such a young age?
Financing was the first hurdle. A bank doesn't lend hundreds of thousands to a 24-year-old typically. My dad was huge in securing the capital.
How would you describe your generation?
Unorthodox. We like to work from our phones at random times. We don't want to be bossed around--we want to be taught what to do and why we need to. We use technology all the time for good and bad. We're always accessible.
Do you see franchising as a stepping-stone or a career for you?
I see franchising as my career. I don't see any reason why I shouldn't be able to continue to grow within Tropical Smoothie, 5, 10, 25 stores, just keep pushing.
Bottom Line
Annual revenue:
I anticipate $1.4 million in 2017 for my two traditional cafes currently open.
2018 goals:
I just opened a new store about a mile from UCF's main campus. This is my fourth cafe and we are confident, given the location and our expertise, that it will take off quickly. Another major goal for 2018 is I will be pushing my first store to break the $1 million mark.
Growth meter: How do you measure your growth?
Comp sales are huge. I know I'm growing if I can maintain 10 to 15 percent over the previous year.
Vision meter: Where do you want to be in 5 years? 10 years?
In 5 years I would like to be debt-free. In 10 years I have some political aspirations, but that's a conversation for another time.
How is the economy in your region affecting you, your employees, your customers?
Orlando is a young city and there is a ton of growth. Lots of people come here for school, which makes hiring easier. The boom of the city, though, also brings in loads of competition.
Are you experiencing economic growth in your market?
Absolutely. The entire city is growing and is one of the largest tourist destinations in the world.
How do changes in the economy affect the way you do business?
Rent factors change. As the economy has turned in the last few years, you can see the price of rent climbing.
How do you forecast for your business?
I keep an eye on weather and school schedules. Spring break or exam week will affect us differently. Knowing when the colleges and high schools have breaks can help prepare for sales changes.
What are the best sources for capital expansion?
BB&T has been my bank of choice. I continue to build my relationship with my banker. I share sales and now we're on a texting basis.
Experience with private equity, local banks, national banks, other institutions? Why/why not?
As noted, BB&T has been my bank of choice.
What are you doing to take care of your employees?
I listen to their needs. It's a young staff and if they're stressed about a relationship or a test, sometimes they just want to talk and ask my opinion. It helps build a level of trust, too.
How are you handling rising employee costs (payroll, minimum wage, healthcare, etc.)?
We slightly raise prices once a year so that helps. We just have to really be mindful of labor control.
How do you reward/recognize top-performing employees?
I try to reward and recognize those who stand out. We provide gift cards to people who go above and beyond. We have the SMG surveys and we post the compliments about employees on the board.
What kind of exit strategy do you have in place?
Retirement is at least 35 years away for me, so who knows how many stores I'll own by then? But after I'm completely done with the business world, my hope is to become a professor.
Published: April 23rd, 2018
Share this Feature
Recommended Reading:
Comments:
comments powered by

Disqus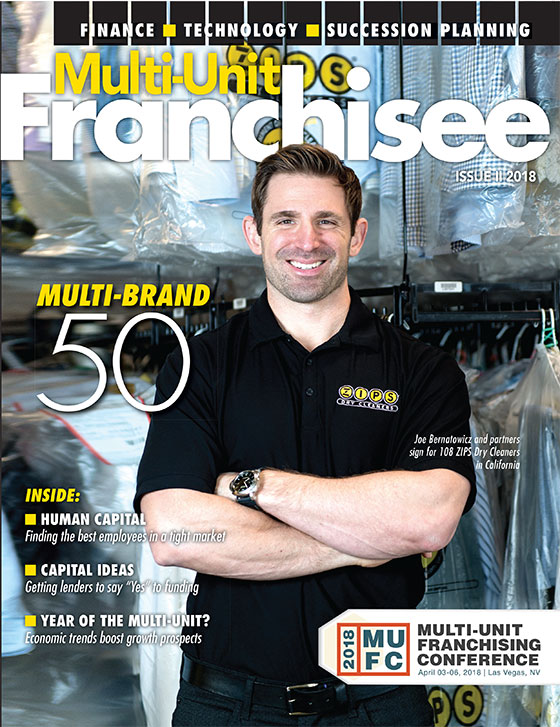 Multi-Unit Franchisee Magazine: Issue 2, 2018
High AUVs + 8-hour operating days in a food category that's not oversaturated = an eggs-straordinary life.
BoConcept was born in Herning in 1952 and has grown from a small firm to Denmark's most global furniture brand, with over 300 stores in more than 60...
Cash Required:
$500,000