Playing the Back Field: Making the shift from MLB to franchisee
Robb Quinlan is comfortable wearing many hats--and also many gloves. The former Major League Baseball player could snag balls at first base, third base, and in the outfield, could take pitches as a catcher, and hold his own with a bat as a designated hitter. His all-around versatility has come in handy in his post-baseball career, where he is now a multi-unit franchisee and regional developer with The Joint Chiropractic.
The 40-year-old Quinlan played his college ball at the University of Minnesota where he was named to the Big Ten All-Star team in 1997, 1998, and 1999, and was named Big Ten Conference Player of the Year in 1999. That same year, he was drafted by the Anaheim Angels. (His older brother, Tom, also played in the majors.) He worked his way up through the farm system before making his MLB debut in the summer of 2003. Though he went on to play in the majors for several more years, it was an injury in 2004 that limited his playing and ultimately pointed the way to his next career.
"I tore my oblique in August of 2004," he says. "That ended my season and put my neck and spine out of alignment." But there was a silver lining: the injury introduced him to the world of chiropractic care.
"When I was home that year during the offseason, I found a chiropractor. It helped tremendously with my rehabilitation," he says. Quinlan went on to have a solid 2005 season and says his 2006 season was probably the best of his career.
Altogether, he played 8 years in the big leagues before retiring in 2011. In that time he had become a firm believer in chiropractic care and the difference it had made in his life. So when he discovered The Joint Chiropractic, he was sold. He opened his first location in Eagan, Minn., in November 2013. He now has four locations of his own and is the brand's regional developer for Minnesota. He says he's hoping to be part of growing the Minnesota territory to 16 clinics.
"People come in complaining about back pain they've had for years," Quinlan says. "They see what we have to offer and within a few visits they see results."
Name: Robb Quinlan
Title: Regional developer, franchisee
Company: The Joint Chiropractic
No. of units: Owner of 4, regional developer for 8 clinics
Age: 40
Family: Wife Amanda 40, daughter Caroline
Years in franchising: 5
Years in current position: 5
Personal
First job:
Coaching youth at a baseball camp.
Formative influences/events:
Parents, daughter.
Key accomplishments:
Playing Major League baseball.
Biggest current challenge:
Maintaining my schedule between personal and professional.
Next big goal:
Growing the Minnesota region to 16 clinics.
Best business decision:
Getting involved in The Joint Chiropractic brand.
Hardest lesson learned:
Not everyone is going to like the way you do things.
Work week:
30 hours.
Exercise/workout:
Need to a lot more!
Best advice you ever got:
Focus on what you can control.
What's your passion in business?
Seeing patients getting better. I take a lot of pride in hearing how coming to The Joint has positively affected their lives.
How do you balance life and work?
I try to maintain a healthy flexibility of both. I try not to get too stressed out.
Favorite movie:
"The Shawshank Redemption."
What did you want to be when you grew up?
I always wanted to play baseball and be successful in something after baseball.
Last vacation:
Disney World with family.
Person I'd most like to have lunch with:
Michael Jordan.
Management
Business philosophy:
Take care of your employees and they will take care of the patients.
Management method or style:
I'm laid back and let people do their jobs.
Greatest challenge:
Keeping everyone on the same page all the time.
How do others describe you?
Good person who likes to be around others.
One thing I'm looking to do better:
Keeping focused on the growth of the region.
How I give my team room to innovate and experiment:
I like to let my team take the lead on things and create new ideas to see if they work.
How close are you to operations?
I help oversee operations, but my business partner, Angie Selander, does a great job with daily operations.
What are the two most important things you rely on from your franchisor?
Advice if we are having any problems, and making sure we are getting the best practices from around the country.
What I need from vendors:
To be able to provide product easily, and that they are responsive to our needs.
Have you changed your marketing strategy in response to the economy?
No. It has been pretty consistent.
How is social media affecting your business?
Social media is a must in our business. It is by far the easiest way to connect with new patients and create a brand in the market.
How do you hire and fire?
We have our managers meet the new staff and make most of those decisions since they will be working with them. As franchisees, we do the firing.
How do you train and retain?
We have corporate training that each employee goes through, and our managers do the in-person training with each new person.
How do you deal with problem employees?
We try to be up front and honest with them. We express our concerns, and also listen to them to get their side of the story.
Fastest way into my doghouse:
Not showing up for work!
Sports & Business
What skills/experience from sports have carried over to operating a business?
Teamwork is key. You have to work together to build a successful business.
Which do you find more competitive, sports or business?
I felt sports was a lot more competitive. It felt like your job was constantly on the line.
Why did you choose franchising as an investment option?
I wanted to have a model that we could follow, and I liked the model that The Joint offered.
How did you transition from sports to franchising?
I took about a year off work altogether, and then started exploring franchise opportunities.
What was your greatest achievement in sports and what has been your biggest accomplishment as a franchisee?
In sports, my greatest achievement would be making it to the Major Leagues and playing for eight years, with many of those years making the playoffs. On the business side, my biggest accomplishment is running a good business, being able to employ people, and helping patients get better.
Bottom Line
2018 goals:
I want to get a new location up and running and work with new franchisees to help grow the region.
Growth meter: How do you measure your growth?
By percentage growth and number of members we have from year to year.
Vision meter: Where do you want to be in 5 years? 10 years?
I'd like to have 8 locations and have grown the region to 16 locations in total. In general, I'd like to have a successful region and be happy with what we have created.
Are you experiencing economic growth in your market?
We continue to grow every year.
How do changes in the economy affect the way you do business?
We have not seen much with the economy affecting us.
How do you forecast for your business?
We usually base it off the trends and growth percentage from the year before.
What are you doing to take care of your employees?
I am trying to keep them happy by encouraging them and rewarding the effort and accomplishments they make.
How are you handling rising employee costs (payroll, minimum wage, healthcare, etc.)?
There's not much you can do about it. We just need to constantly keep growing so we can take care of our staff.
How do you reward/recognize top-performing employees?
We give out awards and bonuses at the end of the year. Additionally, we're trying to do quarterly contests among our clinics for prizes.
What kind of exit strategy do you have in place?
I'm looking to grow the region first. After that I will look to find other franchisees who would take over, or doctors who love the model and would buy us out.
Published: May 10th, 2018
Share this Feature
Recommended Reading:
Comments:
comments powered by

Disqus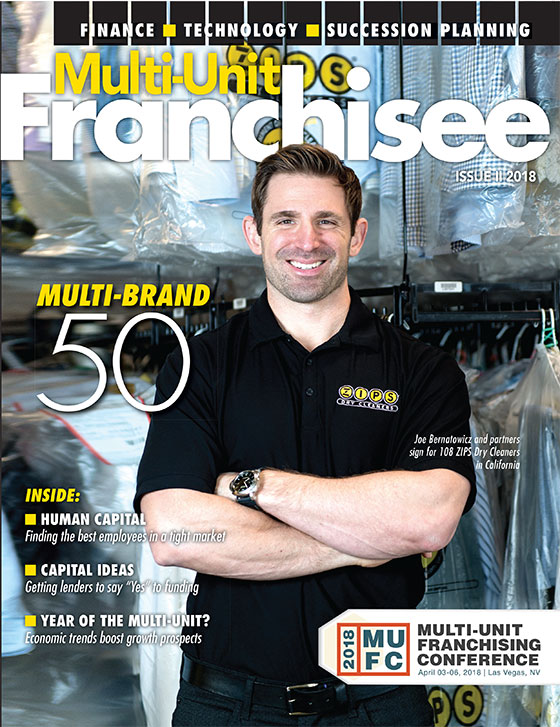 Multi-Unit Franchisee Magazine: Issue 2, 2018
Dunkin' Is Now Expanding! Find out about our franchise investment opportunities.
Cash Required:
$250,000
We are looking for qualified, committed business owners interested in a franchise opportunity with a market leader.