Role Player: Gary Moore has Done it All
Multi-unit franchisee Gary Moore has spent most of his life in the restaurant business, assuming nearly every available job title along the way. "I relate very well to people in the restaurant business because I have that experience," says Moore. "I understand each role and can put that hat on because I have been in that role myself. It has helped me a great deal."
Based in Salt Lake City, Moore operates 58 Burger Kings in five western states, 6 Costa Vida Fresh Mexican Grill restaurants, and 10 convenience stores/gas stations. Most recently, he struck a development deal with the Utah-based Beans & Brews Coffee House to build 20 stores in Nevada. With more than 30 years in franchising, Moore is still happiest behind the restaurant counter with his sleeves rolled up working alongside team members and talking with customers. He sits on the advisory board of Costa Vida and has been actively involved with Beans & Brews. The give and take between Moore and his new brands has been great for business. "It's been fun to be able to join a brand in its infancy and really contribute to the things they are doing," he says.
Moore got his start in the business at 16 as a crew worker at a Salt Lake City Burger King that would eventually be owned by his current business partner David Williams. With the exception of a stint in the National Guard, Moore has spent his entire career with the brand, tackling every job until being tapped to run the organization in 1995. Under his leadership, the franchise more than doubled its Burger King unit count and added convenience stores to the mix. Moore, who became a franchisee himself in 2005, sought to diversify further about four years ago with the addition of Costa Vida, a brand that offers made-from-scratch fare and a passionate customer base, he says.
For Moore, future growth is more about the value of the deal than the number of units he can add. Real estate is a key objective for the company, which has developed about 70 percent of the properties they operate. "We think it is an important objective of what we are trying to accomplish," he says. "I would rather grow slower with the opportunity to own the dirt underneath and a piece of property than grow quickly and all I own is restaurant equipment and a franchise."
Moore, who still relies on the lessons learned from his early days, admits that the benefits of his extensive background in the restaurant business also brings its challenges. "I like to be involved in every decision made, and sometimes the train slows down because decisions are waiting for me," he says. "You can't do all the work yourself or nothing gets done. You have to trust people, although the trust has to be earned."
Name: Gary Moore
Title: Franchisee, vice president. I don't even have a title on my business card. My role is different, depending upon the entity.
Company: HB Boys LC
No. of units: 58 Burger Kings, 6 Costa Vida Fresh Mexican Grills, 3 Subways, 10 convenience stores/fuel stations (6 Chevron, 3 Conoco, 1 Union 76)
Age: 49
Family: Married to Polly with four sons, Christopher, Joshua, Zackary, and Cooper
Years in franchising: 31
Years in current position: 20
Personal
First job:
At age 14, I began cleaning kitchens in the evenings six days a week at a Pastry Pride donut shop.
Formative influences/events:
I have a business partner who believes in me and who gave me an opportunity. Without David Williams I certainly wouldn't be in the position I am in today.
Key accomplishments:
I began my career in franchising at age 16 working as an hourly employee at Burger King. From there I've worked my way up and have held all positions in the organization.
Biggest current challenge:
To continue growing our business with the current challenges (minimum wage, ACA, etc.).
Next big goal:
I'd like to continue growing the brands I currently represent. Also, I've entered into a franchise agreement with the regional coffee chain Beans & Brews for a 20-unit development over the next 5 years.
First turning point in your career:
The many challenges I faced at a young age when I became a manager and eventually a district manager.
Best business decision:
Becoming a franchisee and owner. I am fortunate to have my partner Dave Williams. He allows me to run the day-to-day business, which is great, and he has also been a great mentor to me in the business.
Hardest lesson learned:
The greatest lesson I've learned in my current position is that if I have a gut feeling about someone or something I should follow that gut instinct. When I don't follow my gut I always end up regretting it.
Work week:
60 to 70 hours.
Exercise/workout:
I run three to four times a week for about half an hour.
Best advice you ever got:
Stick with it.
What's your passion in business?
I really enjoy working in the stores and interacting with our guests and employees.
How do you balance life and work?
When I leave work or take the day off, I do my best to be there and be in the present. It's important to leave work at work and home at home.
Guilty pleasure:
Watching the same movies over and over again ("National Treasure," "Draft Day").
Favorite book:
7 Habits of Highly Effective People by Stephen Covey.
Favorite movie:
"Star Wars."
Pet peeve:
Cleanliness items--like gum on sidewalks, etc.
What did you want to be when you grew up?
Accountant.
Last vacation:
Kauai.
Person I'd most like to have lunch with:
George W. Bush.
Management
Business philosophy:
To continue to grow our organization through profitable growth.
Management method or style:
When you lead people, you lead through example. I think that is probably the way I manage my business. I lead through example. I don't think anyone in the organization would ever say, "He expects so much more out of me than he expects out of himself." I treat people fairly and with respect.
Greatest challenge:
People--finding and retaining the right people.
How do others describe you?
As fair in dealings, level-headed, caring toward people in my organization, and hard-working.
One thing I'm looking to do better:
Delegation. I need to learn that it is okay to take a step back and not be involved in every decision.
How I give my team room to innovate and experiment:
In the franchise model there is not a lot of opportunity to innovate and experiment with brand items. We give our team opportunities to innovate in the areas of processes, etc.
How close are you to operations?
Very close. I'm involved daily.
What are the two most important things you rely on from your franchisor?
Products and marketing.
What I need from vendors:
Consistency and quality of products.
Have you changed your marketing strategy in response to the economy? How?
Social media seems to be part of the future of our business.
How is social media affecting your business?
Significantly. I'm not a Millennial. I don't even know what Twitter does. It is amazing as we become educated around social media. Burger King has been masterful as it relates to and capitalizes on social media. I'm blown away with the impact it is having on our business. As a franchisee, I've seen a lot more on our Burger King side, but I know that with Costa Vida it is a big part of the marketing plan to use social media as an avenue for new and potential guests for our business.
How do you hire and fire?
We try to promote as much as possible from within. Hiring from outside our organization is accomplished in many ways.
How do you train and retain?
Training is an ongoing process. Training is brand-specific with the exception of administrative training.
How do you deal with problem employees?
Counseling and understanding.
Fastest way into my doghouse:
Not taking responsibility for your actions.
Bottom Line
Annual revenue:
$100 million-plus.
2016 goals: Development:
2 Burger Kings, 2 Costa Vidas, 4 Beans & Brew Coffee Houses.
Growth meter:
We are fortunate as an organization that we are very financially stable and we aren't taking on any risky investments. We have come to a point in our organization where the tolerance for a lot of risk is not there. We want to do deals and want to do projects that we have a good feeling are going to be successful.
How do you measure your growth?
Certainly you want to run good operations. Growing up in this business, I am a firm believer that operations drives sales and profits. We are constantly looking at financials and improvements in cost controls and in efficiencies we create within our own business. Certainly we have ratios we are expected to hit by our lenders and we measure our success that way.
Vision meter: Where do you want to be in 5 years? 10 years?
I'd like to continue growing the brands. We don't have a specific number of restaurants we would like to have or chains we would like to be involved in. We look at three things: Are the company's financials stable? Are we able to continue to grow? And are we still having fun while we are doing it? If those things are met we continue to grow. If it means that I have the same number of restaurants that I have today then that is okay too.
How is the economy in your region affecting you, your employees, your customers?
It has had a great effect, specifically finding the right people. When the economy is good, there is lots of growth and new competitors. We are all competing for the same talent pool, particularly as it relates to finding good management. Our philosophy has always been to promote from within the organization, but I think there is a balance between promoting from within and hiring people from the outside. The challenge with hiring from the outside is that it is hard to prove the values of the company over a short period--that comes over time. If someone works for me for three months and is offered more money somewhere else, he is not as committed as someone who has been with me for five years.
Are you experiencing economic growth in your market?
Yes.
How do you forecast for your business?
Quarterly and annually.
Experience with private equity, local banks, national banks, other institutions? Why/why not?
Internally and through local banks.
What are you doing to take care of your employees?
We are sure to always treat employees with respect. We care for them and promote growth by conducting regular reviews, promotion opportunities, etc.
How are you handling rising employee costs (payroll, minimum wage, healthcare, etc.)?
Very carefully. We examine opportunities for efficiency, price increases if the market allows, etc.
How do you reward/recognize top-performing employees?
We have a generous incentive program and offer other rewards.
What kind of exit strategy do you have in place?
None at this time. I turn 50 this January and still have all the passion in the world for the business.
Published: March 14th, 2016
Share this Feature
Recommended Reading:
Comments:
comments powered by

Disqus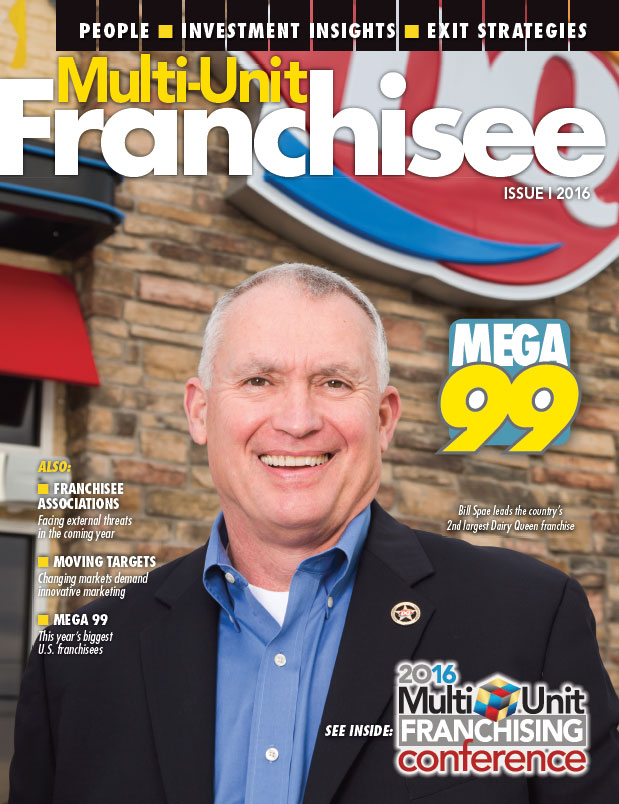 Multi-Unit Franchisee Magazine: Issue 1, 2016
The hottest new franchise is here (literally 150°). Perspire has developed, formulated and tested the most superior infrared sauna studio model...
The Walk-On's Sports Bistreaux delivers authentic Louisiana flavors and a winning guest experience for friends and families alike. With a commitment...
Cash Required:
$500,000