Roll with the Winners: Increase Your Odds Of Success In 2009
In my inaugural column as chair of the 2009 Multi-Unit Franchising Conference (right around the corner from April 15-17 at the Bellagio in Las Vegas), I wrote:

"I think it is important, more than ever, that multi-unit owners like ourselves have the opportunity to hear from others dealing with similar challenges, and to network with them in an open, informal setting. Because as hard as it might have been for some of us last year, the times are even more difficult as we head into 2009."

For me, the value of comparing notes with other multi-unit operators, whether in the lobby or over a drink, is the unscheduled "magic" of this annual conference--an invaluable benefit not listed in the extensive program agenda. (To see the agenda, go to www.multiunitfranchisingconference.com/agenda.htm)

My 36 Supercuts salons are in a relatively "recession-proof" sector because people always need haircuts. Nevertheless, we're seeing customers waiting a little longer to come in for a trim, or deciding they can get by until their next visit without that coloring or extra bottle of conditioner. I know at the conference I'll be on the lookout for ideas to maintain my bottom line!

The country has a new president elected by Americans looking for leadership to deliver a quick, realistic economic fix to the current depression. But all politics aside, the U.S. economy is hurting. Most economists predict it will continue to bump along the bottom for the remainder of the year, perhaps (or probably, depending on who you're listening to) well into 2010.

That's why it's so important for us to take matters into our own hands, to keep our heads while many around us are losing theirs. When times are good, marginal operators will stay afloat. But in times like these, experienced operators with efficient operations and a focus on the long term will survive--and be ready to soar like eagles when things begin to turn around.

Learning from fellow multi-unit operators who are not only getting by, but continuing to grow in these tough times, keeps my spirits up and just may provide that one "nugget" I can use to improve operations and profits in my salons--and maintain the jobs for the people who have stood by me for years.

Although budgets are tighter for many of us these days, the value of attending this conference--filled with multi-unit operators from different industries from all over the country--is unmatched, and comes at the perfect time. I look forward to the opportunity to assess the effectiveness of what I've done so far this year, and to come out of the three-day event armed with new tools and ideas to fine-tune my operations in the coming months ahead.

Beyond the excellent information and inspiration delivered by the keynote speakers; beyond the panel discussions where multi-unit and multi-brand operators, along with savvy franchisors and industry experts, tell it like it is; beyond Wednesday's in-depth sessions and Friday morning's tightly focused roundtable discussions, I'm most looking forward to meeting with my peers.

In good times or bad, we're always looking for those take-away nuggets to improve our operations and grow our businesses. For me, this conference has been a gold mine in all the years I've attended.

So despite the headlines, opportunities exist for top-tier operators to not only survive in 2009, but to prosper. I don't ever imagine I have all the answers. We're a smart bunch, and I'm eager to hear what other multi-unit operators are thinking and doing outside my box.

See you in Vegas!

Gary Grace
Chairman
2009 Multi-Unit Franchising Conference
Published: March 17th, 2009
Share this Feature
Recommended Reading:
Comments:
comments powered by

Disqus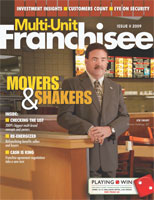 Multi-Unit Franchisee Magazine: Issue 2, 2009
Checkers Drive-In restaurant franchises are small but efficient making our restaurants easy to operate and typically reduced overhead costs.
Cash Required:
$250,000
Minuteman Press is the world's largest & number 1 rated printing & marketing franchise. Our business model features multiple revenue streams,...
Cash Required:
$30,000