Scoop It Forward: Serving Ice Cream and Community Involvement
Not only is Ben & Jerry's franchisee Karen Morse a veteran of serving up the brand's mantra of peace, love, and ice cream, she strives to scoop it forward.
Morse, honored with the 2017 MVP Community Involvement Leadership Award for her continuous community service and setting an example for others to follow, is an 18-year franchisee of Ben & Jerry's, pioneers in the socially responsible business movement. Her ongoing effort to support the community that supports her seven shops is just part of who Morse is.
"We don't know how to do it any other way," says the Washington, D.C.-based operator. She even sweetened the brand's mandate for franchisees to spend a portion of proceeds on community support with the development of a "Scoop It Forward" program. Under the program, companies that booked new off-premise and catering business were allowed to select the charity or cause of their choice to be the recipient of a free ice cream party.
"The main point of this was that we took no credit for the party," says Morse. "We told the charity it was a gift from their benefactor. The social media we got from the program with the company tweeting and posting, the nonprofit tweeting and posting, and us tweeting and posting was amazing."
Scoop It Forward provided Morse, a D.C. native, with a competitive edge and boosted catering sales. Companies began calling to book events with their nonprofits already selected, she says.
"Ben & Jerry (the real guys) are keen on making profits, make no mistake," she says. "But if we can make those profits while supporting worthwhile hard-working groups in our market, all the better!"
Morse's franchisor has taken note of her business and marketing savvy. She previously earned the brand's "Innovator of the Year Award" for introducing shop ideas such as a bubble machine at the front door, and whimsical outdoor seating in the shape of life-size cows that, she says, "surprise and delight the customers."
Morse says while a solid marketing strategy and goodwill intentions are paramount, her staff is the critical piece in keeping focused on her organization's goals. She makes a point to show every employee the numbers--every month--and educate them on what they mean.
"You cannot talk and talk to your staff about COGS if they don't know what that actually means and how they, personally, can affect those numbers," she says. "They have to feel the value of their contributions to the team's success and they have to be rewarded. Pay people what they are worth and keep bonuses real and attainable. Also, keep bonuses immediate. Nightly bonuses are much better received than those that are put on paychecks at the end of the quarter."
Morse's focus on the success of her staff is paying off. This year her company, DC Ben & Jerry's, earned the nod as one of the best places to work by the Washington Business Journal. "We are very proud of this honor," she says. "The employees actually nominate their business and it is quite a thorough process. We must be doing something right!"
Name: Karen Morse
Title: Owner/franchisee
No. of units: Built my Ben & Jerry's to 16 units; currently have 7
Age: 55
Family: Four sons 24, 22, 22, 17
Years in franchising: 18
Years in current position: 18
Personal
Formative influences/events:
I am fortunate to work with a franchisor that is the world leader in understanding that a business can be profitable as well as socially conscious. Over the past 18 years, I have witnessed how an ice cream cone can literally change the world. Businesses can learn to partner with other organizations or businesses that lead with their values. Ben & Jerry's takes tremendous efforts to source products that meet specific criteria with non-GMO and fair trade standards and practices. They encourage franchisees to get involved in events that support the greater good, whether that is climate change, fair and equal voting rights, or non-GMO labeling efforts. Here in D.C. we work on all of these issues and so much more!
We put our ice cream where our mouths are and have, through the years, built the largest "Baked Alaska" on the lawn of the Capitol to protest the ANWR drilling rights issue. We made the largest "ice cream pie" on the Capitol lawn to demonstrate how many children were without healthcare. We gave out our "I Dough, I Dough" flavor on the steps of the Supreme Court to celebrate the marriage equality decision! At each event, we were surrounded by loyal fans who love the brand and the fact that we do take a stand. Also in those groups were people who didn't necessarily agree with our stand, but were happy to have us share our point of view.
As a franchisee, this type of community outreach translates to shop sales. The loyal brand fanatics seek us out when deciding where to buy, and the general goodwill translates to a larger audience. Our sales are truly strengthened by the general public's perception that we have the best quality ice cream and we really do stand for something that can effect real change in our neighborhoods and our countries.
When we are not out changing the world, we truly are changing our communities by sharing our ice cream with local organizations that promote urban farming, river cleanups, cancer walks, reducing homelessness, promoting youth leadership efforts, the fight against autism, supporting the National Zoo, and Orange Wednesday for suicide prevention awareness. We are very proud of our work for fallen police officers and their families. While Ben & Jerry's ice cream is working for social issues worldwide, here in D.C. our ice cream cones are truly changing our communities for the better. My entire team thanks our founders, Ben and Jerry, for being the role models for social change and encouraging not only me, but our entire system of franchisees to look at business as a way to effect meaningful change while increasing the profitability of every scoop shop!
Key accomplishments:
Washington Business Journal Best Places to Work (2017). JW Marriott Award for working with youth with disabilities (2014). Ben & Jerry's Innovator of the Year Award. Ben & Jerry's Marketer of the Year (awarded two times). Ben & Jerry's Social Mission Leader of the Year. Ben & Jerry's "Big O" winner for best system-wide operations. Multi-Unit Franchisee magazine's MVP Community Involvement Leadership Award (2017)
Work week:
It is certainly not a work week, it's more like a work season. Spring, summer, and fall are very busy, and every owner knows it really is a position that requires a lot of time spent working on the units. I do not really keep track. My team and I are fully committed to get the job done and love what we do. Luckily we all get some time to regroup and have some fun in the off-season!
What are you reading?
Turn this Ship Around: A True Story of Turning Followers into Leaders by L. David Marquet; Leaders Eat Last: Why Some Teams Pull Together and Others Don't by Simon Sinek; and Catherine the Great by Robert Massie.
Best advice you ever got:
Anyone in the franchise business knows it is a leap to go from one unit to three. It is the first big leap and it can be difficult if you don't make the jump from technician (actually running the shop) to management, which is teaching others to be responsible. Seventeen years ago, a business associate reminded me of my actual responsibilities: "You are not there to run your business from behind a counter, you are there to grow your staff into leaders." Empowering your staff down to the lowest levels is the key to successful ownership. It is also the key to profitability and cost control. More importantly, it insures the success of your business and builds a solid team for the long term.
What's your passion in business?
Staff development. My entire shift, lead, and management team (except for one person) started working with me when they were a junior in high school and now manage and lead high-volume successful locations with full-time positions with benefits.
Management
Business philosophy:
Support the community that supports the shop. Understand your real intentions about the impact you want to have in your community, with your staff, and a laser focus on ways to increase profitability.
Management method or style:
Don't focus on selling more ice cream, focus on who is selling it. Bottom line! The rest will come. Reward and challenge employees out of their comfort zones by adding responsibility that perhaps someone so young would not have the opportunity to learn in another business. They are always grateful for the knowledge and raise eyebrows when they move to their next position with the extra skills they have learned. Reward the team (not any one individual) for the success of the shop! High tide floats all boats!
Greatest challenge:
I would imagine the greatest challenge for most multi-unit operators is staffing. This is particularly challenging in a seasonal business. Other than senior staff, which we retain all year, most of our employees are seasonal. We do significant hiring in the spring with high-school and college-aged workers. They return to school in the fall. This means going from a fully staffed operation in season to minimal supervisory staff in the fall and winter down times. Rehiring an entire new crew for seven locations every spring is really challenging. Training is key to success with the new hires.
How do others describe you?
Passionate, focused, never take no for an answer. Hopefully compassionate and employee-focused. They would say that I can always make things happen.
Motto: "If I cannot find a way, I will make a way." (Hannibal)
How do you hire and fire, train and retain?
We give lower management positions a lot of leeway in this regard. Every new hire is interviewed several times, mostly by hourly paid leaders. Assistant managers, shift leads, and keyholders all interview, hire, and train and have the ability with management to review and to fire new hires. After all, they are the ones working with them. They hire people who buy into the team and its philosophy. Incentives are paid based on team performance. If someone isn't doing their job, it could mean the staff isn't hitting incentive goals. If that is the case, the weakest links are quickly "voted off the island" by their peers.
Bottom Line
Annual revenue:
$3.9 million.
2017 goals:
We are adding one more D.C. location in 2017 and are currently building out the shop. Happy to keep growing if the right location becomes available.
Vision meter: Where do you want to be in 5 years? 10 years?
I would say I am always looking for other opportunities, but I am currently happy with my current holdings.
What are you doing to take care of your employees?
We are focused on the things that matter most to our employees and pick incentives and benefits that have real value to them. They include free food, freebies for friends, extra cash, and help with transportation costs. We are really on target! Staff retention is significantly higher than at similar outlets, which means less training and hiring. We offer many incentives, such as staff meals on the weekends. If you work the busiest, toughest schedules you get dinner and/or lunch Friday, Saturday, and Sunday. Free cone coupons every paycheck for your friends. They don't have to "steal" by giving products to friends and family, and we can keep track of what the staff is giving away--and they are empowered by being able to give free cone coupons to friends. Metro allowances each paycheck to help defray public transportation costs. Hourly incentives for hitting target dollar hours each day based on hourly sales targets. We have tried many things to find the incentives that work! In the past we paid for a laundry service to collect laundry from workers at each location. Total cost to management was $12 per bag, per person, per week; great perk for young people, very little cost for management. This year we are experimenting with Uber to offer rides to employees who close the shops late and Metro trains have stopped running. Transportation in D.C. closes at 11 p.m. and our shops close as late as 2 a.m. Offering an Uber ride for those late weekend nights keeps the registers ringing at a very nominal cost.
What kind of exit strategy do you have in place?
Still under process and changes quite often.
Community Involvement Leadership Award
Why do you think you were recognized with this award?
I think the Ben & Jerry's brand identity helped. As a franchisee I am able to bring that identity to my market and really make a difference.
How have you raised the bar in your own company?
Over 18 years I have introduced systems and operational ideas that we developed here in D.C. that the franchisor pushed out system-wide. We are all really proud of our innovations and ability to implement them in our system and across the broader franchise system.
What innovations have you created and used to build your company?
Innovations have included adding whimsical elements to the shop design to create a better customer experience. Also, significant innovations in line speed and employee incentive programs.
What core values do you think helped you win this award?
The Ben & Jerry's philosophy of providing great ice cream in a sustainable way that makes the world a better place.
How important is community involvement to you and your company?
See above.
What leadership qualities are most important to you and your team?
Responsibility, self-reliance, and stressing how important it is to do the right thing--even when no one is watching. That goes for life as well as work.
Published: November 16th, 2017
Share this Feature
Recommended Reading:
Comments:
comments powered by

Disqus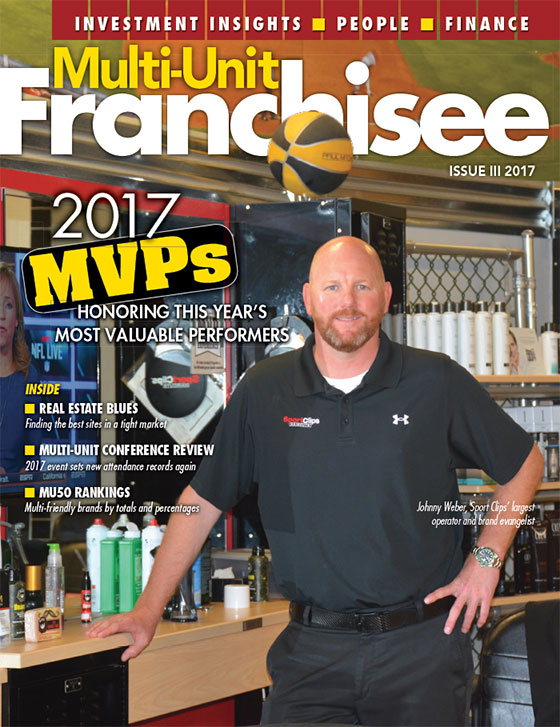 Multi-Unit Franchisee Magazine: Issue 3, 2017
Our core mission is to nourish, nurture and inspire healthy communities by giving back and creating value.
Tropical Smoothie Cafe is a healthier, quick-casual restaurant brand with 1,175+ locations in 44 states. One of its key differentiators is what the...
Cash Required:
$125,000